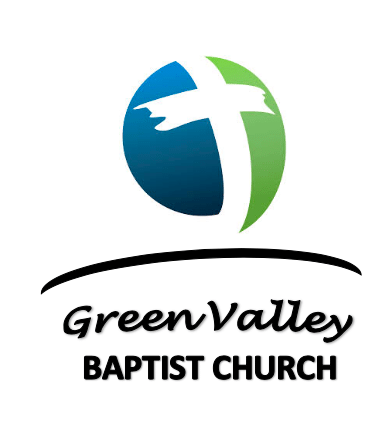 January 2nd, 2022
Reflecting the Son in the Valley
Order of Service
Morning Worship
10:30 a.m.
Welcome to Green Valley Baptist Church
Announcements
Hymn of Praise - No. 419
The Family of God
Hymn No. 410
Standing on the Promises
Pastoral Prayer Steve Wagner
Hymn No. 435
God of Grace and God of Glory
Hymn No. 617
Near to the Heart of God
Offertory Prayer Charles Logan
Offertory Marilyn Schum
Message - Pastor John Guillott
GOD'S NEW THING IN 2022
Isaiah 43
Invitation Hymn No. 654
Change My Heart, O God
Benediction Charles Logan
Announcements
Connection Cards: Please fill out a connection card if you are a
first-time visitor, have special needs, a prayer request, or if you
wish to talk to anyone on the pastoral staff. Completed cards may
be dropped in the offering plate or given to one of the ushers.
Ladies Bible Study: On Mondays and Thursdays
Ro Vinson will be taking over the Monday Ladies Bible Study starting January 3 rd at 9:30. She will be teaching from the book of
1 Thessalonians.
Gwen Austin's class will resume on Thursdays, starting Jan 6th .
They are continuing with a book by Elizabeth George – 1st
Timothy.
Men's Bible Study: On Thursdays. Breakfast at 8:30 and discussion at 9:00.
Nativity Workday: We have a nativity workday scheduled for
Friday Jan 7th at 9:00 am. We will be removing lights and storing
the nativity. All workers will be served lunch.
Facebook Devotionals: Every Thursday and Saturday there is
a Facebook devotional at 6:00 pm led by Charles Logan and
Pastor Steve Wagner. Check it out on our Facebook page.
You may also view previous devotionals on our website.
Birthdays
Steve Meyst - Jan 3
Paige Wells - Jan 4
Joan Hinrichs - Jan 6
Memory Verse for January
Matthew 16:24 CSB
Then Jesus said to his disciples, "If anyone wants to follow after me, let him deny himself, take up his cross, and follow me."
Deacon of the Week: Charles Logan
Alternate of the Week: Ed Holbert
The men serving on our Deacon Ministry Team are servant ministers who are called to help our pastors meet the needs of the church family.
GOD'S NEW THING IN 2022
Isaiah 43
God's Promise of a New Thing
God's Purpose of a New Thing
God's Opportunity for a New Thing
This Week at GVBC
Sunday, Jan 2 - (Bible Reading – Matthew 2)
9:00 am Sunday School Classes(several classes to choose from)
10:30 am Worship Service – Pastor John Guillott
3:00 pm Silver Springs Service – Charles Logan
Monday, Jan 3 - (Bible Reading – Matthew 3)
9:30 am Ladies Bible Study starts
6:00 pm Deacon's Meeting
Tuesday, Jan 4 - (Bible Reading – Matthew 4)
Wednesday, Jan 5 - (Bible Reading – Matthew 5)
3:00 pm Missions/Evangelism Mtg - zoom
5:00 pm Trustee's Meeting
6:00 pm Prayer Meeting
Thursday, Jan 6 - (Bible Reading – Matthew 6)
8:30 am Breakfast & Men's Bible Study at 9:00am
10:00 am Ladies Bible Study resumes
Friday, Jan 7 - (Bible Reading –Matthew 7)
9:00 am Nativity Workday (All welcome to come help!)
Saturday, Jan 8 - (Bible Reading – Matthew 8)
9:00 am Church Council Meeting