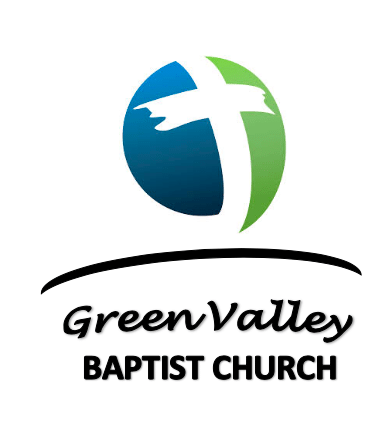 January 9th, 2022
Reflecting the Son in the Valley
Order of Service
Morning Worship
10:30 a.m.
Welcome to Green Valley Baptist Church
Announcements
Hymn of Praise - No. 184
Thy Word
Hymn No. 406
Wonderful Words of Life
Pastoral Prayer Steve Wagner
Hymn No. 409
Thanks to God Whose Word Was Spoken
Hymn No. 407
God Has Spoken by His Prophets
Offertory Prayer Ed Holbert
Offertory Marilyn Schum
Special Music Hope Goetz
Sinner Saved by Grace
Message - Pastor John Guillott
SPIRITUAL DISCIPLINE: READING THE WORD
1 Timothy 4:7-8; Joshua 1:7-8; 2 Timothy 2:15
Invitation Hymn No. 548
As the Deer
Benediction Ed Holbert
Announcements
Connection Cards: Please fill out a connection card if you are a
first-time visitor, have special needs, a prayer request, or if you
wish to talk to anyone on the pastoral staff. Completed cards may
be dropped in the offering plate or given to one of the ushers.
Parking:
The safety Team respectfully requests that, during Sunday services, congregants without valid DMV handicap permits not park in the limited handicap spaces on the north and west church parking areas.
Annual Business Meeting: Scheduled for Wednesday, Jan 19th at 6:00 PM. All welcome.
Getting to know you: Groups will be meeting again in February. This is a wonderful way to meet and get to know your fellow church members! It is not too late to sign up. See signup sheet in foyer hall.
Deacon's Meeting: All Deacon candidates and ordained men of the church, please note that the Ordination Council will be held in Rm. C-1 at 6:00 PM on Wednesday during Prayer Meeting. The monthly Deacon meeting will be at 5:00 PM, just before the ordination council.
Birthdays
Toni Thompson Jan 11
Mike Mead Jan 11
Joyce Pfaffle Jan 11
Becky Taylor Jan 12
Mary Maxwell Jan 12
Wendall Robinson Jan 13
Scott Whiteside Jan 13
Ann Holbert Jan 15
Memory Verse for January
Matthew 16:24 CSB
Then Jesus said to his disciples, "If anyone wants to follow after me, let him deny himself, take up his cross, and follow me."
Deacon of the Week: Ed Holbert
Alternate of the Week:
The men serving on our Deacon Ministry Team are servant ministers who are called to help our pastors meet the needs of the church family.
SPIRITUAL DISCIPLINE: READING THE WORD
1 Timothy 4:7-8; Joshua 1:7-8; 2 Timothy 2:15
WHAT THE SPIRITUAL DISCIPLINES ARE NOT….
Not a barometer of spiritual maturity
Not a way to earn favor with God
DEFINITION OF SPIRITUAL DISCIPLINE: A spiritual discipline helps us do what we cannot do by our own will power.
THE SPIRITUAL DISCIPLINE OF PERSONAL BIBLE STUDY
Read the Bible with others
Read it for the right reason
This Week at GVBC
Sunday, Jan 9 - (Bible Reading – Matthew 9)
9:00 am Sunday School Classes(several classes to choose from)
10:30 am Worship Service – Pastor John Guillott
3:00 pm Silver Springs Service – Charles Logan
Monday, Jan 10 - (Bible Reading – Matthew 10)
9:30 am Ladies Bible Study
Tuesday, Jan 11 - (Bible Reading – Matthew 11)
Saints Alive - going to Oreganos. Bus leaves at 10:45 am
Wednesday, Jan 12 - (Bible Reading – Matthew 12)
5:00 PM Deacon's Meeting/6:00 Ordination council
6:00 pm Prayer Meeting
Thursday, Jan 13 - (Bible Reading – Matthew 13:1-30)
8:30 am Breakfast & Men's Bible Study at 9:00am
10:00 am Ladies Bible Study
6:00 PM Facebook Devotional
Friday, Jan 14 - (Bible Reading –Matthew 13:31-58)
Saturday, Jan 15 - (Bible Reading – Matthew 14)
6:00 PM Facebook Devotional