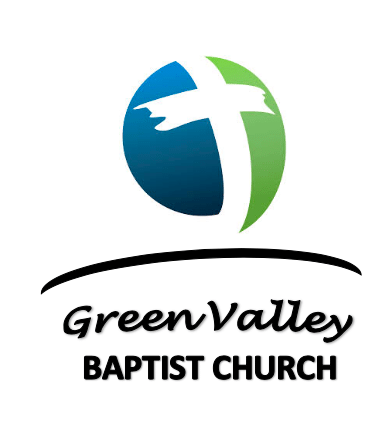 May 15th, 2022
Reflecting the Son in the Valley
Order of Service
Morning Worship
10:30 a.m.
Welcome to Green Valley Baptist Church
Announcements
Hymns of Praise No. 86
Jesus, Name Above All Names
Hymn No. 447
Jesus Loves the Little Children
Pastoral Prayer - Pastor John Prim
Shepherd's Fold Preschool Graduation
Shepherd's Fold Children
Thank You Lord for Making Me
I've Got the Joy Joy Joy Joy (Down in my heart)
Hymn No. 119
Jesus, Your Name
Special Music - Hope Goetz
For What Earthly Reason
Offertory Prayer - Rick Woodard
Offertory Music - Marilyn Schum
Message - Pastor Steve Wagner
THE ONLY ENDURING FOUNDATION
Matthew 7:24-27
Invitation Hymn No. 526
The Solid Rock
Shepherd's Fold Children
Family Members Song
(I Love My Family)

Benediction - Rick Woodard
Announcements
Connection Cards: Please fill out a connection card if you are a
first-time visitor, have special needs, a prayer request, or if you
wish to talk to anyone on the pastoral staff. Completed cards may
be dropped in the offering plate or given to one of the ushers.
Graduation Week: Please help us congratulate our seniors, Liam Saenz- Edwards and Joseph Laity, with a cake and ice cream social tonight, May 15th at 6:00 pm in the Fellowship Hall. You may send or bring gifts/cards if you choose.
Remnant Party: At the Tingle's on Saturday, May 28th . For all remaining in Green Valley for the summer!! Gates open at 9 am.
Meat provided. Please bring side dishes or desserts.
Shepherding Ministry Meeting: Tuesday, May 24th at 2:00 pm
ABCS/New Life Pregnancy Center Baby Bottle Campaign:
Runs through Father's Day June 19th . Pick up your baby bottle today! Special instructions are inside of the bottles.
Birthdays
Bill Green - May 21
Doris Felix - May 21
Deacon of the Week: Rick Woodard
Alternate of the Week: David Pack
The men serving on our Deacon Ministry Team are servant ministers who are called to help our pastors meet the needs of the church family.
This Week at GVBC
Sunday, May 15 - (Bible Reading – Deut 29-30)
9:00 am Sunday School Classes
10:30 am Shepherd's Fold Graduation
Message – Pastor Steve Wagner
2:00 pm Silver Springs Bible Study & Worship
6:00 pm No Life Group
6:00 pm Graduation Celebration in FH
Monday, May 16 - (Bible Reading – Deut 31-32)
9:30 am Ladies Bible Study
Tuesday, May 17 - (Bible Reading – Deut 33-34)
11:30 am Saints Alive – Game Day
Wednesday, May 18 - (Bible Reading – Deut 35-36)
6:00 pm Prayer Meeting – Get to know Bill Green
6:45 pm Choir Practice
Thursday, May 19 - (Bible Reading – Romans 1-2)
8:30 am Breakfast & Men's Bible Study at 9:00am
10:00 am Ladies Bible Study
2:00 pm WOM
6:00 pm Facebook Devotional - Pastor Steve Wagner
Friday, May 20 - (Bible Reading – Romans 3-4)
Saturday, May 21 - (Bible Reading – Romans 5-6)
Let us get to know you!
Please take a moment to send us your information so that we may stay connected with you. Your information is carefully managed and protected.
How did you hear about us?