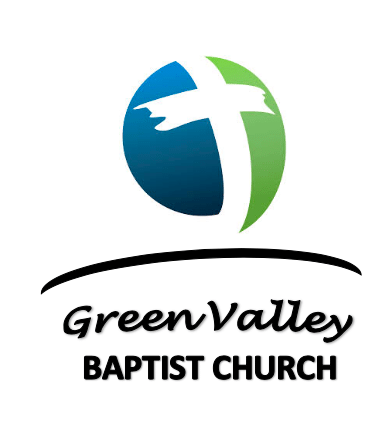 June 19th, 2022
Reflecting the Son in the Valley
Order of Service
Green Valley Baptist Church
Worship Service
10:30 a.m.
Welcome & Announcements
Hymns of Praise No. 495
Jesus Loves Even Me
Hymn No. 493
Glory to His Name
Pastoral Prayer - Burton Tingle
Hymn No. 492
At Calvary
Hymn No. 499
I will Sing the Wondrous Story
Missionary Moment
Offertory Prayer - Rick Woodard
Offertory Music - Marilyn Schum
Special Music - Sherma Kutz
Find Us Faithful
Message - Dr. Roger Daniels
Invitation Hymn No. 501
Now I Belong to Jesus

Benediction - Rick Woodard
Announcements
Connection Cards: Please fill out a connection card if you are a
first-time visitor, have special needs, a prayer request, or if you
wish to talk to anyone on the pastoral staff. Completed cards may
be dropped in the offering plate or given to one of the ushers.
Mission:Dignity SUNDAY: Next Sunday June 26th is Mission Dignity Sunday. A Mission to provide Dignity to retirement-aged Southern Baptist ministers, workers, and their widows through care, prayer, and financial assistance directly at the point of need. There will be an informative insert in your bulletin.
ABCS – New Life Pregnancy Center: Baby bottles are due today. Thank you all! Please put your bottle in the crib located in the sanctuary.
VBS: We have DVD's and a group picture of VBS 2022. Please stop by the office if you would like a copy.
Choir Rehearsal: Wednesday June 22nd and June 29th at 6:45.
Shepherding Ministry Meeting: Next Tuesday, June 28th at 2:00 pm in the Church office.
Birthdays
Marce Pross - June 19
Johnnie Taylor - June 21
Lucy Stice - June 22
Bob Stice - June 25
Deacon of the Week: Rick Woodard
Alternate of the Week: Ed Holbert
The men serving on our Deacon Ministry Team are servant ministers who are called to help our pastors meet the needs of the church family.
This Week at GVBC
Sunday, June 19 - (Bible Reading – Revelation 8)
9:00 am Sunday School Classes
10:30 am Worship Service – Dr. Roger Daniels
2:00 pm Silver Springs Bible Study & Worship
6:00 pm Life Group
Monday, June 20 - (Bible Reading – Rev 9)
9:30 am Ladies Bible Study
Tuesday, June 21 - (Bible Reading – Rev 10-11)
11:30 am Saints Alive Game Day – All Welcome
Bring a sack lunch!
Wednesday, June 22 - (Bible Reading – Rev 12)
6:00 pm Prayer Meeting – Guest Speaker, Mike Neefe
6:45 pm Choir Rehearsal
Thursday, June 23 - (Bible Reading – Rev 13)
8:30 am Men's Breakfast followed by Bible Study at 9:00am
10:00 am Ladies Bible Study
Friday, June 24 - (Bible Reading – Rev 14-15)
Saturday, June 25 - (Bible Reading – Rev 16)
Sahuarita High School Football Team Car Wash
Let us get to know you!
Please take a moment to send us your information so that we may stay connected with you. Your information is carefully managed and protected.
How did you hear about us?