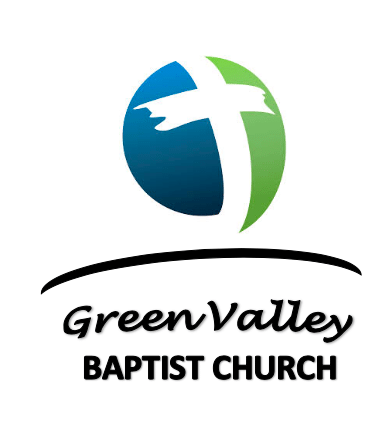 July 24th, 2022
Reflecting the Son in the Valley
Order of Service
Green Valley Baptist Church
10:30 a.m.
Worship Service
Welcome & Announcements
Hymns of Praise No. 58
Bless the Lord, O My Soul
Hymn No. 575
Leaning on the Everlasting Arms
Pastoral Prayer
Hymn No. 710
Jesus, Lover of My Soul
Hymn No. 739
Why Do I Sing About Jesus?
Special Music - Choir
What a Day That Will Be
Offertory Prayer - Charles Logan
Offertory Music - Linda Clifton
Special Music - Pastor John Prim
The King of Love
Message - Pastor John Guillott
HE RESTORES ME
Psalm 23
Invitation Hymn No. 505
He Touched Me
Benediction - Charles Logan
Announcements
Connection Cards: Please fill out a connection card if you are a
first-time visitor, have special needs, a prayer request, or if you
wish to talk to anyone on the pastoral staff. Completed cards may
be dropped in the offering plate or given to one of the ushers.
Facebook Devotional: Every Thursday evening at 6:00 pm.
Just go to GVBC member on Facebook or you may view it later on our website. These are wonderful, short devotionals that will
share some biblical insight and give you a mid-week lift!
Shepherding Ministry meeting: Next Tuesday, July 26th at 2:00 pm in the conference room. All Welcome.
Saints Alive: Presents a concert with Burt Tingle & Friends on July 26th at 11:30. Pizza after the concert. PLEASE make sure you put your name on the signup sheet in the hallway.
This Tuesday is Game Day at 11:30. Bring a sack lunch and join the fun. A great way to get to know each other!
Birthdays
Jeanne Bird - July 25
Dave Weber - July 25
Paulette Albertson - July 28
Deacon of the Week: Charles Logan
Alternate of the Week: Phil Clifton
The men serving on our Deacon Ministry Team are servant ministers who are called to help our pastors meet the needs of the church family.
HE RESTORES ME
Series: 23rd Psalm
HE RESTORES ME
Psalm 23
Today we come to the second great gift that is yours when you belong to the Shepherd. He restores my soul.
THE GOOD SHEPHERD RETRIEVES US WHEN WE WANDER AWAY
Prone to wander, Lord, I feel it. Prone to leave the God I love….
Illustration: The Church at Ephesus
THE GOOD SHEPHERD REVIVES US WHEN WE FALTER
Faith can falter when we are…
Disoriented by injustice (Psalm 73:2-3)
Drained by conflict (1 Kings 19:10)
Disappointed by outcomes (Galatians 6:9)
Struggle with suffering (Hebrews 10:32-33)
Feeling insufficient (2 Corinthians 2:16)
THE GOOD SHEPHERD RESTORES US HIMSELF
When God restores you….He will do it….
This Week at GVBC
Sunday, July 24 - (Bible Reading – Hebrews 6)
9:00 am Sunday School Classes
10:30 am Worship Service – John Guillott
2:00 pm Silver Springs Bible Study & Worship
6:00 pm Life Group
Monday, July 25 - (Bible Reading – Hebrews 7)
Tuesday, July 26 - (Bible Reading – Hebrews 8)
11:30 am Saints Alive – Burt & Friends Concert
2:00 pm Shepherding Ministry Meeting
Wednesday, July 27 - (Bible Reading – Hebrews 9)
6:00 pm Prayer Meeting- Get to know Allan & Yong Hui Ryden
6:45 pm Choir Rehearsal
Thursday, July 28 - (Bible Reading – Hebrews 10)
8:30 am Men's Bible Discussion
10:00 am Ladies Bible Study
Friday, July 29 - (Bible Reading – Hebrews 11)
Saturday, July 30 - (Bible Reading – Hebrews 12)
Let us get to know you!
Please take a moment to send us your information so that we may stay connected with you. Your information is carefully managed and protected.
How did you hear about us?