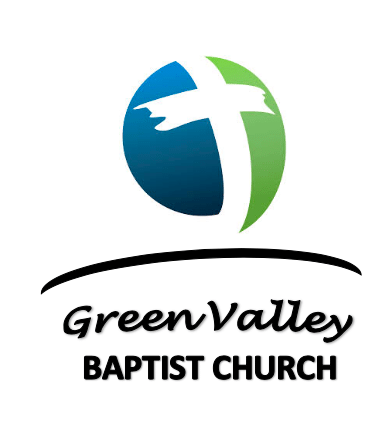 August 7th, 2022
Reflecting the Son in the Valley
Order of Service
Green Valley Baptist Church
10:30 a.m.
Worship Service
Welcome & Announcements
Hymns of Praise No. 706
Thy Loving Kindness
Hymn No. 747
Sunshine in My Soul
Pastoral Prayer
Hymn No. 746
He Keeps Me Singing
Hymn No. 705
It Is Well with My Soul
Offertory Prayer - Bob Smith
Offertory Music - Marilyn Schum
Message - Pastor John Guillott
HE SUSTAINS ME
Psalm 23
The Lord's Supper
Invitation Hymn No. 638
I Need Thee Every Hour
Benediction - Bob Smith
Announcements
Connection Cards: Please fill out a connection card if you are a
first-time visitor, have special needs, a prayer request, or if you
wish to talk to anyone on the pastoral staff. Completed cards may
be dropped in the offering plate or given to one of the ushers.
Dave Mead Memorial: Will be held at GVBC on Wednesday, August 10th at 11:00 am. Luncheon to follow.
CBA/WMU Women's Retreat: GVBC will be hosting the Annual Women's Retreat this year on August 19 – 20. Please register by August 9 th . See WMU board for information.
Small Group: Our small group (Ron and Sue Tinnin and Scott and Marie Freiberger) meets Tuesday night from 6-8 pm at members houses. We are searching for a few more people to round out our group. If you are interested, see one of us or contact Scott Freiberger at scottfreiberger@yahoo.com.
Birthdays
Dan DeLong - Aug 7
Dennis Robinson - Aug 8
Janet Newman - Aug 8
Bette Sexton - Aug 9
Jackie Parker - Aug 11
Pat Rist-Kemp - Aug 12
Memory Verse for August
The Lord is good, a stronghold in a day of distress; he cares for those who take refuge in him. (Nahum1:7)
Deacon of the Week: Bob Smith
Alternate of the Week: Charles Logan
The men serving on our Deacon Ministry Team are servant ministers who are called to help our pastors meet the needs of the church family.
HE SUSTAINS ME
Today we come to a fourth blessing that belongs to the flock of God. The Good Shepherd sustains me. He gives me all that I need to keep going.
God often uses material things to speak to us about spiritual things. God uses three things that we can touch and handle….
THE TABLE
"You prepare a table before me in the presence of my enemies…"
THE OIL
"You anoint my head with oil…"
THE CUP
"My cup runs over…"
WHAT THE TABLE MEANT FOR JESUS
Matthew 26:26-28
WHAT THE ANOINTING MEANT FOR JESUS
Mark 14:3, 6,8
WHAT THE CUP MEANT FOR JESUS
Jesus drank the cup of God's wrath so that you may drink the cup of God's blessing.
This Week at GVBC
Sunday, Aug 7 - (Bible Reading – Hosea 13-14)
9:00 am Sunday School Classes
10:30 am Worship Service – John Guillott
2:00 pm Silver Springs Bible Study & Worship
6:00 pm Life Group
Monday, Aug 8 - (Bible Reading – Joel 1-3)
Tuesday, Aug 9 - (Bible Reading – Amos 1-2)
10:15 am Saints Alive – Lin's Grand Chinese
Wednesday, Aug 10 - (Bible Reading – Amos 3-4)
11:00 am Memorial for David Mead
6:00 pm Prayer Meeting
6:45 pm Choir Rehearsal
Thursday, Aug 11 - (Bible Reading – Amos 5-6)
8:30 am Men's Bible Discussion
10:00 am Ladies Bible Study
Friday, Aug 12 - (Bible Reading – Amos 7-8)
Saturday, Aug 13 - (Bible Reading – Amos 9 & Obadiah 1)
Let us get to know you!
Please take a moment to send us your information so that we may stay connected with you. Your information is carefully managed and protected.
How did you hear about us?