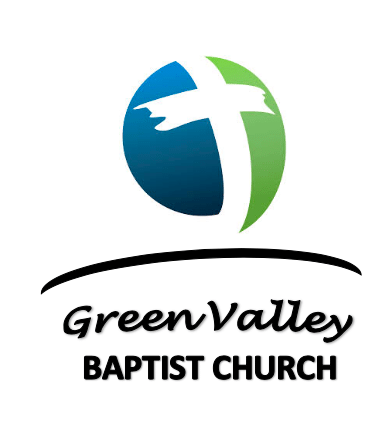 September 18th, 2022
Reflecting the Son in the Valley
Order of Service
Green Valley Baptist Church
10:30 a.m.
Worship Service
Welcome & Announcements
Hymns of Praise No. 219
Surely the Presence
Hymn No. 328
Wonderful Grace of Jesus
Pastoral Prayer
Hymn No. 348
My Savior's Love
Hymn No. 342
Rock of Ages
Offertory Prayer - Don Gilbertson
Offertory Music - Linda Clifton
Message - Pastor Ron Trotter
Invitation Hymn No. 591
Have Thine Own Way, Lord
Benediction - Don Gilbertson
Announcements
Connection Cards: Please fill out a connection card if you are a
first-time visitor, have special needs, a prayer request, or if you
wish to talk to anyone on the pastoral staff. Completed cards may
be dropped in the offering plate or given to one of the ushers.
Saints Alive: All Saints Alive events will be canceled for the month of September.
Monday Women's Bible Study will resume October 3rd @
9:30 am in room C-1, with Sue Glover. Name of Jesus? What
can we learn about him when we study some of his many names
or titles?
Reminder of the Women's Luncheon: September 24, 2022.
There is a sign-up sheet on the Bulletin Board.
Name Badges: BJ Blumke will be sending in an order for name
badges. Please contact BJ if you would like one or sign up on
the bulletin board in the foyer.
Shepherd's Fold Preschool: Just a reminder. Please contact Isis, if you would like to join Grandma & Grandpa's reading program at Shepherd's Fold.
Birthdays
Ginger Liebrecht - Sept 18
Lynn Blacker - Sept 18
Ronald Hayes - Sept 19
Ron Pross - Sept 20
John Gieb - Sept 21
Deacon of the Week: Don Gilbertson
Alternate of the Week: Rick Woodard
The men serving on our Deacon Ministry Team are servant ministers who are called to help our pastors meet the needs of the church family.
This Week at GVBC
Sunday, Sept 18 - (Bible Reading –Numbers 7)
9:00 am Sunday School Classes
10:30 am Worship Service
2:00 pm Silver Springs Bible Study & Worship
6:00 pm Life Group
Monday, Sept 19 - (Bible Reading – Numbers 8-10)
Tuesday, Sept 20 - (Bible Reading – Numbers 11-13)
Wednesday, Sept 21 - (Bible Reading – Numbers 14-15)
6:00 pm Prayer Meeting
Thursday, Sept 22 - (Bible Reading – Numbers 16-17)
8:30 am Men's Breakfast & Bible Discussion
10:00 am Ladies Bible Study
2:00 pm WOM
Friday, Sept 23 - (Bible Reading – Numbers 18-20)
Saturday, Sept 24 - (Bible Reading – Numbers 21-22)