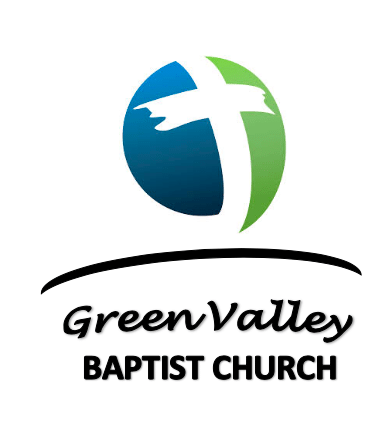 October 2nd, 2022
Reflecting the Son in the Valley
Order of Service
Green Valley Baptist Church
10:30 a.m.
Worship Service
Welcome & Announcements
Hymns of Praise No. 209
This Is the Day
Hymn No. 146
I Worship You, Almighty God
Hymn No. 191
Father, I Adore You
Pastoral Prayer
Hymn No. 656
Take Time to Be Holy
Hymn No. 320
Beneath the Cross of Jesus
Offertory Prayer - Billy Biby
Offertory Music - Marilyn Schum
Special Music - Carolyn Congdon
People Need the Lord
Message - Pastor John Guillott
Daily Embrace the Lord's Will
Luke 9:23
Invitation Hymn No. 596
I Surrender All
Benediction - Billy Biby
Announcements
Connection Cards: Please fill out a connection card if you are a
first-time visitor, have special needs, a prayer request, or if you
wish to talk to anyone on the pastoral staff. Completed cards may
be dropped in the offering plate or given to one of the ushers.
Saints Alive: Saints Alive will have Game Day the whole month of October. Tuesdays at 11:30. Join the group for games & great fellowship. All welcome. Bring a sack lunch and join the fun!
Shepherd's Fold Preschool: will be participating in Trunks for treats with Common Ground Church on Saturday, Oct 2nd . They will need LOTS of candy. If you would like to donate, please bring a bag of candy by the church office or Shepherd's Fold.
Quarterly Church Council & Business meetings: Church
council mtg scheduled for Saturday, Oct 8 at 9:00am.
Business/Prayer Meeting Oct 19 at 6:00 pm.
Birthdays
Ken Peters - Oct 3
Ed Holbert - Oct 7
Jim Schum - Oct 8
Deacon of the Week: Billy Biby
Alternate of the Week: Ed Holbert
The men serving on our Deacon Ministry Team are servant ministers who are called to help our pastors meet the needs of the church family.
Daily Embrace the Lord's Will
Luke 9:23
"Salvation is free - but discipleship will cost you your life." (Dietrich Bonhoeffer)
Today we will see what it means to follow Jesus.
DESIRE ("If anyone wants to follow after me…")
DENIAL ("...let him deny himself…")
DEATH ("…take up his cross daily…")
DEVOTION ("…and follow me.")
A disciple is one who follows Jesus no matter what.
This Week at GVBC
Sunday, Oct 2 - (Bible Reading –Ephesians 2)
9:00 am Sunday School Classes
10:30 am Worship Service – Pastor John Guillott
2:00 pm Silver Springs Bible Study & Worship
6:00 pm Life Group
Monday, Oct 3 - (Bible Reading – Ephesians 3)
9:30 am Women's Bible Study
Tuesday, Oct 4 - (Bible Reading – Ephesians 4)
11:30 am Saints Alive – Game Day
Wednesday, Oct 5 - (Bible Reading – Ephesians 5)
3:00 pm Missions/Evangelism Meeting
6:00 pm Prayer Meeting
6:45 pm Choir Rehearsal
Thursday, Oct 6 - (Bible Reading – Ephesians 6)
8:30 am Men's Breakfast & Bible Discussion
10:00 am Ladies Bible Study
Friday, Oct 7 - (Bible Reading – Philippians 1)
Saturday, Oct 8 - (Bible Reading – Philippians 2)
9:00 am Church Council Meeting
Let us get to know you!
Please take a moment to send us your information so that we may stay connected with you. Your information is carefully managed and protected.
How did you hear about us?