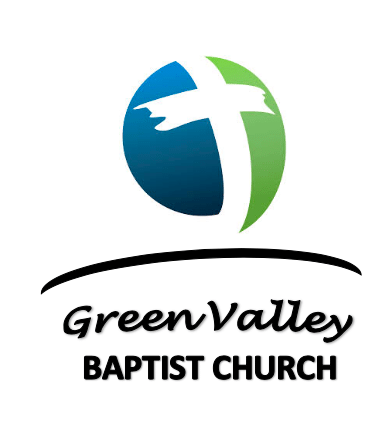 November 6th, 2022
Reflecting the Son in the Valley
Order of Service
Green Valley Baptist Church
10:30 a.m.
Worship Service
Welcome & Announcements
Responsive Reading
Hymns of Praise No. 643
O Lord, You're Beautiful
Hymn No. 536
Have Faith in God
Pastoral Prayer
Hymn No. 583
You Are My All in All
Hymn No. 572
Blessed Assurance
Offertory Prayer - Don Gilbertsen
Offering
Special Music
God's Grace is Sufficient
John & Donna Guillott
Message - Pastor John Guillott
A PSALM OF THANKSGIVING
Psalm 103
Invitation Hymn No. 343
Amazing Grace
Benediction - Don Gilbertsen
Announcements
Connection Cards: Please fill out a connection card if you are a
first-time visitor, have special needs, a prayer request, or if you
wish to talk to anyone on the pastoral staff. Completed cards may
be dropped in the offering plate or given to one of the ushers.
Baptist Women's World Day of Prayer: at God's Country Church 6:00 pm on Monday, Nov 7. Guest speaker: Vance Wood. There will be a bus leaving GVBC at 4:30. Please see signup sheet. Men are welcome to attend.
Christmas string light collection: We are collecting GREEN stringed lights for our nativity (any color). There is a bin located in the foyer. Thanks!
Operation Christmas Child: Is in full swing. Please pick up your shoeboxes now, as the deadline to have them returned is Nov 15. There is a table in the foyer with shoeboxes and instruction sheets. Thank you so much.
Veteran's Day Luncheon: Friday, November 11
Shepherding Team Meeting: Tuesday, November 15th 2:00
Birthdays
Phil Clifton - Nov 6
Stuart Austin - Nov 7
Jewell Woodard- Nov 7
Dorothy Molina - Nov 8
Joyce VanDyk - Nov 8
Daily Bible Reading Memory Verse for November
The Lord is good to those who will wait for him, to the person
who seeks him. Lamentations 3:25
Deacon of the Week: Don Gilbertsen
Alternate of the Week: Billy Biby
The men serving on our Deacon Ministry Team are servant ministers who are called to help our pastors meet the needs of the church family.
A Psalm of Thanksgiving
Psalm 103
As you read Psalm 103 you will find that there is not a word of complaint in the entire Psalm.
When our days are difficult - we face hardships - we experience grief/sorrow there are still some reasons we can be thankful to God…
WHO HE IS ( v.1)
WHAT HE DOES (vv. 2-18)
WHERE HE DWELLS ( v.19)
CONCLUSION (vv. 20-22)
This Week at GVBC
Sunday, Nov 6 - (Bible Reading –Job 10-11)
9:00 am Sunday School Classes
10:30 am Worship Service – Pastor John Guillott
2:00 pm Silver Springs Bible Study & Worship
6:00 pm Church Family Singing
Monday, Nov 7 - (Bible Reading – Job 12-13)
9:30 am Women's Bible Study
6:00 pm Deacon's Meeting
6:00 pm Baptist Women's World Day of Prayer
(Bus leaves at 4:30pm)
Tuesday, Nov 8 - (Bible Reading – Job 14-15)
11:30 am Saints Alive – Game Day
Wednesday, Nov 9 - (Bible Reading – Job 16-17)
6:00 pm Prayer Meeting – Guest Speaker, Sarah Sanks
6:45 pm Choir Rehearsal
Thursday, Nov 10 - (Bible Reading – Job 18-19)
8:30 am Men's Breakfast & Bible Discussion
10:00 am Ladies Bible Study
Friday, Nov 11 - (Bible Reading – Job 20-21)
Veteran's Day Luncheon
Saturday, Nov 12 - (Bible Reading – Job 22-23)
Let us get to know you!
Please take a moment to send us your information so that we may stay connected with you. Your information is carefully managed and protected.
How did you hear about us?