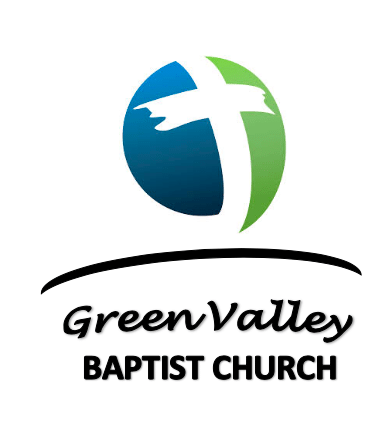 November 13th, 2022
Reflecting the Son in the Valley
Order of Service
Green Valley Baptist Church
10:30 a.m.
Worship Service
Welcome & Announcements
Responsive Reading
Hymns of Praise No. 179
Awesome God
Hymn No. 512
Jesus Is All the World to Me
Pastoral Prayer
Hymn No. 676
O Jesus, I Have Promised
Hymn No. 605
Living for Jesus
Offertory Prayer - Billy Biby
Offertory Music - Marilyn Schum
Message - Pastor Steve Wagner
THE MIGHTY OAK
Invitation Hymn No. 581
'Tis So Sweet to Trust in Jesus
Benediction - Billy Biby
Announcements
Connection Cards: Please fill out a connection card if you are a
first-time visitor, have special needs, a prayer request, or if you
wish to talk to anyone on the pastoral staff. Completed cards may
be dropped in the offering plate or given to one of the ushers.
Hotdogs, Jesus & Family: This Friday the 18th, 5:00 pm at the pavilion here on the church grounds. Please join us for a time of
outreach and fellowship. Hotdogs, chips, and drinks will be
provided. Bring a chair if you would like, or we will have chairs
there. All you need to do is JUST SHOW UP. Welcome to all.
Please bring friends, family, neighbors!
Operation Christmas Child: Please have your shoeboxes to the church by Tuesday, November 15th . Thank you for spreading Christmas Love around the world!
Shepherding Team Meeting: Tuesday, November 15th 2:00
Meeting has relocated to room C1 in the church.
Birthdays
Mim Sawtell - Nov 13
Huba Wells - Nov 14
Mary Lou Wurts - Nov 15
Dudley Hutchinson - Nov 15
Susan Sader - Nov 19
Daily Bible Reading Memory Verse for November
The Lord is good to those who will wait for him, to the person
who seeks him. Lamentations 3:25
Deacon of the Week: Billy Biby
Alternate of the Week: Ed Holbert
The men serving on our Deacon Ministry Team are servant ministers who are called to help our pastors meet the needs of the church family.
This Week at GVBC
Sunday, Nov 13 - (Bible Reading –Job 24-25)
9:00 am Sunday School Classes
10:30 am Worship Service – Pastor Steve Wagner
2:00 pm Silver Springs Bible Study & Worship
6:00 pm Life Group
Monday, Nov 14 - (Bible Reading – Job 26-27)
9:30 am Women's Bible Study
Tuesday, Nov 15 - (Bible Reading – Job 28-29)
11:30 am Saints Alive – Manuel's Restaurant
2:00 pm Shepherding Ministry meets
Wednesday, Nov 16 - (Bible Reading – Job 20-31)
6:00 pm Prayer Meeting
6:45 pm Choir Rehearsal
Thursday, Nov 17 - (Bible Reading – Job 32-33)
8:30 am Men's Breakfast & Bible Discussion
10:00 am Ladies Bible Study
2:00 pm WOM
Friday, Nov 18 - (Bible Reading – Job 34)
5:00 pm Come join us for
Hotdogs, Jesus & Family
at the Pavilion
Saturday, Nov 19 - (Bible Reading – Job 35-36)
Let us get to know you!
Please take a moment to send us your information so that we may stay connected with you. Your information is carefully managed and protected.
How did you hear about us?