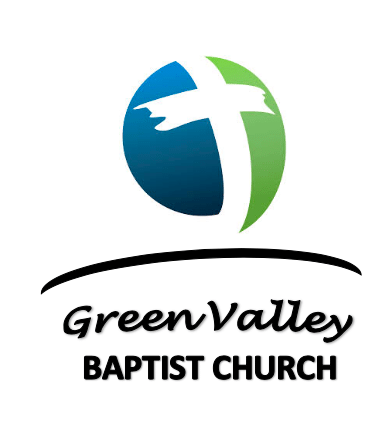 December 18th, 2022
Reflecting the Son in the Valley
Order of Service
Green Valley Baptist Church
10:30 a.m.
Worship Service
Welcome & Announcements
Hymns of Praise No. 256
Love Has Come!
Lighting of the Advent Candle for Love
Hymn No. 271
Joyful, Joyful, We Adore You
Pastoral Prayer
Hymn No. 278
Angels We Have Heard on High
Hymn No. 281
What Child Is This?
Special Music - Choir
Come On, Ring Those Bells
Offertory Prayer - Don Gilbertsen
Offertory Music - Linda Clifton
Message - Pastor John Guillott
LOVE HAS COME
John 4:25
Invitation Hymn No. 158
Think About His Love
The Lord's Supper
Final chorus Hymn No. 158
Think About His Love
Announcements
Connection Cards: Please fill out a connection card if you are a
first-time visitor, have special needs, a prayer request, or if you
wish to talk to anyone on the pastoral staff. Completed cards may
be dropped in the offering plate or given to one of the ushers.
Lottie Moon: So far, we have received to date $2,387.00 towards our goal of $12,500.00.
Saints Alive: On Tuesday, Dec 20 at 11:30 am, Saints Alive will have their Christmas Party and luncheon. There will be a $5 gift exchange and bring a dessert to share if you would like. Please see signup sheet.
Shepherding Ministry meeting: Tuesday, Dec 20 at 2 pm Rm C1
Christmas Services: Christmas Eve Dinner at 4:00 pm, followed by a Candlelight service at 6:00 pm. A special Christmas worship service at 10:30 on Sunday morning. No other activities this day.
Birthdays
Linda Harper - Dec 18
Tomi Robinson - Dec 18
John Guillott - Dec 21
Rebecca Rodrigues - Dec 22
Maureen DeLong -Dec 22
Barb Tingle - Dec 23
Susan Robinson - Dec 24
Deacon of the Week: Don Gilbertsen
Alternate of the Week: Charles Logan
The men serving on our Deacon Ministry Team are servant ministers who are called to help our pastors meet the needs of the church family.
LOVE HAS COME
John 4:25
Now that Jesus has come….hope is here….peace is here….joy is here….love is here.
GOD LOVES YOU AND EVERYONE ELSE!
GOD WANTS YOU TO EXPERIENCE HIS LOVE
GOD WANTS TO POUR HIS LOVE THROUGH YOU TO OTHERS
If we don't have love - we can't give love!
This Week at GVBC
Sunday, Dec 18 - (Bible Reading –Luke 18)
9:00 am Sunday School Classes
10:30 am Worship Service
2:00 pm Silver Springs Bible Study & Worship
6:00 pm Nativity Drive Thru – Last Day
(Lights will run continuously through December)
No Life group tonight.
Monday, Dec 19 - (Bible Reading – Luke 19)
No ladies Bible Study through Jan 2nd – will resume Jan 9, 2023
Tuesday, Dec 20 - (Bible Reading – Luke 20)
11:30 am Saints Alive – Christmas Party Luncheon
2:00 pm Shepherding Ministry Meets – Rm C1
Wednesday, Dec 21- (Bible Reading – Luke 21)
6:00 pm Prayer Meeting
6:45 pm Choir Rehearsal
Thursday, Dec 22 - (Bible Reading – Luke 22)
No Men's Bible Study
10:00 am Ladies Bible Study & Luncheon
Office Closed
Friday, Dec 23 - (Bible Reading – Luke 23
Saturday, Dec 24 - (Bible Reading – Luke 24)
4:00 pm Christmas Eve Dinner
6:00 pm Candles by Candlelight