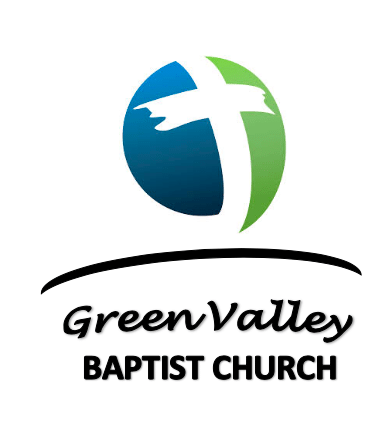 January 1st, 2023
Reflecting the Son in the Valley
Order of Service
Green Valley Baptist Church
10:30 a.m.
Worship Service
Welcome & Announcements
Hymns of Praise No. 419
The Family of God
Hymn No. 410
Standing on the Promises
Pastoral Prayer
Hymn No. 324
When I Survey the Wondrous Cross
Hymn No. 759
What If It Were Today?
Offertory Prayer - Ed Holbert
Offertory Music - Linda Clifton
Message - Pastor John Guillott
FOUR ANCHORS FOR A NEW YEAR
Acts 27:20-29
Invitation Hymn No. 577
In Times Like These
Benediction - Ed Holbert
Memory Verse for January 2023
"Teach me, Lord, the meaning of your statutes, and I will always
keep them." (Psalm 119:33 CSB)
Announcements
Connection Cards: Please fill out a connection card if you are a
first-time visitor, have special needs, a prayer request, or if you
wish to talk to anyone on the pastoral staff. Completed cards may
be dropped in the offering plate or given to one of the ushers.
Christmas Decoration Take Down: Volunteers needed for
Christmas Decoration take down in the church. It is scheduled
for this Tuesday, Jan 3 at 9:00 am. Just show up!
Nativity Take Down: We also have a need for help with the
Nativity take down scheduled for this Saturday, Jan 7th at
10:00 am. Sign up sheet in the foyer. Lunch Provided.
Ladies Bible Studies schedule: Sue Glover's class resumes on Mondays, Jan 9th at 9:30 am They will be studying, "Christ The King."
Susan Robinson's class resumes on Thursdays, Jan 12th at 10:00 am. They will be studying a book from Dr. David Jeremiah, "Book of Signs."
Open to all! Please contact one of the ladies or you may call
the office for any information.
Birthdays
Steve Meyst Jan 3
Paige Wells Jan 4
Joan Hinrichs Jan 6
Jan Weber Jan 6
Deacon of the Week: Ed Holbert
Alternate of the Week: Ernie Vinson
The men serving on our Deacon Ministry Team are servant ministers who are called to help our pastors meet the needs of the church family.
FOUR ANCHORS FOR A NEW YEAR
Acts 27:20-29
THE BIBLE
THE CHURCH
THE CROSS
THE HOPE OF HIS COMING
This Week at GVBC
Sunday, Jan 1 - (Bible Reading –Joshua 1:1-9)
9:00 am Sunday School
10:30 am Worship Service
2:00 pm Silver Springs Bible Study & Worship
Monday, Jan 2 - (Bible Reading – Psalm 18:20-30)
Office Closed
6:00 pm Deacon's Meeting – Rm C2
Tuesday, Jan 3 - (Bible Reading – Psalm 33:1-12)
9:00 am Take down Church Christmas decorations
Volunteers needed- Just show up!
Wednesday, Jan 4- (Bible Reading – Psalm 56:1-13)
6:00 pm Prayer Meeting
6:45 pm Choir Practice
Thursday, Jan 5 - (Bible Reading – Psalm 107:1-21)
8:30 am Men's Bible Study
6:00 pm Thursday Night Devotional on Facebook-
Was Joshua's war righteous?
Friday, Jan 6 - (Bible Reading – Psalm 119:1-16)
Saturday, Jan 7 - (Bible Reading – Psalm 119: 17-32)
9:00 am Church Council Meeting
10:00 am Nativity take down
Let us get to know you!
Please take a moment to send us your information so that we may stay connected with you. Your information is carefully managed and protected.
How did you hear about us?