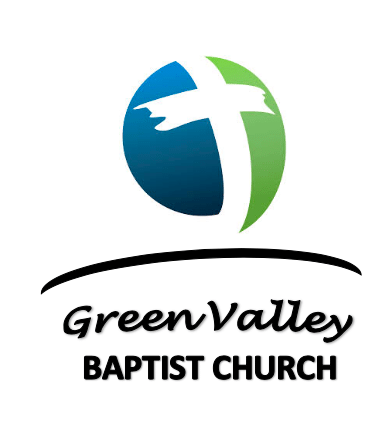 January 8th, 2023
Reflecting the Son in the Valley
Order of Service
Green Valley Baptist Church
10:30 a.m.
Worship Service
Welcome & Announcements
Hymns of Praise No. 80
I Stand in Awe
Hymn No. 508
Love Lifted Me
Pastoral Prayer
Hymn No. 353
Victory in Jesus
Hymn No. 572
Blessed Assurance
Offertory Prayer - Ernie Vinson
Offertory Music - Marilyn Schum
Message - Pastor John Guillott
From Good to Great
TAKE POSSESSIONS OF YOUR PROMISED LAND
Joshua 1:1-9
Invitation Hymn No. 696
God Lead Us Along
Benediction - Ernie Vinson
Announcements
Connection Cards: Please fill out a connection card if you are a
first-time visitor, have special needs, a prayer request, or if you
wish to talk to anyone on the pastoral staff. Completed cards may
be dropped in the offering plate or given to one of the ushers.
Safety Team: Our church has 6 handicap slots in the north
parking area and 26 in the west parking area. All are reserved
for attendees having handicap licensed vehicles (or Placards).
Kindly do not park there for Sunday services or for special events
if your vehicle is not properly licensed.
Annual Business/Prayer Meeting: Is scheduled for Wednesday, Jan 18 in the Sanctuary at 6:00 pm. Everyone is welcome to attend. Business packets for this meeting will be available in the foyer on Sunday, Jan 15.
Shepherd's Fold Preschool: SF will be adding benches along the new path. If you would like to nominate someone to be memorialized with a bench, please submit their name to Shepherd's Fold. Also, if you would like to donate toward this
project, you may make your check payable to Shepherd's Fold.
Birthdays
Carolyn Congdon Jan 10
Toni Thompson Jan 11
Mike Mead Jan 11
Kelly Elliott Jan 11
Joyce Pfaffle Jan 11
Becky Taylor Jan 12
Mary Maxwell Jan 12
Wendall Robinson Jan 13
Scott Whiteside Jan 13
Deacon of the Week: Ernie Vinson
Alternate of the Week: Rick Woodard
The men serving on our Deacon Ministry Team are servant ministers who are called to help our pastors meet the needs of the church family.
TAKE POSSESSION OF YOUR PROMISED LAND
Joshua 1:1-9
THE LESSON OF SPIRITUAL GEOGRAPHY
1 Corinthians 10:11….
Egypt = Lost and in bondage
The Exodus = Deliverance (salvation)
Wilderness = Spiritual immaturity
Canaan = The victorious Christian life
Kadesh Barnea = Your decision point
THE KEYS TO SPIRITUAL SUCCESS
Assurance of God's presence (Joshua 1:5,9)
Courage for God's challenge (Joshua 1:6-7, 9)
Obedience to God's Word (Joshua 1:7-8)
This Week at GVBC
Sunday, Jan 8 - (Bible Reading –Psalm 119:33-48)
9:00 am Sunday School
10:30 am Worship Service
2:00 pm Silver Springs Bible Study & Worship
6:00 pm Life Group – in church office
Monday, Jan 9 - (Bible Reading – Psalm 119:49-64)
9:30 am Ladies Bible Study Resumes – Christ The King
Tuesday, Jan 10 - (Bible Reading – Psalm 119:65-80)
10:15 am Saints Alive – going to Cheddars
Wednesday, Jan 11- (Bible Reading – Psalm 119:81-96)
4:30 pm Trustee Meeting- Conference Room
6:00 pm Prayer Meeting- Guest Speaker, Vance Wood
6:45 pm Choir Practice
Thursday, Jan 12 - (Bible Reading – Psalm 119:97-112)
8:30 am Men's Bible Study
10:00 am Ladies Bible Study Resumes – Book of Signs
6:00 pm Thursday Night Devotional on Facebook
Friday, Jan 13 - (Bible Reading – Psalm 119:113-128)
Saturday, Jan 14 - (Bible Reading – Psalm 119:129-144)
Let us get to know you!
Please take a moment to send us your information so that we may stay connected with you. Your information is carefully managed and protected.
How did you hear about us?