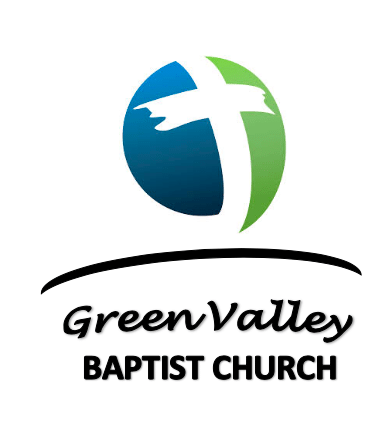 January 22nd, 2023
Reflecting the Son in the Valley
Order of Service
Green Valley Baptist Church
10:30 a.m.
Worship Service
Welcome & Announcements
Hymns of Praise No. 214
He Has Made Me Glad
Bible Reading
Psalm 139:1-10
Hymn No. 700
You Are My Hiding Place
Pastoral Prayer
Hymn No. 682
Guide Me, O Thou Great Jehovah
Hymn
Turn Your Eyes upon Jesus
Offertory Prayer - Bud Blumke
Offertory Music - Marilyn Schum
Message - Pastor John Guillott
From Good to Great
MOVIN' ON IN!
Joshua 3
Invitation Hymn No. 519
Jesus Is Lord of All
Benediction - Bud Blumke
Announcements
Connection Cards: Please fill out a connection card if you are a
first-time visitor, have special needs, a prayer request, or if you
wish to talk to anyone on the pastoral staff. Completed cards may
be dropped in the offering plate or given to one of the ushers.
Tour of Caring Ministries: On Tuesday, Feb 7, we have a tour of Caring Ministries in Tucson scheduled. Bus will leave GVBC at 9:00 am. Please see signup sheet so we can get a head count. Come with us to learn about their mission!
Shepherding Team Meeting: Tuesday Jan 24 at 2:00pm, RmC1
Annual Contribution Giving Statements: Available for pick up in the back foyer today. You may also go by the office any time the office is open. On Thursday, Jan 26, all remaining statements will be mailed.
Birthdays
Joan Stout Jan 24
Howard Dye Jan 25
Loretta Becher Jan 25
Claire Marcey Jan 26
Corky Gregory Jan 28
Deacon of the Week: Bud Blumke
Alternate of the Week: Phil Clifton
The men serving on our Deacon Ministry Team are servant ministers who are called to help our pastors meet the needs of the church family.
MOVIN' ON IN!
From Good to Great
MOVIN' ON IN!
Joshua 3
SALVATION IS ILLUSTRATED IN FOLLOWING JOSHUA
Red Sea Stage: God brought you out of the land of bondage (Egypt)
The Wilderness Stage: Don't live on the borderline!
Jordan River Stage: God brings you into the land of blessing (Canaan)
SALVATION IS EXPERIENCED IN FOLLOWING JESUS
Jesus is the…
Ark of God's presence — keep your eyes on Him!
Guide into a new adventure — step out in faith!
Pathway through problems - celebrate your crossing!
This Week at GVBC
Sunday, Jan 22 - (Bible Reading – Acts 17:1-15)
9:00 am Sunday School
10:30 am Worship Service
2:00 pm Silver Springs Bible Study & Worship
6:00 pm Life Group – in church office
Monday, Jan 23 - (Bible Reading – 2 nd Corinth 4:1-12)
9:30 am Ladies Bible Study – Christ the King
Tuesday, Jan 24 - (Bible Reading – Ephesians 6:10-20)
10:30 am Saints Alive – Oregano's Pizza Bistro
2:00 pm Shepherding Ministry Meets – Rm C1
Wednesday, Jan 25 - (Bible Reading – 2 nd Timothy 2:14-26)
5:00 pm Safety Team meets- Rm C1
6:00 pm Prayer Meeting
6:45 pm Choir Practice
Thursday, Jan 26 - (Bible Reading – 2 Timothy 3:1-17)
8:30 am Men's Breakfast & Bible Study
10:00 am Ladies Bible Study – Book of Signs
3:15-4:00pm Bible Study at Prestige Assisted Living
6:00 pm Thursday Night Devotional on Facebook
Any remaining tax statements mail.
Friday, Jan 27 - (Bible Reading – Hebrews 1:1-14)
Saturday, Jan 28 - (Bible Reading – James 1:12-24)
Let us get to know you!
Please take a moment to send us your information so that we may stay connected with you. Your information is carefully managed and protected.
How did you hear about us?