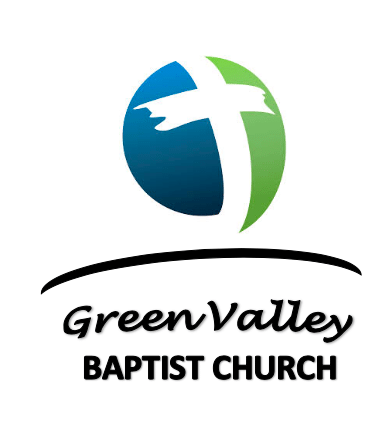 January 29th, 2023
Reflecting the Son in the Valley
Order of Service
Green Valley Baptist Church
10:30 a.m.
Worship Service
Welcome & Announcements
Hymns of Praise No. 211
Let There Be Praise
Hymn No. 727
Faith Is the Victory
Pastoral Prayer
Hymn No. 571
Trust and Obey
Hymn No. 578
Trusting Jesus
Special Music - Choir
He Touched Me
Offertory Prayer - Phil Clifton
Offertory Music - Linda Clifton
Message - Pastor John Guillott
From Good to Great
HOW TO HAVE VICTORY IN JESUS
Joshua 5-6
Invitation Hymn
The Potter's Hand
Benediction - Phil Clifton
Announcements
Connection Cards: Please fill out a connection card if you are a
first-time visitor, have special needs, a prayer request, or if you
wish to talk to anyone on the pastoral staff. Completed cards may
be dropped in the offering plate or given to one of the ushers.
5th Sunday Singing: Join us tonight in the sanctuary 6:00 pm.
Upcoming events
Tour of Caring Ministries: Join us for a tour of Caring Ministries
in Tucson on Tuesday, Feb 7th . Bus will leave GVBC at 9:00 am.
Please see signup sheet.
Soup-er Bowl Sunday: On Super Bowl Sunday, Feb 12, we will
be collecting canned soup for Caring Ministries. Tables will be
set up at the front of the sanctuary.
Lunch with Donna: Saturday, Feb 11 at 11:00 am. Bring your favorite salad to share. Soup and beverages provided. Collecting
canned soup donations for the Caring Ministries. There will be a
signup sheet in the foyer.
Missionary guest speaker Austin Smucker: Come hear the
incredible story of this missionary and how he put his faith in
God. Sunday, Feb 19 at 3:00.
Birthdays
Bill Harper Feb 3
Joan Dixon Feb 4
Deacon of the Week: Phil Clifton
Alternate of the Week: David Pack
The men serving on our Deacon Ministry Team are servant ministers who are called to help our pastors meet the needs of the church family.
HOW TO HAVE VICTORY IN JESUS
From Good to Great
HOW TO HAVE VICTORY IN JESUS
Joshua 5-6
"....This is the victory that has conquered the world: our faith. Who is the one who conquers the world but the one who believes that Jesus is the Son of God." (1 John 5:4-5)
If you aren't experiencing much victory, this message is for you. In the story of the battle of Jericho there are three important keys we can learn about how to have victory in Jesus.
KEY #1: FALL ON YOUR FACE IN SURRENDER TO JESUS
Application: Your battles are won in prayer!
KEY #2: FOLLOW YOUR COMMANDER'S ORDERS EXACTLY
Application: Obey God's Word, even if it doesn't make sense!
KEY #3: FOCUS ON DEMOLISHING STRONGHOLDS IN YOUR LIFE
Application: Your spiritual progress is halted until you destroy the enemy's fortress in your life!
This Week at GVBC
Sunday, Jan 29 - (Bible Reading – 1 Peter 1:13-25)
9:00 am Sunday School
10:30 am Worship Service
2:00 pm Silver Springs Bible Study & Worship
6:00 pm 5 th Sunday Singing
Monday, Jan 30 - (Bible Reading – 2 Peter 3:8-18)
9:30 am Ladies Bible Study – Christ the King
Tuesday, Jan 31 - (Bible Reading – Revelation 22:12-21)
11:30 am Saints Alive – Game Day
Wednesday, Feb 1 - (Bible Reading – 1 Peter 1)
3:00 pm Missions/Evangelism Meeting
6:00 pm Prayer Meeting
6:45 pm Choir Practice
Thursday, Feb 2 - (Bible Reading – 1 Peter 2)
8:30 am Men's Breakfast & Bible Study
10:00 am Ladies Bible Study – Book of Signs
3:15-4:00pm Bible Study at Prestige Assisted Living
6:00 pm Thursday Night Devotional on Facebook -
Murder, Mayhem and Myth in 3 BC
Friday, Feb 3 - (Bible Reading – 1 Peter 3)
Saturday, Feb 4 - (Bible Reading – 1 Peter 4)
Let us get to know you!
Please take a moment to send us your information so that we may stay connected with you. Your information is carefully managed and protected.
How did you hear about us?