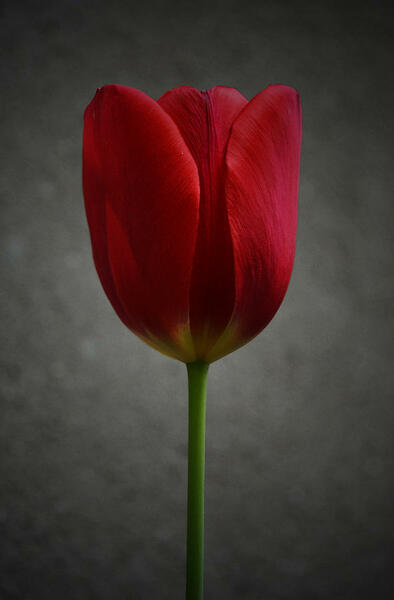 The Doctrines of Grace
T. U. L. I. P.
The Beauties of Grace
I. Introduction
One of the first games some children learn is how to pluck the petals of a daisy while reciting the phrase, "he loves me, he loves me not," however, no one uses tulips to play the same game. Those who plant tulips highly prize and value them and would never waste them on a meaningless child's game. The tulip is a beautiful flower whose glory fades with the loss of each petal. Daisies line the roadside and are quickly trampled underfoot. The doctrines of God's sovereign grace are priceless like the tulip, while the common man centered presumptions of the Arminian doctrine are as worthless as the daisy.
Someone has jokingly said, "The Arminian flower is the daisy." It symbolizes the uncertainty of salvation. As you pick the pedals, you can say, 'He loves me, He loves me not," paralyzed in fear awaiting the answer, never certain of God's capricious answer. In the Arminian theology of free will, little is lost when the petals of incoherent doctrine are plucked away, but when the biblical doctrines of grace are separated from one another, the very heart of the truth of sovereign grace is destroyed and trampled underfoot.
There is great beauty in the tulip of grace. Each petal is vital to its splendor and each fold is like a shroud hiding the beauty of Christ, which blossoms when the flower of grace unfolds its petals. One cannot separate the varying aspects of the sovereign grace of God in salvation. We may isolate them in order to study each aspect of grace, but we cannot deny any essential part. Any attempt to do so is a dreadful deed that makes the flower wilt, and the awesome beauty of true grace is lost.
One of these prized leaflets of grace in the TULIP is the I, which stands for the doctrine of Irresistible Grace. This doctrine holds that the elect of God are certainly and irresistibly drawn to salvation by the Spirit's effectual application of God's word in the dead soul unto life. The I represents one of the most cherished petals of God's glory; it is the emblematic leaf of His unrelenting affection, manifested in His mesmerizing call for His beloved. Irresistible grace is that doctrine that may be the least noticeable of the five points of Calvinist doctrine, but is sure to be found as the most cherished of them all.
It has been my experience that often in one's early encounters with the anachronism TULIP, one has to be reminded what the I in TULIP represents. If asked to expound upon its meaning many surely would fail to give a cogent, or fitting, reply. Even though their theology is seasoned with grace and they understand the issue of salvation by grace alone, still there remains an inescapable ignorance of the importance of this doctrine. Yet it cannot be overlooked. As the tulip is known for its effulgence and brilliance, so irresistible grace must be revisited for our renewed amazement.
Our depravity we know. Our sinfulness is a resounding reminder of the depths and betrayals of our revolting blackened hearts. Sin's poisonous flower is never far from our attention. But grace? Divine grace? Sovereign mercy? An irresistible pledge of God's unfeasible predilection. If sin's knowledge is ever a useful reminder for our sobriety, how much more then shall the truth of irresistible grace serve to remind us of our certain favored status forever with our Beloved? God's eternal favored nod toward us is heralded throughout Scripture, a most necessary truth revealed that we might be induced to reciprocal passions?
Divine election is God's whispered desire for our nuptial union, irresistible grace is the Spirit's sealing in our hearts of God's spoken favor. A whisper of rapacious favor from the Sovereign Lord is heard echoing from deep within the halls of heaven's exalted palace in the work of irresistible grace. Together, the inseparable petals representing the doctrines of God's sovereign grace are brought together to form a flower of unmatched beauty.
Consider how the Arminian doctrine mutilates the flower, mollifies God's unequaled mercy and grace, by placing it in the hands of fickle sinners. Robbed is the Divine King of His right to maternal selection, leaving Him emasculated and unimpressive in His person. King Ahaseurus displayed his authority, benevolence, and splender in the sovereign selection of an undeserving, common woman, only to magnify it in her as he decreed the crafting of Esther into a refulgent queen of unmatched beauty.
Without each of these petals of sovereign grace the TULIP fashioned in divine grace becomes no better than a common daisy; a cheap, divisible, and quickly trampled flower absent value. Take away sovereign grace from the gospel and you have taken away the beautiful brilliant glory of the eternal plan of God's redemption, replacing it the wilted flower of the Arminian heresy.
There is the Arminian who speaks readily of grace and salvation, but in his theology he knows nothing of grace. He has a portion of the recipe for gospel stew, but lacks the sweetener necessary for the porridge. Every pot of grace he cooks up is bitter to the taste as he adds an ingredient not called for by the recipe, that bitter herb 'the human will.' Added to the pot it is poison. Whenever credit is given to man for his salvation the gospel is cheapened.
We need a balanced pot of gospel stew, for if grace becomes resistible, it is no longer grace, and if grace becomes diminished, law abounds. In this article we shall seek to understand this flower and what are the doctrine of God's grace; hopefully, the reader will come to cherish and appreciate it more fully. In so doing, let us learn to keep the spoiling ingredients out of our stew and to spot the weeds that will spoil our garden. Let us first learn to recognize sovereign grace.
II. What is Sovereign Grace?
Sovereign grace is the doctrine that declares our utter and total dependence upon God for our accomplished salvation:
It is the acknowledgement of the truth Christ spoke when He said, "I am the vine, you are the branches. He who abides in Me, and I in him, bears much fruit; for without Me you can do nothing" (John 15:5).
It is the lost sinner's cry of helplessness and the saint's shout of glory to God in the highest. Irresistible grace teaches man is wholly lost and incapable of either willing or effectuating his repentance apart from saving grace.
It teaches that apart from efficacious (or irresistible) grace a sinner can never turn from his sins.
It is a work wrought by the Spirit of God that gives men the ability and desire they lack to repent and believe on the Lord Jesus Christ. God then draws helpless sinners through an internal work of His Spirit, regenerating them, and sealing them unto Himself.
It is done apart from any merit or effort of men.
The prophet Zechariah can help us to visualize this doctrine of God's sovereign grace. In his prophecy, we find the High Priest Joshua standing before the throne of God.. There stands the helpless sinner. Satan flanks him, his now silenced accuser, and near him is his advocate, who is the only man speaking before the great tribunal. He is the advocate Jesus Christ our Lord, who commands the man to be stripped, bathed and re-clad in glorious garments. For the filthy sinner, it is the Spirit of God who carries out the Lord's command of stripping us of all our filth, of washing us in the expiating blood of Christ so that we might be robed in the glorious righteousness of the Son of God. And just as Joshua passively stood helpless in His adorning, so are we passive agents in the efficacious work of the Spirit of God. The Holy Spirit then does effectuate our whole salvation.
We can attribute nothing to our own efforts or will; God is the cause of our every responsive action. Efficacious grace accomplishes the circumcising of the new heart, the regeneration of the dead man, that in turn delivers us from our perilous course and brings us unto Christ. Understand this then, efficacious grace does not merely make man potentially capable of repentance, but it actually secures the action of bringing the lost sinner to Christ. It is the sickness of love, with which the helpless sinner is affected, that sears and draws his helpless soul. Tell me, what lovesick bride will turn from her betrothed? She comes willingly, quickly, and straightway to her groom.
Loraine Boettner declares, "In the nature of the case the first movement toward salvation can no more come from man than his body if dead could originate its own life. Regeneration is a sovereign gift of God, graciously bestowed on those whom He has chosen; and for this great re-creative work God alone is competent. It cannot be granted on the foresight of any thing good in the subjects of this saving change, for in their unrenewed nature they are incapable of acts with right motives toward God; hence none could possibly be foreseen. In his unregenerate state man never adequately realizes his utterly helpless condition. He imagines that he is able to reform himself and turn to God if he chooses. He even imagines that he is able to counteract the designs of infinite Wisdom, and to defeat the agency of Omnipotence itself. As Dr. Warfield says,'Sinful man stands in need, not of inducements or assistance to save himself, but precisely of saving; and Jesus Christ has come not to advise, or urge, or woo, or help him to save himself, but to save him.'" 1
Gill gives us insight into why grace is called irresistible, saying,
For though the word, unattended with the Spirit and power of God, may be resisted, so as to be of no effect, yet neither the operations of the Spirit, nor the word, as attended with them, can be resisted, so as either of them should be ineffectual.2
As mentioned above, this doctrine is the sweetener of the tulip of grace, for sinners are not saved reluctantly but willingly, as grace has made them willing. Biblically, there is one doctrine of grace taught in the Scriptures. From Genesis we see that fallen man left to himself is helpless and bound up in sin. Our God testifies to this fact in Genesis 6: 5, where we read, "then the Lord saw that the wickedness of man was great in the earth, and that every intent of the thoughts of his heart was only evil continually." It is from this declaration by God that we hear the true nature of fallen man. He is depraved, ridden with sin, and hopelessness in his misery. In such a declaration we see the freedom of God to dispense with us as He so chooses. If He desires mercy of judgment, it is His prerogative. How sweet then is grace, for we read but two verses later that "Noah found grace in the eyes of the Lord" (Genesis 6: 8). The verb 'found' has the meaning of 'attainment, or gaining' in the Hebrew and the thought of 'getting or procuring' in the Greek. God confers grace upon Noah and no cause is given for God's action. God's action precedes any action by Noah. What then did Noah obtain but free grace?
The word 'favor' is from the Hebrew term hen and the Greek charis, Kittel writes, "The verbal stem denotes a gracious disposition that finds expression in a gracious action," and, "What is in view is the process whereby one who has something turns graciously to another who is in need." 3 We might then ask what was Noah's pressing need in light of coming judgment? Salvation. How was that need met? By grace alone. In this early story we can see the full necessity and sufficiency of grace. This is no obscure ancient doctrine, however, for God later said to Moses, "I know thee by name, and thou hast also found favor in my sight" (Ex 33: 12). God also said to Moses, "I will be gracious to whom I will be gracious, and will show mercy on whom I will show mercy" (Ex 33: 19). This passage is later quoted by Paul to prove God's free grace. It is God's very own jealous statement of His freedom to dispense of grace, as He so desires. Thus Romans declares, "so then it is not of him who wills, nor of him who runs, but of God who shows mercy" (Rom. 9: 16). This is what irresistible grace is--God saving men who cannot save themselves. Now let us ask...
III. What is Resistible Grace?
Historically there have been two prevailing schools of thought on the issue of grace. One champions a doctrine of universal grace. In this system, grace has always been seen as insufficient apart from the intervention of the will of men. Modified through the ages and crafted in every variety, the key discriminatory mark of resistible grace has been the insurgence of man's effort at some time into the work of grace. Whether grace is found as co- operating with the will or the first cause that moves the will, resistible grace is nothing more than men seeking to put their name in lights next to the Lord. Some who champion free will want their name as the headliner. Others, who appear more gracious, are humble enough to share double billing with God. Still others, so filled with supposed humility, are even willing to subordinate themselves as God's opening, accompanying, or closing act. But no matter what form it takes, a doctrine of grace that necessitates the co-operation of the will of man in any form robs God of His rightful glory. God will share His glory with no man. Historically, irresistible grace has made grace the singular and sufficient cause for our every action, as man, his will, and his labors become the results that accompany the operation of grace. Resistible grace has left man as an operative in his own salvation.
Grace then becomes the true source of humility, and we must be cautious not to present the doctrine of irresistible grace as an unpalatable doctrine. The fact that the Lord, alone, saves does not make grace bitter, but men often respond with great indignation toward this teaching. One reason is that we lovers of grace, in our zeal to champion free grace, at times use it as a browbeater toward those who denounce grace. Thus we become, in the eyes of many, haughty, proud, and discriminatory. True grace does not manufacture pride; it produces humility. Men should only loathe the doctrines of grace because they bite against their pride, never because we are provocative in our boasting. We champion free grace with humility because we know ourselves to be the beggars of grace. Often, as we speak of God's right to choose and save as He Wills, we forget to season the pot of our stew with the sweet savor of irresistible grace.
Irresistible grace is a blessed doctrine because it is irresistible; it is not its exclusiveness that makes it sweet, but its compassion. For irresistible grace is that doctrine that explains how a harlot can sit at Jesus's feet and not be driven away by the righteousness of the Son of God. It is that doctrine that can tell the Canaanite woman there are crumbs for her at the Master's feet. Irresistible grace brings and keeps the lost sinner at the feet of Jesus. Those who have known the inward, irresistible call of grace have not known it to be threatening or troubling, but alluring and loving. It is the bond of love and mercy that impels us to the Savior's side. Grace is irresistible because it is liberation for the bondman. The great work of the Spirit of God is that he enables a child of Adam to act unlike Adam. Now let us address that weed of diminishing grace. Let us ask,
IV. What is Diminished Grace?
Diminishing grace is the trend of certain theological systems to cheapen grace. Excluded from this group are those who champion resistible grace, for they do not cheapen grace, but rather, in their theology, deny it. We speak of those, who, in their theologies, diminish the importance of grace in the believer's sanctification by exalting the position of the law. These brethren, in one sentence, tell of man's utter helplessness in salvation and speak of the need for grace and faith alone to save and to seal them unto eternal life, but then they take the regenerate, liberated man and place him under the old yoke of law. Again, they command him to do what no man can do apart from the divine work of irresistible grace. It is as though they have come to the cross, only to descend the highest of hills that they might dwell at Sinai again. Law is law and grace is grace; like oil and water they do not mix. We are not saved by grace that we might be compelled again to live by the law. As we saw in Israel, the law never effectuated obedience. Thus Paul chastens the Galatians who had mingled law with grace, declaring,…this only I want to learn from you: Did you receive the Spirit by the works of the law, or by the hearing of faith? Are you so foolish? Having begun in the Spirit, are you now being made perfect by the flesh? Have you suffered so many things in vain—if indeed it was in vain? Therefore He who supplies the Spirit to you and works miracles among you, does He do it by the works of the law, or by the hearing of faith? (Gal 3: 2-5)
Paul's rhetorical emphasis is clear: grace and faith alone are the rules of this the New Covenant; no longer is it the Law of Moses. We have not received grace that we might again be bound to the encumbrances of the law. For grace is liberty, not bondage, and any man who seeks to bind the conscience of free men to the threat of the law diminishes grace. Just as critical as irresistible grace is to silence the Arminian, who diminishes and destroys the sufficiency of salvation by grace alone, so irresistible grace is necessary to silence those who champion the law as the rule of life for the believer in Christ. For the perseverance of the saints is by grace alone. We are saved by grace and thus live by grace alone.
What the believer needs is not more law, but more grace.
Calvin, himself, taught this in his institutes in the section of book II, chapter II, entitled "Every day we need the Holy Spirit that we may not mistake our way." There he speaks of our ongoing need for grace saying the, "Scriptures do not teach that our minds are illumined only on one day and that they may therefore see of themselves." He declares that grace is ever needed for the child of God.
Articles XXV and XXVI of the 1644 London Baptist Confession state,
…that the same power that converts to faith in Christ, the same power carries on the soul still through all duties, temptations, conflicts, sufferings, and continually what ever a Christian is, he is by grace, and by a constant renewed operation from God, without which he cannot perform any duty to God, or undergo any temptations from Satan, the world, or men.
Be not mistaken, we are not a lawless people; we are a lawful people unto Christ by grace alone. We are a people that can rightfully say "Sola Gratia," for our salvation is truly all of grace. We can unashamedly say with Paul, "work out your own salvation with fear and trembling," attributing nothing to our own glory or effort. We do so, fully knowing that without grace we cannot accomplish such a work; thus along with Paul, we say, "it is God who works in you both to will and to do for His good pleasure" (Phil 2:13). But never do we turn to the law for the cause of our obedience; to grace alone shall we look.
V. Conclusion
Why then is it necessary that we teach this doctrine? The reason is clear, because if we neglect this doctrine we neglect the heart of redemptive theology. The scripture declares, "if not of grace, then it is of works. As gardeners of the doctrines of grace we must ever be weeding our legalisms and traditions that choke out the beauty of the flower of grace. Thus as Luther declared, "Our Lord and Master Jesus Christ, when He said 'Poenitentiam agite,' willed that the whole life of believers should be repentance." 4 But reform must be an operation of grace and not law. As Luther further also stated,5
Our overgrown gardens may be filled with weeds that espouse our own glory in the exercise of our wills, or they may be interspersed with weeds that resemble the flowers of grace. They must be removed; they do nothing more than cheapen grace and wilt the sweet flower of everlasting grace and love. Reader, the task I speak of is too hard lest the Lord visit us with mercy; we are but tenants of the Lord's garden. He alone gives the increase. If grace is not taught, then the sweet odor of grace shall not be detected in our field. If the Lord does not give the increase, our planting is in vain.
When we fail to teach and preach the doctrines of grace, men hear nothing but moralisms, legalisms, and worthless facts. The saving power of the gospel comes through the hearing of the word, by grace. How often do we hear seemingly good and profound sermons, based upon biblical texts, which are bitter to the taste because they have not been seasoned with grace? If we preach the doctrines of grace and sour the stew by neglecting to add the sweetener of grace, then we do nothing more than fill the pot with death.
Gospel preaching is grace preaching. It exalts the person of the Lord Jesus Christ as Savior and Lord, acknowledging God in His sovereignty and providence, as it pleads for the life giving power of the Spirit of God to cut to the hearts of men. We are not in need of more law, nor are we in need of our own liberty apart from grace; we need more grace that liberty might abound, else the bitter pot shall remain inedible and the sweet bread of life shall mold. Let us set the table of grace in our teachings, in our churches, in our lives, that to Him alone might all glory be given.
First Published by Pastor Kevin Hartley August, 1998, re-edited 2020
Endnotes:
1Boettner, L. Title unknown, 1929.
2Gill, John. Gill's Commentaries Online Bible: on compact disc (CD-ROM), 1977. Available: Larry Pierce Publisher.
3Kittel, Gerhard, and Friedrich, Gerhard, eds. The Theological Dictionary of the New Testament, Abridged in One Volume, (Grand Rapids, Michigan: William B. Eerdmans Publishing Co., 1985
4Disputation of Dr. Martin Luther on the "Power and Efficacy of Indulgences" by Dr. Martin Luther, 1517. Published in Works of Martin Luther, Vol. 1. Adolph Spaeth, L.D. Reed, Henry Eyster Jacobs, et al., Trans & Eds. (Philadelphia: A.J. Holman Co., 1915) pp.29–38.
5Dillenberger, John. Martin Luther: Selections from His Writings, (New York: Doubleday, 1962) p. 120
Brief Summary of the Doctrines of Grace
1. Total Depravity Because of the fall, man in his natural condition apart from any work of grace is guilty before God, hostile to God and good, inclined only toward evil continually, spiritually dead and unable to save himself. Sin has so affected every part of man (mind, will, emotions) that he cannot and will not by nature turn from sin and believe in Christ to be saved. Rather, he will exercise his will in rebellion against God and the pursuit of sin. (Gen 2:15-17; 6:5; Psa 51:5; Jer 17:9; John 6:44; Rom 3:10-18; 5:12; 7:18; 8:7-8; 1 Cor 2:14; Eph 2:1-10)
2. Unconditional Election Election refers to God's choosing of certain individuals unto salvation before the foundation of the world. This choice is unconditional in that it is not based on any merit in the sinner or any foreseen response from the sinner, but rests only in the sovereign wisdom and good pleasure of God. Repentance and faith are the result of election not the cause of election. Apart from the election of grace, none would be saved for none would seek after God. (John 10:26; Acts 11:18; 13:48; Romans 8:29-30; 9:10-21; Ephesians 1:4-11; 2:4-10)
3. Limited Atonement (Definite or Particular Redemption) The doctrine of limited atonement (perhaps better referred to as definite atonement or particular redemption) addresses the extent of Christ's atoning work on the cross. It answers the question, "For whom did Christ die?" More specifically, it grapples with the question of what Christ's death actually accomplished: did it merely make salvation possible for those who might believe or did His death actually accomplish and secure the salvation of His elect? The Scriptures teach that Christ's death actually achieved the salvation of those for whom He died. Christ's death was not general, but particular and definite in its aim. Christ died for the elect. He died for His bride, the Church. And His death actually accomplished all that was necessary to secure the everlasting salvation of His people. Christ's death on the cross cancels the debt of their sin, satisfies the holy wrath of God, and wins for His people all the benefits of salvation, including the gifts of repentance, faith and new life by the Spirit. While Scripture references will be listed below to support this understanding of Christ's death on the cross, it should be noted that limited atonement is best understood by a careful study of the meaning of union with Christ by faith as well as the great terms used in the NT to describe Christ's cross-work, such as: redemption, reconciliation, propitiation, substitution, satisfaction. (Isa 53:11-12; Matt 1:21; 26:28; Mark 10:45; John 10:11-30; 17:6-12; Acts 20:28; Rom 3:21-16; 8:28-30, 32; Eph 2:8-10; 5:25; Titus 2:14; 3:5-6; Heb 9:28; 1 Pet 2:24; Rev 5:9)
4. Irresistible Grace Because man is spiritually dead in sin, only a sovereign work of God can overcome man's rebellion against God and bring him to faith in Christ. Irresistible grace refers to that special inward work of God the Holy Spirit whereby a sinner is made spiritually alive and given the gifts of repentance and faith in the Lord Jesus Christ. God's sovereign work of grace can and will overcome all resistance when He wills to draw His elect to saving faith in Jesus Christ. (John 1:12-13; 3:1-8; 6:37, 44, 64-65; 10:27; Acts 16:14; Rom 8:28-30; 1 Cor 1:23-24; 2 Cor 4:4-6; Eph 2:8-10; 2 Tim 2:24-25)
5. Perseverance of the Saints All those so chosen by God before time, redeemed by Christ, effectually called by God to faith in Christ and given new life in the Spirit, will be finally saved. This is not simply a matter of eternal security, though it includes that. Scripture teaches that the saints will be kept in persevering faith and the obedience of faith by the power of God to the end. The fruits of conversion will be evident in their lives, though not without remaining sin. (Mar 13:13; John 8:31; 10:26-30; Rom 8:13, 28-30, 35-39; 1 Cor 15:1-2; Eph 1:13-14; Phil 1:6; 2:13-14; Col 1:21-23; 2 Tim 2:11-12; Heb 12:14; 2 Pet 1:10; 1 John 2:3-6; Jude 24-25; Rev 2:7, 10, 11, 17, 25, 26; 3:5, 11,12, 21)
C. H. Spurgeon: An Exposition of Grace
The Rev. C. H. SPURGEON took the chair at 3 o'clock.
The proceedings were commenced by singing the 21st Hymn
The REV. C. H. Spurgeon in opening the proceedings said, we have met together beneath this roof already to set forth most of those truths in which consists the peculiarity of this Church. Last evening we endeavoured to show to the world, that we heartily recognised the essential union of the Church of the Lord Jesus Christ. And now, this afternoon and evening, it is our intention, through the lips of our brethren, to set forth those things which are verily received among us, and especially those great points which have been so often attacked, but which are still upheld and maintained,-truths which we have proved in our experience to be full of grace and truth. My only business upon this occasion is to introduce the brethren who shall address you, and I shall do so as briefly as possible, making what I shall say a preface to their remarks.
The controversy which has been carried on between the Calvinist and the Arminian is exceedingly important, but it does not so involve the vital point of personal godliness as to make eternal life depend upon our holding either system of theology. Between the Protestant and the Papist there is a controversy of such a character, that he who is saved on the one side by faith in Jesus, dare not allow that his opponent on the opposite side can be saved while depending on his own works. There the controversy is for life or death, because it hinges mainly upon the doctrine of justification by faith, which Luther so properly called the test doctrine, by which a Church either stands or falls. The controversy again between the believer in Christ and the Socinian, is one which affects a vital point. If the Socinian be right, we are most frightfully in error; we are, in fact, idolaters, and how dwelleth eternal life in us? and if we be right, our largest charity will not permit us to imagine that a man can enter heaven who does not believe the real divinity of the Lord Jesus Christ.
There are other controversies which thus cut at the very core, and touch the very essence of the whole subject. But, I think we are free to admit, that while John Wesley, for instance, in modern times zealously defended Arminianism, and on the other hand, George Whitfield with equal fervour fought for Calvinism, we should not be prepared either of us, on either side of the question, to deny the vital godliness of either the one or the other. We cannot shut our eyes to what we believe to be the gross mistakes of our opponents, and should think ourselves unworthy of the name of honest men, if we could admit that they are right in all things and ourselves right too. An honest man has an intellect which does not permit him to believe that "yes" and "no" can both subsist at the same hour and both be true. I cannot say, "It is," and my brother point blank say, "It is not," and yet both of us be right on that point.
We are willing to admit, in fact, we dare not do otherwise, that opinion upon this controversy does not determine the future of even the present state of any man; but still, we think it to be so important, that in maintaining our views, we advance with all courage and fervency if spirit, believing that we are doing God's work and upholding most important truth. It may not be misunderstood, we only use the term for shortness. That doctrine which is called "Calvinism" did not spring from Calvin; we believe that it sprang from the great founder of all truth. Perhaps Calvin himself derived it mainly from the writings of Augustine. Augustine obtained his views, without doubt, through the Spirit of God, from the diligent study of the writings of Paul, and Paul received them of the Holy Ghost, from Jesus Christ the great founder of the Christian dispensation. We use the term then, not because we impute any extraordinary importance to Calvin's having taught these doctrines.
We would be just as willing to call them by any other name, if we could find one which would be better understood, and which on the whole would be as consistent with fact. And then again, this afternoon, we shall have very likely to speak of Arminians, and by that, we would not for a moment insinuate that all who are in membership with the Arminian body, hold those particular views. There are Calvinists in connection with Calvinistic Churches, who are not Calvinistic, bearing the name but discarding the system. There are, on the other hand, not a few in the Methodist Churches, who, in most points perfectly agree with us, and I believe that if the matter came to be thoroughly sifted, it would be found that we are more agreed in our private opinions than in our public confessions, and our devotional religion is more uniform than our theology. For instance, Mr. Wesley's hymn-book, which may be looked upon as being the standard of his divinity, has in it upon some topics higher Calvinism than many books used by ourselves.
I have been exceedingly struck with the very forcible expressions there used, some of which I might have hesitated to employ myself. I shall ask your attention while I quote verses from the hymns of Mr. Wesley, which we can all endorse as fully and plainly in harmony with the doctrines of grace, far more so than the preaching of some modern Calvinists. I do this because our low-doctrine Baptists and Morisonians ought to be aware of the vast difference between themselves and the Evangelical Arminians.
Nor are these all, for such good things as these abound, and they constrain me to say, that in attacking Arminianism we have no hostility towards the men who bear the name rather than the nature of that error, and we are opposed not to any body of men, but to the notions which they have espoused.
And now, having made these remarks upon terms used, we must observe that there is nothing upon which men need to be more instructed than upon the question of what Calvinism really is. The most infamous allegations have been brought against us, and sometime, I must fear, by men who knew them to be utterly untrue; and, to this day, there are many of our opponents, who, when they run short of matter, invent and make for themselves a man of straw, call that John Calvin, and then shoot all their arrows at it. We are not come here to defend your man of straw-shoot at it or burn it as you will, and, if it suit your convenience, still oppose doctrines which were never taught, and rail at fictions which, save in your own brain, were never in existence.
We come here to state what our views really are, and we trust that any who do not agree with us will do us the justice of not misrepresenting us. If they can disprove our doctrines, let them state them fairly and then overthrow them, but why should they first caricature our opinions and then afterwards attempt to put them down? Among the gross falsehoods which have been uttered against the Calvinists proper, is the wicked calumny that we hold the damnation of little infants. A baser lie was never uttered. There may have existed somewhere, in some corner of the earth, a miscreant who would dare to say that there were infants in hell, but I have never met with him, nor have I met with a man who ever saw such a person.
We say, with regard to infants, Scripture saith but little, and, therefore, where Scripture is confessedly scant, it is for no man to determine dogmatically. But I think I speak for the entire body, or certainly with exceedingly few exceptions, and those unknown to me, when I say, we hold that all infants are elect of God and are therefore saved, and we look to this as being the means by which Christ shall see of the travail of his soul to a great degree, and we do sometimes hope that thus the multitude of the saved shall be made to exceed the multitude of the lost.Whatever views our friends may hold upon the point, they are not necessarily connected with Calvinistic doctrine. I believe that the Lord Jesus, who said, "Of such is the kingdom of heaven," doth daily and constantly receive into his loving arms those tender ones who are only shown, and then snatched away to heaven. Our hymns are no ill witness to our faith on this point, and one of them runs thus:
"Millions of infant souls compose
The family above."
"Toplady, one of the keenest of Calvinists, was of this number. "In my remarks," says he, "on Dr. Nowell, I testified my firm belief that the souls of all departed infants are with God in glory; that in the decree of predestination to life, God hath included all whom he decreed to take away in infancy, and that the decree of reprobation hath nothing to do with them." Nay, he proceeds farther, and asks, with reason, how the anti-Calvinistic system of conditional salvation and election, or good works foreseen, will suit with the salvation of infants? It is plain that Arminians and Pelagians must introduce a new principle of election; and in so far as the salvation of infants is concerned, become Calvinists.
Is it not an argument in behalf of Calvinism, that its principle is uniform throughout, and that no change is needed on the ground on which man is saved, whether young or old? John Newton, of London, the friend of Cowper, noted for his Calvinism, holds that the children in heaven exceed its adult inhabitants in all their multitudinous array. Gill, a very champion of Calvinism, held the doctrine, that all dying in infancy are saved. An intelligent modern writer, (Dr. Russell, of Dundee,) also a Calvinist, maintains the same views; and when it is considered that nearly one-half of the human race die in early years, it is easy to see what a vast accession must be daily and hourly making to the blessed population of heaven."
A more common charge, brought by more decent people,-for I must say that the last charge is never brought, except by disreputable persons,-a more common charge is, that we hold clear fatalism. Now, there may be Calvinists who are fatalists, but Calvinism and fatalism are two distinct things. Do not most Christians hold the doctrine of the providence of God? Do not all Christians, do not all believers in a God hold the doctrine of his foreknowledge? All the difficulties which are laid against the doctrine of predestination might, with equal force, be laid against that of Divine foreknowledge. We believe that God hath predestinated all things from the beginning, but there is a difference between the predestination of an intelligent, all-wise, all-bounteous God, and that blind fatalism which simple says, "It is because it is to be." Between the predestination of Scripture and the fate of the Koran, every sensible man must perceive a difference of the most essential character.
We do not deny that the thing is so ordained that it must be, but why is it to be, but that the Father, God, whose name is love, ordained it; not because of any necessity in circumstances that such and such a thing should take place. Though the wheels of providence revolve with rigid exactness, yet not without purpose and wisdom. The wheels are full of eyes, and everything ordained is so ordained that it shall conduce to the grandest of all ends, the glory of God, and the next to that the good of his creatures. But we are next met by some who tell us that we preach the wicked and horrible doctrine of sovereign and unmerited reprobation. "Oh," say they, "you teach that men are damned because God made them to be damned, and that they go to hell, not because of sin, not because of unbelief, but because of some dark decree with which God has stamped their destiny."
Brethren, this is an unfair charge again. Election does not involve reprobation. There may be some who hold unconditional reprobation. I stand not here as their defender, let them defend themselves as best they can; I hold God's election, but I testify just as clearly that if any man be lost he is lost for sin; and this has been the uniform statement of Calvinistic ministers. I might refer you to our standards, such as "The Westminster Assembly's Catechism," and to all our Confession, for they all distinctly state that man is lost for sin, and that there is no punishment put on any man except that which he richly and righteously deserves. If any of you have ever uttered that libel against us, do it not again, for we are as guiltless of that as you are yourselves.
I am speaking personally-and I think in this I would command the suffrages of my brethren-I do know that the appointment of God extendeth to all things; but I stand not in this pulpit, nor in any other, to lay the damnation of any man anywhere but upon himself. If he be lost, damnation is all of man; but, if he be saved, still salvation is all of God. To state this important point yet more clearly and explicitly, I shall quote at large from an able Presbyterian divine:
"The pious Methodist is taught that the Calvinist represents God as creating men in order to destroy them. He is taught that Calvinists hold that men are lost, not because they sin, but because they are nonelected. Believing this to be a true statement, it is not wonderful that the Methodist stops short, and declares himself, if not an Arminian, at least an AntiPredestinarian. But no statement can be more scandalously untrue. It is the uniform doctrine of Calvinism, that God creates all for his own glory; that he is infinitely righteous and benignant, and that where men perish it is only for their sins.
In speaking of suffering, whether in this world or in the world to come; whether it respects angels or men, the Westminster standards (which may be considered as the most authoritative modern statement of the system) invariably connect the punishment with previous sin, and sin only. "As for those wicked and ungodly men whom God as a righteous judge FOR FORMER SINS doth blind and harden, from them he not only withholdeth his grace, whereby they might have been enlightened in their understandings and wrought upon in their hearts, but sometimes also with draweth the gifts which they had, and exposeth them to such objects as their corruption makes occasion of sin; and withal gives them over to their own lusts, the temptations of the world, and the power of Satan, whereby it comes to pass that they harden themselves even under those means which God useth for the softening of others."
The Larger Catechism, speaking of the unsaved among angels and men, says, "God according to his Sovereign power and the unsearchable counsel of his own will (whereby he extendeth or withholdeth favour as he pleaseth) hath passed by and fore-ordained the rest to dishonour and wrath, to be for their sin inflicted, to the praise of the glory of his justice." Again, "the end of God appointing this day (of the last judgment) is for the manifestation of the glory of his mercy, in the eternal salvation of the elect, and of his justice in the damnation of the reprobate who are wicked and disobedient." This is no more than what the Methodist and all other Evangelical bodies acknowledge-that where men perish it is in consequence of their sin.
If it be asked, why sin which destroys, is permitted to enter the world, that is a question which bears not only on the Calvinist, but equally on all other parties. They are as much concerned and bound to answer it as he; nay, the question in not confined to Christians. All who believe in the existence of God-in his righteous character and perfect providence, are equally under obligation to answer it. Whatever may be the reply of others, that of the Calvinist may be regarded as given in the statement of the Confession of Faith, which declares that God's providence extendeth itself even to the first fall, and other sins of angels and men, &c.; "yet so as the sinfulness thereof proceedeth only from the creature, and not from God, who, being most holy and righteous, neither is nor can be the author or approver of sin."
It is difficult to see what more could be said upon the subject; and if such be the undoubted sentiments of Calvinists, then what misrepresentation can be more gross than that which describes them as holding that sinners perish irrespective of their sin, or that God is the author of their sin? What is the declaration of Calvin? "Every soul departs (at death) to that place which it has prepared for itself while in this world."
It is hard to be charged with holding as sacred truth what one abhors as horrid blasphemy, and yet this is the treatment which has been perseveringly meted out to Calvinists in spite of the most solemn and indignant disclaimers. Against nothing have they more stoutly protested than the thought that the infinitely holy, and righteous, and amiable Jehovah is the author of sin; and yet how often do the supporters of rival systems charge them with this as an article of faith?
A yet further charge against us is, that we dare not preach the gospel to the unregenerate, that, in fact, our theology is so narrow and cramped that we cannot preach to sinners. Gentlemen, if you dare to say this, I would take you to any library in the world where the old Puritan fathers are stored up, and I would let you take down any one volume and tell me if you ever read more telling exhortations and addresses to sinners in any of your own books.
Did not Bunyan plead with sinners, and whoever classed him with any but the Calvinist? Did not Charnock, Goodwin, and Howe agonise for souls, and what were they but Calvinist? Did not Jonathan Edwards preach to sinners, and who more clear and explicit on these doctrinal matters. The works of our innumerable divines teem with passionate appeals to the unconverted.
Oh, sirs, if I should begin the list, time should fail me. It is an indisputable fact that we have laboured more than they all for the winning of souls. Was George Whitfield any the less seraphic? Did his eyes weep the fewer tears or his bowels move with the less compassion because he believed in God's electing love and preached the sovereignty of the Most High? It is an unfounded calumny. Our souls are not stony; our bowels are not withdrawn the compassion which we ought to feel for our fellowmen; we can hold all our views firmly, and yet can weep as Christ did over a Jerusalem which was certainly to be destroyed.
Again, I must say, I am not defending certain brethren who have exaggerated Calvinism. I speak of Calvinism proper, not that which has run to seed, and outgrown its beauty and verdure. I speak of it as I find it in Calvin's Institutes, and especially in his Expositions. I have read them carefully. I take not my views of Calvinism from common repute but from his books. Nor do I, in this speaking, even vindicate Calvinism as if I cared for the name, but I mean that glorious system which teaches that salvation is of grace from first to last. And again, then, I say it is an utterly unfounded charge that we dare not preach to sinners.
And then further, that I may clear up these points and leave the less rubbish for my brethren to wheel away, we have sometimes heard it said, but those who say it ought to go to school to read the first book of history, that we who hold Calvinistic views are the enemies of revivals. Why, sirs, in the history of the Church, with but few exceptions, you could not find a revival at all that was not produced by the orthodox faith. What was the great work which was done by Augustine, when the Church suddenly woke up from the pestiferous and deadly sleep into which Pelagian doctrine had cast it?
What was the Reformation itself but the waking up of men's minds to those old truths? However far modern Lutherans may have turned aside from their ancient doctrines, and I must confess some of them would not agree with what I now say, yet, at any rate, Luther and Calvin had no dispute about Predestination. Their views were identical, and Luther, "On the bondage of the will," is as strong a book upon the free grace of God as Calvin himself could have written. Hear that great thunderer while he cries in that book, "Let the Christian reader know then, that God foresees nothing in a contingent manner; but that he foresees, proposes, and acts, from his eternal and unchangeable will. This is the thunder stroke which breaks and overturns Free Will."
Need I mention to you better names than Huss, Jerome of Prague, Farrel, John Knox, Wickliffe, Wishart, and Bradford? Need I do more than say that these held the same views, and that in their day anything like an Arminian revival was utterly unheard of and undreamed of. And then, to come to more modern times, there is the great exception, that wondrous revival under Mr. Wesley, in which the Wesleyan Methodists had so large a share; but permit me to say, that the strength of the doctrine of Wesleyan Methodism lay in its Calvinism.
The great body of the Methodists disclaimed Palagianism, in whole and in part. They contended for man's entire depravity, the necessity of the direct agency of the Holy Spirit, and that the first step in the change proceeds not from the sinner, but from God. They denied at the time that they were Pelagians. Does not the Methodist hold as firmly as ever we do, that man is saved by the operation of the holy Ghost, and the Holy Ghost alone? And are not many of Mr. Wesley's sermons full of that great truth, that the Holy Ghost is necessary to regeneration?
Whatever mistakes he may have made, he continually preached the absolute necessity of the new birth by the Holy Ghost, and there are some other points of exceedingly close agreement; for instance, even that of human inability. It matters not how some may abuse us, when we say man could not of himself repent or believe; yet, the old Arminian standards said the same. True, they affirm that God has given grace to every man, but they do not dispute the fact, that apart from that grace there was no ability in man to do that which was good in his own salvation.
And then, let me say, if you turn to the continent of America, how gross the falsehood, that Calvinistic doctrine is unfavourable to revivals. Look at that wondrous shaking under Jonathan Edwards, and others which we might quote. Or turn to Scotland-what shall we say of M'Cheyne? What shall we say of those renowned Calvinists, Dr. Chalmers, Dr. Wardlow, and before them Livingstone, Haldane, Erskine, and the like? What shall we say of the men of their school, but that, while they held and preached unflinchingly the great truths which we would propound to-day, yet God owned their word, and multitudes were saved.
And if it were not perhaps too much like boasting of one's own work under God, I might say, personally I have never found the preaching of these doctrines lull this Church to sleep, but ever while they have loved to maintain these truths, they have agonised for the souls of men, and the 1600 or more of whom I have myself baptized, upon profession of their faith, are living testimonies that these old truths in modern times have not lost their power to promote a revival of religion.
I have thus cleared away these allegations at the outset; I shall now need a few minutes more to say, with regard to the Calvinistic system, that there are some things to be said in its favour, to which of course I attach but little comparative importance, but they ought not to be ignored. It is a fact that the system of doctrines called the Calvinistic, is so exceedingly simple and so readily learned, that as a system of Divinity it is more easily taught and more easily grasped by unlettered minds than any other.
The poor have the Gospel preached to them in a style which assists their memories and commends itself to their judgments. It is a system which was practically acknowledged an high philosophic grounds by such men as Bacon, Leibnitz, and Newton, and yet it can charm the soul of a child and expand the intellect of a peasant. And then it has another virtue. I take it that the last is no mean one, but it has another-that when it is preached there is a something in it which excites thought.
A man may hear sermons upon the other theory which shall glance over him as the swallow's wing gently sweeps the brook, but these old doctrines either make a man so angry that he goes home and cannot sleep for very hatred, or else they bring him down into lowliness of thought, feeling the immensity of the things which he has heard. Either way it excites and stirs him up not temporarily, but in a most lasting manner.
These doctrines haunt him, he kicks against the pricks, and full often the word forces a way into his soul. And I think this is no small thing for any doctrine to do, in an age given to slumber, and with human hearts so indifferent to the truth of God. I know that many men have gained more good by being made angry under a sermon than by being pleased by it, for being angry they have turned the truth over and over again, and at last the truth has burned its way right into their hearts. They have played with edge-tools, but they have cut themselves at last.
It has this singular virtue also-it is so coherent in all its parts. You cannot vanquish a Calvinist. You may think you can, but you cannot. The stones of the great doctrines so fit into each other, that the more pressure there is applied to remove them the more strenuously do they adhere. And you may mark, that you cannot receive one of these doctrines without believing all. Hold for instance that man is utterly depraved, and you draw the inference then that certainly if God has such a creature to deal with salvation must come from God alone, and if from him, the offended one, to an offending creature, then he has a right to give or withhold his mercy as he wills; you are this forced upon election, and when you have gotten that you have all: the others must follow.
Some by putting the strain upon their judgments may manage to hold two or three points and not the rest, but sound logic I take it requires a man to hold the whole or reject the whole; the doctrines stand like soldiers in a square, presenting on every side a line of defence which it is hazardous to attack, but easy to maintain. And mark you, in these times when error is so rife and neology strives to be so rampant, it is no little thing to put into the hands of a young man a weapon which can slay his foe, which he can easily learn to handle, which he may grasp tenaciously, wield readily, and carry without fatigue; a weapon, I may add, which no rust can corrode and no blows can break, trenchant, and well annealed, a true Jerusalem blade of a temper fit for deeds of renown.
The coherency of the parts, though it be of course but a trifle in comparison with other things, is not unimportant. And then, I add,-but this is the point my brethren will take up-it has this excellency, that it is scriptural, and that it is consistent with the experience of believers. Men generally grow more Calvinistic as they advance in years. Is not that a sign that the doctrine is right. As they are growing riper for heaven, as they are getting nearer to the rest that remaineth for the people of God, the soul longs to feed on the finest of the wheat, and abhors chaff and husks.
And then, I add-and, in so doing, I would refute a calumny that has sometimes been urged,-this glorious truth has this excellency, that it produces the holiest of men. We can look back through all our annals, and say, to those who oppose us, you can mention no names of men more holy, more devoted, more loving, more generous than those which we can mention. The saints of our calendar, though uncanonized by Rome, rank first in the book of life.
The names of Puritan needs only to be heard to constrain our reverence. Holiness had reached a height among them which is rare indeed, and well it might for they loved and lived the truth. And if you say that our doctrine is inimical to human liberty, we point you to Oliver Cromwell and to his brave Ironsides, Calvinists to a man. If you say, it leads to inaction, we point you to the Pilgrim Fathers and the wildernesses they subdued. We can put our finger upon every spot of land, the wide world o'er, and say, "Here was something done by a man who believed in God's decrees; and, inasmuch as he did this, it is proof it did not make him inactive, it did not lull him to sloth."
The better way, however of proving this point is for each of us who hold these truths, to be more prayerful, more watchful, more holy, more active than we have ever been before, and by so doing, we shall put to silence the gainsaying of foolish men. A living argument, is an argument which tells upon every man; we cannot deny what we see and feel. Be it ours, if aspersed and calumniated, to disprove it by a blameless life, and it shall yet come to pass, that our Church and its sentiments too shall come forth "Fair as the moon, clear as the sun, and terrible as an army with banners."
T.U.L.I.P and the Canons of Dort
By Dr. R. Scott Clarke
Introduction
Few of our Reformed confessional documents are as valuable and yet as neglected as the Canons of Dort. Today most who know about them think of them as the so-called and quite misleading "Five Points of Calvinism" or TULIP: Total Depravity, Unconditional Election, Limited Atonement, Irresistible Grace, and Perseverance of the Saints. Strangely, for many, especially those in the self-described Young, Restless, and Reformed movement, the "Five Points" have become the be all and end all of "Reformed theology." The truth is that there is much more to Reformed theology than the five points. Indeed, it is anachronistic and reductionist to call them the "Five Points of Calvinism." It is anachronistic because Calvin had been dead for 54 years when the Synod of Dort convened in the Netherlands. It is reductionist because the Canons were never intended to be anything like a complete statement of the Reformed faith. They were the product of ecclesiastical deliberation on the attempt by some within the Reformed church in the Netherlands fundamentally to revise our doctrine of salvation. The Canons do not speak to many other topics in Reformed theology, piety, and practice. Further, what the churches were defending was the Word of God as confessed by the churches, not the formulations of a single pastor, however significant and influential, in Geneva. "Calvinism" was a nickname given to Reformed theology by its Lutheran critics. The Reformed churches and theologians described themselves as Reformed. The widespread use of "Calvinist" is a modern phenomenon.
Indeed, as Richard Muller has noted for years, even the acrostic TULIP is misleading. It does not accurately reflect the order of the doctrines addressed in the Canons, which would be: ULTIP. In The "Five Points" are not five distinct points because of the Third and Fourth Heads of Doctrine form one point, as it were.
The only reason the Synod issued five points is because Remonstrants (i.e., the Protesters) published their Remonstrance in five points, in 1610, about a year after the death of Jacob Harmenzoon (Latin, Arminius), the leader of the movement, in 1609. The Reformed five points were only and ever intended to be a specific, point-by-point response to the five points formulated by the Remonstrants (i.e., the Arminians).
Background
A canon is a rule. So, the Canons of the Synod of Dort are the rulings of the Synod in response to the Arminian objections. The issues, however, did not arise in 1609, with the death of Arminius. Indeed, there were precursors to Arminius in the British Isles but it was a minister in the Reformed churches, Arminius, who began to formulate revisions to Reformed theology. There was little about young Jacob that would have signaled his dissatisfaction with the Protestant Reformation. As a theological student in Geneva, he studied under Theodore Beza (1519–1605). Born in 1560, in Utrecht, he grew up in the Reformed church. His mother was martyred by the papists when Arminius was 15. He was a student in the famous university of Leiden, where the theology faculty was Reformed.1 From there he studied in Geneva with Beza, who gave him a letter of recommendation when he finished. There has been speculation that he disagreed with Beza over philosophical and logical method. Arminius was committed to Ramism and Beza was more traditional but one of Beza's friends and students, Caspar Olevianus (1536–87), was also a Ramist in method as were a number of orthodox Reformed theologians in the period. Arminius' student disputation gives us no evidence of any dissatisfaction with the Reformed confession. He used Geneva as home base from which he made study trips the a variety of famous schools to study with scholars from a variety of backgrounds. It seems likely that these trips combined with some of his contacts while he was in Leiden, e.g., Caspar Koohaas (1536–1615). The latter was Reformed minister in Leiden who was later disciplined by the Reformed churches for refusing to subscribe the Belgic Confession. Whether he was influenced by Romanist theologians during his tour of Italy has been disputed but there is some evidence for it in the texts that he assigned when he began teaching in the theology faculty in Leiden and in his writings.
After his studies, he returned to Amsterdam, was called to a pastorate there and married into an influential family. Almost immediately he found himself embroiled in controversy. His sermons in Romans were especially controversial. On Romans 7 he theorized that Paul could not have been speaking about himself as a Christian. Rather, he argued, Paul was describing his pre-Christian experience. On Romans 9 he postured as a defender of justification by grace alone, through faith alone but set up a system in which God elects on the basis of foreseen faith (fides praevisa). These sermons provoked a strong reaction in the church led by the father of Reformed missions, Petrus Plancius (1522–1622), but he was not disciplined by his consistory (the congregational ministers and elders) or the Amsterdam Classis (the regional ministers and elders) most likely because of protection of influential supporters. Many of the civil magistrates in the Netherlands had been influenced by sub-Protestant ideas. They wanted Christians to love Jesus but they tended to be doctrinally indifferent and strongly opposed to religious conflict. They tended to support the Erastian theory of government wherein the visible church is said to be a creature of the state. The Reformed churches, by contrast, tended to support the liberty of the church over against the state.
There were practical reasons for the magistrates' opposition to religious conflict. In 1555, Philip II (1527–98), who was devoutly Romanist, became "Lord of the Netherlands" and the next year, King of Spain. In the years following, he conducted a vicious and expensive campaign in the Netherlands in his attempt to exterminate the Protestants, especially the Reformed. He was so devoted to this cause that he bankrupted Spain 3 times in its prosecution. The Spanish martyred about 12,000 Reformed Christians in this period. From 1568 the provinces of the Netherlands revolted against Spanish control. The Dutch magistrates wanted to downplay religious differences and to foster a united front against the Spanish.
The Crisis
Despite the controversy attached to Arminius' teaching he was called, in 1603, from the pastorate to a position in the theology faculty in the University of Leiden. This fact and the fact that Arminius would be given a high-ranking position in the University before his death, argues against the Arminian narrative that Jacob was a victim of mean-spirited Calvinists. Indeed, his appointment was controversial and the governors of the university—by modern American standards a small college—twice commissioned a faculty member, Franciscus Gomarus (1563–1641), to investigate Arminius' views. He suspected Arminius of heterodoxy but he was never able to prove it.
Arminius was a winsome and persuasive teacher and, over the years, accumulated a following among students, who became pastors and spread his teaching in the church. He died in 1609 and his supporters sought to replace him with an even more controversial theologian, Conrad Vorstius (1569–1622), who had studied in Heidelberg, Herborn, and Geneva among other places. He was suspected, however, of harboring Socinian sympathies. Gomarus was so upset by the appointment that he left the University. Ultimately, however, Vorstius never took up his position in the University.
Into this boiling cauldron of controversy, mutual suspicion, and recrimination came the Five Points of the Remonstrants, crystallizing the issues. For all the doubt surrounding what Arminius was saying it became clear what the Arminians were teaching. It seems unlikely that the movement came to such clarity so quickly and entirely independently of Arminius' influence.
The first article of the Remonstrance confessed that God elects on the basis of foreseen faith and perseverance. They said, "God…has determined, out of the fallen, sinful race of men, to save in Christ, for Christ's sake, and through Christ, those who, through the grace of the Holy Ghost, shall believe on this his Son Jesus, and shall persevere in this faith."
Second, they confessed that Christ died "for all men and for every man, so that he ha s obtained for them all…redemption, and the forgiveness of sins; yet that no one actually enjoys this forgiveness of sins, except the believer."
Third, "it is necessary that he be born again of God in Christ, through his Holy Spirit, and renewed in understanding, inclination, or will, and all his powers…". The controversy here was what the Remonstrants did not say, that human depravity is such and true faith is such that it is only the gift of God.
Fourth, the Remonstrants confessed grace "is not irresistible," confirming the Reformed conviction that the Remonstrants made human cooperation of the essence of justification and salvation.
Fifth, they said the "Holy Spirit" and "Jesus Christ assists them through his Spirit in all temptations" and "extends to them his hand" to those who are "ready for the conflict…". Here they made grace conditional upon our cooperation. They concluded, somewhat disingenuously, by raising a question about perseverance. They suggested that it might be possible that true believers might be
capable, through negligence, of forsaking again the first beginnings of their life in Christ, of again returning to this present evil world, of turning away from the holy doctrine which was delivered them, of losing a good conscience, of becoming devoid of grace, that must be more particularly determined out of the Holy Scriptures before we ourselves can teach it with the full persuasion of our minds."2
Their fifth point constituted a serious departure from the Reformation doctrine of assurance. It found support among some of the Lutheran orthodox, who themselves had departed from Luther on this point. It constituted a direct assault on the basis for assurance as it put the believer back on a works footing (via cooperation with grace) for his assurance. It confirmed that the intent and result of the Remonstrance was to overturn the Reformation doctrine of salvation (justification, sanctification, and glorification) sola gratia, sola fide.
A Reformed, Evangelical, Presbyterian church. A member of the Evangelical Presbyterian Church.
Our address is: 400 W. Palo Verde Ave Ajo, AZ 85321