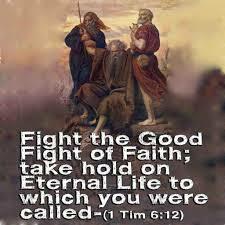 Fight the Good Fight of Faith
Good Shepherd EPC March 2020 Newsletter Patience, Faithfulness, and Diligence in Trying Times
Trying Times
As you find yourself under restraint to stay alone, now is a good time to spend time reflecting upon our difficult days, like these, when darkness seems all about. From a sermon I preached in 2000 on Daniel and the Lion's Den, use these words I hope to comfort you in a trying night:
Daniel 6: 19 - 24
Then the king arose very early in the morning, and went in haste unto the den of lions. And when he came to the den, he cried with a lamentable voice unto Daniel: and the king spake and said to Daniel, O Daniel, servant of the living God, is thy God, whom thou servest continually, able to deliver thee from the lions? Then said Daniel unto the king, O king, live for ever. My God hath sent his angel, and hath shut the lions' mouths, that they have not hurt me: forasmuch as before him innocency was found in me; and also before thee, O king, have I done no hurt.
It has been said that few great men finish well. Time generally has a way of wearing down the fortitude of men. Yet in the annals of our Lord we find innumerable examples of fortitude amongst men who endured faithful unto the end. The prophet Daniel was such a servant of God. For the years, though surely exacting a toll upon the captive in a far away land, failed to deter Daniel from a faithful course. When we draw open the pages of the book of Daniel to the sixth chapter, yet two chapters removed from Nebuchadnezzar's compendium of praise to the God of heaven, we find ourselves far removed from that day. Thirty years had passed since Daniel had served in Nebuchadnezzar's court. Seventy years had passed since Babylon had first laid siege to Judah. Sixty years Daniel had dwelt captive in a far away land. The once young man had now spent the vast majority of his life far from Jerusalem, far from his land, far from the liberty Israel had once known. Daniel was now believed to have advanced well into his eighties when we open the pages of Daniel six, an aged man, and a faithful man, still serving captive to foreign kings. But now, a new ruler had ascended the throne, no longer a Babylonian, but now a Persian, and his name was Darius. But though a new people and a new king rule over Daniel, we find little had changed since his early days in captivity.
A continuing theme echoes through the pages of the blessed word; from first to last the word of God resounds with the abiding theme of justice. From the heavenly tribunal to earthly thrones, time and again, cries for vindication and justice echo from the dark recesses of a seemingly unjust world. The oppressed are heard to cry for relief; the captive for liberty; the maligned for vengeance, and the upright call for justice. Yet it is the children of God that are heard resounding the loudest in this world, who seek deliverance from the beasts that roam seeking to devour the godly in their path. Calvin has said, we tremble at the least danger, even at the noise of a falling leaf, as we are necessarily exposed to many dangers on all sides, and surrounded by various forms of death. Listener, this day I would like us to consider the lifelong faithfulness of an oppressed child of our Lord captive in a previous day. Yet the more, I want you to consider the resounding trumpet that is heard giving a faint shrill within this text, hearkening to another day. Yes, listener, this day I would like us to consider the realities of this life, of its dangers, yea, of death itself, and consider, that we shall all one day be swallowed up in the darkest pit of death itself. And listener, I would like us to consider what trembling shall accompany us to such a pit, or what confidence shall we carry, that as Daniel, we might be found whole and justified in the pit of death. For this shall be our proposition this day, though in life all God's people are exposed to remarkable dangers, still God's Faithful One's shall be justified in the Pit of Death.
Today I shall endeavor to demonstrate first from this account in Daniel the reality of God's vindicating justice. Second, I shall hope to set before you Christ as the greatest vindication of God's justice. And third, I shall strive to comfort the saints of God with the results of Christ's resurrection unto all His saints, while bringing to light the fear that remains upon all men who fail to consider Christ risen. So let us begin, as first we examine the justice of God, revealed and yet concealed in the account of Daniel in the lion's den. We shall speak of this point as,
I. Daniel, God's faithful one, Justified in the Pit of Death
Outside of the birth and death narratives of our Lord Jesus Christ, perhaps the most known story of all scripture is found in Daniel chapter six. From our early days of childhood we are taught of the faithful man, the ferocious beasts, and the deliverance of God. So what more could we possibly need to know of this glorious legacy of faith? Today I shall seek to instruct you anew in this old, old story. I hope that in hearing it again, we shall learn of God's straight and faithful justice that met a man amidst the shaking leaves of trouble. When we encounter Daniel here in chapter 6, we note several changes have taken place in just two chapters. As we have said, Daniel is no longer a young man, Nebuchadnezzar and Babylon are no more, and the time of Judah's captivity was nearing an end. What has not changed though is Daniel's resolve, his captivity, and his trial from the result of his faithful living. This remains constant throughout Daniel's life. Equally, and yet the more, we find that Daniel's God had not changed. For the same God of Daniel's youth is the same God of Daniel's old age. He is the sovereign, saving, merciful, and only God. As we read the story of Daniel 6, we first read of,
A. An Unjust Accusation
The story of Daniel in the Lion's Den is a story nearly identical to the trial of the three men in the fiery furnace. We find that King Darius had issued an edict through the coercive acts of his nobles, as an attempt to overcome Daniel. For Daniel held a privileged position in the Persian court, one of the top three officials and the Persian nobles would have nothing of it. Yet, as they sought a charge against him, they found his character impeccable, his service commendable, and his life without blemish. He was a just and faithful man. Thus their fury was enraged against this man and they sought to manipulate a charge against him. Unbeknownst to the king, they conspired to weigh upon the pride of the king that Daniel would be left to disobey the King's decree. Daniel's own faithfulness to God would be the cause for his crime. Thus we find the nobles puffing up the pagan king to the position of a god, that the entire kingdom for thirty days would worship and pray to only king. Taking the foolish king and puffing him up they made him to be God himself. Clearly Daniel would have no choice but to violate the king's own order. For if there were a verse that summed up Daniel's way of life, it was this, 'the just shall live by faith.' So, when we read that Daniel was made aware of the king's decree, we note that Daniel's behavior remains unchanged. At the time of prayer Daniel is found bowing before the true king of the heaven and earth.
In the face of death and threat of the fierce anger of hungry beasts, Daniel remained unshaken by the sure charge and accusation of his accusers. He stared death in the face and trusted that his God was able to deliver him from death. As Christ in the garden of Gethsemene, when the forces of this world came for him, he was led forth as a lamb before his shearers. On a foolish whim of pride King Darius was forced to no other end than to place Daniel to his sure death. We find Darius seemingly fond of Daniel or his dept, seeking to wash his hands of his own folly. But he would not, as he would bow before the pressures of the men that had played upon his pride and position to accomplish their hatred of the man Daniel. See the servant of the hatred of men who was sore displeased with himself and the result of his folly, as he must resign himself to the end of the decree.
Thus the decree was carried out and Daniel was brought before the place of punishment and execution, forced to stare death in the face. But this time, unlike Daniel's three friends, the condemned remains silent. Wielding a sword of great might, Darius perhaps with thought of Daniel's friends, utters Daniel's only hope, thy God whom thou servest continually, he will deliver thee. It is interesting here that instead of Daniel the pagan king echoes the hope of deliverance, as Daniel is led to the mouths of lion's silent, as a lamb to the slaughter. An unjust accusation, a silent lamb, a fierce king, the hatred of enemies, and the sure mouth of death itself then sets the stage of this frightful event. But what do we find?
B. A Dull Penalty
The night hastened on, as the edict was carried out. Daniel was taken and cast into the mouth of the Lion's den. With the setting sun a great stone was rolled over the mouth of the den and sealed the prophet into the utter darkness of sure death. Amused by their seeming success, the nobles, quick to mark the grave sealed forever along with the king upon clay tablets, sealed the tomb shut with their signet rings. The tomb was marked with the vain sureties of men that Daniel would never again live to see the light of day. God alone was Daniel's sole and only remaining hope. There was none other to vindicate his cause. He was an innocent man on trumped up charges, unjustly condemned, and denied justice. The world in all its hatred against God for a moment seemed victorious. For the beasts of the tomb were real and prepared for the devouring of human flesh and the den was sealed with the authority of kings.
There would be no escape from the pit. There was no way in or out. Daniel, alone with the beasts, would have to face this ferocious foe alone in the dark of night. As Jonah in the belly of the fish, as Joseph in the pit, and as his three friends in the furnace, the trial was real and able to exact a sharp and sure penalty upon the condemned. Through the night Darius restlessly awaited the dawn. He could neither sleep nor eat. Thoughts of an innocent man left to the devouring of beasts filled him with unbearable guilt. We are told that sleep left the troubled king, so much so, that before the dawn he was up hastening to the pit to see if the prophet were alive, delivered by the sovereign Lord. And what did Dairus find as he came to the place, before the dawn, having the stone rolled away? He found,
C. An Acquittal
What Darius found when the stone was rolled away was an innocent man vindicated by his God. For when Darius asks Daniel, O Daniel, servant of the living God, is thy God, whom thou servest continually, able to deliver thee from the lions? Daniel is heard to reply, O king, live for ever. My God hath sent his angel, and hath shut the lions' mouths, that they have not hurt me: forasmuch as before him innocency was found in me; and also before thee, O king, have I done no hurt. Daniel now in life pleads his case vindicated by God above. While before death he was led forth silent, we see the greatest witness of his vindication is his God. For Daniel is brought forth from the jaws of death found innocent in the only court that really matters. Just as Nebuchadnezzar had no power to execute a decree against the three Hebrew men, so Darius could not bring lions to tear at Daniel's flesh. For Daniel was declared free from all condemnation. Notice how the very person of Daniel bears this out, as he is taken from the Lion's den. There is neither scratch nor scar from the beasts that stayed with him through the night. He is pure, undefiled by death's soldiers, and brought forth whole from the grave.
Notice how the text draws this out, saying, no manner of hurt was found upon him, because he believed in his God. Daniel wore the shield of faith through the night. God was the one who sent His angel in the darkness of death's grip to pry loose the helpless prophet. God alone would justify Daniel in life, though Darius had condemned him in death. Just as there was one like unto the Son of Man in the flames of Nebuchadnezzar's furnace, in the den there came God's angel to stay the mouths of the lions. For only God can deliver and justify the innocent. Only God can bring forth his own from the jaws of death. Daniel was justified by faith in God as his deliverer from death and he was found innocent and unscathed.
But even more so, Daniel does not come forth alone, but God is justified as a living God. He is justified as the God who rules over heaven and earth. He is justified as the God that sets the boundaries of the four corners of the earth. He is the God who delivers His own from flames and beasts, and He is the God that shall send forth the deliverer to lead captivity captive. God is vindicated as a just and holy God and is demonstrated to be greater than any earthly tribunal.
Surely what men do in secret and upon the earth is not hidden from Him, nor is He slack concerning justice. God is not thwarted by the decrees of men nor is He bound by their precepts. But God overcomes every earthly foe and misjudgment; trickery and deceit do not fool him. God is sovereign over all earthly affairs. He shall not fail in bringing swift and sure justice to those who cry unto his name in innocence. For He is the God who hears and He is the deliverer of His people. But look at the justice of God and marvel that,
D. Judgement came to his accusers
We note the response by King Darius to be a response of an act of sovereign design. For while the God of heaven vindicates the prophet in his innocence, He at the same time brings forth swift judgement unto Daniel's accusers. For we read that, the king commanded, and they brought those men which had accused Daniel, and they cast them into the den of lions, them, their children, and their wives; and the lions had the mastery of them, and brake all their bones in pieces or ever they came at the bottom of the den. See here the swift and awful judgement of God that vindicates His own and brings forth-unbearable wrath upon the accusers of God's children. See how He does bring forth His servants to stop the mouths of vile and wicked men. See how God does not for a moment stay the hand of sure punishment. For the same lions that had hungered all night with Daniel in their midst, now with great fierceness tear apart and devour Daniel's accusers. Death is fierce and God's justice swift. For before the men who had accused Daniel reach the bottom of the pit, they are destroyed, they and their families. God and his children are vindicated in the end. In Daniel then we see, though in life all God's people are exposed to remarkable dangers, still God's Faithful One's shall be justified in the Pit of Death. Now, let us turn our eyes to another time when God was seen to justify His holy servant in the face of earth's unjust condemnation. As we look and see,
II. Jesus, God's faithful one, Justified in the Pit of Death
A. An Unjust Accusation
In the shadows of Daniel we see images of another trial of similar occurrence, where false witnesses and jealous accusers accused an innocent man. It was a time five centuries later, when the true and only innocent man was condemned to die. Unlike Daniel, who was innocent of the manipulative trial of the nobles, the one of which I speak was innocent of all and any charge. For he was the holy one, the Son of God, in whom was no guile. We find Him also in a foreign land, though the land bear the name Israel and the city Jerusalem. We read of His accusers in Matthew, vile, wicked, jealous, hateful men, of whom Matthew writes, when morning came, all the chief priests and elders of the people plotted against Jesus to put Him to death. And when they had bound Him, they led Him away and delivered Him to Pontius Pilate the governor. As Daniel was brought before Darius with false charges, so Christ is brought on similar charges to stand before the Roman. It was His person that infuriated them, His claims and acts of wonder that brought His accusers to have Him tried, much as Daniel's accusers who probably despised his talents, blessings of God, and favored position with the king, led them to plot against him. Yet, as Daniel's accusers, these men could find nothing in Christ worthy of guilt.
Daniel, a sinner, but a faithful man met with grace, was upright in his faithful walk. But Jesus, He was in all things holy, pure, and innocent. And His righteousness brought the fury of His accusers against Him. They could find no charge against Christ, whose nature was holy. Thus, He was falsely accused of blaspheme. See how they accuse Him falsely, and the high priest answered and said to Him, "I put You under oath by the living God: Tell us if You are the Christ, the Son of God!" Jesus said to him, "It is as you said. Nevertheless, I say to you, hereafter you will see the Son of Man sitting at the right hand of the Power, and coming on the clouds of heaven." Then the high priest tore his clothes, saying, "He has spoken blasphemy! What further need do we have of witnesses? Look, now you have heard His blasphemy! "What do you think?" They answered and said, "He is deserving of death. He is condemned for the truth He speaks.
But see now how his accusers bring him with no valid fault. For just as Darius grieved his edict and sought to free Daniel, so do we see Pilate declare, "I find no fault in this Man." Ah but the tumult is raised, much as the accusers of Daniel, demanding the law be fulfilled. Thus we find Pilate, he took water and washed his hands before the multitude, saying, "I am innocent of the blood of this just Person. You see to it. Hear the wicked accusers seal their own guilt with blood as they cry, "His blood be on us and on our children." Then our Lord, our innocent Lamb, was taken away as Isaiah says, as a Lamb silent before His shearers. See how the evangelist writes of His silence, leaving his vindication to God, And while He was being accused by the chief priests and elders, He answered nothing. Then Pilate said to Him, "Do You not hear how many things they testify against You?" But He answered him not one word, so that the governor marveled greatly. Our Lord and Savior, sovereign God and man, knew that His vindication was not in earthly courts, nor was His justice to be sought from the hands of men, but rather, He knew His God would vindicate Him from the grave. Thus, with death chant 'crucify Him' resounding, Jesus was led to the place of His death. There, with the darkness of night closing in, He was taken from His cross and laid in an open tomb, and it was sealed with the signet ring of men. But we find death for our Lord,
B. A Dull Penalty
For the self-righteous accusers of our Lord would mark Him unjust and seal His tomb with their hatred of His claims, and the pagan Rome would exalt her authority and seal the tomb shut, placing a guard to insure the certainty of His decay. For He was left in the ebb of day to the jaws of death. But our God sends no angel this time, as this prophet was wholly unlike any other. He was a prophet who took the jaws of death upon himself and suffered and died at the hands of men. He was not simply preserved in life in the pit of lions, instead, Jesus was given to the grave and dying he truly died. Ah but we find that death was not to hold Him. For death had no power over Him. For death has sin to bring its decay and upon Him was no sin. Though He became sin for us, God would not leave Him to decay.
Thus the apostle declares, as though Christ were rejoicing from the grave itself, as Jonah in the belly of the fish, as Paul and Silas in jail, and perhaps even in the Lion's den through the night, 'I foresaw the Lord always before my face, For He is at my right hand, that I may not be shaken. Therefore my heart rejoiced, and my tongue was glad; Moreover my flesh also will rest in hope. For You will not leave my soul in Hades, Nor will You allow Your Holy One to see corruption. You have made known to me the ways of life; You will make me full of joy in Your presence.' Death was a dull penalty for Jesus; yes the lion, that old serpent, thinking he had finally subdued God's dominion, while salivating to devour the flesh of our Lord, would leave no marks upon Him. For He would be delivered of God and vindicated as the only just and true savior. Thus, when He arose, He arose with,
C. An Acquittal
When Jesus arose from the dead, as the women hastened to His tomb in the dark of morning, He would be found justified, innocent of all charges. Though the earthly tribunal had wielded the sword of justice, we find that it had no right to enforce penalty against the Lord. For He was declared in the heavenly tribunal to be innocent of all charges. For He was the just dying for the unjust, the righteous Lord for the unrighteous. He was the innocent Lamb, given as our sacrifice. We find that God justified Him as a Savior. When the woman came to the tomb on that resurrection morn, they found that no guard could hold him, no edict could slay him, no foe could overcome him, and no accusation could condemn him. For He was holy and just and had power over death. He did shut the mouth of the accuser that roaring lion that seeks to devour, once and for all against the kingdom of God. Thus he comes forth with men in his train, bringing captivity captive, as a victor returning from battle, he brings the spoils of His resurrection and gives gifts to men. In Him God is declared a just and righteous God, a vindicator of the righteous and a sovereign Lord over all principalities, dominions and might. He is declared to be the Lord of all. In Him is righteousness and with that righteousness,
D. Judgement came to his accusers
Swift and sudden judgement is promised to all those that despise the Lord. Those who deny Him He shall deny. Those who ridicule Him, death shall ridicule them. Those who seek to overcome and destroy Him shall be destroyed. Those who falsely accuse Him are cast into the jaws of death, where sudden, swift, and severe justice shall vindicate itself in them. Yes, the wrath of God shall come suddenly upon all men who do not name the name of Christ. With His rising the axe was laid to the base of the fig tree. With his rising the axe was laid to all the foolish claims of men upon their own righteousness. With his rising, the serpent received a deathblow. With his rising sure and promised vengeance was given forth to all those who fail to bow the knee to the risen Lord. As swift as Daniel's accusers were cast into the jaws of death in the same pit that held Daniel, so were the accusers of Christ done asunder. For it is not long after that we see the gospel going forth to the uttermost parts of the earth. Judgement came to His accusers and every man that denies Him as Lord, shall be denied by Him. In Daniel then we see, though in life all God's people are exposed to remarkable dangers, still God's Faithful One's shall be justified in the Pit of Death. As Daniel was delivered, so was the beloved Son. But how much greater is Christ's deliverance, and what a remarkable effect His resurrection has had upon His saints. For we find that He who rose up from the tomb, has raised us up with Him. We then declare of ourselves,
III. Christians, God's faithful ones, Justified in the Pit of Death
A. An Unjust Accusation
Often in this life we Christians are met with an unjust accusation. We have foes and fiends all about us that seek to berate us with fear and accusation. We are so often assaulted by our conscience, by our guilt, and by the law, cast into Satan's lair, that we often tremble at the rattle of a leaf. Ah but have we not as Christians rightly understood the effects of Christ's vindication in His resurrection? Do we not understand that in Him we are risen with Him? Do we understand that we are innocent in him? Do we forget that there is therefore no condemnation to those who are in Christ Jesus? Have we failed to consider this; what then shall we say to these things? If God is for us, who can be against us? He who did not spare His own Son, but delivered Him up for us all, how shall He not with Him also freely give us all things? Who shall bring a charge against God's elect? It is God who justifies. Who is he who condemns? It is Christ who died, and furthermore is also risen, who is even at the right hand of God, who also makes intercession for us.
O Christian, do not doubt that our enemies are jealous and many, since we are not like them and are blessed by God. But understand, they can find no charge against us, who are justified in the heavenly court. Who shall lay any charge to God's elect? Conscience, Satan, law, are all false accusers. We shall faithfully serve God in false accusation, knowing ourselves vindicated in Him. The just shall live by faith. But our faith and our innocence are not our own, it is the gift of our God. Thus we are declared justified before God. We shall not cower at the edicts of men, the threats of conscience, or the coming ebb of death. Nay but in all these things we are more than conquerors. So let us, the unjustly accused in this life, face life and death itself, as Daniel and our Lord, unshaken by every threat.
For we are told, "For Your sake we are killed all day long; We are accounted as sheep for the slaughter." Yet in all these things we are more than conquerors through Him who loved us. For I am persuaded that neither death nor life, nor angels nor principalities nor powers, nor things present nor things to come, nor height nor depth, nor any other created thing, shall be able to separate us from the love of God which is in Christ Jesus our Lord. Our vindication is in Christ, though declared guilty on earth we know we are found innocent in heaven. So we stand silent in the face of our accusers, knowing that in heaven a court has already convened. And there our advocate stood and silenced our accuser. We know that there our Advocate spoke:
"One last question, Lucifer,-where did you get that terrible scar that leads us to believe your head may have been crushed at one time? Lucifer was visibly shaken when asked and refused to answer. El Shaddai had to call for Gabriel to help the weak and falling Lucifer down from the witness stand. (I must say…Lucifer may have been a son of the morning, but whoever put that scar on his head made his sun to set.)"
Yes, we were there dead in our sins, rightfully condemned, when Mr. Advocate spoke to us, "Foreknown, Sought-Out Elect, is your loving Hosea in this courtroom?" We were there in our hopeless despair crying on the witness stand our only plea, "I ask you my Lord and Savior, to own me before El Shaddai." We were there watching in wonder as Mr. Justice said to our Advocate, who sat on the stand on our behalf, "Mr. Advocate, 2000 years ago, when Peace and I were seen kissing, it was our wedding day. Mr. Peacemaker had just consummated the marriage ceremony and said, "It is finished." I shall never forget the rush of complete satisfaction that filled me. All anger and wrath were gone. There was nothing left but everlasting satisfaction and righteousness." O Christian, can you recall your judgement day when you were owned by Jesus? Can you recall your justification? Then cast off all trembling at the slightest tremble of this earth's leaf.
When conscience accuses you, know that God does not. When Satan seeks to devour you, know that the Angel of our God, the Son of the Father, has come and finally closed his jaws. When the law will have you, tell him he has been satisfied in the death of another. And when you are led from this life to the river that leads to another place, do not tremble as darkness comes. But know that death no longer has a sting and every foe has been subdued. Live and die by faith that Christ has defeated sin and death. For this we know that death is,
B. A Dull Penalty
Yes each of us in this life shall know the ebb of death. But with sweet serenity now the darkness that so many in this life face shall never trouble us. Though the remnants of sin still cling to this flesh and the grips of Adam's transgression promise us all to see the grave, still, we know as we lay our head down in sleep, that we shall raise and be with Him. For this corruptible must put on incorruption, and this mortal must put on immortality. So when this corruptible has put on incorruption, and this mortal has put on immortality, then shall be brought to pass the saying that is written: "Death is swallowed up in victory." "O Death, where is your sting? O Hades, where is your victory?" The sting of death is sin, and the strength of sin is the law. But thanks be to God, who gives us the victory through our Lord Jesus Christ.
Tell me you who tremble at the troubles of this life, when you are led through the valley of the shadow of death, can you say, Yea, though I walk through the valley of the shadow of death, I will fear no evil; For You are with me; Your rod and Your staff, they comfort me. Do you not know that though the troubles of this life and the sure grip of death shall come your way, that they cannot harm you? Can you stand silent in the face of all life's storms, trusting that your God shall deliver you? Do you know that you are justified in the only court and found to be righteous because of the righteous of another. Do you not know that death shall not hold you? O what joy is afforded the saints of God, who recall the Lord's resurrection. What delight to know that we have been raised with Him. That we are innocent by His blood, and we shall never see decay. Rejoice this day that you as Daniel shall come forth from the grave and the lion's jaws of death, declaring the vindication and salvation of your God. And this, know that every foe, every evil doer, every false accuser, every enemy of yours and your Christ's,
C. Judgement shall come to his accusers
The day shall come when all the martyred, persecuted, and troubled saints of the Lord shall be vindicated in the final and swift coming of God's justice. When all the saints of the living God have been fetched from the four corners of the earth and the harvest is ripe, the harvester will cast forth the sickle. Then shall come judgement upon the false accusers of our Christ. Then will be seen the Righteous One, One like the Son of Man, having on His head a golden crown, and in His hand a sharp sickle. And it will be said unto Him, "Thrust in your sharp sickle and gather the clusters of the vine of the earth, for her grapes are fully ripe." So the angel thrust his sickle into the earth and gathered the vine of the earth, and threw it into the great winepress of the wrath of God. And the winepress was trampled outside the city, and blood came out of the winepress, up to the horses' bridles, for one thousand six hundred furlongs.
Yes, swift and sudden, and as horrific as the tearing and devouring of the beasts that did consume the accusers of Daniel, thus shall it be to all those who contend with Christ and His bride. Judgement shall come, it shall be exacting, it shall be swift, and it shall not fail. For vengeance is mine declares the Lord. And in this, as with our Christ, and with the prophet Daniel we declare, though in life all God's people are exposed to remarkable dangers, still God's Faithful One's shall be justified in the Pit of Death. Let us conclude.
Conclusion
I ask you listener, "Is thy God, whom thou servest continually, able to deliver thee from the lions?" Let me put this question in one or two lights, and thus draw our reflections to a close. Leaning over, like that Persian king, I look down into a greater den of lions than he ever descried. It is dark; the stench is foul, and 'midst the dim shadows I discern struggling forms and figures; tormentors, whose faces are hidden, stretching women upon racks, and torturing men with switch and knout; and, yonder, a spot where, on hundreds of stakes martyrs have burned quick to the death. In the far distance, a wild horse, and a human victim tied to his heels to be dragged to death. Strange and horrible spectacle that, out yonder! — a long procession of men who were scourged, who were stoned, who were beheaded who were sawn asunder; saintly men were they, of whom the world was not worthy. Leaning over the mouth of this great lion's den, I ask the persecuted saints of all ages, — Has your God been able to deliver you? And with a cheerful shout, loud as the voice of thunder, they cry, "In all these things we are more than conquerors through him that loved us."
I look down upon another lions' den. It is still dark, but not so dreary. Night reigns in sacred shade and solitude. The stars are hid; but tapers burn in chambers dimly lit. There, sons and daughters of sorrow are tossed on beds of sickness. Thus they have lain for months, perhaps for years, all hope of health extinguished, all prospect of pleasure passed; their limbs paralyzed, their sight failing, their hearing dull; calamities of every kind have befallen them. God has permitted the great lions of affliction to come howling round, and to tear away all their comforts and their joys, till they are left without any of that cheerful fellowship with nature which seasons mortal life with sweetest relish.
Some of you are robust in health; your head never throbs, your heart never aches, you are hardly conscious that you have any nerves. Small account do you take of the secret, silent, saintly heroism of sufferers, whose pilgrimage on earth is blighted with pain. Oft have I been their companion in tribulation. I appeal to these tried and afflicted children of God. Tell me, ye Daniels has your God been able to deliver you out of the mouths of the lions? And I hear each one say, "Bless the Lord, O my soul! "and all in chorus join, saying, "Not one good thing hath failed of all that the Lord our God hath promised; our shoes have been iron and brass, and as our days so has our strength been."
Shall I strain my parable too far if I turn my eye upon another lions' den? It lies in a deep valley. The night hangs heavy. The beasts of prey are diseases that skill and shrewdness, time and talent, have striven in vain to tame. Like lions, strangely dissimilar in outward fashion, but strongly resembling them in instinct, they pounce on their victims, and seal their doom. We call this place "the valley of the shadow of death." Methinks I am gazing now on the forms of shivering men and women as they are dragged down by the lions. One after another, my familiar friends descend into the grave; and I ask them, in the hour of their departure, "Is thy God, whom thou servest continually, able to deliver thee from the lions?" Calm is their countenance, and clear their voice, as each one chants his solo, "O death, where is thy sting? O grave, where is thy victory? Thanks be to God, which giveth us the victory through our Lord Jesus Christ! "So, at length, this lions' den loses all its terror.
Then I look into another den; it is almost empty. There is a lion in it, a grim old lion, but I do not see so much as a bone to tell the tale of its victims. No trace of its ravages is left behind. On this soil there once were countless thousands of the slain; it is empty — now. Of a sudden, I look upwards, and, lo! I see myriads of immortal souls, and they all tell me, "Our God delivered us from the grave, and rifled the tomb of its prey. By a glorious resurrection, he has brought all his ransomed people forth to meet their Lord at the great day of his appearing. There shall they stand before the throne of God, for he hath broken the teeth of the lion, and rescued all his children from the power of the adversary." Let us glory in our Lord's resurrection, for in Him we have life everlasting. Amen.
Copyright 2000 Dr. Kevin Hartley
Martin Luther and the Plague
To the Reverend Doctor Johann Hess, pastor at Breslau, and to his fellow-servants of the gospel of Jesus Christ
Martinus Luther
Grace and peace from God our Father and our Lord Jesus Christ. Your letter, sent to me at Wittenberg, was received some time ago. You wish to know whether it is proper for a Christian to run away from a deadly plague. I should have answered long ago, but God has for some time disciplined and scourged me so severely that I have been unable to do much reading or writing. l Furthermore, it occurred to me that God, the mercifiil Father, has endowed you so richly with wisdom and truth in Christ that you yourself should be well qualified to decide this matter or even weightier problems m his Spirit and grace without our assistance.
But now that you keep on writing to me and have, so to speak, humbled yourself in requesting our view on this matter so that, as St. Paul repeatedly teaches, we may always agree with one another and be of one mind [l Cor. 1:10; Il Cor. 13:11; Phil. 2:21. Therefore we here give you our opinion as far as God grants us to understand and perceive. This we would humbly submit to your judgment and to that of all devout Christians for them, as is proper, to come to their own decision and conclusion. Since the rumor of death is to be heard in these and many other parts also, we have permitted these instructions of ours to be printed because others might also want to make use of them.To begin with, some people are of the firm opinion that one need not and should not run away from a deadly plague. Rather, since death is God's punishment, which he sends upon us for our sins, we must submit to God and with a true and firm faith patiently await our punishment. They look upon running away as an outright wrong and as lack of belief in God. Others take the position that one may properly flee, particularly if one holds no public office.
I cannot censure the former for their excellent decision. They uphold a good cause, namely, a strong faith in God, and deserve comrnendation because they desire every Christian to hold to a strong, firm faith. It takes more than a milk faith to await a death before which most of the saints themselves have been and still are in dread. Who would not acclaim these earnest people to whom death is a little thing? They willingly accept God's chastisement, doing so without tempting God, as we shall hear later on.
Since it is generally true of Christians that few are strong and many are weak, one simply cannot place the same burden upon everyone. A person who has a strong faith can drink poison and suffer no harm, Mark while one who has a weak faith would thereby drink to his death. Peter could walk upon the water because he was strong in faith. When he began to doubt and his faith weakened, he sank and almost drowned. When a strong man travels with a weak man, he must restrain himself so as not to walk at a speed proportionate to his strength lest he set a killing pace for his weak companion. Christ does not want his weak ones to be abandoned, as St. Paul teaches in Romans and I Corinthians To put it briefly and concisely, running away from death may happen in one of two ways. First, it may happen in disobedience to God's word and command. For instance, in the case of a man who is Imprisoned for the sake of God's word and who, to escape death, denies and repudiates God's word. In such a situation everyone has Christ's plain mandate and command not to flee but rather to suffer death, as he says, "VVhoever denies me before men, I will also deny beföre my Father who is in heaven" and "Do not fear those who kill the body but cannot kill the soul," Matthew 33].Those who are engaged in a spiritual ministry such as preachers and pastors must likewise remain steadfast before the peril of death. We have a plain command from Christ, ''A good shepherd lays down his life for the sheep but the hireling sees the wolf coming and flees" [John 10:1 Il, For when people are dying, they most need a spiritual ministry which strengthens and comforts their consciences by word and sacrament and in faith overcomes death. However, where enough preachers are available in one locality and they agree to encourage the other clergy to leave in order not to expose themselves needlessly to danger, I do not consider such conduct sinful because spiritual services are provided for and because they would have been ready and willing to stay if it had been necessary. We read that St. Athanasius5 fled from his church that his life might be spared because many others were there to administer his office. Similarly, the brethren in Damascus lowered Paul in a basket over the wall to make it possible for him to escape, Acts And also in Acts
Paul allowed himself to be kept from risking danger m the marketplace because it was not essential for him
to do so.
Accordingly, all those in public office such as mayors, judges, and the like are under obligation to remain. This, too, is God's word, which institutes secular authority and commands that town and country be ruled, protected, and preserved* as St. Paul teaches in Romans "The governing authorities are God's mintsters for your own good." To abandon an enure community which one has been called to govern and to leave it without official or government, exposed to all kinds of danger such as fires, murder, riots, and every Imaginable disaster is a great sin, It is the kind of disaster the devil would like to instigate wherever there is no law and order. St. Paul says, "Anyone who does not provide for his own family denies the faith and is worse than an unbeliever" [l Tim. On the other hand, if in great weakness they flee but provide capable substitutes to make sure that the community is well governed and protected, as we previously indicated, and if they continually and carefully supervise them [i.e., the substitutes], all that would be proper.
What applies to these two offices [church and state] should also apply to persons who stand in a relationship of service or duty toward one another. A servant should not leave his master nor a maid her mistress except with the knowledge and permission of master or mistress. Again, a master should not desert his servant or a lady her maid unless suitable provision for their care has been made somewhere. In all these matters it is a divine command that servants and maids should render obedience and by the same token masters and ladies should take care of their servants.
Likewise, fathers and mothers are bound by God's law to serve and help their children, and children their fathers and mothers. Likewise, paid public servants such as city physicians, city clerks and constables, or whatever their titles, should not flee unless they furnish capable substitutes who are acceptable to their employer.
In the case of children who are orphaned, guardians or close friends are under obligation either to stay with them or to arrange diligently for other nursing care for their sick friends. Yes, no one should dare leave his neighbor unless there are others who will take care of the sick in their stead and nurse them. In such cases
we must respect the word of Christ, "I was sick and you did not visit me. .. " [Matt. According to this passage we are bound to each other in such a way that no one may forsake the ocher in his distress but is obliged to assist and help him as he himself would like to be helped.
'Where no such emergency exists and where enough people are available for nursing and taking care of the sick, and where, voluntarily or by orders, those who are weak in faith make provision so that there is no need for additional helpers, or where the sick do not want them and have refused their services, I judge that they have an equal choice either to flee or to remain. If someone is sufficiently bold and strong in his faith, let him stay in God's name,' that is certainly no sin. If someone is weak and fearful, let him flee in God's name as long as he does not neglect his duty toward his neighbor but has made adequate provtsion for others to provide nursing care. To flee from death and to save one's life is a natural tendency, implanted by God and not forbidden unless it be against God and neighbor, as St. Paul says m Ephesians "No man ever hates h1S own flesh, but nourishes and cherishes it." It is even commanded that every man should as much as possible preserve body and life and not neglect them, as St. Paul says in I Corinthians that God has so ordered the members of the body that each one cares and works for the other.
It is not forbidden but rather commanded that by the sweat of our brow we should seek our daily food, clothing, and all we need and avoid destruction and disaster whenever we can, as long as we do so without denaacting from our love and duty toward our neighbor. How much more appropriate it is therefore to seek to preserve life and avoid death if this can be done without harm to our neighbor, inasmuch as life is more than food and clothing; as Christ himself says in Matthew If someone is so strong in faith, however, that he can willingly suffer nakedness, hunger, and want without tempting God and not trying to escape, although he could do so, let him continue that way, but let him not condemn those who will not or cannot do the same.
Examples in Holy Scripture abundantly prove that to flee from death is not wrong in itself Abraham was a great saint but he feared death and escaped it by pretending that his wife, Sarah, was his sister. Because he did so without neglecting or adversely affecting his neighbor, it was not counted as a sin against him. His son, Isaac, did likewise? Jacob also fled from his brother Esau to avoid death at his hands. 10 Likewise, David fled from Saul, and from Absalom. The prophet Uriah escaped from King Jehoiakim and fled into Egypt. 12 The valiant prophet, Elijah, I Kings had destroyed all the prophets of Baal by his great faith, but afterward, when Queen Jezebel threatened him, he became afraid and fled into the desert. Before that, Moses fled into the land of Midian when the king searched for him in Egypt. Many others have done likewise. All of them fled from death when it was possible and saved their lives, yet without depriving their neighbors of anything but first meeting their obligations toward them.
Yes, you may reply, but these examples do not refer to dying by pestilence but to death under persecution. Answer: Death is death, no matter how it occurs. According to Holy Scripture God sent his four scourges: pestilence, famine, sword, and wild beasts. If it is permissible to flee from one or the other in clear conscience, why not from all four? Our examples demonstrate how the holy fathers escaped from the sword; it is quite evident that Abraham, Isaac, and Jacob fled from the other scourge, namely, hunger and death, when they went to Egypt to escape famine, as we are told in Likewise, why should one not run away from wild beasts? I hear people say, "If war or the Turks come, one should not flee from his village or town but stay and await God's punishment by the sword." That is quite true; let him who has a strong faith wait for his death, but he should not condemn those who take flight.
By such reasoning, when a house is on fire, no one should run outside or rush to help because such a fire is also a punishment from God. Anyone who falls into deep water dare not save himself by swimming but must surrender to the water as to a divine punishment. Very well, do so if you can but do not tempt God, and allow others to do as much as they are capable of doing. Likewise, if someone breaks a leg, is wounded or bitten, he should not seek medical aid but say, "It is God's punishment. I shall bear it until it heals by itself." Freezing weather and winter are also God's punishment and can cause death. Why run to get Inside or near a fire? Be strong and stay outside until it becomes warm again. We should then need no apothecaries or drugs or physicians because all illnesses are punishment from God. Hunger and thirst are also great punishments and torture, Why do you eat and drink instead of letting yourself be punished until hunger and thirst stop of themselves? Ultimately such talk will lead to the point where we abbreviate the Lord's Prayer and no longer pray, "deliver us from evil, Amen," since we would have to stop praying to be saved from hell and stop seeking to escape it. It, too, is God's punishment as is every kind of evil. Where would all this end?
From what has been said we derive this guidance: We must pray against every form of evil and guard against it to the best of our ability in order not to act contrary to God, as was previously explained. If it be God's will that evil come upon us and destroy us, none of our precautions will help us. Everybody must take this to heart: first of all, if he feels bound to remain where death rages in order to serve his neighbor, let him commend himself to God and say, "Lord, I am in thy hands; thou hast kept me here; thy will be done. I am thy lowly creature Thou canst kill me or preserve me in this pestilence in the same way as if I were in fire, water, drought, or any other danger." If a man is free, however, and can escape, let him commend himself and say, "Lord God, I am weak and fearful. Therefore I am running away from evil and am doing what I can to protect myself against it. I am nevertheless in thy hands in this danger as in any other which might overtake me. Thy will be done. My flight alone will not succeed of itself because calamity and harm are everywhere. Moreover, the devil never sleeps. He is a murderer from the beginning [John 8:44] and tries everywhere to instigate murder and misfortune."
In the same way we must and we owe it to our neighbor to accord him the same treatment in other troubles and perils, also. If his house is on fire, love compels me to run to help him extinguish the flames. If there are enough other people around to put the fire out, I may either go home or remain to help. If he falls into the water or into a pit I dare not turn away but must hurry to help him as best I can. If there are others to do it, I am released. If I see that he is hungry or thirsty, I cannot ignore him but must offer food and drink, not considering whether I would risk impoverishing myself by doing so. A man who will not help or support others unless he can do so without affecting his safety or his property will never help his neighbor. He will always reckon with the possibility that doing so will bring some disadvantage and damage, danger and loss. No neighbor can live alongside another without risk to his safety, property, wife, or child. He must run the risk that fire or some other accident will start in the neighbor's house and destroy him bodily or deprive him of his goods, wife, children, and all he has.
Anyone who does not do that for his neighbor, but forsakes him and leaves him to his misfortune, becomes a murderer in the sight of God, as St. John states in his epistles, "Whoever does not love his brother is a murderer," and again, "If anyone has the world's goods, and sees his brother in need [yet closes his heart against him], how does God's love abide in him?" [I John 3:15, 17'. That is also one of the sins which God attributed to the city of Sodom when he speaks through the 'prophet "Behold, this was the guilt of your sister Sodom: she and her daughters had pride, surfeit of food, and prosperous ease, but did not aid the poor and needy," Christ, therefore, will condemn them as murderers on the Last Day when he will say, "1 was sick and you did not visit me" [Matt. 25:43]. If that shall be the judgment upon those who have failed to visit the sick and needy or to offer them relief, what will become of those who abandoned them and let them lie there like dogs and pigs? Yes, how will they fare who rob the poor of the little they have and plague them in all kinds of ways? That is what the tyrants do to the poor who accept the gospel. But let that be; they have their condemnation. It would be well, where there is such an efficient government in cities and states, to maintain municipal homes and hospitals staffed with people to take care of the sick so that patients from private homes can be sent there—as was the intent and purpose of our forefathers with so many pious bequests, hospices, hospitals, and infirmaries so that it should not be necessary for every citizen to maintain a hospital in his own home.
That would indeed be a fine, commendable, and Christian arrangement to which everyone should offer generous help and contributions, particularly the government. Where there are no such institutions-—and they exist in only a few places——we must give hospital care and be nurses for one another in any extremity or risk the loss of salvation and the grace of God. Thus it is written in God's word and command, "Love your neighbor as yourself," and in Matthew "So whatever you wish that men would do to you, do so to them." Now if a deadly epidemic strikes, we should stay where we are, make our preparations, and take courage in the fact that we are mutually bound together (as previously indicated) so that we cannot desert one another or flee from one another. First, we can be sure that God's punishment has come upon us, not only to chastise us for our sins but also to test our faith and love—our faith in that we may see and experience how we should act toward God; our love in that we may recognize how we should act toward our neighbor. I am of the opinion that all the epidemics, like any plague, are spread among the people by evil spirits who poison the air or exhale a pestilential breath which puts a deadly poison into the flesh. Nevertheless, this is God's decree and punishment to which we must patiently submit and serve our neighbor, risking our lives in this manner as St* John teaches, "If Christ laid down his life for us, we ought to lay down our lives for the brethren" [l John 3:16].
When anyone is overcome by horror and repugnance in the presence of a sick person he should take courage and strength in the firm assurance that it is the devil who stirs up such abhorrence, fear, and loathing in his heart. He is such a bitter, knavish devil that he not only unceasingly tries to slay and kill, but also takes delight tn making us deathly afraid, worried, and apprehensive so that we should regard dying as horrible and have no rest or peace all through our life. And so the devil would excrete us out of this life as he tries to make us despair of God, become unwilling and unprepared to die, and, under the stormy and dark sky WHETHER MAY FROM A DEADLY PLAGUE of fear and anxiety, make us forget and lose Christ, our light and life, and desert our neighbor in his troubles. We would sin thereby against God and man; that would be the devil's glory and delight. Because we know that it is the devil's game to induce such fear and dread, we should in turn minimize it, take such courage as to spite and annoy him, and send those terrors right back to him. And we should arm ourselves with this answer to the devil:
"Get away, you devil, with your terrors! Just because you hate it, I'll spite you by going the more quickly to help my sick neighbore I'll pay no attention to you: I've got two heavy blows to use against you: the first one is that I know that helping my neighbor is a deed well-pleasing to God and all the angels; by this deed I do God's will and render true service and obedience to him. All the more so because if you hate it so and are so strongly opposed to it, it must be particularly acceptable to God, I'd do this readily and gladly if I could please only one angel who might look with delight on it. But now that it pleases my Lord Jesus Christ and the whole heavenly host because it is the will and command of God, my Father, then how could any fear of you cause me to spoil such joy in heaven or such delight for my Lord? Or how could I, by flattering you, give you and your devils in hell reason to mock and laugh at me? No, you'll not have the last word! If Christ shed his blood for me and died for me, why should I not expose myself to some small dangers for his sake and disregard this feeble plague? If you can terrorize, Christ can strengthen me. If you can kill, Christ can give life. If you have poison in your fangs, Christ has far greater medicine. Should not my dear Christ, with his precepts, his kindness, and all his encouragement, be more important in my spirit than you, roguish devil, with your false terrors in my weak flesh? God forbid! Get away, devil. Here is Christ and here am I, his servant in this work. Let Christ prevail! Amen.
The second blow against the devil is God's mighty promise by which he encourages those who minister to the needy, He says in Psalm "Blessed is he who considers the poor. The Lord will deliver him in the day of trouble. The Lord will protect him and keep him alive; the Lord will bless him on earth and not give him up to the will of his enemies. The Lord will sustain him on his sickbed. In his illness he will heal all his infirmities." Are not these glorious and mighty promises of God heaped up upon those who minister to the needy? What should terrorize us or frighten us away from such great and divine comfort? The service we can render to the needy is indeed such a small thing in comparison with God's promises and rewards that St. Paul says to Timothy, "Godliness is of value in every way, and it holds promise both for the present life and for the life to come" [I Tim. •4:8). Godliness is nothing else but service to God. Service to God is indeed service to our neighbor. It is proved by experience that those who nurse the sick with love, devotion, and sincerity are generally protected. Though they are poisoned, they are not harmed. As the psalm says, "in his illness you heal all his infirmities" [Pso 41:3], that is, you change his bed of sickness into a bed of health. A person who attends a patient because of greed, or with the expectation of an inheritance or some personal advantage in such services, should not be surprised if eventually he is infected, disfigured, or even dies before he comes into possession of that estate or inheritance.
But whoever serves the sick for the sake of God's gracious promise, though he may accept a suitable reward to which he is entitled, inasmuch as every laborer is worthy of his hire—whoever does so has the great assurance that he shall in turn be cared for. God himself shall be his attendant and his physician, too. What an attendant he is! What a physician! Friend, what are all the physicians, apothecaries, and attendants in comparison to God? Should that not encourage one to go and serve a sick person, even though he might have as many contagious boils on him as hairs on his body, and though he might be bent double carrying a hundred plague-ridden bodies! What do all kinds of pestilence or devils mean over against God, who binds and obliges himself to be our attendant and physician? Shame and more shame on you, you out-and-out unbeliever, for despising such great comfort and letting yourself become more frightened by some small boil or some uncertain danger than emboldened by such sure and faithful promises of God! What would it avail you if all physicians and the entire world were at your service, but God were not present? Again, what harm could overtake you if the whole world were to desert you and no physician would remain with you, but God would abide with you with his assurance? Do you not know that you are surrounded as by thousands of angels who watch over you in such a way that you can indeed trample upon the plague, as it is written in Psalm 91[:11—13], "He has given his angels charge of you to guard you in all your ways. On their hands they will bear you up lest you dash your foot against a stone. You will tread upon the lion and the adder, and trample the young lion and the serpent under foot."
Therefore, dear friends, let us not become so desperate as to desert our own whom 'we are duty-bound to help and flee tn such a cowardly way from the terror of the devil, or allow him the joy of mocking us and vexing and distressing God and all his angels. For it is certainly true that he who despises such great promises and commands of God and leaves His own people destitute, violates all of God's laws and is guilty of the murder of his neighbor whom he abandons. I fear that in such a case God's promise will be reversed and changed into horrible threats and the psalm[41] will then read this way against them: "Accursed is he who does not provide for the needy but escapes and forsakes them, The Lord in turn will not spare him in evil days but will flee from him and desert him, The Lord will not preserve him and keep him alive and will not prosper him on earth but will deliver him into the hands of his enemies. The Lord will not refresh him on his sickbed nor take him from the couch of his illness," For "the measure you give will be the measure you get" [Matt. 7'.2], Nothing else can come of it. It is terrible to hear this, more terrible to be waiting for this to happen, most terrible to experience it. What else can happen if God withdraws his hand and forsakes us except sheer devilment and every kind of evil? It cannot be otherwise if, against God's command, one abandons his neighbor. This fate will surely overtake anyone of this sort, unless he sincerely repents.
This I well know, that if it were Christ or his mother who were laid low by illness, everybody would be so solicitous and would gladly become a servant or helper. Everyone would want to be bold and fearless; nobody would flee but everyone would come running. And yet they don't hear what Christ himself says, "As you did to one of the least, you did it to me" [Matt. 25:401. When he speaks of the greatest commandment he says, ''The other commandment is like unto it, you shall love your neighbor as yourself" [Matt. 22:39]. There you hear that the command to love your neighbor is equal to the greatest commandment to love God, and that what you do or fail to do for your neighbor means doing the same to God. If you wish to serve Christ and to wait on him, very well, you have your sick neighbor close at hand. Go to him and serve him, and you will surely find Christ in him, not outwardly but in his word. If you do not wish or care to serve your neighbor you can be sure that if Christ lay there instead you would not do so either and would let him lie there. Those are nothing but illusions on your part which puff you up with vain pride, namely, that you would really serve Christ if he were there in person, Those are nothing but lies; whoever wants to serve Christ in person would surely serve his neighbor as well* This is said as an admonition and encouragement against fear and a disgraceful flight to which the devil would tempt us so that we would disregard God's command tn our dealings with our neighbor and so we would fall Into sin on the left hand.
Others sin on the right hand. They are much too rash and reckless, tempting God and disregarding everything which might counteract death and the plague. They disdain the use of medicines: they do not avoid places and persons infected by the plague, but lightheartedly make sport of it and wish to prove how independent they are. They say that it is God's punishment; if he wants to protect them he can do so without medicines or our carefulness. This is not trusting God but tempting him. God has created medicines and provided us with intelligence to guard and take good care of the body so that we can live in good health.
If one makes no use of intelligence or medicine when he could do so without detriment to his neighbor, such a person injures his body and must beware lest he become a suicide in God's eyes. By the same reasoning a person might forego eating and drinking, clothing and shelter, and boldly proclaim his faith that if God wanted to preserve him from starvation and cold, he could do so without food and clothing. Actually that would be suicide. It is even more shameful for a person to pay no heed to his own body and to fail to protect it against the plague the best he is able, and then to infect and poison others who might have remained alive if he had taken care of his body as he should have. He is thus responsible before God for his neighbor's death and is a murderer many times over. Indeed, such people behave as though a house were burning in the city and nobody were trying to put the fire out, Instead they give leeway to the flames so that the whole city is consumed, saying that if God so willed, he could save the city without water to quench the fire.
No, my dear friends, that is no good. Use medicine; take potions which can help you; fumigate house, yard, and street; shun persons and places wherever your neighbor does not need your presence or has recovered, and act like a man who wants to help put out the burning city. What else is the epidemic but a fire which instead of consuming wood and straw devours life and body? You ought to think this way: "Very well, by God's decree the enemy has sent us poison and deadly offal. Therefore I shall ask God mercifully to protect us. Then I shall fumigate, help purify the air, administer medicine, and take it. I shall avoid places and persons where my presence is not needed in order not to become contaminated and thus perchance infect and pollute others, and so cause their death as a result of my negligence, If God should wish to take me, he will surely find me and I have done what he has expected of me and so I am not responsible for either my own death or the death of others* If my neighbor needs me, however, I shall not avoid place or person but will go freely, as stated above." See, this is such a God-fearing faith because it is neither brash nor foolhardy and does not tempt God.
Moreover he who has contracted the disease and recovered should keep away from others and not admit them into his presence unless it be necessary. Though one should aid him in his time of need, as previously pointed out, he in turn should, after his recovery, so act toward others that no one becomes unnecessarily endangered on his account and so cause another's death. "Whoever loves danger," says the wise man, ''will perish by it" [Eccluse 3:26]. If the people in a city were to show themselves bold in their faith when a neighbor's need so demands, and cautious when no emergency exists, and if everyone would help ward off contagion as best he can, then the death toll would indeed be moderate. But if some are too panicky and desert their neighbors in their plight, and if some are so foolish as not to take precautions but aggravate the contagion, then the devil has a heyday and many will die. On both counts this is a grievous offense to God and to man—here it is tempting God; there it is bringing man into despair. Then the one who flees, the devil will pursue; the one who stays behind, the devil will hold captive so that no one escapes him.
Some are even worse than that. They keep it secret that they have the disease and go among others in the belief that by contaminating and poisoning others they can rid themselves of the plague and so recover. With this idea they enter streets and homes, trying to saddle children or servants with the disease and thus save themselves. I certainly believe that this is the devil's doing, who helps turn the wheel of fate to make this happen. I have been told that some are so incredibly vicious that they circulate among people and enter homes because they are sorry that the plague has not reached that far and wish to carry it in, as though it were a prank like putting lice into fur garments or flies into someone's living room. I do not know whether I should believe this; if it is true, I do not know whether we Germans are not really devils instead of human beings, It must be admitted that there are some extremely coarse and wicked people. The devil is never idle. My advice is that if any such persons are discovered, the judge should take them by the ear and turn them over to Master Jack, the hangman, as outright and deliberate murderers. What else are such people but assassins in our town? Here and there an assassin will jab a knife through someone and no one can find the culprit. So these folk Infect a child here, a woman there, and can never be caught. They go on laughing as though they had accomplished something. Where this is the case, it would be better to live among wild beasts than with such murderers. I do not know how to preach to such killers. They pay no heed. I appeal to the authorities to take charge and turn them over to the help and advice not of physicians, but of Master Jack, the hangman.
If in the Old Testament God himself ordered lepers to be banished from the community and compelled to live outside the city to prevent contamination [Leviticus 13—14], we must do the same with this dangerous pestilence so that anyone who becomes infected will stay away from other persons, or allow himself to be taken away and given speedy help with medicine. Under such circumstances it is our duty to assist such a person and not forsake him in his plight, as I have repeatedly pointed out before. Then the poison is stopped in time, which benefits not only the individual but also the whole community, which might be contaminated if one person is permitted to infect others. Our plague here in Wittenberg has been caused by nothing but filth. The air, thank God, is still clean and pure, but some few have been contaminated because of the laziness or recklessness of some. So the devil enjoys himself at the terror and flight which he causes among us. May God thwart him! Amen.
This is what we think and conclude on this subject of fleeing from death by the plague. If you are of a different opinion, may God enlighten you. Amen.
Because this letter will go out in print for people to read, I regard it useful to add some brief instructions on how one should care and provide for the soul in time of death. We have done this orally from the pulpit, and still do so every day in fulfillment of the ministry to which we have been called as pastors.
First, one must admonish the people to attend church and listen to the sermon so that they learn through God's word how to live and how to die. It must be noted that those who are so uncouth and wicked as to despise God's word while they are in good health should be left unattended when they are sick unless they demonstrate their remorse and repentance with great earnestness, tears, and lamentation. A person who wants to live like a heathen or a dog and does not publicly repent should not expect us to administer the sacrament to him or have us count him a Christian. Let him die as he has lived because we shall not throw pearls before swine nor give to dogs what is holy. Sad to say, there are many churlish, hardened ruffians who do not care for their souls when they live or when they die. They simply lie down and die like unthinking hulks.
Second, everyone should prepare tune and get ready for death by gomg to confession and caking the sacrament once every week or fortnight. He should become reconciled with his neighbor and make his will so that if the Lord knocks and he departs before a pastor or chaplain can arrive, he has provided for his soul, has left nothing undone, and has committed himself to God. When there are many fatalities and only two or three pastors on duty, it is impossible to visit everyone, to give instruction, and to teach each one what a Christian ought to know in the anguish of death. Those who have been careless and negligent in these matters must account for themselves. That is their own fault. After all, we cannot set up a private pulpit and altar daily at their bedside simply because they have despised the public pulpit and altar to which God has summoned and called them.
Third, if someone wants the chaplain or pastor to come, let the sick person send word in time to call him and let him do so early enough while he is still in his right mind before the illness overwhelms the patient. The reason I say this is that some are so negligent that they make no request and send no message until the soul is perched for flight on the tip of their tongues and they are no longer rational or able to speak. Then we are told, "Dear Sir, say the very best you can to him," etc. But earlier, when the illness first began, they wanted no visit from the pastor, but would say, "Oh, there's no need. I hope he'll get better." What should a diligent pastor do with such people who neglect both body and soul? They live and die like beasts in the field. They want us to teach them the gospel at the last minute and administer the sacrament to them as they were accustomed to it under the papacy when nobody asked whether they believed or understood the gospel but just stuffed the sacrament down their throats as if into a bread bag.
This won't do. If someone cannot talk or indicate by a sign that he believes, understands, and desires the sacrament——particularly if he has willfully neglected will not give it to him just anytime he asks for it, We have been commanded not to offer the holy sacrament to unbelievers but rather to believers who can state and confess their faith. Let the others alone in their unbelief; we are guiltless because we have not been slothful in preaching, teaching, exhortation, consolation, visitation, or in anything else that pertains to our ministry and office. This, in brief, is our instruction and what we practice here. We do not write this for you in Breslau, because Christ is with you and without our aid he will amply instruct you and supply your needs with his own ointment. To him be praise and honor together with God the Father and the Holy Spirit, world without end. Amen.
Because we have come upon the subject of death, I cannot refrain from saying something about burials. First of all, I leave it to the doctors of medicine and others with greater experience than mine in such matters to decide whether it is dangerous to maintain cemeteries within the city limits. I do not know and do not claim to understand whether vapors and mists arise out of graves to pollute the air. If this were so my previously stated warnings constitute ample reason to locate cemeteries outside the city. As we have learned, all of us have the responsibility of warding off this poison to the best of our ability because God has commanded us to care for the body, to protect and nurse it so that we are not exposed needlessly. In an emergency, however, we must be bold enough to risk our health if that is necessary. Thus we should be ready for both—to live and to die according to God's will. For "none of us lives to himself and none of us dies to himself," as St. Paul says, Romans
It is very well known that the custom in antiquity, both among Jews and pagans, among saints and sinners, was to bury the dead outside the city. Those people were just as prudent as we claim to be ourselves.
This is also evident in St. Luke's Gospel, when Christ raised from the dead the widow's son at the gates of Nain (for the text [Luke 7:12] states, ''He was being carried out of the city to the grave and a large crowd from the city was with her"). In that country it was the practice to bury the dead outside the town.
Christ's tomb, also, was prepared outside the city. Abraham, too, bought a burial plot in the field of Ephron near the double cave where all the patriarchs wished to be buried. The Latin therefore employs the term feri, that is, ''to carry out," by which we mean ''carry to the grave." They not only carried the dead out but also burned them to powder to keep the air as pure as possible.
My advice, therefore, is to follow these examples and to bury the dead outside the town. Not only necessity but piety and decency should induce us to provide a public burial ground outside the town, that is, our town of Wittenberg.
A cemetery rightfully ought to be a fine quiet place, removed from all other localities, to which one can go and reverently meditate upon death, the Last Judgment, the resurrection, and say one's prayers. Such a place should properly be a decent, hallowed place, to be entered with trepidation and reverence because doubtlessly some saints rest there. It might even be arranged to have religious pictures and portraits painted on the walls, But our cemetery, what is it like? Four or five alleys, two or three marketplaces, with the result that no place in the whole town is busier or noisier than the cemetery. People and cattle roam over it at any time, night and day. Everyone has a door or pathway to it from his house and all sorts of things take place there, probably even some that are not fit to be mentioned. This totally destroys respect and reverence for the graves, and people think no more about walking across it than if it were a burial ground for executed criminals. Not even the Turk would dishonor the place the way we do. And yet a cemetery should inspire us to devout thoughts, to the contemplation of death and the resurrection, and to respect for the saints who rest there. How can that be done at such a common place through which everyone must walk and into which every man's door opens? If a cemetery is to have some dignity, I would rather be put to rest in the Elbe or in the forest. If a graveyard were located at a quiet, remote spot where no one could make a path through it, it would be a spiritual, proper, and holy sight and could be so arranged that it would inspire devotion in those who go there. That would be my advice. Follow it, who so wishes. If anyone knows better, let him go ahead. I am no mans master.
In closing, we admonish and plead with you in Christ's name to help us with your prayers to God so that we may do battle with word and precept against the real and spiritual pestilence of Satan in his wickedness with which he now poisons and defiles the world. That is, particularly against those who blaspheme the sacrament, though there are other sectarians also. Satan is infuriated and perhaps he feels that the day of Christ is at hand. That is why he raves so fiercely and tries through the enthusiasts to rob us of the Savior, Jesus Christ. Under the papacy Satan was Simply ''flesh" so that even a monk's cap had to be regarded as sacred. Now he is nothing more than sheer "spirit" and Christ's flesh and word are no longer supposed to mean anything. They made an answer to my treatise long ago; but I am surprised that it has not yet reached
Gen. 23:9 (Luther's German translation), Ancient Hebrew burial caves usually had a second chamber into which the bones of previous burials were placed to make room for new interments.
I shall, God willing, answer them once again and let the matter drop. I can see that they will only become worse. They are like a bedbug which itself has a foul smell, but the harder you rub to crush it, the more it stinks. I hope that I've written enough in this pamphlet for those who can be saved so that——God be praised—many may thereby be snatched from their jaws and many more may be strengthened and confirmed in the truth. May Christ our Lord and Savior preserve us all in pure faith and fervent love, unspotted and pure until his day. Amen. Pray for me, a poor sinner.
Fighting for Worship's Urgency
How DC Churches Responded When the Government Banned Public Gatherings During the Spanish Flu of 1918
03.12.2020
As World War I was coming to a close, still another enemy was making its way toward the nation's capitol: the Spanish Flu. Between October 1918 and February 1919, an estimated 50,000 cases were reported in the District of Columbia; 3,000 D.C. residents lost their lives. At the peak of the pandemic, the DC government banned all public gatherings, including churches. How Christians responded provides some lessons and principles for responding to similar dilemmas in our own day.
THE RISING DEATH TOLL
The first active cases in the District were reported in September 1918. Between September 21–26, six people succumbed to the flu. On September 26, Health Officer Dr. W. C. Fowler warned the public to be cautious about influenza but said he did not yet expect a full-on pandemic. He was wrong. The next day saw three more deaths and 42 new cases. From that point on, cases multiplied rapidly and deaths followed shortly thereafter.
When 162 new cases were reported on October 1, city officials took action. Public schools were ordered to close indefinitely and operating hours for stores were limited to 10 AM to 6 PM. More closings followed in the next few days. On October 3, private schools and beaches were ordered to be closed. On October 4, the number of cases spiked; 618 new cases were reported. As a result, the city Health Officer Dr. Fowler called for additional bans on public gatherings, including church services, playgrounds, theaters, dance halls, and other places of amusement.
On October 4, the headline of the DC-based The Evening Star read "Churches Closed While Influenza Threatens in D.C." According to official documentation, the formal request used the following language:
Whereas the surgeon general of the United States public health service and the health officer of the District of Columbia have advised the Commissioners of the District of Columbia that indoor public assemblages constitute a public menace at this time; therefore, be it ordered by the Commissioners of the District of Columbia that the clergy be requested to omit all church services until further action by the Commissioners.
THE RESPONSE OF PASTORS
DC churches responded by calling an emergency meeting of the Protestant ministers on Saturday, October 5. There, they "voted unanimously to accede to the request of the District Commissioners that churches be closed in the city." As The Evening Star reported the next day that the "Pastors Federation of Washington" would comply with and support the safety measures called for by the city. Gathering at the New York Avenue Presbyterian Church, the pastors released the following statement:
Resolved, in view of the prevailing condition of our city (the widespread prevalence of influenza, that has called forth the request from the District of Columbia Commissioners for the temporary closing of all churches) we, the Pastors' Federation, in special assembly, do place ourselves on record as cheerfully complying with the request of the Commissioners, which, we understand applies to all churches alike. We furthermore recommend that our people shall conduct in their own homes some form of religious worship remembering in prayer especially the sick, our allied nations at war and the present canvass for the fourth liberty loan.
A gathering of representatives from 131 African-American churches decided likewise to abandon services. Although responses to this order were mixed, churches demonstrated a unified response by complying with the directives of the DC government.
The Saturday, October 5 edition of The Evening Star listed all of the church services for the following day. Most headings simply stated: "no services." Some churches listed longer messages in their newspaper advertisements, explaining their choice to gather outdoors instead. One Presbyterian Church explained their cancellation of services in the following way:
Inasmuch as it has seemed wise to the Commissioners of the District, after careful consideration of the question, to prohibit the gathering of the people on Sunday in their accustomed places of worship, may I suggest that at the usual hour of morning service you gather in your homes and unite in common prayer to the God of Nations and of families, that He will guide us in all wisdom in this time of trial, that our physicians and public officers may be led in their performance of duty and be strengthened by divine help, that the people may be wise and courageous, each in his place. Let us never forget that "Help cometh from the lord which made heaven and earth." Behold He that keepeth Israel shall neither slumber nor sleep.
OUTDOOR PUBLIC SERVICES
One way some churches managed to technically comply with DC regulations while continuing to meet was to obtain permits to gather outdoors. Examining the "Church Notices" section of newspapers at the time shows that many churches opted to gather outdoors on October 6—some in front of their buildings, others in public parks.
The Washington Times reported the same on October 6: "With the closing of churches by the Commissioners the pastors of the city have arranged for outdoor services." Another paper reported the day before,
All churches will be closed tomorrow. Open air services will be substituted wherever possible. Numerous permits have been obtained to hold services in various Government parks in the city. These open air services will continue each Sunday until such, time as the District Commissioners decide the influenza epidemic is sufficiently abated to warrant resumption of meetings in church buildings.
While churches were forbidden from gathering indoors, there was still the possibility of obtaining permits to gather outdoors.
THE HEALTH DEPARTMENT'S RESPONSE
This move by churches to hold services outdoors was not well received by District Health Commissioner Brownlow, who on October 9 ordered the ban on public meetings to include outdoor church gatherings. "This order includes all indoor and outdoor services in churches," Commissioner Brownlow said. "No outdoor gatherings will be allowed."
OPPOSITION TO THE BAN ON CHURCH GATHERINGS
Churches responded by complying with this additional restriction on outdoor gatherings. Over the following weeks, the number of new cases and deaths from the virus kept increasing in D.C., reaching its peak on October 18 when 91 deaths were reported in a 24 hour period along with 934 new cases—including the DC Commissioner, Louis Brownlow. Then, slowly, the influenza began to decline. The number of deaths reported in a 24-hour period declined to 28 on October 28, and the number of new cases declined to 235.
As these numbers began to decline, churches started to argue for a lifting of the ban. On October 25, an opinion piece on the Friday edition of The Star argued that churches should be transferred from the prohibited to the regulated class of gatherings, such as war workers in factories. The author listed two reasons:
(1) Because intelligent stringent regulation can prevent absolutely the crowding of the church edifices and can eliminate or reduce to a minimum the danger of germ distribution through such assemblages; and (2) Because the purposes of church assemblages are such as to entitle them to be the very last to be absolutely forbidden by the civil authorities. According to the author, church gatherings should only be prohibited when absolutely necessary because prohibiting church gatherings constitutes a threat to religious liberty:
Except in case of absolute, demonstrated unavoidable necessity public worship in the churches should not be prohibited by the civil authorities, because there is involved a certain infringement in spirit and effect of the free exercise of religious liberty. The authorities know that through national and civil loyalty their prohibitive order will be obeyed. [However] they should be reluctant to prevent men and women from doing that which their consciences and, in the belief of some of them, God's command impel them to do.
Additionally, the author argues that church gatherings actually have a positive effect of fighting the influenza:
In the influence of the churches upon the minds and souls of men, in quieting through strengthened faith in God the panic and fear in which epidemic thrives, the churches are potential anti-influenza workers, fit to co-operate helpfully with our doctors and our nurses, of whose fine record in these times that try men's souls we are all justly proud.
This author wasn't the only one who opposed the ban on church gatherings. The very next day, October 26, another article reports that "strong pleas" were made to Health Officer Fowler and the Surgeon General by the Protestant Pastors Federation of Washington, DC. This group, which had exactly three weeks earlier voted to abide by the city's restrictions on church gatherings, now sought unsuccessfully to obtain permission to gather for worship the following day. According to one newspaper, "The members of the delegation were told that until the health authorities feel fully assured that all danger of the spread of infection through large public gatherings has disappeared the ban would not be lifted."
The Commissioners released a statement in response explaining that they did not "desire to interfere any longer than is made necessary by unusual conditions with the regular assemblage of the people in their churches." However, they indicated no move to lift the general ban on all public gatherings, including churches, theaters, and moving picture houses until the influence of the influenza had abated.
In a letter to the editor in that evening's edition of The Evening Star, Rev. Randolph H. McKim, pastor of the Church of the Epiphany in Washington DC, protested the continued ban on church gatherings.
In the opinion piece, he argued in strong terms that "nothing has so contributed to that state of panic which has gripped this community as the fact that the normal religious life of our city has been disorganized." He further protested that when the Federation of Pastors met with the City Commissioners to consider the matter, the Commissioners reasoned purely on "materialistic grounds." No weight or consideration was given to the power of prayer or the comfort against anxiety that church gatherings would provide. In the authors' words, "That prayer had any efficacy in the physical world was an idea that was given no hospitality" by the Commissioners.
Letters and appeals from pastors to the Commissioners to lift the ban continued for several more days as deaths and new cases continued to decline. One Baptist minister, Pastor J. Milton Waldron, published an editorial on October 29, writing on behalf of "the eleven hundred members of Shiloh Baptist Church." In the article, Pastor Waldron expresses his members' concern that the city officials are carelessly "interfering with the freedom of religious worship." In particular, his people feel that "the authorities are woefully lacking in reverence to God and wanting in a correct knowledge of the character and mission of the church when they place it in the same class with poolrooms, dance halls, moving picture places, and theaters." As Waldron puts it, "The Christian church is not a luxury, but a necessity to the life and perpetuity of any nation."
THE BAN LIFTED
Then, finally, on October 29 the Commissioners released an order to lift the ban:
That the operation of the Commissioners' order of October 4, 1918, requesting the clergy of Washington to omit all church services until further action by the Commissioners, be terminated on Thursday, October 31, 1918.
According to the DC health officer Dr. Fowler, conditions were such now that he felt assured by the fall in the death rate and the reduction in the number of new cases that "it was safe to open the churches this week [Thursday] and the opening of the theaters, schools, and other public gathering places Monday." A few churches placed advertisements in the Wednesday, October 30 edition of The Star announcing the resumption of services. For instance, Calvary Baptist Church announced that it would be resuming its mid-week prayer meeting on Thursday, October 31 as well as regular services on Sunday, November 3.
On that first Sunday, the Reverend J. Francis Grimke preached a powerful sermon that was later published and distributed, "Some Reflections: Growing Out of the Recent Epidemic of Influenza that Afflicted Our City." In the sermon, Grimke acknowledges that there was "considerable grumbling" on the part of some regarding the closing of churches. However, he offered a defense of the ban on gatherings:
The fact that the churches were places of religious gathering, and the others not, would not affect in the least the health question involved. If avoiding crowds lessens the danger of being infected, it was wise to take the precaution and not needlessly run in danger, and expect God to protect us.
In conclusion, the influenza of 1918 provides an example of how churches in Washington DC responded to a public health crisis and government orders to close churches. During one of the worst epidemics to ever hit our country, churches respected the directives of the government for a limited time out of neighborly love and in order to protect public health. Even when churches began to disagree with the Commissioners' perspective, they continued to abide by their orders. This demonstrates a place for freedom of speech and advocacy while respecting and submitting to governing authorities.
Family and Private Worship
Below is that document that the Westminster Divines published with the Westminster Confession in 1647 to direct families in private and family worship. As we are isolated in this time, their words can be most helpful in guiding you in your private and family time:
The Directory for Private (Family) Worship
ASSEMBLY AT EDINBURGH, August 24, 1647, Sess. 10.
ACT for observing the Directions of the GENERAL ASSEMBLY for secret and private Worship, and mutual Edification; and censuring such as neglect Family-worship.
THE General Assembly, after mature deliberation, doth approve the following Rules and Directions for cherishing piety, and preventing division and schism; and doth appoint ministers and ruling elders in each congregation to take special care that these Directions be observed and followed; as likewise, that presbyteries and provincial synods enquire and make trial whether the said Directions be duly observed in their bounds; and to reprove or censure (according to the quality of the offence), such as shall be found to be reprovable or censurable therein. And, to the end that these directions may not be rendered ineffectual and unprofitable among some, through the usual neglect of the very substance of the duty of Family-worship, the Assembly doth further require and appoint ministers and ruling elders to make diligent search and enquiry, in the congregations committed to their charge respectively, whether there be among them any family or families which use to neglect this necessary duty; and if any such family be found, the head of the family is to be first adminished privately to amend his fault; and, in case of his continuing therein, he is to be gravely and sadly reproved by the session; after which reproof, if he be found still to neglect Family-worship, let him be, for his obstinacy in such an offence, suspended and debarred from the Lord's supper, as being justly esteemed unworthy to communicate therein, till he amend.
DIRECTIONS OF THE GENERAL ASSEMBLY, CONCERNING SECRET AND PRIVATE WORSHIP, AND MUTUAL EDIFICATION; FOR CHERISHING PIETY, FOR MAINTAINING UNITY, AND AVOIDING SCHISM AND DIVISION.
BESIDES the publick worship in congregations, mercifully established in this land in great purity, it is expedient and necessary that secret worship of each person alone, and private worship of families, be pressed and set up; that, with national reformation, the profession and power of godliness, both personal and domestick, be advanced.
I. And first, for secret worship, it is most necessary, that every one apart, and by themselves, be given to prayer and meditation, the unspeakable benefit whereof is best known to them who are most exercised therein; this being the mean whereby, in a special way, communion with God is entertained, and right preparation for all other duties obtained: and therefore it becometh not only pastors, within their several charges, to press persons of all sorts to perform this duty morning and evening, and at other occasions; but also it is incumbent to the head of every family to have a care, that both themselves, and all within their charge, be daily diligent herein.
II. The ordinary duties comprehended under the exercise of piety which should be in families, when they are convened to that effect, are these: First, Prayer and praises performed with a special reference, as well to the publick condition of the kirk of God and this kingdom, as to the present case of the family, and every member thereof. Next, Reading of the scriptures, with catechising in a plain way, that the understandings of the simpler may be the better enabled to profit under the publick ordinances, and they made more capable to understand the scriptures when they are read; together with godly conferences tending to the edification of all the members in the most holy faith: as also, admonition and rebuke, upon just reasons, from those who have authority in the family.
III. As the charge and office of interpreting the holy scriptures is a part of the ministerial calling, which none (however otherwise qualified) should take upon him in any place, but he that is duly called thereunto by God and his kirk; so in every family where there is any that can read, the holy scriptures should be read ordinarily to the family; and it is commendable, that thereafter they confer, and by way of conference make some good use of what hath been read and heard. As, for example, if any sin be reproved in the word read, use may be made thereof to make all the family circumspect and watchful against the same; or if any judgment be threatened, or mentioned to have been inflicted, in that portion of scripture which is read, use may be made to make all the family fear lest the same or a worse judgment befall them, unless they beware of the sin that procured it: and, finally, if any duty be required, or comfort held forth in a promise, use may be made to stir up themselves to employ Christ for strength to enable them for doing the commanded duty, and to apply the offered comfort. In all which the master of the family is to have the chief hand; and any member of the family may propone a question or doubt for resolution.
IV. The head of the family is to take care that none of the family withdraw himself from any part of family-worship: and, seeing the ordinary performance of all the parts of family-worship belongeth properly to the head of the family, the minister is to stir up such as are lazy, and train up such as are weak, to a fitness to these exercises; it being always free to persons of quality to entertain one approved by the presbytery for performing family-exercise. And in other families, where the head of the family is unfit, that another, constantly residing in the family, approved by the minister and session, may be employed in that service, wherein the minister and session are to be countable to the presbytery. And if a minister, by divine Providence, be brought to any family, it is requisite that at no time he convene a part of the family for worship, secluding the rest, except in singular cases especially concerning these parties, which (in Christian prudence) need not, or ought not, to be imparted to others.
V. Let no idler, who hath no particular calling, or vagrant person under pretence of a calling, be suffered to perform worship in families, to or for the same; seeing persons tainted with errors, or aiming at division, may be ready (after that manner) to creep into houses, and lead captive silly and unstable souls.
VI. At family-worship, a special care is to be had that each family keep by themselves; neither requiring, inviting, nor admitting persons from divers families, unless it be those who are lodged with them, or at meals, or otherwise with them upon some lawful occasion.
VII. Whatsoever have been the effects and fruits of meetings of persons of divers families in the times of corruption or trouble, (in which cases many things are commendable, which otherwise are not tolerable,) yet, when God hath blessed us with peace and purity of the gospel, such meetings of persons of divers families (except in cases mentioned in these Directions) are to be disapproved, as tending to the hinderance of the religious exercise of each family by itself, to the prejudice of the publick ministry, to the rending of the families of particular congregations, and (in progress of time) of the whole kirk. Besides many offences which may come thereby, to the hardening of the hearts of carnal men, and grief of the godly.
VIII. On the Lord's day, after every one of the family apart, and the whole family together, have sought the Lord (in whose hands the preparation of men's hearts are) to fit them for the publick worship, and to bless to them the publick ordinances, the master of the family ought to take care that all within his charge repair to the publick worship, that he and they may join with the rest of the congregation: and the publick worship being finished, after prayer, he should take an account what they have heard; and thereafter, to spend the rest of the time which they may spare in catechising, and in spiritual conferences upon the word of God: or else (going apart) they ought to apply themselves to reading, meditation, and secret prayer, that they may confirm and increase their communion with God: that so the profit which they found in the publick ordinances may be cherished and promoved, and they more edified unto eternal life.
IX. So many as can conceive prayer, ought to make use of that gift of God; albeit those who are rude and weaker may begin at a set form of prayer, but so as they be not sluggish in stirring up in themselves (according to their daily necessities) the spirit of prayer, which is given to all the children of God in some measure: to which effect, they ought to be more fervent and frequent in secret prayer to God, for enabling of their hearts to conceive, and their tongues to express, convenient desires to God for their family. And, in the meantime, for their greater encouragement, let these materials of prayer be meditated upon, and made use of, as followeth.
"Let them confess to God how unworthy they are to come in his presence, and how unfit to worship his Majesty; and therefore earnestly ask of God the spirit of prayer.
"They are to confess their sins, and the sins of the family; accusing, judging, and condemning themselves for them, till they bring their souls to some measure of true humiliation.
"They are to pour out their souls to God, in the name of Christ, by the Spirit, for forgiveness of sins; for grace to repent, to believe, and to live soberly, righteously, and godly; and that they may serve God with joy and delight, walking before him.
"They are to give thanks to God for his many mercies to his people, and to themselves, and especially for his love in Christ, and for the light of the gospel.
"They are to pray for such particular benefits, spiritual and temporal, as they stand in need of for the time, (whether it be morning or evening,) as anent health or sickness, prosperity or adversity.
"They ought to pray for the kirk of Christ in general, for all the reformed kirks, and for this kirk in particular, and for all that suffer for the name of Christ; for all our superiors, the king's majesty, the queen, and their children; for the magistrates, ministers, and whole body of the congregation whereof they are members, as well for their neighbours absent in their lawful affairs, as for those that are at home.
"The prayer may be closed with an earnest desire that God may be glorified in the coming of the kingdom of his Son, and in doing of his will, and with assurance that themselves are accepted, and what they have asked according to his will shall be done."
X. These exercises ought to be performed in great sincerity, without delay, laying aside all exercises of worldly business or hinderances, not withstanding the mockings of atheists and profane men; in respect of the great mercies of God to this land, and of his severe corrections wherewith lately he hath exercised us. And, to this effect, persons of eminency (and all elders of the kirk) not only ought to stir up themselves and families to diligence herein, but also to concur effectually, that in all other families, where they have power and charge, the said exercises be conscionably performed.
XI. Besides the ordinary duties in families, which are above mentioned, extraordinary duties, both of humiliation and thanksgiving, are to be carefully performed in families, when the Lord, by extraordinary occasions, (private or publick,) calleth for them.
XII. Seeing the word of God requireth that we should consider one another, to provoke unto love and good works; therefore, at all times, and specially in this time, wherein profanity abounds, and mockers, walking after their own lusts, think it strange that others run not with them to the same excess of riot; every member of this kirk ought to stir up themselves, and one another, to the duties of mutual edification, by instruction, admonition, rebuke; exhorting one another to manifest the grace of God in denying ungodliness and worldly lusts, and in living godly, soberly and righteously in this present world; by comforting the feeble-minded, and praying with or for one another. Which duties respectively are to be performed upon special occasions offered by Divine Providence; as, namely, when under any calamity, cross, or great difficulty, counsel or comfort is sought; or when an offender is to be reclaimed by private admonition, and if that be not effectual, by joining one or two more in the admonition, according to the rule of Christ, that in the mouth of two or three witnesses every word may be established.
XIII. And, because it is not given to every one to speak a word in season to a wearied or distressed conscience, it is expedient, that a person (in that case,) finding no ease, after the use of all ordinary means, private and publick, have their address to their own pastor, or some experienced Christian: but if the person troubled in conscience be of that condition, or of that sex, that discretion, modesty, or fear of scandal, requireth a godly, grave, and secret friend to be present with them in their said address, it is expedient that such a friend be present.
XIV. When persons of divers families are brought together by Divine Providence, being abroad upon their particular vocations, or any necessary occasions; as they would have the Lord their God with them whithersoever they go, they ought to walk with God, and not neglect the duties of prayer and thanksgiving, but take care that the same be performed by such as the company shall judge fittest. And that they likewise take heed that no corrupt communication proceed out of their mouths, but that which is good, to the use of edifying, that it may minister grace to the hearers.
The drift and scope of all these Directions is no other, but that, upon the one part, the power and practice of godliness, amongst all the ministers and members of this kirk, according to their several places and vocations, may be cherished and advanced, and all impiety and mocking of religious exercises suppressed: and, upon the other part, that, under the name and pretext of religious exercises, no such meetings or practices be allowed, as are apt to breed error, scandal, schism, contempt, or misregard of the publick ordinances and ministers, or neglect of the duties of particular callings, or such other evils as are the works, not of the Spirit, but of the flesh, and are contrary to truth and peace.4
A Reformed, Evangelical, Presbyterian church. A member of the Evangelical Presbyterian Church.
Our address is: 400 W. Palo Verde Ave Ajo, AZ 85321