Fall Festival
Sunday, October 17, 2-5pm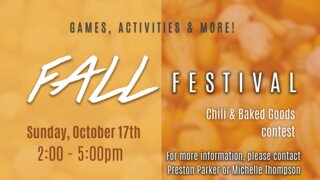 Festival Games, Bounce Houses, Cotton Candy, Popcorn, Chili Supper!
Upcoming Events
Download
Add-a-dish! Bring a Main Dish, Dessert, and Drink.
Sunday, October 17th  •  10:30 am – 12:30 pm (CDT)
Download
Join us after our Fellowship meal for our Annual Fall Festival, 2:00 - 5:00pm. Following the Festival will be a Chili Cook-Off and Baked Goods Contest! Bring your finest Chili and/or baked goods to enter to win!
If you would like to sign up to run a booth, please reach out! Thank you!
Sunday, October 17th  •  2–5 pm (CDT)
Download
Fall Revival! We will have a guest pastor from our area each night. Monday - Pastor Jeff Lankford (Grace Baptist) Tuesday - Pastor Jason Betts (Calvary Baptist) Wednesday - Pastor Aaron Terlecki (Burns Baptist)
Monday, October 18th  •  6:00–7:30 pm (CDT)
Philippians 2:16, "Holding forth the word of life; that I may rejoice in the day of Christ, that I have not run in vain,
Our address is: 1011 Butterworth Rd, Kingston Springs, TN 37082, USA