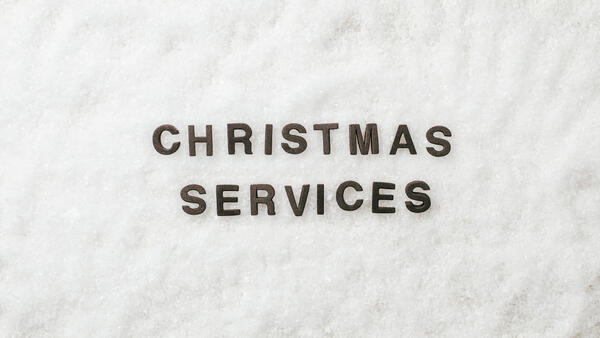 2020 Christmas Plans
Service times, changes, cancellations
Hanging of the Greens
We will not have a Hanging of the Greens service this year.
On the 1st Sunday evening of December we host this event to decorate the building, sing carols, and explain the traditional christian meanings of each decoration. After we have cookies and punch.
Hopefully we can resume this tradition in 2021.
There may be a date/time for those who wish to come assist the decorations committee in putting out the Christmas items.
Christmas Caroling
This event is still undecided.
On the 3rd Wednesday of December we go to local nursing homes and sing through the halls to the residents. This year these facilities are not allowing guests. There is a chance we can do a modified version of this from outside.
Church Christmas Party
We will not have the Christmas Party this year.
On the 3rd Sunday Night of December we have an add-a-dish party after the Youth Christmas Program. This is a festive time with green punch!
Youth Christmas Program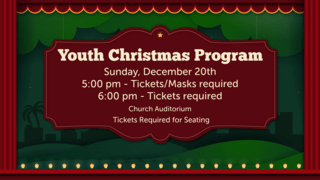 Sunday, December 20th
Come see our student and children's ministry portray the true meaning of Christmas through skits and plays.
This year we will have two showings of the Christmas program to allow more people to attend while social distancing. The first (5pm) will be for those most at-risk with less seating and masks required. At 6pm masks will be optional and more seating available. Please visit the link below to reserve your seat anytime prior to 12/20.
If your young person would like to participate, practices are every Wednesday at 7pm.
5:00 PM - Limited Seating, Masks Required
6:00 PM - More seating, less restrictions
Christmas Eve Candlelight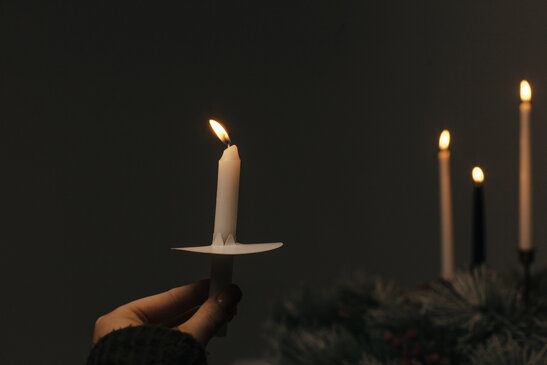 December 24, 2020 -- 4:30 pm & 6:00 pm
We will have 2 times for our Christmas Eve Candlelight service this year. This will allow for more to attend while social distancing.
New Year's Eve
We will not have our NYE Potato Supper this year.
On 12/31 we have a baked potato supper with add-a-topping. After eating we have a request only hymn singing and a New Year sermon. After, we have pie and go home early!
These plans have been thoughtfully considered by the Board of Stewards and Church Staff. These are difficult times. While we want to have as much as possible, we also do not want to be irresponsible.
While some of our mass gatherings are not possible this year, we encourage you to celebrate with your groups (SS, Mid-Week, Teams, etc.)
Hopefully this will give us a close resemblance of our typical Christmas happenings while allowing us to stay healthy. If you have any thoughts or questions contact the church office for assistance.
615-378-1136 call or text
Philippians 2:16, "Holding forth the word of life; that I may rejoice in the day of Christ, that I have not run in vain,
Our address is: 1011 Butterworth Rd, Kingston Springs, TN 37082, USA