New location, new approach, this Sunday!
Harvest Connect
Big changes!
We've been talking about it for months now. We've gotten into far greater detail in the last few weeks. Finally this Sunday we will embark on a new approach to church.
Specifics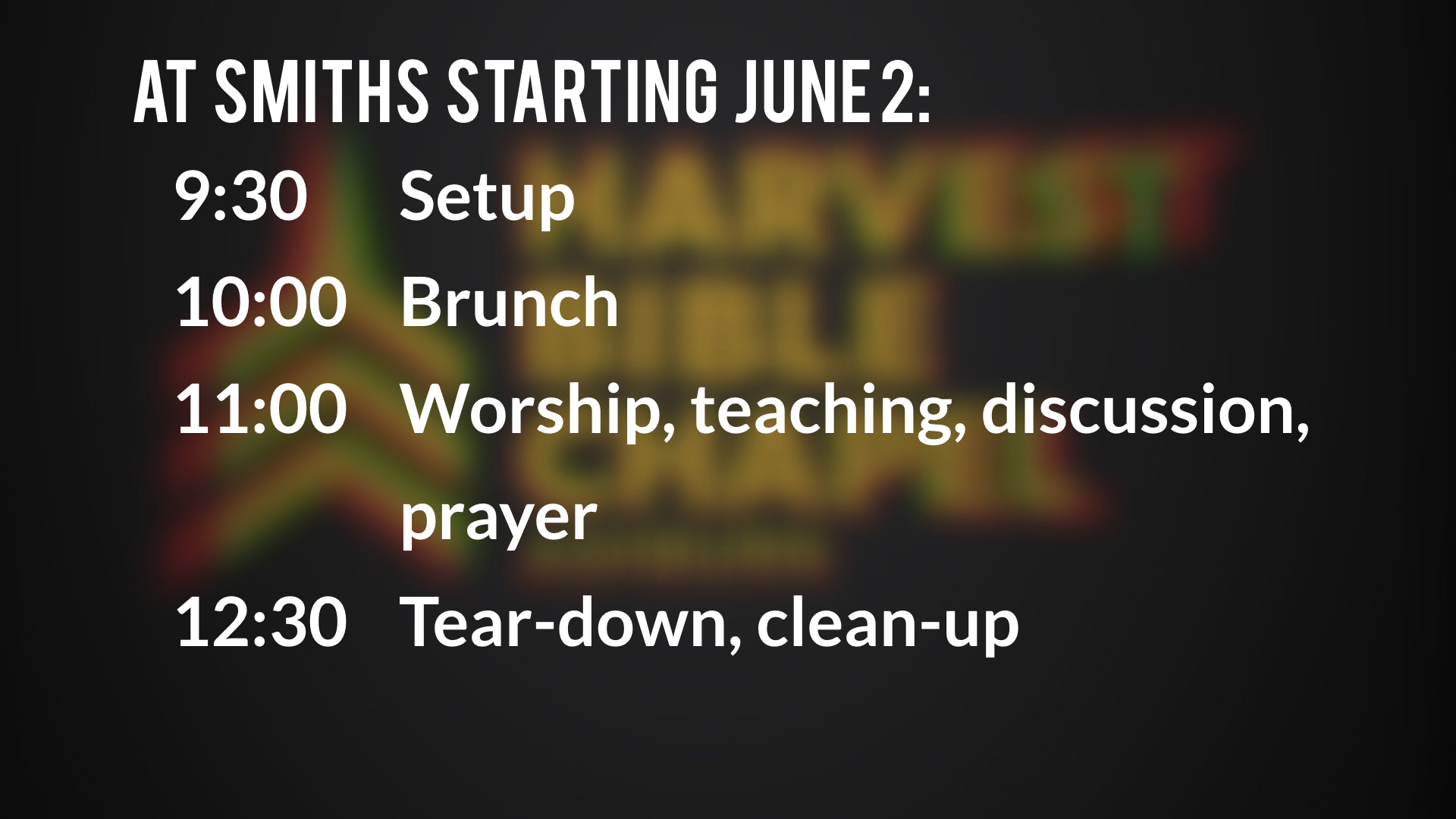 Like I said on Sunday, the official times are 10 to 12:30 (at the latest). We'll start with brunch. But we want it to work like a family so come early to help setup if you can and stay late to help clean up if you can.
Address:
40755 Carper Ln., Paeonian Springs, VA 20129 (Google Maps)
We will have optional childcare for preschool ages. All other ages will be together.
Food for this week (and probably next week) will be taken care of so you do not need to bring anything. In future weeks we want to work out a schedule where we can all contribute to it.
Teaching prep
Last week we looked at 1 Cor. 12. Isn't it amazing that God's church is designed by him to be a complex organism like the human body? Jesus is the head, we are the various parts all working in harmony under his headship.
This week we'll continue into 1 Corinthians 13. In preparation you should read that passage several times. Think about this, in this section of 1 Corinthians, Paul is talking about community life in the church. He isn't talking about marriage or family, although it is applicable, he's talking about local church community.
Consider these questions:
How important is love according to this passage?
What are some of the biggest obstacles to love?
Why is love hard for us?
Why does love make us vulnerable to others?
Why is love important for community?
What happens to community when there is no love?
What are some other passages from scripture that come to mind that relate? For example: 1 John 4:7-11.
Talk about some of these things with your spouse and someone close to you. Is this kind of love in that relationship? Or is it more based on common interests or mutual benefit or conditional?
Please come this Sunday ready to share and contribute to others. (That's an act of love, by the way!)
For parents:
Read the passage to your kids. Highlight verses 4-7 and your job as a parent. Ask them, "Which part of love do I need to do better at?" If they point out an area, thank them and ask them for forgiveness for anything you can remember. Pray with them and ask God for forgiveness too. Let them see you walking in the gospel, being honest about yourself and seeking healing in Jesus.
Ask them if there is any area they think they can improve on too.
Going deeper
At the absolute core of this transition to a different approach to church is the idea of loving one another. Jesus commanded us to love one another as he has loved us. He said that when we love like that the world will know that we are his disciples, that Jesus is from the Father, and that the Father loves the world like he loves us!
Are we really loving like that? Or are we just going through the motions of church and letting consumerism and self-focus direct us? This is a radically different kind of life!!
Is that even possible? According to Philippians 2:5 this kind of selflessness is "yours in Christ Jesus." He did it perfectly and gives it to us to do and give to others.
Francis Chan did a sermon at a large church in the Philippines earlier this year called, "Get Over Yourself." It is sooo incredibly good. Give it a listen if you can before Sunday!
Here is the link: https://www.youtube.com/watch?v=JRK_N8sB_Vw
You are loved!
Rich Shipe
rich@harvest.bible
Our address is: 40755 Carper Ln, Paeonian Springs, VA 20129, USA