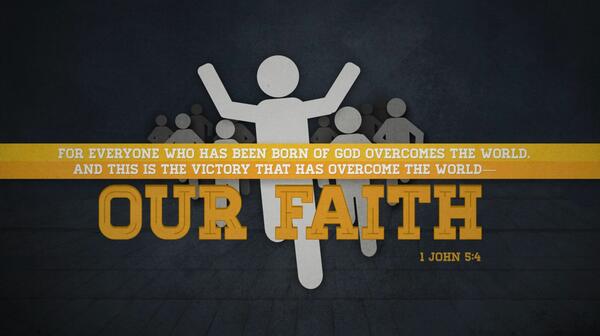 Assurance of Genuine Faith
The Preacher's Pen
Assurance of Genuine Faith
On Sunday, we considered from John 8:31-47, Genuine and Fake Believers as Jesus pointed out the difference in the two. 1 John, penned by the same apostle, in part is written that we would examine our faith - whether it be a genuine saving faith or fake. I have included eleven points of examination along with corresponding passages for you.
Perhaps you can use this not only to look at your own faith, but you may have a family member or friend whose faith concerns you and would like to share these passages with them. Maybe even visit with them over a coffee or a meal and talk about genuine saving faith with them. If so, let me encourage you to do so prayerfully, asking them questions rather than making accusations, and trusting God to do the work of conviction where, and if it is needed. Be ready to respond lovingly and truthfully as a messenger of Christ, no matter their response. May God use His Word in our lives and others to bring conviction of sin, genuine saving faith, and assurance of our salvation in Christ!
Assurance of Genuine Saving Faith - We can have an assurance of God having granted us genuine saving faith by examining the fruit our faith bears in our lives.
1) Saving Faith Trusts in Christ Alone for Salvation
The life was made manifest, and we have seen it, and testify to it and proclaim to you the eternal life, which was with the Father and was made manifest to us— that which we have seen and heard we proclaim also to you, so that you too may have fellowship with us; and indeed our fellowship is with the Father and with his Son Jesus Christ. 1 John 1:2-3
2) Saving Faith Acknowledges and Confesses Sin
If we say we have no sin, we deceive ourselves, and the truth is not in us. If we confess our sins, he is faithful and just to forgive us our sins and to cleanse us from all unrighteousness. 1 John 1:8-9
3) Saving Faith Obeys God's Word
And by this we know that we have come to know him, if we keep his commandments. Whoever says "I know him" but does not keep his commandments is a liar, and the truth is not in him, but whoever keeps his word, in him truly the love of God is perfected.
1 John 2:3-5
4) Saving Faith Does not Love Sin
Do not love the world or the things in the world. If anyone loves the world, the love of the Father is not in him. For all that is in the world—the desires of the flesh and the desires of the eyes and pride of life—is not from the Father but is from the world.
1 John 2:15-16
5) Saving Faith Continues in the Faith
They went out from us, but they were not of us; for if they had been of us, they would have continued with us. But they went out, that it might become plain that they all are not of us.
1 John 2:19
6) Saving Faith Fights Against Indwelling Sin
Everyone who makes a practice of sinning also practices lawlessness; sin is lawlessness. You know that he appeared in order to take away sins, and in him there is no sin. No one who abides in him keeps on sinning; no one who keeps on sinning has either seen him or known him. 1 John 3:4-6
7) Saving Faith Loves Fellow Believers
Do not be surprised, brothers, that the world hates you. We know that we have passed out of death into life, because we love the brothers. Whoever does not love abides in death. 1 John 3:13-14
8) Saving Faith is a Lived out Faith
Little children, let us not love in word or talk but in deed and in truth. 1 John 3:18
9) Saving Faith Has the Inward Testimony of the Holy Spirit about the Gospel
By this we know that we abide in him and he in us, because he has given us of his Spirit. And we have seen and testify that the Father has sent his Son to be the Savior of the world. Whoever confesses that Jesus is the Son of God, God abides in him, and he in God. 1 John 4:14-15
10) Saving faith Loves God
Everyone who believes that Jesus is the Christ has been born of God, and everyone who loves the Father loves whoever has been born of him. 1 John 5:1
11) Saving Faith is Victorious over the World
For everyone who has been born of God overcomes the world. And this is the victory that has overcome the world—our faith. Who is it that overcomes the world except the one who believes that Jesus is the Son of God? 1 John 5:4-5
Make no mistake, we are not perfect in these fruits, as the first fruit reminds us we are looking to Christ, not ourselves for our salvation, He never fell short as we do. Then, the second fruit tells us that when we fall short, we are to acknowledge and confess our sin and what do we find, but God's gracious forgiveness and Him cleansing us once again from all our unrighteousness! May this grow your affection for Christ and His amazing gospel as you continue to trust in Him.
Soli Deo Gloria,
Pastor Chris
Our address is: 307 4th Ave SE, Gravette, AR 72736, USA