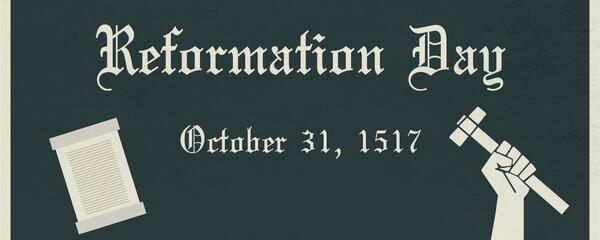 Semper Reformanda
The Preacher's Pen
Ecclesia Reformata, Semper Reformanda (The Church Reformed, Always Reforming)
This phrase goes all the way back to 1647, held to be coined by Jodocus van Lodenstein, a pastor of a church in the Netherlands. After researching the likely meaning he intended, I offer this summary; The church, having been reformed by the Word of God in its doctrine, worship, and polity, we are to see that we ourselves, from the inward person to the outward, are always being reformed by the Word of God (for more history read this Ligonier Article).
The Protestant Reformation brought forth the Biblical gospel, worship, and church governance, in a world dominated by the false gospel, worship, and government of the Roman Catholic Church. While Rome was proclaiming a gospel of works (baptism, penance, indulgences, receiving the eucharist, etc.) plus faith are required for being justified before God, the reformation gospel was declaring the Five Solas (5 Alone's); that we are saved by Grace Alone, through Faith Alone, in Christ Alone, according to the Scripture Alone, and to the Glory of God Alone. Passages of Scripture like Romans 4:2-5 and Ephesians 2:8-9 were being made available to the common man through English and German translations of the Bible, along with reformation preaching.
2 For if Abraham was justified by works, he has something to boast about, but not before God. 3 For what does the Scripture say? "Abraham believed God, and it was credited to him as righteousness." 4 Now to the one who works, his wage is not credited as a favor, but as what is due. 5 But to the one who does not work, but believes in Him who justifies the ungodly, his faith is credited as righteousness, Romans 4:2-5
8 For by grace you have been saved through faith. And this is not your own doing; it is the gift of God, 9 not a result of works, so that no one may boast. Ephesians 2:8-9
This Biblical gospel of salvation by grace alone, through faith alone, was causing no small stir as God was using it to bring many out of the faith-plus-works-gospel of Roman Catholicism. In response to the Protestant Reformation, the Roman Catholic Church not only tortured and murdered many faithful believers, but also at the 19th Ecumenical Council from 1545-1563, (known as the Council of Trent) they rejected the gospel. In Canons 9 and 12, they directly call the Biblical gospel a false and damning one.
"Canon 9: If any one saith, that by faith alone the impious is justified; in such wise as to mean, that nothing else is required to co-operate in order to the obtaining the grace of Justification, and that it is not in any way necessary, that he be prepared and disposed by the movement of his own will; let him be anathema."
"Canon 12: If any one saith, that justifying faith is nothing else but confidence in the divine mercy which remits sins for Christ's sake; or, that this confidence alone is that whereby we are justified; let him be anathema."
What is surprising to many protestants today is that these Canons are still upheld by Roman Catholic teaching, even as recently as Vatican II (1962) they were reaffirmed. Some have attempted to soft-peddle what it means to be anathematized, but this word comes from the Scripture, meaning to be accursed, to be devoted to God's divine wrath.
6 I am astonished that you are so quickly deserting him who called you in the grace of Christ and are turning to a different gospel— 7 not that there is another one, but there are some who trouble you and want to distort the gospel of Christ. 8 But even if we or an angel from heaven should preach to you a gospel contrary to the one we preached to you, let him be accursed. 9 As we have said before, so now I say again: If anyone is preaching to you a gospel contrary to the one you received, let him be accursed (anathema). Galatians 1:6-9
The apostle Paul warned these believers to not embrace the false gospel of works (circumcision in this case) plus faith in Jesus as both being required to be saved, but to continue to hold on to the gospel of faith alone in Christ. Paul emphatically states, and repeats himself in verse 10, that those believing the false gospel of a works-based salvation are separated from God and under His divine wrath. What is glaringly obvious is that the Council of Trent is directly contradicting God's Word in Galatians and saying if you believe Paul's gospel, then you are anathema, that is accursed, and waiting to be delivered up to God's divine wrath. Thankfully, we know God inspired Paul and not the Roman Catholic Church and Paul continued on to write this in Galatians 2:16.
"yet we know that a person is not justified by works of the law but through faith in Jesus Christ, so we also have believed in Christ Jesus, in order to be justified by faith in Christ and not by works of the law, because by works of the law no one will be justified."
The apostles faced this challenge of the false gospel of works-plus-faith-salvation multiple times, and each time condemned it and reaffirmed a salvation by grace alone, through faith alone, and in Christ alone.
But some men came down from Judea and were teaching the brothers, "Unless you are circumcised according to the custom of Moses, you cannot be saved." Acts 15:1
10 Now, therefore, why are you putting God to the test by placing a yoke on the neck of the disciples that neither our fathers nor we have been able to bear? 11 But we believe that we will be saved through the grace of the Lord Jesus, just as they will." Acts 15:10-11
There is a need to continue the clarion call of "The Church Reformed, Always Reforming". When many evangelical protestant leaders are linking arms with the apostate churches preaching a false gospel, we must stand on the Word of God, faithfully declaring the gospel of Jesus Christ, as once for all delivered to the saints. For, the gospel of faith alone, in Christ alone, for our salvation, is the only gospel which saves.
For an excellent resource on this subject, I highly recommend American Gospel: Christ Alone by Brandon Kimber. You can even purchase an evangelism pack to give away to your family and friends. Happy Reformation Day!
Solus Christus, Pastor Chris
Our address is: 307 4th Ave SE, Gravette, AR 72736, USA