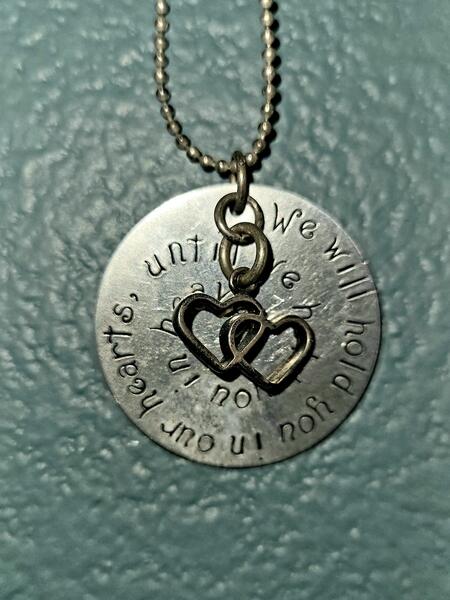 Where Do Infants Go When They Die?
The Preacher's Pen
Where Do Infants Go When They Die?
A couple of months back, I have received some questions from church members concerning where infants go when they die. I have a vested interest in these questions as Corrie and I have lost twins before God gave us our precious Judah. The picture above is a necklace hung on our wall in our home next to profile paintings of our other seven children. This necklace commemorates the gift of these children to us from God, even if it was so short a time this side of glory.
The questions from church family followed a message in which the subject of abortion was part of the weekly news and I incorporated that topic into the sermon. This likely stoked the questions, "What happens to those infants?", "What happens to any infant that dies in the womb or even outside the womb?", and "Is there an age of accountability?"
The question we must follow up with on such matters, in fact, all matters, must be, "What does the Scripture say?" You may be surprised that the Scripture actually has a lot to say about God and his interaction and care of infants. I am persuaded the Scripture says enough for us to have confidence that when infants die, they go directly to be with the Lord Jesus. But, before we get to those passages, we need to start by briefly affirming a few basic foundational Biblical realities. Once we have those foundations in place, we will then work with these questions in view of that foundation and build upon it the various passages of Scripture that address these matters.
FOUR FOUNDATIONAL REALITIES
1. God is Righteous & Does Good
Whatever Scripture affirms concerning infants who die in infancy and their eternity, we must begin by affirming that God is righteous and all that He does is right and good. We can never charge God with sin as He is perfect in holiness. From Isaiah 6:3 to Revelation 4:8 God is worshipped as being Holy, Holy, Holy.
Psalm 7:17 (ESV)
17I will give to the Lord the thanks due to his righteousness, and I will sing praise to the name of the Lord, the Most High.
Psalm 119:68 (ESV)
68You are good and do good; teach me your statutes.
2. Mankind is Under the Curse of Original Sin
Condemned in Adam
The judgment of God that came upon Adam for his sin was death, but not just death for Adam, but all who are born after Adam. Adam was a representative head in the garden and when Adam fell, we all fell in him.
Romans 5:12 (ESV)
12Therefore, just as sin came into the world through one man, and death through sin, and so death spread to all men because all sinned—
Romans 5:18 (ESV)
18Therefore, as one trespass led to condemnation for all men, so one act of righteousness leads to justification and life for all men.
Sinful by Nature from the Womb
Because we are born as children of Adam, under the curse of sin, our very nature is that of a sinner. Mankind from conception is condemned under sin along with Adam. This is why Jesus proclaimed to Nicodemus, "You must be born again." John 3:7
Psalm 51:5 (ESV)
5Behold, I was brought forth in iniquity, and in sin did my mother conceive me.
Job 14:4 (ESV)
4Who can bring a clean thing out of an unclean? There is not one.
Job 15:14 (ESV)
14What is man, that he can be pure? Or he who is born of a woman, that he can be righteous?
Psalm 58:3 (ESV)
3The wicked are estranged from the womb; they go astray from birth, speaking lies.
Sinful by Personal Behavior
We do not become sinners once we sin, we are by nature sinners and once we are capable we will commit sin personally. We are not sinners because we sin, rather we sin because we are by nature sinners. All mankind evidences their sinful nature before God when they sin.
Genesis 8:21a (ESV)
21And when the Lord smelled the pleasing aroma, the Lord said in his heart, "I will never again curse the ground because of man, for the intention of man's heart is evil from his youth.
1 Kings 8:46a (ESV)
46"If they sin against you—for there is no one who does not sin—
Romans 3:10–12 (ESV)
10as it is written: "None is righteous, no, not one; 11no one understands; no one seeks for God.
12All have turned aside; together they have become worthless; no one does good, not even one."
3. God's Judgment On Man is Just
Under original sin as well as committing sin personally, mankind is headed towards an eternity away from God's goodness and grace and toward an eternity of His wrath.
Romans 6:23 (ESV)
23For the wages of sin is death, but the free gift of God is eternal life in Christ Jesus our Lord.
Matthew 25:41 (ESV)
41"Then he will say to those on his left, 'Depart from me, you cursed, into the eternal fire prepared for the devil and his angels.
Jude 7 (ESV)
7just as Sodom and Gomorrah and the surrounding cities, which likewise indulged in sexual immorality and pursued unnatural desire, serve as an example by undergoing a punishment of eternal fire.
4. God's Grace is Our Only Hope
We, having been born in Adam, having committed sins ourselves, we face the coming judgment of God. God, out of love for us, and for His own glory, has sent Jesus to come and save sinners by faith alone through grace alone.
Ephesians 2:4–5 (ESV)
4But God, being rich in mercy, because of the great love with which he loved us,
5even when we were dead in our trespasses, made us alive together with Christ—by grace you have been saved—
Ephesians 2:8–9 (ESV)
8For by grace you have been saved through faith. And this is not your own doing; it is the gift of God, 9not a result of works, so that no one may boast.
SALVATION OF INFANTS WHO DIE
Similarities & Distinctions
With our foundation of God's Righteousness, Man's Condemnation Under Adam's Curse, God's Just Judgment of Man, & God's Gracious Salvation, we now turn to what the Scripture has to say in regards infants. Infants are similar to all mankind in some ways but are also unique on some important distinctions.
Similarities of Infants: Infants like the rest of us exist under the curse placed upon Adam. They too come under the effects of Original Sin, have a sinful nature, and are under the curse of infirmities and death. They are in need of a new nature, being born again, and salvation from being condemned in Adam. Infants are in need of the grace of God found only in Jesus.
Important Distinctions of Infants: Infants, though they have a sin nature, are not like the rest of man in that they have not committed personal sin like you and I have. Also, infants, apart from a special work of the grace of God, are unaware of their sinful nature and unable to comprehend their condition under the curse and in need of salvation in Jesus.
These similarities and distinctions are enough that infants are in need of salvation by grace through Jesus, yet at the same time infants are not responsible for having committed any personal sins.
TWO CAUSES FOR JUDGMENT NOT MET IN INFANTS
Judgment Based Upon Personal Sin
Revelation 20:12 (ESV)
12And I saw the dead, great and small, standing before the throne, and books were opened. Then another book was opened, which is the book of life. And the dead were judged by what was written in the books, according to what they had done.
Matthew 16:27 (ESV)
27For the Son of Man is going to come with his angels in the glory of his Father, and then he will repay each person according to what he has done.
Since infants have not committed personal sin, they cannot be judged for any personal sins. God even refers to such as lacking knowledge of good and evil and God even allows the little one's to enter into Caanan, while those who did know the difference were not allow to enter.
Deuteronomy 1:39 (ESV)
39And as for your little ones, who you said would become a prey, and your children, who today have no knowledge of good or evil, they shall go in there. And to them I will give it, and they shall possess it.
Judgment Based Upon Unbelief
God also judges man's unbelief in Jesus as Lord and Savior. Mankind condemned in Adam's fall, has been provided only one way of salvation. We are to confess our sin and believe on Jesus for our salvation. Unbelief in Jesus is a sin that leaves one condemned.
John 3:18 (ESV)
18Whoever believes in him is not condemned, but whoever does not believe is condemned already, because he has not believed in the name of the only Son of God.
Infants in their natural state are unable to understand their need of believing on Jesus for salvation.
God makes it plain that there is a comprehension level before a child knows how to refuse evil and choose good.
Isaiah 7:16 (ESV)
16For before the boy knows how to refuse the evil and choose the good, the land whose two kings you dread will be deserted.
GOD'S ASSESSMENT OF INFANTS
Due to these above realities of infants, God regards them as innocent concerning their not having committed personal sin. In Jeremiah 19 God judges the people because they have offered their children in sacrifice to Baal. But notice that the charge against the people is that they have, in sacrificing their children, offered the blood of innocents.
Jeremiah 19:4 (ESV)
4Because the people have forsaken me and have profaned this place by making offerings in it to other gods whom neither they nor their fathers nor the kings of Judah have known; and because they have filled this place with the blood of innocents,
In Ezekiel, God addresses once again Israel sacrificing their children to idols. Notice the Lord does not use language that he cast them off into damnation. Instead, God uses familial language in describing them as "my children".
Ezekiel 16:20–21 (ESV)
20And you took your sons and your daughters, whom you had borne to me, and these you sacrificed to them to be devoured. Were your whorings so small a matter 21that you slaughtered my children and delivered them up as an offering by fire to them?
Infants then are better off in their condition than those who have committed personal sins and have exercised unbelief. This is why you have passages where Job says it would have been better for him to have been still-born than suffer in life as he is.
Job 10:18–19 (ESV)
18"Why did you bring me out from the womb? Would that I had died before any eye had seen me
19and were as though I had not been, carried from the womb to the grave.
Job 3:16–17 (ESV)
16Or why was I not as a hidden stillborn child, as infants who never see the light?
17There the wicked cease from troubling, and there the weary are at rest.
Job could not have said dying in infancy would have been better than his present suffering unless the life after death as an infant would be better than the suffering he was enduring as an adult. If infants who die were to go to hell, then that suffering would have been far greater than any suffering Job was experiencing. Instead, for Job to communicate this, he must have known that infants who die no longer suffer after death as he as an adult presently was. Notice in Job 3:17, he acknowledges that after death there is life, the wicked can no longer sin and the weary now rest.
Solomon also addressed the stillborn being better off than adults who have abundant blessings but are not satisfied in life and no one to bury them in death. One who dies in infancy can only be better off than an adult who dies with good things along with suffering only if the infant goes to be with the Lord, avoiding all of life's suffering and go to immediate rest.
Ecclesiastes 6:3 (ESV)
3If a man fathers a hundred children and lives many years, so that the days of his years are many, but his soul is not satisfied with life's good things, and he also has no burial, I say that a stillborn child is better off than he.
GOD'S GRACE FOR INFANTS
Infant's Need of God's Grace
Even though infants are innocent of personal sin and are unable in their state of infancy to comprehend their being conceived and born in sin and under the curse of Adam, they still are in a condition in which they need salvation from their condemnation in Adam, that is the curse of Original Sin.
Romans 5:18a (ESV)
18Therefore, as one trespass led to condemnation for all men,
Hear from two men of faith from the past as they faced these same dilemmas and responded.
"But while I admit that all the posterity of Adam, born of the flesh, bear their condemnation with them from the womb, I hold that this is no obstacle to the immediate application of the divine remedy."
John Calvin (Institutes, Book IV, ch 16, pg 31)
"All who die in infancy are doubtless saved, but they are saved by grace"
Charles Hodge (Systematic Theology, ch ii, pg 11).
The Infant's Need of Jesus
They still need to be born again, they still need the grace of God for their salvation, and their salvation can only be through Jesus.
John 14:6 (ESV)
6Jesus said to him, "I am the way, and the truth, and the life. No one comes to the Father except through me."
Acts 4:12 (ESV)
12And there is salvation in no one else, for there is no other name under heaven given among men by which we must be saved.
Solely A Work of The Spirit
Your questions now may be, "If anyone's only hope of salvation, including infants, is by grace through faith in Jesus, then how does an infant become saved?" "Didn't you already say that the infant is unable to comprehend these things and doesn't that imply they lack the ability to exercise faith?"
The answer is quite simple, the same way you and I were saved. We were not saved because of our age, our goodness, our ability to understand spiritual things. In fact, we were saved by the grace of God, in spite of our inability to comprehend the spiritual truth of the gospel.
1 Corinthians 2:14 (ESV)
14The natural person does not accept the things of the Spirit of God, for they are folly to him, and he is not able to understand them because they are spiritually discerned.
Instead, we were saved by God fulfilling the promise of Ezekiel 36,
Ezekiel 36:26–27 (ESV)
26And I will give you a new heart, and a new spirit I will put within you. And I will remove the heart of stone from your flesh and give you a heart of flesh. 27And I will put my Spirit within you, and cause you to walk in my statutes and be careful to obey my rules.
The removing of the old stone heart and giving a new heart of flesh is a work of the Holy Spirit bringing about the new birth that was needed.
John 3:6–8 (ESV)
6That which is born of the flesh is flesh, and that which is born of the Spirit is spirit. 7Do not marvel that I said to you, 'You must be born again.' 8The wind blows where it wishes, and you hear its sound, but you do not know where it comes from or where it goes. So it is with everyone who is born of the Spirit."
Our new birth is not a work of our flesh or even of our will, our new birth is solely a miraculous work of God done in us.
John 1:12–13 (ESV)
12But to all who did receive him, who believed in his name, he gave the right to become children of God,
13who were born, not of blood nor of the will of the flesh nor of the will of man, but of God.
1 Peter 1:3 (ESV)
3Blessed be the God and Father of our Lord Jesus Christ! According to his great mercy, he has caused us to be born again to a living hope through the resurrection of Jesus Christ from the dead,
Regeneration is a monergistic (solely of God) work of the Spirit for adults as well as for infants who die. Indeed, the infant's condition is better off, having not committed personal sin or exercised unbelief, like the adult who has done both of these things. Yet, both are in desperate need for God to do the miraculous monergistic work of new birth by the Holy Spirit.
Believers from the past have had to wrestle with the same difficulties of what happens to infants who die in the womb and in infancy. You will find it in their writings, their sermons, and in Baptist confessions of faith.
The 1689 Second London Baptist Confession of Faith
Chapter 10:3
3. Elect infants dying in infancy are regenerated and saved by Christ through the Spirit,10 who works when and where and how he pleases.11 The same is true of every elect person who is incapable of being outwardly called by the ministry of the Word. 10John 3:3, 5, 6. 11John 3:8
B.B. Warfield is considered to be one of the greatest theologians America has ever produced. Even he wrote concerning infants who die and their eternal destiny.
"Their destiny is determined irrespective of their choice, by an unconditional decree of God, suspended for its execution on no act of their own; and their salvation is wrought by an unconditional application of the grace of Christ to their souls, through the immediate and irresistible operation of the Holy Spirit prior to and apart from any action of their own proper wills . . . And if death in infancy does depend on God's providence, it is assuredly God in His providence who selects this vast multitude to be made participants of His unconditional salvation . . . This is but to say that they are unconditionally predestinated to salvation from the foundation of the world"
B. B. Warfield (Two Studies on the History of Doctrine, 230).
SCRIPTURAL PROOF FOR INFANT SALVATION
Old Testament Evidence
Notice, before Jeremiah or David were formed in the womb, God knew them. God not only knew them, but God also before they were born, set Jeremiah apart as a prophet and Daid as a king. David even said that every one of his days were written in God's plan before he was even alive.
Jeremiah 1:5 (ESV)
5"Before I formed you in the womb I knew you, and before you were born I consecrated you; I appointed you a prophet to the nations."
Psalm 139:16 (ESV)
16Your eyes saw my unformed substance; in your book were written, every one of them, the days that were formed for me, when as yet there was none of them.
David goes beyond God just knowing him intimately and setting him apart for his purposes. David even states that God caused him to believe and that he was a child of God from infancy.
Psalm 22:9–10 (ESV)
9Yet you are he who took me from the womb; you made me trust you at my mother's breasts.
10On you was I cast from my birth, and from my mother's womb you have been my God.
David's significantly different reactions to the news of the death of his sons shouts out to us David's understanding of God's gracious salvation for infants who die in infancy.
Let's start with David's reaction to the death of his wicked son Absolom.
Davids son Absalom was wicked and even tried to kill David so he could rule in his place. However, Absalom is killed and the news comes to David. Look at David's response.
2 Samuel 18:32–33 (ESV)
32The king said to the Cushite, "Is it well with the young man Absalom?" And the Cushite answered, "May the enemies of my lord the king and all who rise up against you for evil be like that young man."
33And the king was deeply moved and went up to the chamber over the gate and wept. And as he went, he said, "O my son Absalom, my son, my son Absalom! Would I had died instead of you, O Absalom, my son, my son!"
David's response to the news that his evil and rebellious son had been killed, was weeping, and wishing that he had died instead of his son. Why? Because David knew where he would go in death, that he would go to rest with his fathers, but Absalom went the way of the wicked to everlasting suffering. David mourns so much so that the people of Israel began to grieve with David. God had given him and his people victory and he had to be corrected by Joab to not continue to mourn because he was discouraging those who had been faithful to him in delivering David from his enemies.
Now, let's look at David's response to the death his infant son.
David's son with Bathsheba was born but became very sick. This was part of God's punishment to David for taking Bathsheba as his wife and then killing her husband Uriah in an attempt to cover up his treacherous adultery. While David's son was sick David wouldn't eat or drink and could not be consoled. Once his son died, he stopped fasting, washed, went to worship God, and then ate. David's turn about was so sudden upon the news of his son's death his servants wondered what was going on in David's head.
2 Samuel 12:21–23 (ESV)
21Then his servants said to him, "What is this thing that you have done? You fasted and wept for the child while he was alive; but when the child died, you arose and ate food." 22He said, "While the child was still alive, I fasted and wept, for I said, 'Who knows whether the Lord will be gracious to me, that the child may live?' 23But now he is dead. Why should I fast? Can I bring him back again? I shall go to him, but he will not return to me."
This is David's response of faith that though God took his son, that he would indeed see him again one day. David would also die one day and go to be with the Lord and he also believed his son was already there.
New Testament Evidence
Is there any evidence in Scripture that God does this with infants as well as in adults? Yes, I am fully persuaded there is!
You may be thinking, "Well Chris, that was Old Testament, what about the New Testament." First, God saved the same way in the Old Testament as He does in the new. Salvation has always been by grace through faith in Jesus (see Romans 4:1-16). Second, we are given a specific example of the Holy Spirit saving an infant while yet in the womb. Look with me at the gospel of Luke and what God did with John the Baptist.
Luke 1:14–15 (ESV)
14And you will have joy and gladness, and many will rejoice at his birth, 15for he will be great before the Lord. And he must not drink wine or strong drink, and he will be filled with the Holy Spirit, even from his mother's womb.
The miraculous work of the Spirit of God within the heart; coming and taking up residence within, changing the heart from stone to a heart of flesh, and empowering John for the ministry to which God called him. All this was revealed by God to Zechariah, that God would do this for his son John, "even from his mother's womb".
CONCLUDING QUOTE & FINAL ENCOURAGEMENT:
Not many preachers have stood the test of time like Charles Haddon Spurgeon. He lived from 1834 – 1892 and faithfully pastored his flock and sought to care for their souls. May his words minister to you dear believer, and along with the Scriptures above, aid in putting to rest concerns you may have if you too have lost a child this side of glory.
"Among the gross falsehoods which have been uttered against the Calvinist proper is the wicked calumny that we hold the damnation of little infants. A baser lie was never uttered. There may have existed somewhere in some corner of the earth a miscreant" - a criminal - "who would dare to say that there were infants in hell, but I have never met with him nor have I met with a man who ever saw such a person. We say, with regard to infants, Scripture saith but little and therefore, where Scripture is confessedly scant, it is for no man to determine dogmatically. But I think I speak for the entire body, or certainly with exceedingly few exceptions and those unknown to me, when I say we hold that all infants who die are elect of God and are therefore saved. And we look to this as being the means by which Christ shall see of the travail of his soul to a great degree, and we do sometimes hope that thus the multitude of the saved shall be made to exceed the multitude of the lost. Whatever views our friends may hold upon the point, they are not necessarily connected with Calvinistic doctrine. I believe that the Lord Jesus, who said, 'Of such is the kingdom of heaven,' doth daily and constantly receive into His loving arms those tender ones who are only shown and then snatched away to heaven. Our hymns are no ill witness to our faith on this point, and one of them runs thus:
Death may the bands of life unloose,
But can't dissolve my love;
Millions of infant souls compose
The family above."
God is so good and gracious that in this world filled with suffering and sin, He chose to redeem out from it a number of men, women, children, and even infants that is so vast that you and I are unable to count the total.
Revelation 7:9–11 (ESV)
"9After this I looked, and behold, a great multitude that no one could number, from every nation, from all tribes and peoples and languages, standing before the throne and before the Lamb, clothed in white robes, with palm branches in their hands, 10and crying out with a loud voice, "Salvation belongs to our God who sits on the throne, and to the Lamb!" 11And all the angels were standing around the throne and around the elders and the four living creatures, and they fell on their faces before the throne and worshiped God."
I am persuaded the Lord gives us enough in His Word to come to the conclusion that when infants die in the womb or in infancy outside the womb, that they, by the grace of God are saved in Christ and go to be with Him forever. I pray that the Biblical evidence given above is comforting to parents who have gone through the pain of having a miscarriage, multiple miscarriages, or your young infant child die. I pray that these passages also serve as a blessing to the mother and father who, in their sin, chose to end their child's life through abortion. If you as a parent have lost or given up your child, know this, if you are in Christ, you are forgiven for all your sins and one day, like David, you will go to be with your child. But even more amazing than that, you and your child will be with Christ forever. In case you were wondering, the wording on the necklace that hangs on our living room wall reads, "We will hold you in our hearts until we hold you in heaven."
In Christ Alone,
Pastor Chris
Our Mission: To Know Jesus and Make Him Known!
Our address is: 307 4th Ave SE, Gravette, AR 72736, USA