Weekly Announcements
May 27, 2022
Join us Sunday!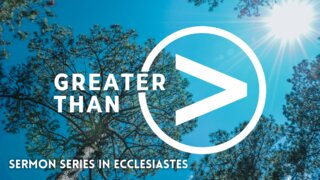 This Sunday Craig Wurst will share in our sermon series in Ecclesiastes with Greater Than: Financial Contentment from Ecclesiastes 5:10-20.
The service will be online by Monday afternoon on Faithlife, our website, YouTube, and Facebook.
Kidz Korner Summer Plan
The Kidz Korner children (grades K-5) will be joining us for worship this summer in June, July, and August. Activity sheets will be available for them each Sunday.
Brevillier Work Morning
HCC will have team serving at Breviller helping with some minor yardwork in their landscaped areas on Saturday, June 4 from 8:30-12. Please write on a response card if you plan to help!
Wesleyville Community Day
We will have a booth at Wesleyville Community Day on Saturday, June 18. Please indicate on a response card Sunday if you would like to be part of the team that would represent HCC in our booth and hand out gifts or do a child's craft with those at the festival. Please share hours you can assist from 10am (setup) until 8:30pm (tear down).
Upcoming Events
Greater Than sermon series in Ecclesiastes through June
Brevillier Work Day, June 4
KidzKorner joins worship service for the summer beginning June 5
Wesleyville Community Day, June 18
Out of the Dust Community Concert at HCC, July 16
Next Week's Reading Plan
Weekly Reading Plan
Ecclesiastes 4:7-12, 5:10 - 6:12; 1 Peter 3:8 - 4:19; Psalm 140
May Transformation Verse
Ecclesiastes 3:11 - "He has made everything beautiful in its time. Also, he has put eternity into man's heart, yet so that he cannot find out what God has done from the beginning to the end."
June Transformation Verse
Ecclesiastes 12:13 - "The end of the matter; all has been heard. Fear God and keep his commandments, for this is the whole duty of man."
C & D Groups
Community Groups and Discipleship Groups are small groups that meet various evenings throughout the week and various times on Saturday as well. If you interested in joining a group, please contact Pastor Jim at jim@harborcreekcc.org.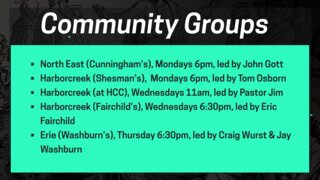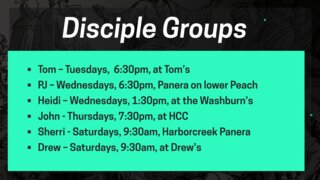 Join our Faithlife Online Community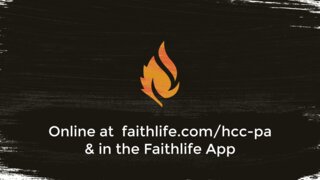 Join us on Faithlife to find online sermons, giving, group communication, free Bible software, and more!
Giving Options
Thank you for your continued financial support! Your faithful giving has allowed HCC to continue support of our congregation, our community, and our world.
Give online at Faithlife.com, through the Faithlife app or our website
Mail a check to: Harborcreek Community Church, 8800 Buffalo Rd, Harborcreek PA 16421
Give in person on Sunday mornings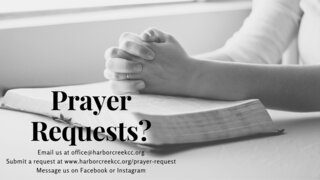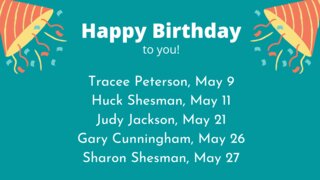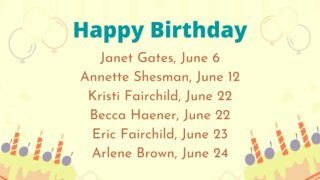 Our address is: 8800 Buffalo Rd, Harborcreek, PA 16421, USA