Weekly Announcements
September 2, 2022
Join us Sunday!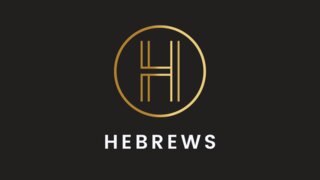 This Sunday Pastor Jim will share in our Hebrews sermon series with Hebrews: "A Warning About Falling Away" from Hebrews 5:11-14. Communion will be served this Sunday.
We will have our service in the sanctuary, carpet progress is on track!
The service will be online by Monday afternoon on Faithlife, our website, YouTube, and Facebook.
Membership Classes
We will be offering HCC Membership Classes on Sunday, September 18 and 25 after the service, plan to attend both classes. Each class will be about 1 1/2 hours. A light lunch will be provided. Please indicate on a Response Card or reply to this email if you would like to attend.
C & D Groups
Our C & D Groups will soon be starting back up for the fall, many start nextx week! See below for days/times that groups meet. Please indicate on a response card Sunday or email jim@harborcreekcc.org if you are interested in joining.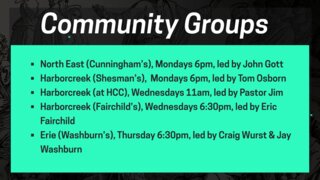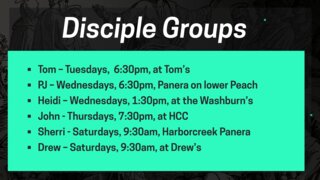 KidzKorner Starts Sunday!
KidzKorner for children in grades K-5 will resume for the fall this Sunday! They will begin in the worship service with parents and be dismissed after worship. Thanks for your patience as we work to finish construction in the Education Center and the KidzKorner Room!
Office Closed
The HCC Office will be closed for Memorial Day on Monday, September 5.
Upcoming Events
KidzKorner returns this Sunday, Sept.4
Office Closed, Sept. 5
HCC Membership Classes, Sept. 18 and 25
Next Week's Reading Plan
Weekly Reading Plan
Hebrews 5:11-14; 1 Chronicles 10; Proverbs 4
September Transformation Verse
2 Timothy 2:2 - "and what you have heard from me in the presence of many witnesses entrust to faithful men, who will be able to teach others also."
Join our Faithlife Online Community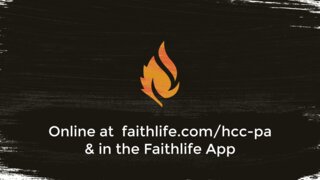 Join us on Faithlife to find online sermons, giving, group communication, free Bible software, and more!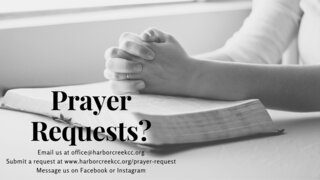 Giving Options
Thank you for your continued financial support! Your faithful giving has allowed HCC to continue support of our congregation, our community, and our world.
Give online at Faithlife.com, through the Faithlife app or our website
Mail a check to: Harborcreek Community Church, 8800 Buffalo Rd, Harborcreek PA 16421
Give in person on Sunday mornings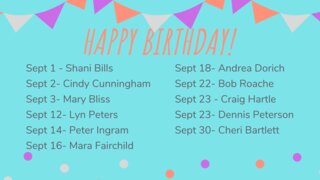 Our address is: 8800 Buffalo Rd, Harborcreek, PA 16421, USA