Weekly Announcements
December 23, 2022
Join us Saturday and Sunday!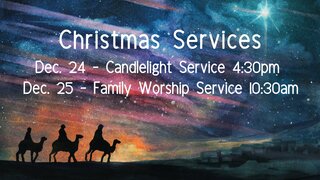 HCC will offer a community Candlelight Christmas Eve Service, Saturday at 4:30pm. Nursery for birth-3 years old will be available. We will have a photographer after the service for you to have family pictures taken in front of our Christmas trees.
On Christmas Sunday Pastor Craig will lead a shortened worship service for the entire family with "A Savior Is Born" from Luke 2:1-21.
Hebrews Sermon Series
In January we will return to the Hebrews sermon series. Pastor Jim will share from Hebrews 10:1-18 with "Ones and for All" on January 1.
No Friday email next week-
Due to staff vacations over Christmas and New Year, there will not be an email on Friday, Dec 30th.
Next Week's Reading Plan
12/25/22 Weekly Reading Plan
Luke 2:1-21; 1 Chronicles 26; Proverbs 20
1/1/23 Weekly Reading Plan
Hebrews 10:1-18; I Chronicles 27; Proverbs 21
December Transformation Verse
Luke 1:46-47 - "And Mary said, my soul magnifies the Lord, and my spirit rejoices in God my Savior."
January Transformation Verse
Hebrews 11:1 - "Now faith is the assurance of things hoped for, the conviction of things not seen."
Upcoming Events
Candlelight Christmas Eve Service, Dec. 24, 4:30pm
Christmas Day Service, Dec. 25
HCC Office closed, Dec. 26
HCC Office closed, Jan. 2
C & D Groups
Our C & D Groups are a great way to connect with others! Groups meet various days and times throughout the week. Please indicate on a response card Sunday or email jim@harborcreekcc.org if you are interested in joining.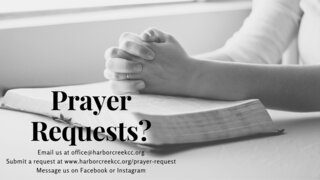 Giving Options
Thank you for your continued financial support! Your faithful giving has allowed HCC to continue support of our congregation, our community, and our world.
Give online at Faithlife.com, through the Faithlife app or our website
Mail a check to: Harborcreek Community Church, 8800 Buffalo Rd, Harborcreek PA 16421
Give in person on Sunday mornings
Our address is: 8800 Buffalo Rd, Harborcreek, PA 16421, USA