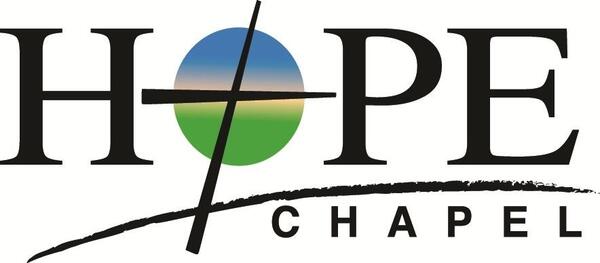 Welcome to Hope Talk
September 4th, 2020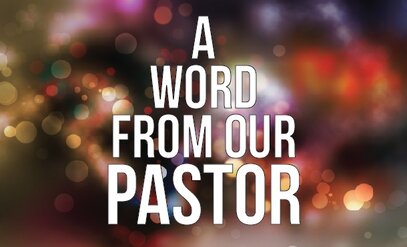 Get Ready! Sunday we begin to study together as a church God's Providence in our lives. We will roll out a program that will aid us in all getting on the same page as a church unto the end of the year and provide the path for ensuring that we Rebuild what God has given to us, Renew our minds unto His Perspective, and seek the Holy Spirit to Revive our lives in the Glory of God. Life has been confusing and frustrating during the last year, but God is still Owning, Orchestrating, and Overcoming Life for His glory and our good. So what do we do? How do we find God's will and way in our lives during these times? We focus our attention on the Truths of God and the Absolutes of His Nature to prescribe our response in Providential Thinking which is Obtaining God's Perspective on Life to Enjoy God's Provision in Life. Or to say it in a simple way, Using God's glasses to see His Fingerprints in our Lives. How precious also are Your thoughts to me, O God! How great is the sum of them! (Ps.139:17) Think God's thoughts!
· Remember we have Prayer on Saturday at 8:30 am asking God's blessing for the month on our Church.
· Remember to sign up for Marriage Simulcast (12th) www.marriagenight.org ASAP so we can prepare.
· Link up with a Life Group for the next 3 months to get all the info and support of Hope Community.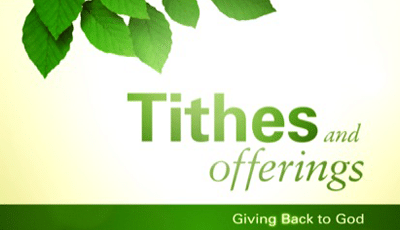 Financials
Monthly Totals:
August to Date:
Income: $19,701.11
Budget: $24,365
YTD Totals (August 2020)
Income: $169,308.68
Budget: $194,920

Men's and Women's Prayer Meeting
The next Saturday morning prayer meeting is this Saturday, September 5th at 8:30 am. We will meet at the church for a time of prayer. Until further notice because of Covid we will not be meeting at Bojangles.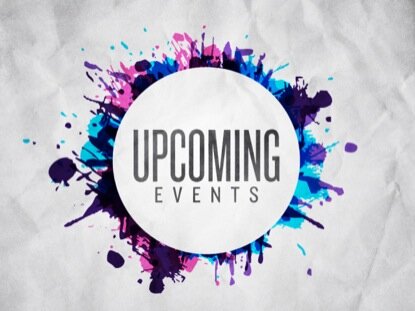 September 6th- Bagged Lunch Sunday
September 12th- Marriage Conference
September 13th- Tropical Grill Catered Lunch
September 20th- Church and Lunch at Maple Creek
September 27th- Picnic Lunch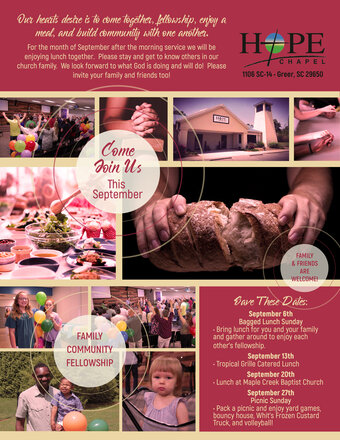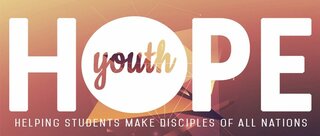 High School and Middle School Youth this Sunday, September 6th from 6:00-8:00 pm!
Marriage Night- September 12, 2020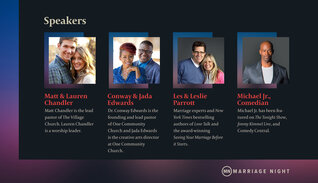 Hope Chapel is registered as a host site for the Marriage Night simulcast event presented by RightNow Media.
Marriage Night is a one-night event for married and engaged couples to laugh and learn as they hear from marriage experts and discover how to honor God through their relationship. The speaker lineup includes Matt and Lauren Chandler, Conway and Jada Edwards, Les and Leslie Parrott, and comedian Michael Jr. Mark your calendar and plan to attend—it'll be worth your time.
Tickets are available for $15 per person. Click to register to attend Marriage Night at www.marriagenight.org. We will not have childcare available but will have snacks and drinks available.
We look forward to seeing you at Marriage Night on September 12, 2020 from 7:00-10:30 pm.
Our address is: 1106 SC-14, Greer, SC 29650, USA