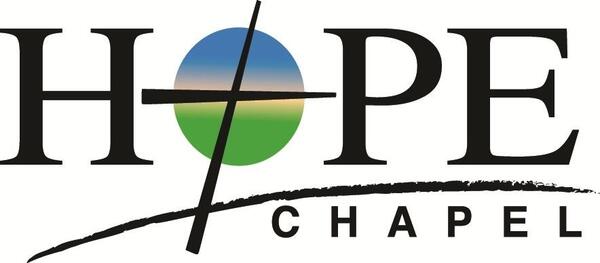 Welcome to Hope Talk
September 11th, 2020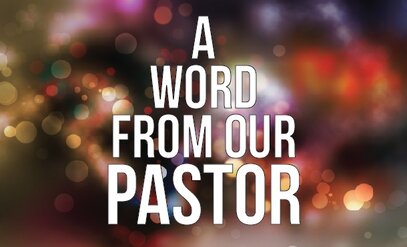 Please sign up for the Marriage Simulcast at https://www.marriagenight.org for Saturday night and take your mate out to eat and then come and learn how to make your marriage better and have fun doing it.
I am reading through the NT with some friends at Hope and in the present reading, Matthew 1-9, many things come to the forefront of our lives together. I am amazed at the life of Jesus as He is led to baptism in chapter 3 and then immediately into a 40 day battle with the evil one who constantly throughout the time tempts and seeks to destroy Him culminating in 3 tests of personal rights, personal power, and personal worship. Jesus answers with the Word of God to deny the seduction and finally tells the devil to leave. You shall worship the Lord your God, and Him only you shall serve. (Matt.4:10). If this alone is done, it is enough. In all our ways, we are to worship God and Him alone. We are not to worship our Nation, our Church, our Family, or even our own Self. Focus on Jesus alone. (Heb.12:2,3). God knows our needs and weaknesses and is able to support and strengthen us according to our need. Do you go to Him or do you try to fix it by your own abilities, giftings, or worldly support system? Our first and foremost direction when trouble and trial comes is to reach out to Jesus who knows us and tells us to come to Him. Come unto Me all you who labor and are heavy laden, and I will give you rest. Take my yoke on you and learn of Me for I am meek and lowly in heart, and you will find rest for your souls. (Matt.11:28,29) GO TO JESUS first.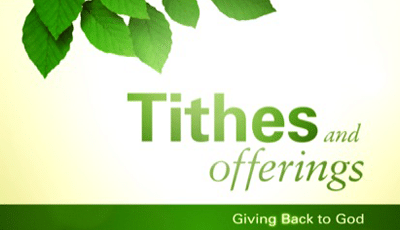 Financials
Monthly Totals:
September to Date:
Income: $8,403.88
Budget: $24,365
YTD Totals (August 2020)
Income: $169,308.68
Budget: $194,920

Men's and Women's Prayer Meeting
The next Saturday morning prayer meeting is Saturday, October 3rd at 8:30 am. We will meet at the church for a time of prayer. Until further notice because of Covid we will not be meeting at Bojangles.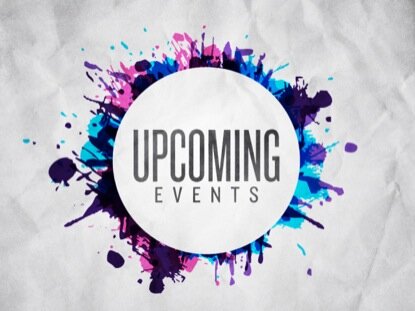 September 12th- Marriage Conference
September 13th- Tropical Grill Catered Lunch
September 20th- Church and Lunch at Maple Creek
September 27th- Picnic Lunch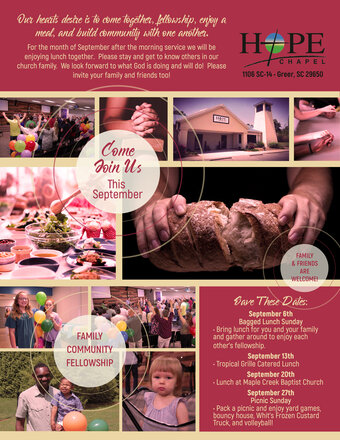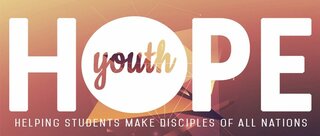 High School and Middle School Youth this Sunday, September 13th from 6:00-8:00 pm!
Marriage Night- September 12, 2020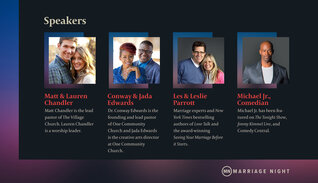 Hope Chapel is registered as a host site for the Marriage Night simulcast event presented by RightNow Media.
Marriage Night is a one-night event for married and engaged couples to laugh and learn as they hear from marriage experts and discover how to honor God through their relationship. The speaker lineup includes Matt and Lauren Chandler, Conway and Jada Edwards, Les and Leslie Parrott, and comedian Michael Jr. Mark your calendar and plan to attend—it'll be worth your time.
Tickets are available for $15 per person. Click to register to attend Marriage Night at www.marriagenight.org. We will not have childcare available but will have snacks and drinks available.
We look forward to seeing you at Marriage Night on September 12, 2020 from 7:00-10:30 pm.
Our address is: 1106 SC-14, Greer, SC 29650, USA