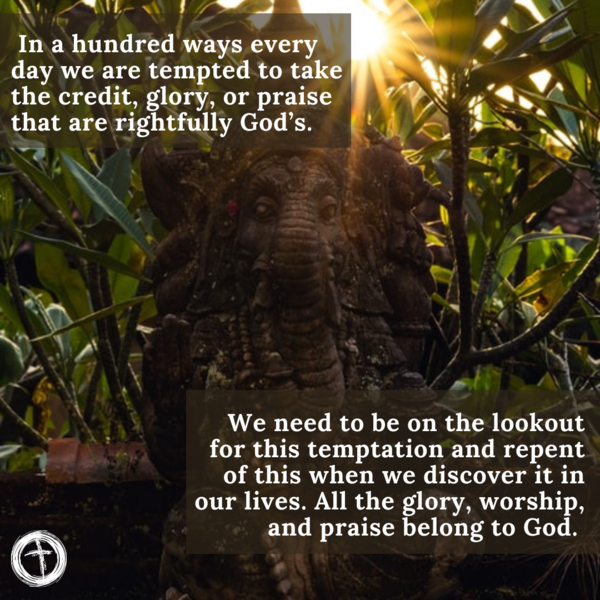 Daily Inspiration
Daniel 3: Being Worshipped
King Nebuchadnezzar made an image of gold, whose height was sixty cubits and its breadth six cubits. He set it up on the plain of Dura, in the province of Babylon. And the herald proclaimed aloud, "You are commanded, O peoples, nations, and languages, that when you hear the sound of. . . every kind of music, you are to fall down and worship the golden image that King Nebuchadnezzar has set up. And whoever does not fall down and worship shall immediately be cast into a burning fiery furnace."
Thought for Today
At the end of the previous chapter, Nebuchadnezzar declared Daniel's God to be the "God of gods and Lord of kings" (2:47). As we turn the page we discover that the king's heart is fickle. He has decided to set up a golden statue, probably looking much like himself, for the people to worship. This is a reflection of the original temptation. Satan entered the Garden of Eden as told Eve if she ate the forbidden fruit she would be like God. Ironically, she was already as much like God as anything in creation. "Let us make man in our image," God said (Gen 1:27). The only way humans were not like God was they had no right to be worshiped or sit on God's throne. Satan tempted them with the possibility of being worshiped like God. This has been in our hearts ever since. When a person acquires power, they begin to expect to be worshiped and even considered gods. This was true of Pharaoh in Egypt and now Nebuchadnezzar wants the idle created in his image to be worshiped. While it is easy to point fingers at people of great power and wealth for wanting to be worshiped and adored, it is just as great a temptation in each of our hearts. In many small ways we are tempted usurp God's glory and receive His praise. When things work out for our good and we think it was our plan, we usurp God's glory. When we take the praise for opportunities to serve without letting them know that God was behind it, we receive God's praise. In a hundred ways every day we are tempted to take the credit, glory, or praise that are rightfully God's. We need to be on the lookout for this temptation and repent of this when we discover it in our lives. All the glory, worship, and praise belong to God.
Prayer
Heavenly Father, I am sorry for the times I pretend that to be the source of praise and honor that belong to You. Help me to be aware of this temptation and to begin giving all the glory and honor to You. Amen.
Devotional Quote
God created us for this: to live our lives in a way that makes him look more like the greatness and the beauty and the infinite worth that he really is. This is what it means to be created in the image of God. ― John Piper
Quote of the Day
Following the light of the sun, we left the Old World. — Christopher Columbus
Going deeper in faith. Sharing God's love in community.
Our address is: 950 Hart Rd, Batavia, IL 60510, USA