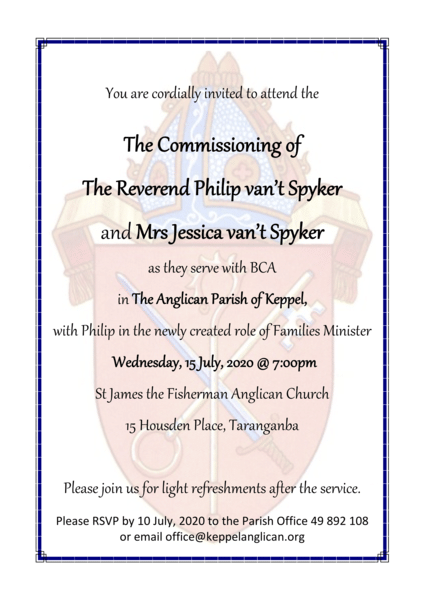 Keppel Anglican Newsletter
Sunday 28 June 2020
In our Prayers
Australia
Anglicare in Australia
Chair – The Rt Revd Dr Chris Jones and Christine
Executive Director – Kasy Chambers
The Diocese of CQ
Vocational Deacons – Susan Liersch
Permission to Officiate –
Dianne Milligan, Phil Ward and Sheryl, Barbara Blackford
Retired Clergy –
David Gentle and Janet, Geoffrey Gray and Lauren,
Barrie Harvey and Val, John Quaife
Clergy Widows –
Anne Green, Edith Joyce, Mary Peacock, Joy Manning,
Jan Robinson, Tom Dewar
For those known to us
Bill Carmichael, John Quaife, Mary Peacock, Rene West, Graham McCamley, Barry Tennent, Del Winkelmann, John Provan, Nancy Busteed, Anita Suthers, June Waymouth, Danny Daffey, Marcus Belot, Dorothy Williamson, Rebecca van Diem, John, Fay & Arthur Weston, Steve Peoples (and Lyn), Coralyn Johansen, Max, Marzley Baldwin.
Kids & Youth
Download
Quiz Worx activity sheets for our theme this week
Jesus' mission is for everyone.
here from
or
Generosity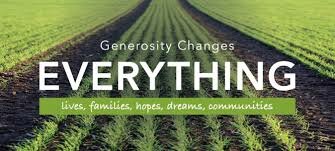 Please forward your gifts to:
Account name: Anglican Parish of Keppel
BOQ BSB: 124180
Account: 21415102
Direct Debit forms to ANFIN are also available from the Parish office for those wishing to set up weekly or fortnightly transfers.
From Rob
Welcome to remote church!
As we continue to meet together remotely, some of the CONNECT Groups have returned to meet together while others continue to meet by video. It seems different groups have different needs.
In our sermon this week, we will look at wives and husbands and the difficult situation many have in this life. I hope it is an encouragement to those who struggle in their marriage situation. I also hope it is helpful for others as they consider how to support people when they ask for support.
This week appears to be international Mission week, which is a nice follow-on from our Mission Sunday last week.
On Wednesday night, a group of people followed-up my Facebook request for anyone interested in being involved with the GAFCON video conference. It was a great time of being challenged by some amazing speakers, and some very interesting updates. It is sad that heresy and liberalism is spreading through the Anglican Church across the globe. It is good that we can support churches who want to remain faithful to traditional Anglicanism and not be forced to sit in Anglican Churches where the Bible is ignored, or worse. A big thank you to all those who attended.
In our Church Newsletter is news of video debates by Rev Samuel Green of Tasmania who will be debating Muslim clerics. He seeks to challenge them to see the importance of Jesus, even in their own religion. Samuel is gifted and excellent debater. Simon Rattray (who spoke to our church about International Mission prior to COVID) will have a Zoom meeting with a Church Pastor from overseas who is doing remarkable to things. Pastor G is his name, and he once smuggled 1 million bibles into one country over night. This sounds like a very exciting story. If you have video, the link is in the article in the newsletter, but if you don't, you may want to talk to me about having this shown in church on the evening of June 30.
Grace and peace.
Rob
Forthcoming Services
There will be no face-to-face services in our parish until
Saturday 11th July 2020.
12/7 ● Sunday 7:30am, 9:30am and ● Sat 11/7 6pm
St James Yeppoon returns to regular services, with up to 100 people at each service.
15/7 ● Wednesday 7pm
We will hold a Service of Commencement for Philip &Jessica van't Spyker and their family at St James Yeppoon.
19/7 ● Sunday 3:30pm
Christ Church Emu Park will hold it's first service since COVID-19 began. It will be an outside service followed by a BBQ.
Connect Groups
If you would like to be supported, please contact our office to join one of our CONNECT groups!
A CONNECT group where you receive a phone call each week to see how you are doing, and if you want, someone can pray with you, or
A CONNECT group which meets through ZOOM once a week to look at the bible and pray together (see days and times below):
Monday 7pm with Di and Danny.
Wednesday 7:30pm with Rob.
Thursday 7:30pm with Rob.
Sunday 11am with Rob after Church; this is a new group.
Daily Office
8.30am Tuesday at St James Church.
8am Wednesday and Thursday via Zoom.
Join via Zoom Meeting
By phone: +61 2 8015 6011 Australia
By video/computer: https://us02web.zoom.us/j/4394635816?pwd=dUwvd0s5SFhqSXNtV0F2ZW1UbENyQT09
Meeting ID: 439 463 5816
Password: 468421
Diocesan News
Saturday 18/7 is a Special Meeting of our Diocesan Synod where the financial difficulty of our Diocese will be outlined. This meeting will take place using ZOOM and not in person. Please pray for this Special Synod. May God be with our leaders at this time, particularly while we wait for a new Bishop to be elected and to begin.
The Diocesan Newsletter - CQFirst Vol1 Issue4 is available on the website at:
https://anglicanchurchcq.org.au/gazette.html
Meet Pastor G

Tuesday June 30 at 10.30am.
An opportunity to meet Pastor G and hear his amazing stories of deliverance, hope and encouragement from more than 40 years serving the suffering church around the world. Pastor G was part of a team that smuggled a million Bibles into one country in one night! Pastor G served alongside Brother Andrew who founded Open Doors.
Simon Rattray is inviting you to a scheduled Zoom meeting.
Topic: Zooming with Pastor G
Time: Jun 30, 2020 10:30 AM, Brisbane Time
Join Zoom Meeting
https://us02web.zoom.us/j/89534310142?pwd=bUFHdDlIa1FOZzBaYS9XTnFTOGEzUT09
Meeting ID: 895 3431 0142
Password: welcome
See you then, your brother in Christ,
Simon Rattray
Founder
Project114
Strengthening Christians in Crisis
+61450110675
Contacts
Pastoral Leaders
Rob Stanley, Senior Minister
m: 0427 727 080 e: r@keppelanglican.org
Rev. Canon Phil Ward
m: 0407 392 419 e: pward01@bigpond.net.au
Rev. William Oates
m: 0402 022 976 e: familysuz@gmail.com
John Minto, Pastor
m: 0414 835 074 e: jkminto@gmail.com
Wardens
Rhylla Webb m: 0419 682 031
Lorraine Veach m: 0475 921 990
Allison Leech m:0407 388 373
Office
e: office@keppelanglican.org
p: (07) 4989 2108
Our address is: 15 Housden Pl, Taranganba QLD 4703, Australia