Keppel Anglican Newsletter
Sunday 5 July 2020
In our Prayers
Australia
The Diocese of Bathurst
Bishop Mark Calder and Susan
The Diocese of CQ
North Rockhampton Parish of All Saints Community at St David's Simpson St with St John's Ford St, All Saint's Marlborough, St John's Parkhurst, Christ Church St Lawrence – Matt Taylor and Cathy, Narelle Kidson (retired)
For those known to us
Bill Carmichael, John Quaife, Mary Peacock, Rene West, Graham McCamley, Barry Tennent, Del Winkelmann, John Provan, Nancy Busteed, Anita Suthers, June Waymouth, Danny Daffey, Marcus Belot, Dorothy Williamson, Rebecca van Diem, John, Fay & Arthur Weston, Steve Peoples (and Lyn), Coralyn Johansen, Max, Marzley Baldwin.
Kids & Youth
Jesus is the REAL King
It's a battle between two Kings and the Kingdoms they rule. King Herod is a powerful human King who seeks to overcome and destroy King Jesus and his Kingdom. But the Book of Acts shows us that Jesus is the only REAL King.
Using a shadow puppet play to bring to life Acts chapter 12, this Kids' Talk shows once again that the mission of the Risen King Jesus cannot be stopped but those who stand against the Risen King Jesus will be stopped.
View this Kids' Talk on Youtube at: ​https://youtu.be/gR7Z9E8SfTA
or
Generosity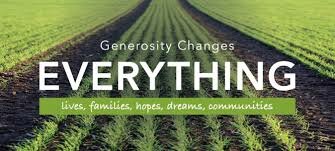 Please forward your giving to:
Account name: Anglican Parish of Keppel
BOQ BSB: 124180
Account: 21415102
Direct Debit forms to ANFIN are also available from the Parish office for those wishing to set up weekly or fortnightly transfers.
From Rob
Welcome to church today.
I expect you know Psalm 23 well, it is one of the most well-known Psalms after all. But people don't often remember the glorious ending to Psalm 23, 5 …you anoint my head with oil; my cup overflows. 6 Surely goodness and mercy shall follow me all the days of my life, and I shall dwell in the house of the Lord forever.
You might remember we looked at Revelation 21 recently. It sounds very similar! For people like us who know Jesus, and have seen how much God loves us, our cup overflows. Some believe it means everything will go our way, but that wouldn't make sense of Jesus words to us such as: Matthew 16:24, "If anyone would come after me, let him deny himself and take up his cross and follow me." or John 15:20, "A servant is not greater than his master. If they persecuted me, they will also persecute you."
'…my cup overflows' is not a promise that everything will go our way. It is a promise that God is with us in everything today, and that in our eternal future, all will be well. Indeed, we should look to the future and be encouraged. What is coming is the most wonderful thing. When we are enjoying eternal life in the presence of Jesus, we will know what it means for our cup to overflow.
So today, we can still experience a shadow of this: When death is near, God is with us; but sadly, someone who doesn't know Jesus does not know that blessing. When life falls apart, we know our God cares about our situation and is with us; but how sad it is that those who reject Jesus do not know this compassion from God.
Today, in some ways our cup does overflow, but until we are in the Revelation 21 time when we have a new heaven and a new earth, this world will continue to be broken and unpleasant for all who live here. So while we are here, the way we live continues to be a witness to those who are yet to receive eternal life.
May you live like your cup overflows. And may God walk with you in the good times and the not so good. But through it all, may you live your life to his glory.
Grace and peace.
Rob
Forthcoming Services
Today we have sad news. The government has not yet made the changes that allow us to return to our regular service routine. The maximum number of people that can meet in church services remains at 20 people. This will affect our Commencement Service plans for the van't Spyker family – we may need to cancel it. This effects our return to regular services.
Please keep watching out for an update from our Church Office. We will do our best to keep you posted over the coming weeks.
Connect Groups
If you would like to be supported, please contact our office to join one of our CONNECT groups!
A CONNECT group where you receive a phone call each week to see how you are doing, and if you want, someone can pray with you, or
A CONNECT group which meets through ZOOM once a week to look at the bible and pray together (see days and times below):
Monday 7pm with Di and Danny.
Wednesday 7:30pm with Rob.
Thursday 7:30pm with Rob.
Sunday 11am with Rob after Church; this is a new group.
Daily Office
8.30am Tuesday at St James Church.
8am Wednesday and Thursday via Zoom.
Join via Zoom Meeting
By phone: +61 2 8015 6011 Australia
By video/computer: https://us02web.zoom.us/j/4394635816?pwd=dUwvd0s5SFhqSXNtV0F2ZW1UbENyQT09
Meeting ID: 439 463 5816
Password: 468421
Diocesan News
Saturday 18/7 is a Special Meeting of our Diocesan Synod where the financial difficulty of our Diocese will be outlined. This meeting will take place using ZOOM and not in person. Please pray for this Special Synod. May God be with our leaders at this time, particularly while we wait for a new Bishop to be elected and to begin.
The Diocesan Newsletter - CQFirst Vol1 Issue4 is available on the website at:
https://anglicanchurchcq.org.au/gazette.html
Contacts
Pastoral Leaders
Rob Stanley, Senior Minister
m: 0427 727 080 e: r@keppelanglican.org
Rev. Canon Phil Ward
m: 0407 392 419 e: pward01@bigpond.net.au
Rev. William Oates
m: 0402 022 976 e: familysuz@gmail.com
John Minto, Pastor
m: 0414 835 074 e: jkminto@gmail.com
Wardens
Rhylla Webb m: 0419 682 031
Lorraine Veach m: 0475 921 990
Allison Leech m:0407 388 373
Office
e: office@keppelanglican.org
p: (07) 4989 2108
Our address is: 15 Housden Pl, Taranganba QLD 4703, Australia