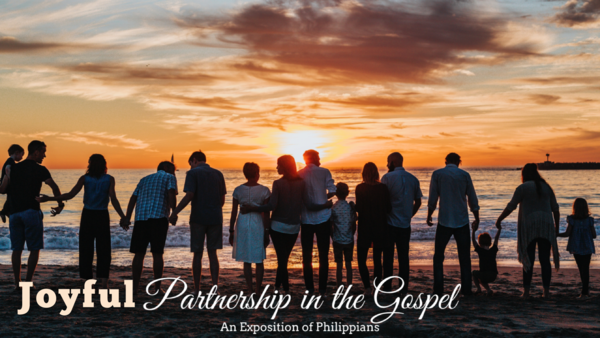 Keppel Anglican Newsletter
Friday 2 October 2020
Prayers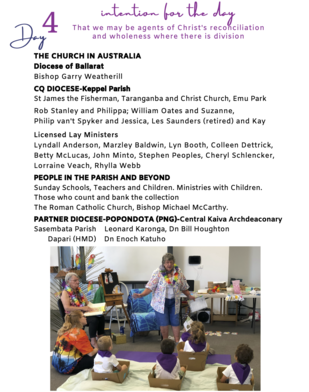 For those known to us
Bill Carmichael, John Quaife, Mary Peacock, Rene West, Graham McCamley, Barry Tennent, Del Winkelmann, John Provan, Anita Suthers, June Waymouth, Danny Daffey, Marcus Belot, Rebecca van Diem, John, Fay & Arthur Weston, Coralyn Johansen, Max, Marzley Baldwin.
Message from Rob
Welcome to church!
This week the world celebrated Coffee Day. A day of celebration for Coffee drinkers and their special brew of choice. Did you have a drink of coffee to celebrate? Now, if you are a tea drinker, even though it's a caffeinated beverage, you may have felt a bit left out. Those who drink Hot Chocolate might also have also felt left out, and I don't think we even get our own day.
Today in Philippians chapter 2, we are told to look forward to a day that is coming. A day not just for Christians, a day for everyone. It will be a day that EVERYONE in all history will bow down and EVERYONE in all of history will declare together that Jesus Christ is the King of creation. This means those who love Jesus will bow down and say he is their king. But this also means that those who have ignored Jesus will also bow down before him and declare Jesus to be their king. What a strange day that will be.
The Bible tells us that whoever we are, we will be united in this. Everyone will do it because everyone will be faced with the truth, we will all know that Jesus is the King of Kings and the Lord of Lords. Yes, this is judgement day, and judgement will still happen, the Bible is clear, but please don't see this as a sad day. As Christians, we aren't merely told to look forward to this day, but that this day should bring us joy, it is a day we are to long for. Why? Because finally our King will be in his rightful place. The Highest Place. Finally Jesus will be seen by everyone for who he truly is, the King of all Creation.
"Therefore God exalted Jesus to the highest place, and gave him the name above all names. So that at the name of Jesus every knee will bow, and every tongue confess, that Jesus Christ is King."
Bring on the Day, Lord God. Bring on the Day. Amen!
Grace and peace.
Rob
Song:
Highest Place
© 1998, 2003 Mark Peterson
Jesus Christ, in very nature God
Did not grasp hold of his place on the throne
But took on the nature of a servant
Made himself nothing, born as a man.
Being found in appearance as a man
He was obedient to death on a cross.
There he died, God the Son, the Maker,
A humble servant, showing the way.
Chorus
Therefore God exalted him to the highest place,
And gave him the name above all names
So that at the name of Jesus every knee shall bow
In heaven and on earth and under the earth
And every tongue confess that Jesus is Lord
To the glory of God the Father.
Bridge
To the glory of God the Father,
To the glory of God the Father.
(to Chorus)
Sermon
Philippians 2:1-11
Like Jesus
Jesus put himself last (vs3-8)
v3 in humility count others more significant than yourselves
Now Jesus is first (vs9-11)
v9 Therefore God has highly exalted him
v10 at the name of Jesus every knee should bow
Are you encouraged by Jesus? (vs1-2)
v1 if there is any encouragement in Christ
v2 complete my joy…
Connect Groups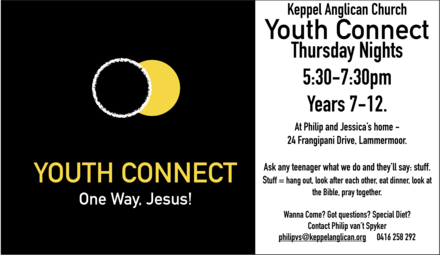 Monday 7pm with Di and Danny (2nd & 4th)
Wednesday 9.00am with Lyn at Emu Park
Wednesday 7:30pm with Rob
Thursday 7:30pm with Rob
Friday 1.30pm with Colleen at the Chapel (2nd & 4th)
Sunday 11am with Rob after Church (new group)
To join a CONNECT group, please contact our office.
Daily Office
8.30am Tues at St James Church and 8am Wed via Zoom.
Join via Zoom Meeting on
https://us02web.zoom.us/j/4394635816?pwd=RXRFWGRzTU9xOVlIY0x4ZUJEOU1zUT09
Meeting ID: 439 463 5816. Password: 468421
or by phone on 02 8015 6011
Generosity
All that happens in our parish is funded entirely by the generosity of our community. During this time it is helpful to give via
electronic means. Giving can be done in 3 ways:
ANFIN Parish Direct form mailed to ANFIN to set up electronic transfers
Direct transfer can occur via your bank
Traditional offertory envelope at church
Account name:
Anglican Parish of Keppel
BOQ BSB: 124180
Account: 21415102
Offering Plate:
Note; we can no longer pass the offering plate in the middle of the service, but you will be able to leave your envelope or cash gift in the bowl as you enter the church.
Upcoming Services
Sunday 4th October
18th Sunday after Pentecost
Exodus 20:1-9, 12-20 ● Psalm 19 ● Philippians 2:1-11 ● Matthew 21:33-46
St James Sat 6:00pm: Rob (HC)
St James Sun 7:30am: Rob (HC), 9:30am: Rob (HC)
Emu Park 8:30am: William (MP)
Sunday 11th October
19th Sunday after Pentecost
Exodus 32:1-14 ● Psalm 106:1-6,20-24 ● Philippians 2:12-18 ● Matthew 22:1-14
St James Sat 6:00pm: Rob (HC)
St James Sun 7:30am: Rob (HC), 9:30am: Rob (HC)
Emu Park Sun 8:30am: PhilipvS (MP)
Sunday 18th October
20th Sunday after Pentecost
Exodus 33:12-23 ● Psalm 99 ● Philippians 2:19-30 ● Matt. 22:15-33
St James Sat 6pm: Philip (Rob HC)
St James Sun 7:30am: PhilipvS (Phil HC), 9:30: PhilipvS (MP)
Emu Park Sun 8:30: Rob (HC)
Sunday 25th October
21st Sunday after Pentecost
Deuteronomy 34:1-12 ● Psalm 90:1-6,13-17 ● 1 Thessalonians 2:1-13 ● Matthew 22:34-46
St James Sat 6pm: Philip (Rob HC)
Emu Park Sun 8:30am: Rob/William
Yeppoon Sun 8:30am: Philip/Phil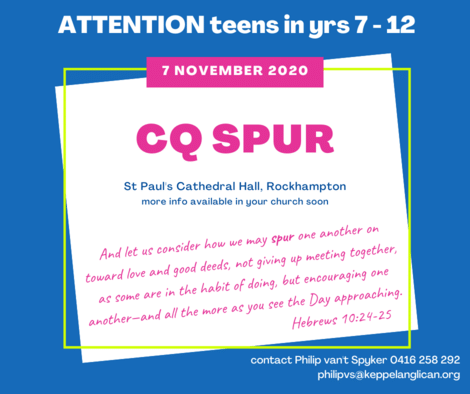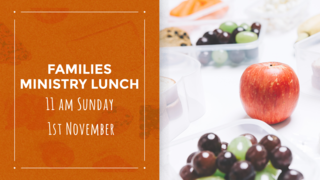 Everyone (especially children, teenagers and adults) from both our churches are invited for a lunch at St James Church (Yeppoon).
We'll eat (in a covid safe way), Philip will share about how we as a church can work to reach the children and teenagers in our shire with the life saving awesome Good news of life through Jesus.
We'll pray for the children and teenagers in our area.
We'll think through the next steps for how we can together being involved in this ministry.
RSVP to the office (including any dietary needs).
If you would like to donate:
salad, chicken, sausages, bread, sauce, individual drinks, plates, napkins, dessert, please contact philip@keppelanglican.org
0416 258 292
Diocesan News
The Diocesan Newsletter
Anglican Church seeks input from survivors of domestic and family violence
People who have experienced violence from an intimate partner (or domestic violence) and who also have a current or previous link with the Anglican Church are being invited to contribute to a research project to help improve the Church's policy and practices.
"Our Church is committed to supporting safe, loving homes and safe churches.
However, we recognise that domestic and family violence is a serious and widespread problem, with enormous individual and community impacts and social costs – and that the Church is not immune. Our Church seeks to improve how we to respond to these difficult issues" Reverend Tracy Lauersen, Convenor of the
Family Violence Working Group, Anglican Church of Australia.
The invitation to take part in this research is open to current attenders of Anglican churches as well as those who no longer attend. An anonymous online survey contains questions about demographics (such as age and gender), personal
experiences of intimate partner violence and ways in which the Anglican Church featured in your story.
surveys.ncls.org.au/NAFVP/experience
A small number of people will also be selected for in depth face to face interviews.
The Anglican Family Violence Working Group has engaged NCLS Research to undertake the research which is titled the National Anglican Family Violence Project. There are three studies that make up the project. More information can be found online:
About the Family Violence Working Group: anglican.org.au/our-work/family-violence/
About the Project: ncls.org.au/research/NAFVP
Events
GUEST SPEAKER — GARY MILLAR
In a world where men are told to "Man Up" but they don't know what that means, and they actually feel more like a "Man Down" or "Man Overboard", it's hard to know how to live the good life.
At CQMC20, we'll consider what it means to live well and die well as God's man in a challenging world as we look at Paul's second letter to his young friend Timothy.
In this letter, Paul speaks man to man and tells Timothy to 'man up'!
He urges him to stick to the gospel, put in hard yards for Jesus every day, get over his insecurity and live to please God alone. Paul warns him that living for Jesus will never be easy, but that it is always worth it, because the gospel is the only real hope for men (and women) in this world.
It will be a day of straight talking, upfront honesty and above all, a great reminder of the fact that God has already given us everything we need to be godly men in our challenging world.
Our address is: 15 Housden Pl, Taranganba QLD 4703, Australia