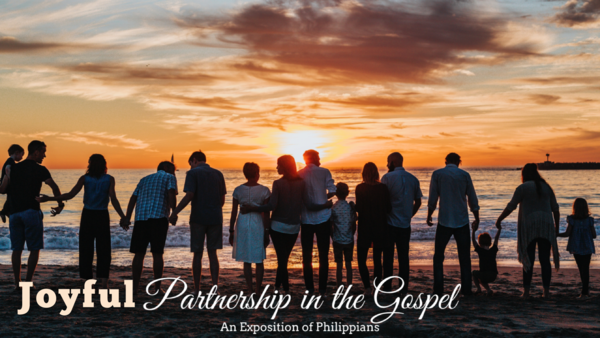 Keppel Anglican Newsletter
Friday 23 October 2020
Prayers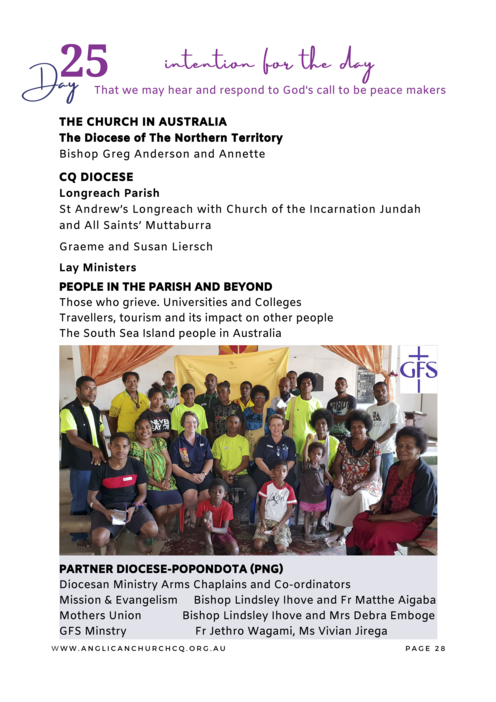 For those known to us
Marion, Bill Carmichael, John Quaife, Mary Peacock, Rene West, Graham McCamley, Barry Tennent, Del Winkelmann, John Provan, Anita Suthers, June Waymouth, Danny Daffey, Marcus Belot, Rebecca van Diem, John, Fay & Arthur Weston, Coralyn Johansen, Max, Marzley Baldwin, Jean McKinnon.
For Sunday 25th October, 2020
Sentence
Twenty-First Sunday After Pentecost
You shall love the Lord your God with all your heart, and with all your soul, and with all your mind. This is the great and first commandment. And a second is like it: you shall love your neighbour as yourself. On these two commandments hang all the law and the prophets. Matthew 22.37–40
Prayer of the Day
O God, whose Son has taught us that love is the fulfilment of your law: stir up within us the fire of your Holy Spirit, and pour into our hearts your greatest gift of love, so that we may love you with our whole being, and our neighbours as ourselves; through Jesus Christ our Lord, who lives and reigns with you and the Holy Spirit, one God, now and for ever. Amen.
Prayer of the Week
Almighty and everlasting God, give to us the increase of faith, hope and love; and, that we may obtain what you promise, make us to love what you command; through Jesus Christ our Lord. Amen.
Message from Rob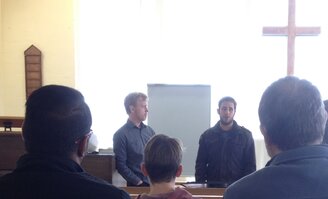 Hi Church! Here is a picture of a congregation I was part of in Tasmania. I have fond memories of the people in this photo. However, it was different to church in CQ. Church seems to change according to where it is. Church this week will be very different, and you might even ask, "What is church?" as we watch the Diocesan Synod Communion Service live from the Anglican Cathedral at 8:30am from our Emu Park and Yeppoon churches.
It has been a challenging time as we have prepared for this special service. Some issues have brought me to the point of needing to ask "what is important" and what is not. In one case, I even said to others, "I think we need to do it this way, because I'm a bit stuck in my ways, and I'm not ready to give it up quite yet." We can all have trouble deciding what is important in this life. It can be a difficult question to answer.
But there are some things that do not change. This year at Synod I am seconding a motion about things that do not change. It is about what it means to be a Christian, and what it means to be Anglican. I won't be speaking about what I think, but what the founding documents of our Diocese tell us members of the Anglican Diocese of Rockhampton believe. We weren't founded last century, but the century before that, and we haven't changed what we believe in that time. Actually, we couldn't, because they are in our founding principles.
We founded ourselves on the Prayer Book, which includes our Articles of Religion (The 39 Articles) and our Creeds. Still today, clergy, ministers and even our new Bishop, need to commit to these beliefs and truths. Truth is real. It exists. Foundational to them all is the truth of Jesus Christ. We believe there is only one way to find salvation, only one way to know God, and only one way to receive eternal life. We read Jesus saying it like this, in John 14:6,
Jesus said to him, "I am the way, and the truth, and the life. No one comes to the Father except through me."
I expect you know this verse well, because the Anglican Prayer Book recommends we use it for funerals. Jesus' words are our words. Our founding principles as a Diocese agree with Jesus. Apart from Jesus, there is no other way to be saved, there is no other way to know God, and there is no other way to have eternal life. Only Jesus.
My hope today is that you are glad that your Anglican Diocese understands the Gospel of Jesus. My hope is that you thank God that our Diocese stands firmly with us as we wave the flag for Jesus. My hope is that you share in this hope of eternal life that Jesus speaks of, and that you put your trust in Jesus. This is our truth. This is our hope. This is what it means to be Christian in the Anglican tradition.
Grace and peace.
Rob
We will only have one service at each of our churches this week.
Sunday 25/10/2020 at 8:30am from Emu Park and Yeppoon.
All other services have been cancelled for the week.
We expect this service may last up to 2 hours. So, feel free to take a break or leave if you need to before the service concludes.
Connect Groups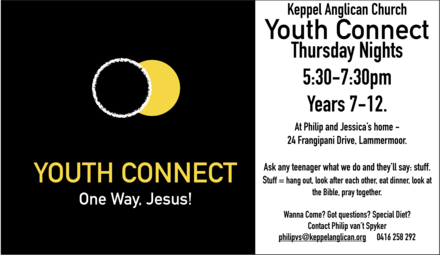 Monday 7pm with Di and Danny (2nd & 4th)
Wednesday 9.00am with Lyn at Emu Park
Wednesday 7:30pm with Rob
Thursday 7:30pm with Rob
Friday 1.30pm with Colleen at the Chapel (2nd & 4th)
Sunday 11am with Rob after Church (new group)
To join a CONNECT group, please contact our office.
Daily Office
8.30am Tues at St James Church and 8am Wed via Zoom.
Time: This is a recurring meeting - Meet anytime.
Join Zoom Meeting on
https://us04web.zoom.us/j/74049606265?pwd=cXByaVova2lNNUVUZ01vbG5SeUpoZz09
Meeting ID: 740 4960 6265
Passcode: 3aezi3
Generosity
All that happens in our parish is funded entirely by the generosity of our community. During this time it is helpful to give via
electronic means. Giving can be done in 3 ways:
ANFIN Parish Direct form mailed to ANFIN to set up electronic transfers
Direct transfer can occur via your bank
Traditional offertory envelope at church
Account name:
Anglican Parish of Keppel
BOQ BSB: 124180
Account: 21415102
Offering Plate:
Note; we can no longer pass the offering plate in the middle of the service, but you will be able to leave your envelope or cash gift in the bowl as you enter the church.
Upcoming Services
Sunday 25th October
21st Sunday after Pentecost
Communion Services broadcast live from Synod
Deuteronomy 34:1-12 ● Psalm 90:1-6,13-17
1 Thessalonians 2:1-13 ● Matthew 22:34-46
Emu Park 8:30am ● Anne Nixon / William
Yeppoon 8:30am ● Philip / Rob
(there will be no Saturday 6pm service this week)
Sunday 1st November
All Saints Day
Revelation 7:9-17 ● Psalm 34:1-10,22 ● Philippians 3:1-11 ● Matthew 5:1-12
St James Sat 6pm: Rob (HC)
St James Sun 7:30am: Rob (HC), 9:30: Rob (HC)
Emu Park Sun 8:30: Philip.vS (MP)
Sunday 8th November
23rd Sunday after Pentecost
Joshua 24:1-3a,14-25 ● Psalm 78:1-7 ● Philippians 3:12-21 ● Matthew 25:1-13
St James Sat 6pm: Rob (HC)
St James Sun 7:30am: Rob (HC), 9:30: Rob (HC)
Emu Park Sun 8:30: William (Phil.W HC)
Sunday 15th November
24th Sunday after Pentecost
Judges 4:1-10 ● Psalm 123 ● Philippians 4:1-9 ● Matthew 23:14-30 St James Sat 6pm: Rob (HC)
St James Sun 7:30am: Rob (HC), 9:30: Rob (HC)
Emu Park Sun 8:30: William (MP)
Christ the King & Foundation Day
Parish Celebrations
This year we will celebrate Christ the King Sunday and
our Parish Foundation Day with a
Combined Service at St James on Sunday 29/11 at 9am
followed by a BBQ
As our Diocesan Administrator Tom Henderson-Brookes and his wife Caroline are soon to leave our Diocese, they will come to support this special service and we will take the opportunity to farewell them and thank them for their wonderful work in sustaining our Diocese through this difficult time of transition.
Emu Park will still have a small celebration for
Christ the King Sunday with Rob on 22/11 with HC.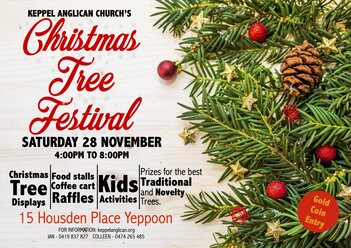 Families Ministry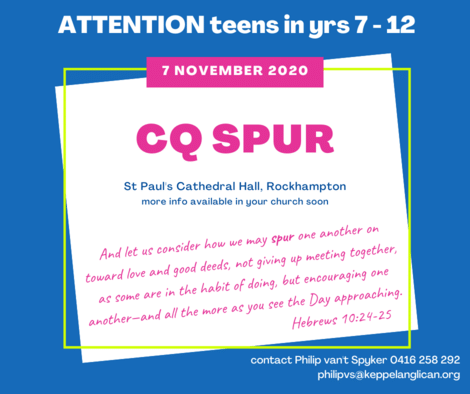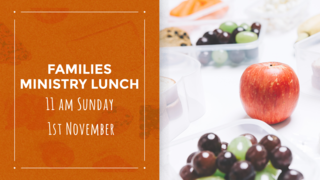 Everyone (especially children, teenagers and adults) from both our churches are invited for a lunch at St James Church (Yeppoon).
We'll eat (in a covid safe way), Philip will share about how we as a church can work to reach the children and teenagers in our shire with the life saving awesome Good news of life through Jesus.
We'll pray for the children and teenagers in our area.
We'll think through the next steps for how we can together being involved in this ministry.
RSVP to the office (including any dietary needs).
Diocesan News
The Diocesan Newsletter
Anglican Church seeks input from survivors of domestic and family violence
People who have experienced violence from an intimate partner (or domestic violence) and who also have a current or previous link with the Anglican Church are being invited to contribute to a research project to help improve the Church's policy and practices.
"Our Church is committed to supporting safe, loving homes and safe churches.
However, we recognise that domestic and family violence is a serious and widespread problem, with enormous individual and community impacts and social costs – and that the Church is not immune. Our Church seeks to improve how we to respond to these difficult issues" Reverend Tracy Lauersen, Convenor of the
Family Violence Working Group, Anglican Church of Australia.
The invitation to take part in this research is open to current attenders of Anglican churches as well as those who no longer attend. An anonymous online survey contains questions about demographics (such as age and gender), personal
experiences of intimate partner violence and ways in which the Anglican Church featured in your story.
surveys.ncls.org.au/NAFVP/experience
A small number of people will also be selected for in depth face to face interviews.
The Anglican Family Violence Working Group has engaged NCLS Research to undertake the research which is titled the National Anglican Family Violence Project. There are three studies that make up the project. More information can be found online:
About the Family Violence Working Group: anglican.org.au/our-work/family-violence/
About the Project: ncls.org.au/research/NAFVP
Our address is: 15 Housden Pl, Taranganba QLD 4703, Australia