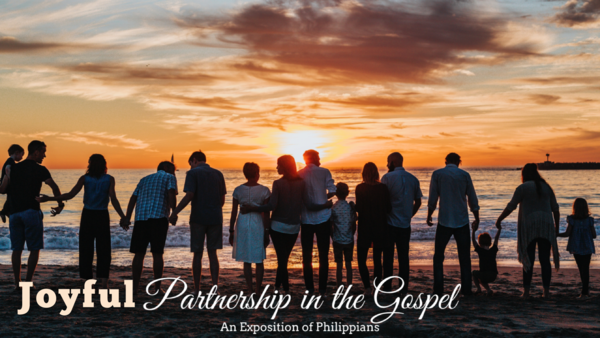 Keppel Anglican Newsletter
Friday 13 November 2020
Message from the Minister
Over the last month we have been looking at Philippians. This letter to the people of Philippi has shown us the importance and centrality of Jesus in all of history. Since God created Adam and Eve until the return of Jesus, Jesus remains central to God's plan, not just for humanity, but for all of creation.
Have you ever thought of the Bible as one book with a single message? The Bible reveals one single plan being worked out by God. A plan to resolve the mess that humans made (starting with Adam & Eve). From the very beginning of the Bible, Jesus was a necessary part of God's plan to resolve this mess. More importantly, the focus of the whole Bible is on Jesus.
As we read in 2 Corinthians 1:20, 'For no matter how many promises God has made, they are "Yes" in [Jesus] Christ…'
So, this is not just our story. This is the story of all creation. This is not just a story that saves you and me and gives us hope of a bright future; this is a story of hope for all humans. Hope for those living comfortably in Yeppoon. Hope for those with a new born baby in Emu Park. Hope for the guy caught in drug addiction in Rockhampton. Hope for the single woman in Cooee Bay struggling to make it through the day. The Bible is a story of hope for the whole of the Cap Coast. For the world. A message to cling to in our deepest and most difficult times of need. Hope for us to share with a hope-less world.
Thank you, Jesus, for giving us your words of hope in the Bible.
Grace and peace.
Rob
A Summary of the Bible
(according to Graeme Goldsworthy)
1. In the Garden of Eden; God, his people, and the place all exist in the perfect relationships intended by God.
2. Outside the Garden of Eden; The relationships established by God at creation are dislocated and confused because of sin. They are not totally disrupted, and the world goes on while under sentence of death.
3. In redemptive history; God calls one family of people, and their successors, to be the con­text within which he reveals his plan and purposes for the redemp­tion of people out of every nation. The relationships of the kingdom of God are put in place but never fully realized by sinful people.
4. In prophetic eschatology: The pattern of redemption, and the promised kingdom of God that failed to eventuate in Israel's history, constitute the pattern of a fu­ture glorious salvation and kingdom promised by the prophets.
5. In Jesus Christ: Where Adam failed, and where Israel failed, Jesus comes as the last Adam and the true Israel to carry out God's purposes perfectly. Be­lievers from all periods of history are credited with his perfection and righteousness as a gift.
6. In the consummation: The perfection that is in Jesus, and that believers possess by faith, is only fully formed in believers and the world when Christ returns in glory.
References and further reading:
Website: https://www.thegospelcoalition.org/blogs/justin-taylor/the-pattern-of-the-kingdom-gods-people-in-gods-place-under-gods-rule/
Book for adults: Graeme Goldsworthy's Preaching the Whole Bible as Christian Scripture: The Application of Biblical Theology to Expository Preaching
Book for kids: If you're a parent, note that The Big Picture Story Bible was written for kids explicitly using the pattern of "God's people, in God's place, under God's rule" to trace the storyline of Scripture.
Prayers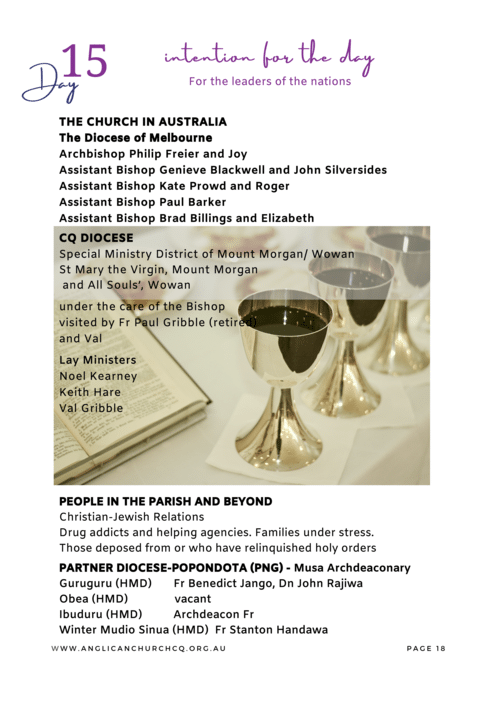 For those known to us
Colleen Dettrick, Marion, Bill Carmichael, John Quaife, Mary Peacock, Rene West, Graham McCamley, Barry Tennent, Del Winkelmann, John Provan, Anita Suthers, June Waymouth, Danny Daffey, Marcus Belot, Rebecca van Diem, John, Fay & Arthur Weston, Coralyn Johansen, Max, Marzley Baldwin, Jean McKinnon.
An email update from David Pettett
Dear praying friends,
With this email I have recorded a YouTube video. Access it by this link: https://youtu.be/r7bGLchAVh0
If you don't want to watch the video the three prayer points are:
Students for exam week beginning 23 November.
Third year students finishing and going back into ministry.
An end to COVID19 restrictions.
Thank you for praying.
Bless you all,
David
Rev Dr David Pettett
Lecturer
Bishop Patteson Theological College
Solomon Islands
For Sunday 15 November, 2020
Sentence
Twenty-Fourth Sunday After Pentecost
God has destined us not for wrath but for obtaining salvation through our Lord Jesus Christ. Therefore encourage one another and build up each other. 1 Thessalonians 5.9, 11
Prayer of the Day
Everliving God, before the earth was formed, and even after it shall cease to be, you are God. Break into our short span of life and show us those things that are eternal, that we may serve your purpose in all we do; through Jesus Christ our Lord, who lives and reigns with you in unity with the Holy Spirit, one God, now and for ever. Amen.
Prayer of the Week
Almighty God, whose sovereign purpose none can make void: give us faith to be steadfast amid the tumults of this world, knowing that your kingdom shall come and your will be done, to your eternal glory; through Jesus Christ our Lord, who lives and reigns with you and the Holy Spirit, one God, now and for ever. Amen.
Connect Groups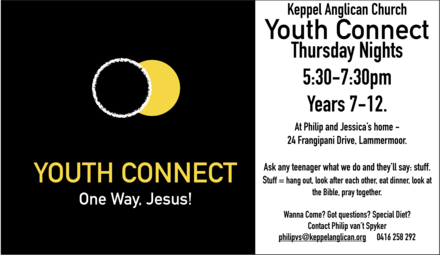 Monday 7pm with Di and Danny (2nd & 4th)
Wednesday 9.00am with Lyn at Emu Park
Wednesday 7:30pm with Rob
Thursday 7:30pm with Rob
Friday 1.30pm with Colleen at the Chapel (2nd & 4th)
To join a CONNECT group, please contact our office.
Daily Office
8.30am Tues at St James Church and 8am Wed via Zoom.
Time: This is a recurring meeting - Meet anytime.
Join Zoom Meeting on
https://us04web.zoom.us/j/74049606265?pwd=cXByaVova2lNNUVUZ01vbG5SeUpoZz09
Meeting ID: 740 4960 6265
Passcode: 3aezi3
Generosity
All that happens in our parish is funded entirely by the generosity of our community. During this time it is helpful to give via
electronic means. Giving can be done in 3 ways:
ANFIN Parish Direct form mailed to ANFIN to set up electronic transfers
Direct transfer can occur via your bank
Traditional offertory envelope at church
Account name:
Anglican Parish of Keppel
BOQ BSB: 124180
Account: 21415102
Offering Plate:
Note; we can no longer pass the offering plate in the middle of the service, but you will be able to leave your envelope or cash gift in the bowl as you enter the church.
Upcoming Services
Sunday 15th November
24th Sunday after Pentecost
Judges 4:1-10 ● Psalm 123 ● Philippians 4:1-9 ● Matthew 23:13-30 St James Sat 6pm: Rob (HC)
St James Sun 7:30am: Rob (HC), 9:30: Rob (HC)
Emu Park Sun 8:30: William (MP)
Sunday 22nd November
Christ the King Sunday
Ezekiel 34:11-16, 20-24 ● Psalm 100 ● Philippians 4:10-23 ● Matthew 25:31-46
St James Sat 6pm: Philip.vS (Rob HC)
St James Sun 7:30am: Philip.vS (Phil.W HC), 9:30: Philip.vS (MP)
Emu Park Sun 8:30: Rob (HC)
Sunday 29th November
Advent 1
A Combined Parish Service celebrating (last week's) Christ the King Sunday as a Parish.
Isaiah 64:1-9 ● Psalm 80:1-7, 17-19 ● 1 Corinthians 1:1-9 ● Mark 13:24-37
St James Sun 9:00am: Rob, Rev Tom Henderson-Brooks (HC)
Christ the King & Foundation Day
Parish Celebrations
This year we will celebrate Christ the King Sunday and
our Parish Foundation Day with a
Combined Service at St James on Sunday 29/11 at 9am
followed by a BBQ
As our Diocesan Administrator Tom Henderson-Brookes and his wife Caroline are soon to leave our Diocese, they will come to support this special service and we will take the opportunity to farewell them and thank them for their wonderful work in sustaining our Diocese through this difficult time of transition.
Emu Park will still have a small celebration for
Christ the King Sunday with Rob on 22/11 with HC.
BCA boxes
Please collect your BCA boxes from the Foxwell Room.
2021 Lectionaries
If you are interested in purchasing a lectionary for 2021, please add your name to the sheet in the foyer. There will be one at both church centres on Sunday morning.
Alternatively, please email the church office to request your name be added to the list.
Volunteers needed!
Volunteers are requested to help repot some aloe vera plants that are in a large pot outside the toilet block. (Potting mix supplied by Steve Peoples and pots supplied by Colleen).
The aloe vera pot plants will be sold at the Christmas Tree Festival on 28th November.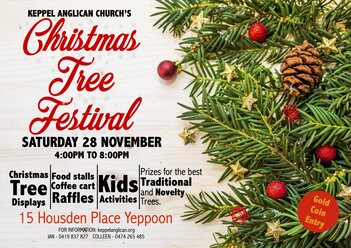 Church on TV each Sunday Morning
A message from Dr Michael Youssef (Leading the Way Ministry):
You may have noticed some disruptions to our broadcasts on 7Two recently. We have now discovered it is an issue with some 7Two regional stations and is being rectified as we work with the broadcast partner
In the meantime, we would encourage you to keep tuning in to Leading The Way
on Sunday mornings, 7am on channel 9Gem.
Thank you for your patience and understanding. We continue to pray that the teachings of Dr. Michael Youssef strengthen and bless your walk with God.
Kind regards,
Leading The Way Australia
Our address is: 15 Housden Pl, Taranganba QLD 4703, Australia