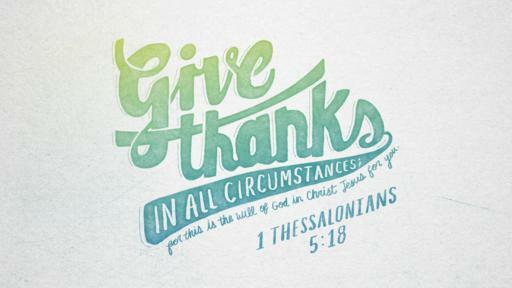 Keppel Anglican Newsletter
Friday 27 November, 2020
A note from the Minister
Welcome!
Today, as we celebrate our Parish Foundation Day, we have much to be thankful for.
As you look around this morning and see people from across our Parish - we give thanks!
Let there be no filthiness nor foolish talk nor crude joking, which are out of place, but instead let there be thanksgiving.
(Ephesians 5:4)
As we say farewell to our Diocesan Administrator Tom Henderson-Brooks and his wife Caroline, we give thanks for their gracious leadership and their care of our Diocese through this difficult time of transition - we give thanks!
Do not be anxious about anything, but in everything by prayer and supplication with thanksgiving let your requests be made known to God. (Philippians 4:6)
As we reflect upon yesterday's Christmas Tree Festival and all those who attended - we give thanks!
Therefore, as you received Christ Jesus the Lord, so walk in him, rooted and built up in him and established in the faith, just as you were taught, abounding in thanksgiving. (Colossians 2:6-7)
As we look forward to Christmas and remember the coming of our Lord Jesus into the world as a human; to live, suffer and die for us - we give thanks!
Continue steadfastly in prayer, being watchful in it with thanksgiving. (Colossians 4:2)
We have so much to be thankful for.
Let us pray for our church community.
Let us consider how we might be generous with our love, time, money & skills.
Let us reflect upon all that God does for us - and be thankful.
Grace and peace.
Rob
Livestreaming church services
Please note that we are now livestreaming church on Saturday night at 6pm and Sundays at 7:30am. This can be viewed on our facebook page and our youtube channel - Just search Keppel Anglican on either facebook.com or youtube.com
Any problems? Please let Philip van't Spyker know: philipvs@keppelanglican.org
Prayers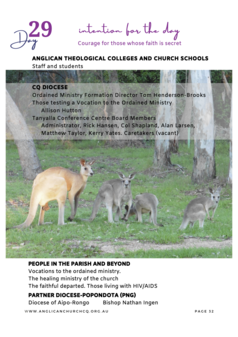 For those known to us
Marion, Bill Carmichael, John Quaife, Mary Peacock, Rene West, Graham McCamley, Barry Tennent, Del Winkelmann, John Provan, Anita Suthers, June Waymouth, Danny Daffey, Marcus Belot, Rebecca van Diem, John, Fay & Arthur Weston, Coralyn Johansen, Max, Marzley Baldwin, Jean McKinnon, Rhonda Argall, Gillian Busch & family.
Please pray for Gillian and her family upon the passing of Gwyneth. It is wonderful to know she is now with her Lord, and so we thank God for this hope that she had which has now been fulfilled. Amen!
Colleen Dettrick thanks people for their prayers. She is now feeling much better.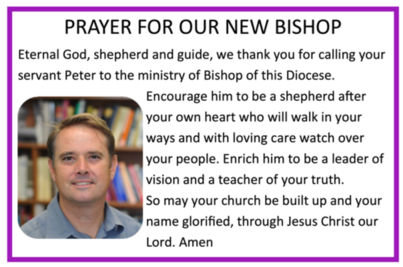 Upcoming Services
Sunday 29th November
Advent 1
A Combined Parish Service celebrating (last week's) Christ the King Sunday as a Parish.
Isaiah 64:1-9 ● Psalm 80:1-7, 17-19 ● 1 Corinthians 1:1-9 ● Mark 13:24-37
St James Sun 9:00am: Rob, Rev Tom Henderson-Brooks (HC)
Christ the King & Foundation Day
Parish Celebrations
This year we will celebrate Christ the King Sunday and
our Parish Foundation Day with a
Combined Service at St James on Sunday 29/11 at 9am
followed by a BBQ
As our Diocesan Administrator Tom Henderson-Brookes and his wife Caroline are soon to leave our Diocese, they will come to support this special service and we will take the opportunity to farewell them and thank them for their wonderful work in sustaining our Diocese through this difficult time of transition.
Sunday 6th December
Advent 2
Isaiah 40:1-11 ● Psalm 85:1-2,8-13 ● 2 Peter 3:8-15a ● Mark 1:1-8
St James Sat 6pm: Rob (HC)
St James Sun 7:30am: Rob (HC), 9:30: Rob (HC)
Emu Park Sun 8:30: Philip.vS (MP)
Sunday 13th December
Advent 3
Isaiah 61:1-4,8-11 ● Psalm 126 ● 1 Thessalonians 5:12-28 ● John 1:6-8,19-28
St James Sat 6pm: Rob (HC)
St James Sun 7:30am: Rob (HC), 9:30: Rob (HC)
Emu Park Sun 8:30: William (Phil.W HC)
For Sunday 29 November, 2020
Sentence
O shout to the Lord in triumph all the earth. Serve the Lord with gladness and come before his face with songs of joy. Psalm 100.1
THE COLLECT
Prayer of the Day
Christ the King / The Reign of Christ
God of power and love, who raised your Son Jesus from death to life, resplendent in glory to rule over all creation: free the world to rejoice in his peace, to glory in his justice, and to live in his love. Unite the human race in Jesus Christ your Son, who lives and reigns with you and the Holy Spirit, one God, for ever and ever. Amen.
Prayer of the Week
Christ the King / The Reign of Christ
Stir up, we pray you, O Lord, the wills of your faithful people, that they, plenteously bringing forth the fruit of good works, may by you be plenteously rewarded; through Jesus Christ our Lord. Amen.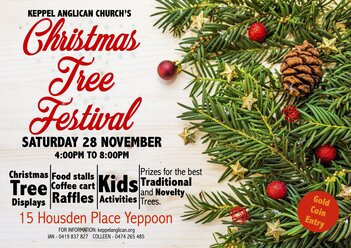 Sat. 6pm Service – Christmas Dinner
Saturday 5th December at 7:30pm after the service at the Happysun Chinese Restaurant. Please call the Church Office on Monday morning 30/11 if you want to join us.
Connect Groups
Monday 7pm with Di and Danny (2nd & 4th)
Wednesday 9.00am with Lyn at Emu Park
Wednesday 7:30pm with Rob
Thursday 7:30pm with Rob
Friday 1.30pm with Colleen at the Chapel (2nd & 4th)
Some of these groups have concluded for the year.
To join a CONNECT group, please contact our office.
Daily Office
8.30am Tues at St James Church and 8am Wed via Zoom.
Time: This is a recurring meeting - Meet anytime.
Join Zoom Meeting on
https://us04web.zoom.us/j/74049606265?pwd=cXByaVova2lNNUVUZ01vbG5SeUpoZz09
Meeting ID: 740 4960 6265
Passcode: 3aezi3
Generosity
All that happens in our parish is funded entirely by the generosity of our community. During this time it is helpful to give via
electronic means. Giving can be done in 3 ways:
ANFIN Parish Direct form mailed to ANFIN to set up electronic transfers
Direct transfer can occur via your bank
Traditional offertory envelope at church
Account name:
Anglican Parish of Keppel
BOQ BSB: 124180
Account: 21415102
Offering Plate:
Please note that we can no longer pass an offering plate around in the middle of the service, but you will be able to leave your envelope or cash gift in the bowl as you enter the church.
BCA boxes
Please collect your BCA boxes from the Foxwell Room.
2021 Lectionaries
For those who haven't yet paid for their lectionary, please put your money ($15) in an envelope clearly marked LECTIONARY MONEY and please include your NAME on the envelope. Please put the envelope in the collection box.
Our address is: 15 Housden Pl, Taranganba QLD 4703, Australia