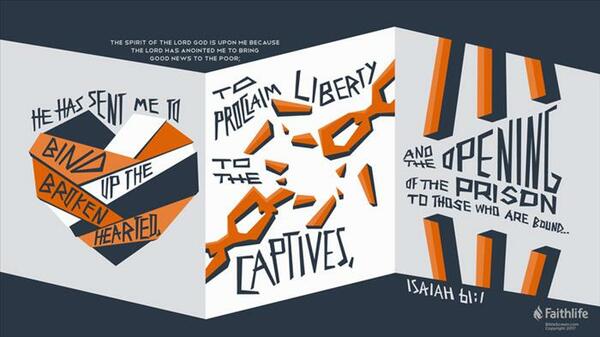 Keppel Anglican Newsletter
Friday 11 December, 2020
A note from the Minister
Welcome to church today.
The recent Ad Clerum from the Administrator of the Diocese gave an update for "COVID-Normal" in Anglican Churches in Central Queensland. Please have a read, and enjoy this week's newsletter.
Grace and peace.
Rob
COVIDSafe Update
Now that the pandemic is well under control in Australia, Governments and their health advisory teams are starting to use a new term 'COVID-Normal'. This simply means, until vaccinations can be made broadly available, we can expect a period of stability in what it means to be a COVIDSafe Church.
What does COVID-Normal church look like for ACCQ churches?
Capacity: 1 person per 2m2. If your church is 100m2, then 50 people is your max capacity.
Social Distancing: Still applies. 1.5m between people. Families can sit together.
Funerals: Church funerals can have a max of 200 people (regardless of building size) and must comply with the COVIDSafe Industry Plan.
Weddings: Same as funerals, but remember to space people 1.5m apart.
Hygiene: All hygiene practices remain unchanged. (Handwashing, elbow cough, no common cup, no physical greeting of the Peace, 'bare below the elbows', gloves for communion/food distribution, food served, hand-sanitizer, cleaning etc.)
Food: Food service requirements remain unchanged.
Cleaning: Building ventilation and cleaning requirements remain unchanged.
Contact Tracing: Administration of contact tracing details remains unchanged.
Event Management: Administration for events and activities remains unchanged, as does Church Hall hiring, and COVIDSafe Industry Plans must be in place (especially for Christmas)
We have come so far as a church family this year, and I am truly grateful for the way that our parishes have embraced what is needed to continue to worship and grow and reach out to our communities. It is important at this time that we do not become complacent. COVID-Normal does not mean that the virus has been eradicated, it simply means that our health system is coping, that the number of active cases are low, and that the risk of community transmission is considered low. With the relaxing of some restrictions and the opening of borders, health advisors are still reminding us that the risk of virus transmission remains real and therefore we need to remain vigilant. Please do not hesitate to contact safeministry@anglicanchurchcq.org.au should you need any assistance or advice with regards to anything concerning Safe Ministry.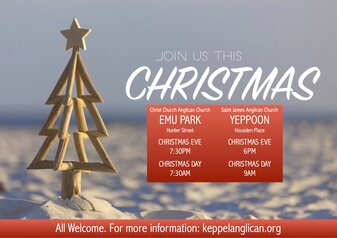 Livestreaming church services
Please note that we are now livestreaming church on Saturday night at 6pm and Sundays at 7:30am. This can be viewed on our facebook page and our youtube channel - Just search Keppel Anglican on either facebook.com or youtube.com
Any problems? Please let Philip van't Spyker know: philipvs@keppelanglican.org
Prayers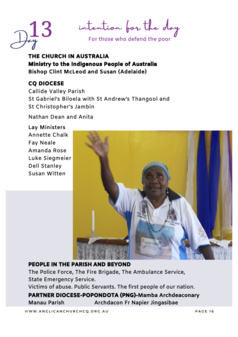 For those known to us
Bill Carmichael, John Quaife, Mary Peacock, Graham McCamley, Barry Tennent, Del Winkelmann, John Provan, Anita Suthers, June Waymouth, Danny Daffey, Marcus Belot, Rebecca van Diem, John, Fay & Arthur Weston, Coralyn Johansen, Max, Marzley Baldwin, Jean McKinnon, Marion, Rhonda Argall, Gillian Busch & family, the family of Rene West.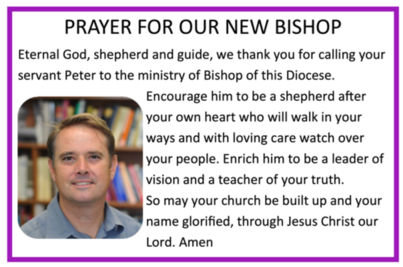 For Sunday 13 December, 2020
Sentence
Third Sunday of Advent
Bind up the broken-hearted, proclaim liberty to the captives and release to the prisoners, proclaim the year of the Lord's favour, the day of vengeance of our God. Isaiah 61.1–2
THE COLLECT
Prayer of the Day
Third Sunday of Advent
Eternal God, you sent John the Baptist to prepare the way for the coming of your Son:
grant us wisdom to see your purpose and openness to hear your will, that we too may prepare the way for Christ who is coming in power and glory to establish his rule of peace and justice; through Jesus Christ our Judge and our Redeemer, who lives and reigns with you and the Holy Spirit, one God, for ever and ever. Amen.
Prayer of the Week
Almighty God, you have made us and all things to serve you: come quickly to save us, so that wars and violence shall end and your children may live in peace, honouring one another with justice and love; through Jesus Christ, your Son our Lord, who lives with you in the unity of the Holy Spirit, one God, now and for ever. Amen.
Sermon Outline
All God's promises find their 'Yes' in Jesus
Who did God anoint?
Who needs good news?
Which captives need liberty?
Who needs God's favour?
Who needs God's justice?
Who will rejoice?
Connect Groups
Monday 7pm with Di and Danny (2nd & 4th)
Wednesday 9.00am with Lyn at Emu Park
Wednesday 7:30pm with Rob at the Chapel
Thursday 7:30pm via Zoom
Friday 1.30pm with Colleen at the Chapel (2nd & 4th)
All of these groups have concluded for the year
and will recommence from 01/02/2021.
To join a CONNECT group, please contact our office.
Daily Office
8.30am Tues at St James Church [In recess until 2021.]
8am Wed via Zoom.
Time: This is a recurring meeting - Meet anytime.
Join Zoom Meeting on
https://us04web.zoom.us/j/74049606265?pwd=cXByaVova2lNNUVUZ01vbG5SeUpoZz09
Meeting ID: 740 4960 6265
Passcode: 3aezi3
Generosity
All that happens in our parish is funded entirely by the generosity of our community. During this time it is helpful to give via
electronic means. Giving can be done in 3 ways:
ANFIN Parish Direct form mailed to ANFIN to set up electronic transfers
Direct transfer can occur via your bank
Traditional offertory envelope at church
Account name:
Anglican Parish of Keppel
BOQ BSB: 124180
Account: 21415102
Offering Plate:
Please note that we can no longer pass an offering plate around in the middle of the service, but you will be able to leave your envelope or cash gift in the bowl as you enter the church.
BCA boxes
Please collect your BCA boxes from the Foxwell Room.
2021 Lectionaries
For those who haven't yet paid for their lectionary, please put your money ($15) in an envelope clearly marked LECTIONARY MONEY and please include your NAME on the envelope. Please put the envelope in the collection box.
The lectionaries have now arrived and can be picked up from the Church Office on Monday morning or at church on Sunday.
Our address is: 15 Housden Pl, Taranganba QLD 4703, Australia