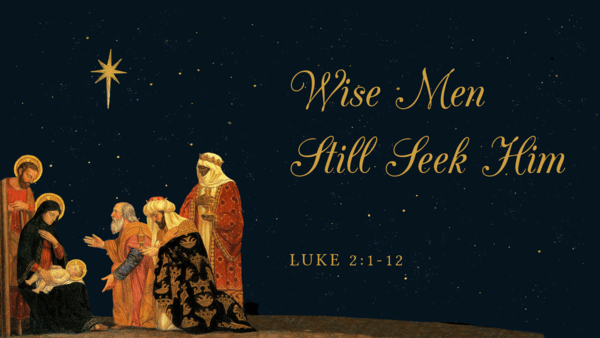 Keppel Anglican Newsletter
18-27th December, 2020 The Christmas Edition
A Christmas note from the Minister
Christmas is an amazing time of year. Not because of family, not because of presents (although these are great) but because of events that Anglicans believe. If miracles are the moments when God steps into our lives and intervenes, then that first Christmas had plenty of them and it was amazing. Here's a few of the miracles we remember each Christmas:
We believe that a baby was born, with the help of the Holy Spirit. A miracle!
We believe that the baby was God incarnate. In other words, God in a human body. Miracle!
We believe wise men came to see the baby because they saw a star. Miracle!
We believe shepherds came to see this newly born baby because an angel of the Lord appeared to them and announced, "Don't be afraid, for a baby is born who is your saviour, Christ the Lord". Miracle!
We believe Joseph (his human father) was told to call him Jesus, because God said this baby "would save his people from their sins". Miracle!
Isn't this just amazing?!
Now, imagine for a moment, just like the third American President Thomas Jefferson, you decided that the Bible wasn't God's Word. If you're Anglican, you don't believe that, but just imagine for a moment you were like Thomas J. He doubted the Bible was God's Word. He doubted the miracles, he didn't like other parts of the Bible, and he cut out the bits he didn't like.
Here's a question. If someone starts chopping bits out of the Bible, how do they decide which of God's words they don't need? The ones that are too hard to believe? The miracles? The virgin birth? God coming to earth? Angels appearing to shepherds? Before we know it, Christmas is gone and we're doubting along with Thomas whether God even sent Jesus to save us from our sins at all.
This Christmas, can I encourage you to embrace the story of Jesus that God has given us in the Bible. Don't be afraid to trust God and accept what he tells us. Don't be afraid to embrace the many miracles of Christmas, because after all, it is those Christmas miracles that give us something to celebrate.
If Mary gave birth to an ordinary baby in a regular hotel room, the world would not remember them, and we would still be in need of a Saviour.
There is nothing ordinary about Christmas. It is miraculous, it is out of this world, it is the most amazing story ever told. And I thank God for it.
I will celebrate this Christmas giving thanks to God for these miracles and for sending Jesus to earth, to save me from my sin.
Happy Christmas to all in Keppel. May God be with you this Christmas as you remember his miraculous acts on that first Christmas morning when Jesus was born.
Grace and peace.
Rob
Our Church Services
Sunday 20th December
Advent 4 (V)
Nine Readings and Carols
Isaiah 40:1-11 ● Luke 21:25-33
St James Sat 6pm: Philip.vS (9 Readings and Carols)
St James Sun 7:30am: Philip.vS (HC with Phil.W),
9:30pm Philip.vS (9 Readings and Carols)
Emu Park Sun 8:30am: Rob (HC)
Thursday 24th December
Christmas Eve (W)
Family Christmas Service
St James 6:00pm ● Philip vS (HC with Rob)
Emu Park 7:30pm ● Philip vS (HC with Rob)
Friday 25th December
Christmas Day (W)
Traditional Christmas Service
Isaiah 62:6-12 ● Psalm 97 ● Titus 3:4-8 ● Luke 2:1-20
St James 9:00am (HC with Rob)
Emu Park 7:30am (HC with Phil W.)
Sunday 27th December
1st Sunday after Christmas (W)
Genesis 1:1-5 ● Genesis 1:25-30 ● Psalm 148:1-6 ● John 1:1-5
St James Sat 6:00pm: Philip.vS (MP)
St James Sun 7:30am: Philip.vS (HC with Phil W.),
9:30am: Philip.vS (MP)
Emu Park Sun 8:30am: William (MP)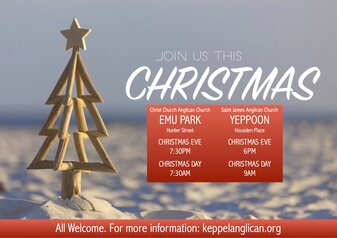 Livestreaming church services
Please note that we are now livestreaming church on Saturday night at 6pm and Sundays at 7:30am. This can be viewed on our facebook page and our youtube channel - Just search Keppel Anglican on either facebook.com or youtube.com
Any problems? Please let Philip van't Spyker know: philipvs@keppelanglican.org
Prayers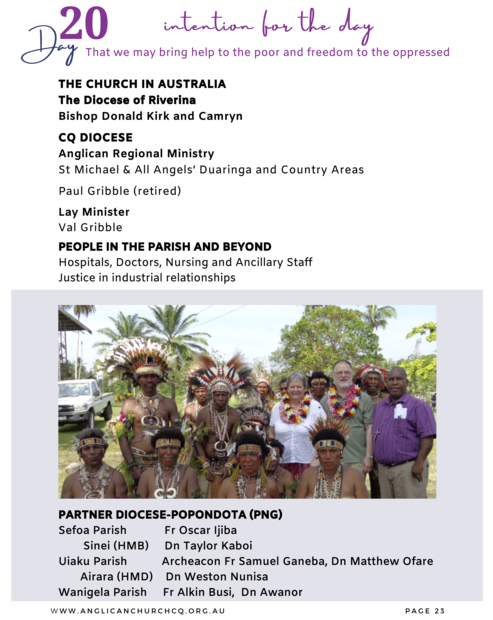 For those known to us
Bill Carmichael, John Quaife, Mary Peacock, Graham McCamley, Barry Tennent, Del Winkelmann, John Provan, Anita Suthers, June Waymouth, Danny Daffey, Marcus Belot, Rebecca van Diem, John, Fay & Arthur Weston, Coralyn Johansen, Max, Marzley Baldwin, Jean McKinnon, Rhonda Argall, Gillian Busch & family, the family of Rene West.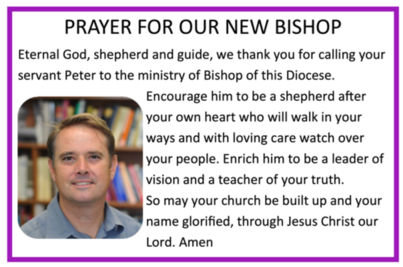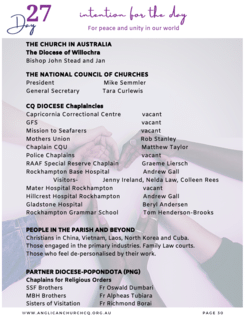 For Sunday 20th December, 2020
Sentence
Fourth Sunday of Advent
This child will be great, and will be called the Son of the Most High. He will reign over the house of Jacob for ever, and of his kingdom there will be no end. Luke 1.32–33
THE COLLECT
Prayer of the Day
Fourth Sunday of Advent
Gracious God, whose eternal Word took flesh among us when Mary placed her life at the service of your will: prepare our hearts for his coming again and keep us steadfast in hope, that we may be ready for the coming of his kingdom; for his sake, who lives and reigns with you and the Holy Spirit, one God, now and for ever. Amen.
Prayer of the Week
O Lord, raise up your power and come among us, and with great might succour us, that, whereas through our sins and wickedness we are sore, let and hindered in running the race that is set before us, your bountiful grace and mercy may speedily help and deliver us; through your Son our Lord, to whom with you and the Holy Spirit be honour and glory, now and for ever. Amen.
For Sunday 27th December, 2020
Sentence
First Sunday After Christmas
My eyes have seen your salvation, which you have prepared in the presence of all peoples, a light for revelation to the Gentiles and for glory to your people Israel. Luke 2.30–32
John, Apostle & Evangelist
We declare to you what was from the beginning, what we have heard, what we have seen with our eyes, what we have touched with our hands, concerning the word of life. 1 John 1.1
THE COLLECT
Prayer of the Day
First Sunday After Christmas
Saving God, whose Son Jesus was presented in the temple and was acclaimed the glory of Israel and the light of the nations: grant that in him we may be presented to you and in the world may reflect his glory; who lives and reigns with you in the unity of the Holy Spirit,
one God, now and for ever. Amen.
John, Apostle & Evangelist
Shed upon your Church, O Lord, the brightness of your light, so that we, being illumined by the teaching of John the evangelist, may walk in the light of your truth, and be brought to the fullness of eternal life; through Jesus Christ our Lord, who lives and reigns with you and the Holy Spirit, one God, for ever and ever. Amen.
Prayer of the Week
Almighty God, you have shed upon us the light of your incarnate Word: may this light, kindled in our hearts, shine forth in our lives; through Jesus Christ our Lord, who lives and reigns with you and the Holy Spirit, one God, now and for ever. Amen.
Connect Groups
Monday 7pm with Di and Danny (2nd & 4th)
Wednesday 9.00am with Lyn at Emu Park
Wednesday 7:30pm with Rob at the Chapel
Thursday 7:30pm via Zoom
Friday 1.30pm with Colleen at the Chapel (2nd & 4th)
All of these groups have concluded for the year
and will recommence from 01/02/2021.
To join a CONNECT group, please contact our office.
Daily Office
8.30am Tues at St James Church [In recess until 2021.]
8am Wed via Zoom.
Time: This is a recurring meeting - Meet anytime.
Join Zoom Meeting on
https://us04web.zoom.us/j/74049606265?pwd=cXByaVova2lNNUVUZ01vbG5SeUpoZz09
Meeting ID: 740 4960 6265
Passcode: 3aezi3
Generosity
All that happens in our parish is funded entirely by the generosity of our community. During this time it is helpful to give via
electronic means. Giving can be done in 3 ways:
ANFIN Parish Direct form mailed to ANFIN to set up electronic transfers
Direct transfer can occur via your bank
Traditional offertory envelope at church
Account name:
Anglican Parish of Keppel
BOQ BSB: 124180
Account: 21415102
Offering Plate:
Please note that we can no longer pass an offering plate around in the middle of the service, but you will be able to leave your envelope or cash gift in the bowl as you enter the church.
BCA boxes
Please collect your BCA boxes from the Foxwell Room.
2021 Lectionaries
For those who haven't yet paid for their lectionary, please put your money ($15) in an envelope clearly marked LECTIONARY MONEY and please include your NAME on the envelope. Please put the envelope in the collection box.
The lectionaries have now arrived and can be picked up from the Church Office on Monday morning or at church on Sunday.
Families Ministry
Our address is: 15 Housden Pl, Taranganba QLD 4703, Australia