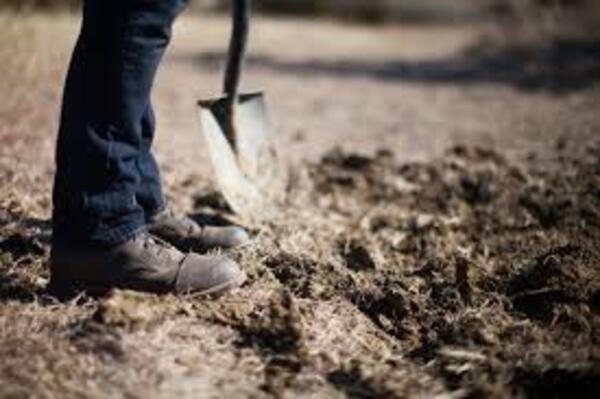 Break up your fallow ground
Kircubbin Community Church, December 3, 2019
by Mat Kerr
"Sow for yourselves righteousness; reap steadfast love; break up your fallow ground, for it is the time to seek the LORD, that he may come and rain righteousness upon you." Hosea 10:12
Fallow ground is that which has become hardened, it may be that it is sun scorched, or perhaps full of stones and rubbish that have been kicked onto it and compacted over time. It could even be that through neglect and misuse it is now the home of multiple varieties of weeds. One thing is for sure, it is not very suitable for crops or bearing fruit, and needs to be dealt with in order to restore its usefulness.
That involves ploughing, tilling or rotovating - turning it over and opening it up. If you were that ground you would know all about it, for it is a brutal process. But equally an essential one. It is not necessarily that nothing will grow if the ground is not broken, but nothing useful will grow well. It will struggle and fight for survival, resulting in a plant that is possibly deformed, stumped and not able to properly bloom or bear much fruit.
This is the message the Lord brought us at our recent members meeting, and is something the elders have spent much time praying about. We believe that God is getting the plough ready. He wants to rain his righteousness upon us and is committed to preparing the ground. His desire is to make us as fertile soil next to living water so that we can thrive and bear much fruit. To be ploughed is a good thing, it is difficult and painful, but God doesn't mind the hurt it might cause us because it is worth it, and it is needed.
The challenge for us at this time is to begin to ask God to reveal the specific areas in our own lives where the ground is hard and the stones are many. Ask him to prepare you for what he wants to do, to give you courage for the sacrifice and repentance that is required. With the expectation that he is going to do good things, ask him for a heart that is truly prepared to submit and surrender to him.
The key to all of this is fixing our eyes on Jesus. Not only does he require this lifestyle of us, but he has modelled it for us too. Remember, just because we may have been ploughed in the past, doesn't mean we remain in a fertile condition. Even ploughed ground over time, will become hard. Let's invite God to turn us over and open us up, ready us for something special.
Listen again to Blair's sermon on Repentance. It is not to be missed.
A place to grow, belong and serve
Our address is: Kircubbin, Newtownards, UK