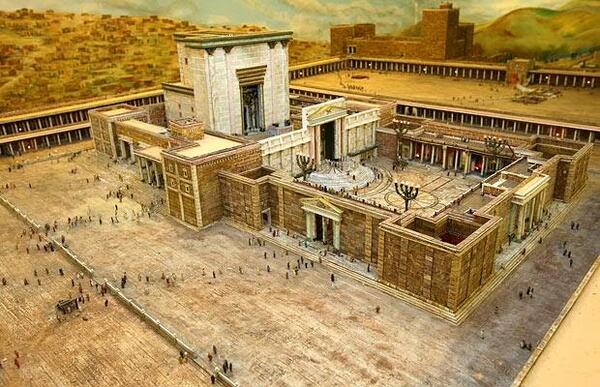 The Temple of the Lord
Kircubbin Community Church, March 11, 2020
by Mat Kerr
1 Corinthians 3:16,17
"Don't you know that you yourselves are God's temple and that God's Spirit dwells in your midst? If anyone destroys God's temple, God will destroy that person; for God's temple is sacred, and you together are that temple"
A Prayer of Dedication
When Solomon dedicated his newly completed temple to the Lord in 2 Chronicles 6, he offered a prayer.
The church is the modern day expression of the Temple of the Lord. So following in Solomons footsteps, last Sunday we offered a prayer to the Lord which was modelled on Solomons prayer from 2 Chronicles 6:14-40. Our prayer can be seen below.
Praise
Lord you are God of this church, there is no God like you in heaven or on earth. – You keep your covenant of love with those who give you their lives and follow you wholeheartedly. You have always kept your promises throughout the ages, whenever you say something you do it, and that has not changed. You continue to be the promise keeping God.
So Lord God, today we come to you as a church, we reflect on the faithfulness you have shown to all those we read about in the Bible. You never let them down, Your promises are wonderful. You said, "When we seek you, we will find you, when we seek you with all of our hearts." That means living according to your commands and following your ways, it means loving one another, while putting you first – you know that is our desire. So help us every day, and reveal yourself to us according to your incredible promise.
Great God, be merciful to us.
It is mind blowing to think that you live within us, how does that work? The heavens, even the highest heavens – the furthest reaches of space, cannot contain you. But somehow - as your word says - you actually live right here, in us, now. Wow!
So Lord our God, turn your ear to our prayer. We need your mercy. Hear us as we cry to you in your presence now. May your eyes be open toward this church day and night. This place, of which you said you would establish your name. Let this church be known as a place of communication with Almighty God. Hear our prayers, we come as your servants bringing our needs to you. Be Gracious to us and forgive us.
When we treat each other badly, act Justly
Lord, we are your children, and like all siblings there will be times when we fall out and we may treat each other badly, or perhaps just think about one another badly. That is not acceptable to you. Lord when that happens, remind us to come to you. We need your parenthood, judge us Lord, we need your discipline. We know that you are a just and fair and loving God, so help us to put aside our pride and trust you.
When we stray from you
There will be other times Lord, when we get defeated by the temptation of sin. And find ourselves in situations that are not good. When we turn back to you, acknowledging our need of you, and choose again to give you praise, Please Lord though you are holy, listen to our prayers. Forgive our sin and help us get back on the right track.
When we experience the consequences of our sin
It could even be that our persistent sinfulness causes you to take action and discipline us with hard times. Help us even then to recognize your tough love and turn back to you with thanksgiving and praise. Then Lord, hear our prayers from your place of holiness and forgive us for our rebellion. Teach us the right way to live and bless us again according to your promises.
Life is hard and we will face many difficult times, sometimes the result of our own behaviour and sometimes not. We might struggle financially or with our health, we might be overcome with fear or some random disaster. Whatever the reason, when we come to you Lord, we know that you understand our struggles and our pain. Listen to our prayers and hear us from heaven, your dwelling place. Forgive us and deal appropriately with every person and every situation according to our actions and your wisdom, for you know our hearts. Cause us to fear you and walk in obedience to you all the days of our lives.
When your reputation draws people to you
We trust that as we live for you and share the good news, people will see you in us and that they will be drawn to you, for you are great. When that happens Lord and people come to faith, do not be slow to answer their prayers, so that they and all their friends might know you live, and that you are God. Yes Lord, may your name be lifted high. Oh that people would see and know this church as a place where you dwell in power.
When we are bold for you
Lord when we are bold for you, and stand up for your ways in a society or environment which is often hostile or unsympathetic to our cause - hear our prayers. As we gather as a church in your name to intercede and make a difference, hear our prayers and uphold our cause.
When we stumble
When we sin against you Lord, and we will, because we all do, and you become angry and give us over to our sinful desires which lead us far from you. If then we have a change of heart and realise the mistake we have made, and cry out to you from our place of sin and turn back to you, acknowledging that we have done wrong and acted wickedly. If we turn back to you with all our heart and soul, and crave again to be among your people in the place where you dwell. Hear our prayers and our pleas and forgive us when we sin against you.
Blessing
Now Lord our God, as we celebrate church as the place of your presence, may your eyes be open and your ears attentive to the prayers offered in this place. May this be a church where we can honestly say, we have and do encounter you, the Almighty God.
Amen.
A place to grow, belong and serve
Our address is: Kircubbin, Newtownards, UK