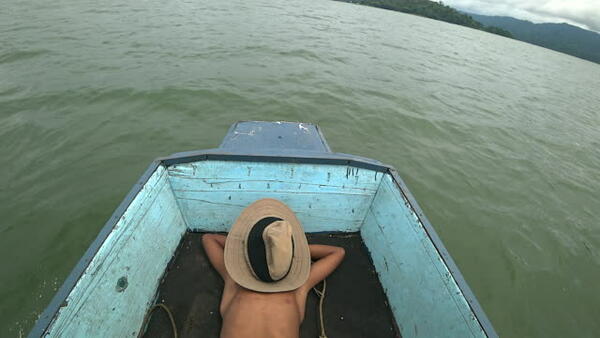 Sleeping on the Boat
Kircubbin Community Church, April 3, 2020
As evening came, Jesus said to his disciples, "Let's cross to the other side of the lake." So they took Jesus in the boat and started out, leaving the crowds behind (although other boats followed). But soon a fierce storm came up. High waves were breaking into the boat, and it began to fill with water.
Jesus was sleeping at the back of the boat with his head on a cushion. The disciples woke him up, shouting, "Teacher, don't you care that we're going to drown?"
When Jesus woke up, he rebuked the wind and said to the waves, "Silence! Be still!" Suddenly the wind stopped, and there was a great calm. Then he asked them, "Why are you afraid? Do you still have no faith?"
The disciples were absolutely terrified. "Who is this man?" they asked each other. "Even the wind and waves obey him!" (Mark 4:35-41 NLT)
By Alan Wilson
Referring to someone recently, my wife said of them, 'they are asleep in the boat.'
I like that, 'sleeping in the boat'; when life is sun kissed, and calm is all around, that would be idyllic. But these are far from being 'sun kissed days.' The calm of yesterday seems so far away. The storm is raging, illness, death and sorrow are like mighty merciless winds that appear to be destroying life as we knew it. Many are living through broken-hearted turmoil as their loved ones are taken from them by the cruelty of Covid-19. Others have lost their jobs, their income, their financial security. Many have had their plans put on hold, their hopes dashed and their lives turned upside down and there is a fear of sinking. We are like the first disciples of Jesus feeling terrified of drowning.
And yet as we read this story of the calming of the storm, the Jesus that is presented to us is a complete contrast to the disciples. The disciples panic stricken, fear-filled men who are unable to control the stormy circumstances of life. Jesus, on the other hand is fast asleep.
Reading this story superficially causes some unease within me and I can identify with the disciples. Why would Jesus choose to sleep at a time like this? It feels inappropriate or out of place. However, if we look at this incident a bit closer we will begin to understand that sometimes sleeping in the storm is an expression of true humanity that prepares for us the battles of the future.
As we consider this story it would be very tempting for us to reason that because Jesus was fully God, he knew all things, it was easy for him to rest at this time. He knew the unknown, the end from the beginning, therefore he could sleep. But that misses the point because we can assume that one of the reasons why Jesus slept was because he would have been physically tired. As a man, he knew what physical exhaustion felt like. Physical tiredness is something God cannot experience, see Psalm 121:4, it is a human experience. It is as if Jesus is teaching us that in some of the storms of life the right human response is to rest.
So how was Jesus the man able to sleep in the back of the boat during this frighting storm? Yes he may had been very tired, but I don't think being very tired would keep you asleep at a time like this.
If you read this story in its context in Mark 4 you will notice that before getting onto the boat Jesus had been teaching about the kingdom of God see 4:26 and 30. His mind was focused on the fact that kingdom of God was a reality. He understood that God's kingdom would come irrespective of what is going on around him. He felt secure as a man because his hope was in the indestructible kingdom of his Father. He knew that the storm could not diminish his Father's power to reign.
I think that this incident must have had a big impact on Peter as he was able to do the same the night before his trial. Luke tells us in the book of Acts. 'The night before Peter was to be put on trial, he was asleep, chained between two soldiers.' Acts 12:8.
Is that not amazing? Chained between soldiers, facing possible death, and yet fast asleep!!
For most of us sleeping in the storm feels like an impossibility. Life is too difficult, our pain is too raw, our grief is overwhelming. That is okay, Jesus understands. How do I know that? Jesus was wakened from his sleep, not by the howling wind or the ferocious waves but by the shouting of his terrified disciples, disciples who were experienced fishermen, men who would had been accustomed to the danger of the sea of Galilee. Although they were familiar with the weather systems of Galilee, when this storm came they were out of their depth, so they shouted.
Gods Kingdom will come, His purposes will be done no matter what the storm. We need to allow this to settle our hearts and minds. It's really not easy not knowing what lies ahead, but please remember that we can trust the Father who is in control of it all.
Read about what Jesus did when he got out of the boat!
He set a demon-possessed man free. This man had a legion of demons which was the most severe case of demon possession in the word of God.
Perhaps we need Gods rest in the here and now to be able to overcome the evil one and his fiery darts. Maybe you're experiencing anxious thoughts that are not allowing you to rest in God. Listen to His word via songs or recorded teaching. Keep in contact with people who will pray with you and for you. Be honest about how you're feeling. The disciples shouted for Jesus to help them. It's not a shameful thing to ask for help. It's important to let others know how you're feeling.
A place to grow, belong and serve
Our address is: Kircubbin, Newtownards, UK