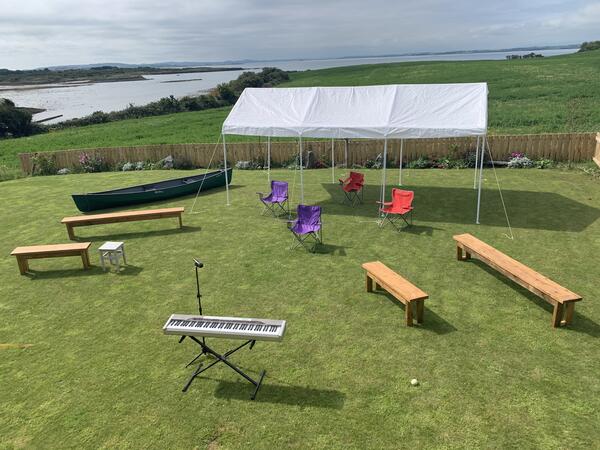 Garden Church
Kircubbin Community Church, Aug 14th, 2020
It has been 5 months since we were able to physically meet together as a whole church. Though government regulations now allow churches to hold services on the condition of meeting certain criteria, the nature of our building has prevented us from doing this in a suitable way. There is understandably a strong desire to meet together after such a lengthy absence, so this week we will take advantage of the summer weather (which will hopefully hold) and meet together in person for garden church at Mat and Claire's house, 6 Church Grove, Kircubbin.
With the ongoing threat of Covid 19 still very present, a risk assessment has been carried out and we shall be adhering to health regulations and following the protocol outlined below;
Social Distancing: There is plenty of room to accommodate everyone, maintaining a standard social distance of 1-2m. Please respect others by adhering to this guideline. There is no requirement to wear a mask, but if you would like to please feel free.
Seating: If you have your own portable seating please bring it, though there are some seats available for those who need. Please sit with family or in existing "social bubbles". There is a large gazebo for those who would like to sit under shelter.
Singing: It has been a long time since we sang together with live music. It is going to be good!
Communion: We will not take communion this week.
Offering: There will be a free will offering box present, but no bag will be passed around.
Toilet Facilities: are available for use, please use the provided anti-bacterial wipes for wiping down surfaces.
Children: There will be no specific children's work this week, though there will be a designated area for younger children to play in as required.
Zoom: We understand that not everyone may be ready or able to join us, and if you are currently experiencing Covid 19 symptoms you are asked not attend.
We shall be broadcasting live via Zoom in a similar way to recent months, so even if you can't make it in person we look forward to you still being part of our service.
Arriving: there is some space available in the driveway, but if you are able to walk a short distance, please use the carpark outside the pre-school. Also please use the provided hand sanitiser upon arriving in the garden.
For the purpose of contact tracing attendance will be recorded and data will be retained for 30 days.
Lunch: As it is so long since many of us met together, we will be having a church picnic lunch after the service. Please bring your own food and drinks (unfortunately tea and coffee cannot be provided) and enjoy a time to catch up with one another.
This is our first time holding "garden church" but if the weather is favourable, hopefully not our last. If you have any further questions or concerns, please don't hesitate to get in touch.
Looking forward to seeing you on Sunday.
Mat.
Praise the Lord. Sing to the Lord a new song, his praise in the assembly of his faithful people. Psalm 149:1
A place to grow, belong and serve
Our address is: Kircubbin, Newtownards, UK