The Connection
September 2022
Local Mission Update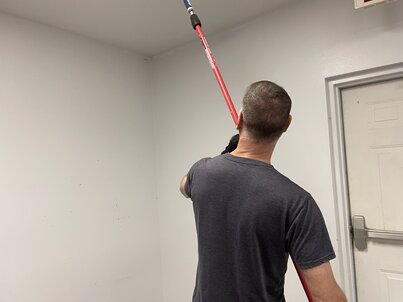 Saturday, the 27th of last month, folks gathered for a local mission trip at Cassia Baptist Church. People went to work painting, plumbing, making electric repairs, and renewing a bathroom.
NAMB Replant Lab is training associational leaders across the USA on revitalizing plateaued or dead churches. I recently learned that 90% of churches engaged in the local associational NAMB process of church health flourish. What I see at Cassia Baptist Church are many of the same suggestions NAMB proposes to make the changes to bring a dead church back to life.
From August last year, with closed doors and no money, to baptizing 12, Cassia Baptist Church is proof God is not done reaching people in Cassia. Cassia Baptist Church they are not done living for Jesus.
Here is what Pastor Mark has to say about what he sees at Cassia Baptist Church, "We consistently run 35 to 40 in worship and 10 to 12 children. In the beginning, we remodeled two children's rooms, and we have outgrown those and are working on renovating a more extensive area now."
Pastor Mark continues, "We've started Wednesday evening prayer time and a women's Bible Study on Thursday evening. We gave out 150 backpacks filled with school supplies at the local Dollar General, hot dogs, and drinks and shared about Jesus and the church with people."
Pastor Mark adds, "We have some new music equipment and a small music program. We installed a small playground. We put together a website, and still so much more to do."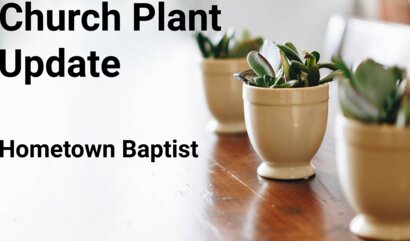 Jennifer and I worshiped with Hometown Baptist Sunday three weeks ago. Hometown Baptist Church is Lake County's newest SBC Church and nothing like what I expected.
What comes to mind with you think about a church plant? Do you see a bunch of 20-somethings banding together, barely touching on anything more profound than, "should we tell people to wear jeans?" Perhaps you visualize a group of about five to fifteen people with someone on a guitar sitting in a circle singing praise songs? Don't get me wrong, both are great ways to plant a church, but Hometown Baptist Church was nothing like that.
Here's the breakdown, we headed into a parking lot at Ross Plumbing and followed the signs (well marked, BTW) to an upstairs room. Immediately we were welcomed, I mean warmly greeted, by lots of folks. We entered a Ball Room; not kidding, this place is where people go dancing! The room was filled with tables and comfortable chairs and set up for a church service with a presentation station and podium front and center.
Pastor Clint Patterson came over and personally greeted Jennifer and introduced us to several of his leaders. The room was packed with people busy doing things from fellowshipping to serving in several capacities, from host and hostessing to passing out handout materials.
Pastor Clint preached an expository message one verse at a time. Pastor's teaching gift shone as people looked on wide-eye, clinging to his words. The service was well done, the preaching was well presented, and the entire service flowed without flaw.
During the service, Pastor Clint introduced me as the Lake County Associational Mission Strategist. I was humbled by Pastor's words and blessed knowing that as your associational leader, I was used to encourage this young Pastor two years ago. Seeing how God is blessing Hometown Baptist Church was indeed a blessing.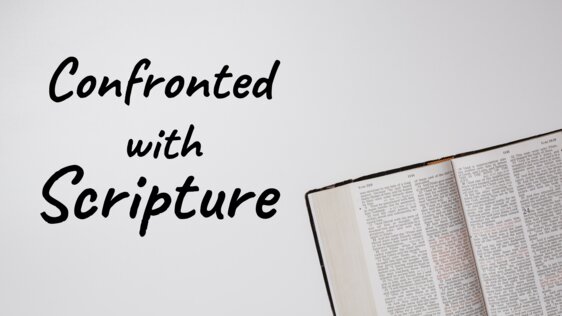 "At last meditating day and night, by the mercy of God, I began to understand that the righteousness of God is that through which the righteous live by a gift of God, namely by faith. Here I felt as if I were entirely born again and had entered paradise itself through the gates that had been flung open." -Martin Luther.
The world Luther knew was divided. A Catholic once stated Luther is a "demon in the appearance of a man." Yet a different person who got to know Luther said of his theology, "He alone is right!" Half a century later, most think Luther was good.
Luther was a leader who changed the world for good. Leaders know battles and victories. But, to quote Phil Wickam's song lyrics, "the battle belongs to you."
Scriptural truth is not easy on leadership. Jesus faced the Pharisees, and Luther rebuked the church. The first-century and 16th-century religious leader groups failed to apply the Word they claimed to belong to God.
Did the Pharisees think they were doing God's bidding? Did the churches of Revelation think they were doing God's work? Did the church of Luther's day think they were pleasing the Lord?
The church today is never protected from this same temptation. We fail at every point where biblical instruction commands against our practice. Unless perfect, and none are, every church has a list of things they are not doing that the Bible commands.
Baptists have a strong history of coming together to hold each other to the highest form of doctrinal purity. The Baptist distinctive list includes The Bible as our "sole authority for all things in faith and practice." Baptists learned from history.
Today more than ever, Baptist churches are recognizing the reasons for Paul's letters, Jesus' rebuke, and for men like Luther, who all spoke out against the wrongs of the many who assumed they were right. Revival for Baptists may well be when we recognize the church is not where we have a membership but the entirety for which we are obliged to take responsibility.
September is Cooperative Program month. Ask God to bless your Lake County Baptist Association, Florida Baptist Convention, and Southern Baptists. Pray for leaders who will confront the problematic doctrinal matters that are beginning to plague churches. Pray for our pastors to be leaders who face wrongdoing, recognize church failings, and take a stand to be highly supportive of working with other churches so we all see more people in Lake County, Florida, and the world come to know Jesus. Pray for biblically sound church plants, new works, and replanted churches where people can become the best disciples possible.
Upcoming Events
Download
Fellowship breakfast for pastors, associate pastors, and wives.
Thursday, December 1st  •  8–9 am (EST)
Our address is: 124 N Joanna Ave, Tavares, FL 32778, USA