The Connection
A Big October
Connections that Count
October is a big month in Southern Baptist Churches. Four things that make this month notable are:
Pastor Appreciation - Congregations do a little more to appreciate the men that are "after my own heart, who feed you with knowledge and understanding." (Jer 3:15)
Cooperative Program Emphasis - Article XIV of our Baptist Faith and Message says, "Christ's people should, as occasion requires, organize such associations and conventions as may best secure cooperation for the great objects of the Kingdom of God."
Lake County Annual Meeting - Churches "one body and one Spirit" (Eph. 4:4) come tother as one. "The purpose of this meeting is to provide an annual report to church messengers, to nominate and elect officers, and to conduct other business otherwise noted in the agenda and/or the Association's governing documents" (Associoan Bylaws).
Fall Activities - "Be glad, people of Zion, rejoice in the Lord your God, for he has given you the autumn rains because he is faithful. He sends you abundant showers, both autumn and spring rains, as before." (Joel 2:23)
As you plan your October, please remember the "Week of Prayer for Baptist Associations" on October 16-23. This year's theme is "Revitalization." As part of our local celebration, the North American Missions Board and the Lake County Associoan are presenting rewards of recognition to two of our own this month.
Pray that every church in our association that needs to consider the tools provided through the cooperative work of the North American Missions Board and the Lake County Baptist Association will be open to this ministry. Just over five years into joint ministry, the Replant and Revitilazaion process notes a 90% success rate in turning around churches all throughout our country. These churches were plateaued, dying, or dead, and now they are growing and healthy again.
(Click the picture above for "Week of Prayer" resources.)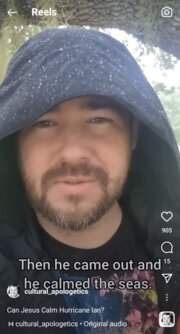 This year I stepped out of my public school teaching job and into faith. A decade ago, I created an apologetics ministry called EntryPoint. Through that, I learned to make and edit videos on YouTube, wrote my first book, Blessed: 10 Lessons from the Beatitudes, and traveled to Nepal, where I worked with Bible translators. My attention shifted from apologetics to a stable income as my family grew. This past summer, I felt the strong call back into apologetics, and I've begun to launch the ministry of Cultural Apologetics.
Over the past three months, I've been able to use the short video format of Facebook, TikTok, Instagram, and YouTube to reach into the lives of almost 90,000 people with the Word of God. I compose short, engaging lessons to answer questions, draw believers deeper into God's Word, and encourage their faith. My YouTube Channel has also partnered with Designer Truth Ministry Center to offer the Root 66 series, which is currently teaching chronologically through the entire Bible from a grammatical and historical perspective. Pastor Rick, who runs Designer Truth, and I are ordained ministers with the SBC and have earned master's degrees.
Blessed has recently been released on Amazon in Kindle and paperback formats. Blessed gives insight into how a sanctified believer acts and thinks. It challenges them to go a little deeper in their walk of faith. Each concept that Jesus presents in the Beatitudes is broken down in a short lesson that could be used devotionally or in a small group study. The study helps Christians understand these concepts more deeply by showing how each is echoed throughout Scripture.
The purpose of Cultural Apologetics is to strengthen the faith of believers who increasingly feel challenged by a culture that considers the Bible a fairy tale and Jesus a myth. Therefore, I feel called to offer myself on Sunday nights to churches that would like me to speak to their congregations. I serve as the music minister at FBC Tavares on Sunday mornings and Wednesday nights, but I'd be happy to share with your congregation on Sunday nights or most other nights.
Our address is: 124 N Joanna Ave, Tavares, FL 32778, USA