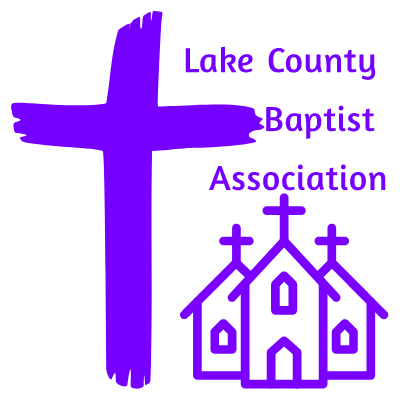 The Connection
"Together doing what we can't do alone." February 2021
Helping Churches in the Pandemic
The Lake County Baptist Association's historical records note, "The obituary committee shown above as standing committee, was a special committee in some years." In addition to the "obituary committee" that no longer meets, churches submitted the required information such as number and names of delegates, church size, letters (dismissed, excluded, restored, and deceased), along with other information deemed important to other churches. Annual church submission, like the obituary committee, are no longer part of what we do. Changes in our society, world, and even our denominational structure often dictate how we do what we do. As a result, our churches and the association changed in the years since our organization began. Change to meet the current-day demands help is part of a healthy strategy to reach more people for Jesus.
While the Word does not change, we do so that we can continue to and better reach the world with the message of the Gospel. How to improve how we reach people for Jesus in the past year-plus living during a pandemic was, and continues to be, a challenge. Using my office in the association as an example:
To serve you better:
I hooked up with our county and other religious leaders to determine how we can better serve our communities.
I launched a website, an association social media site, sent a weekly email to pastors and church leaders.
I surveyed our churches, discovered and met needs, and leveraged the association to benefit savings passed along to our churches.
I led the association to add a budget line freeing money for needy churches and pastors hurt by the pandemic.
In different ways, all my responses were somehow connected to serving our churches during a pandemic. That work continues.
I am pleased to announce the addition of numerous COVID helps for churches to our LCBA website. Visit lakebaptist.org and click the "COVID Church Help" link.
Tim earned his doctorate from New Orleans Baptist Theological Seminary. He serves as pastor at FBC Minneola and as the Interim Associational Missions Strategist for the Lake Couty Baptist Association.
The Church at Southlake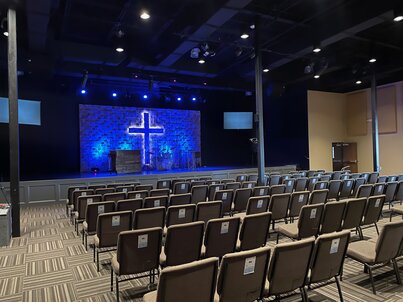 The Church at Southlake has a beautifully designed auditorium. From meeting in a store front to obtaining this well-placed property in a quickly growing area, Pastor Brian and the staff, along with a wonderful church family worship and reach people for Jesus in Clermont. Visit https://www.churchatsouthlake.com to learn more about the Church at Southlake.
God's Will for You
Dear Friends,
I don't know if you were ever like I was, but when I was younger I used to wonder what I was going to be when I grew up. Kids are normally pretty bold in their thoughts of what they aspire to be. A fireman, a professional athlete, a doctor, or maybe even an astronaut. As I grew older and chose to follow Christ I wanted to find His will for my life. I just thought God's will was for me to have a career (with a good salary of course), find a spouse, and have a home. There were times in my life that I seem to negotiate with the Lord in living out His plan. For instance. "Hey God, I will serve you with all my heart as long as Your will includes a job, a wife, and a home". That might sound laughable to some, but it was reality to me for a while until the Word of God changed my life.
1 Thessalonians 5:16-18 says "Be joyful always, pray continually, give thanks in all circumstances for this is God's will for you in Christ Jesus our Lord"
That's it!!!! I finally realized that God's will isn't about a job, a wife, or a house. God's will for my life and for all of our lives is to:
Be JOYFUL!!!!
Be PRAYERFUL!!!
Be THANKFUL!!!
This very passage of scripture changed the way that I think about God's plan. His plan isn't about me getting what I want. It's about me surrendering to Him what He deserves. God deserves our JOY, our PRAYERS, and our THANKS on a daily basis. When you learn to apply these principles to your life you will find God's will.
Reaching Forward in Faith,
Brooks Braswell
Pastor Brooks is the senior pastor at FBC Umatilla. Visit https://www.fbcu.church to learn more about this wonderful church.
Dynamic Small Groups
Leaders
Finding Them and Keeping Them
The greatest challenge to any Small Group or Sunday School is finding the needed leaders. Of the many Laws of Small Groups, the Law of Workers has to be a foundational principle for any successful small group ministry. It is a true statement "Everything rises and falls on leadership." This fact requires that we have a very strategic plan for recruiting and training leaders. I would like to share with you the plan I have used for over 30 years with great success.
Basics of Recruiting
1. Never recruit anyone before checking with the PASTOR. It is important that you check with your pastor before you approach someone about teaching or leading in an area of your small group ministry. Many times the pastor will know personal or private things about people that would keep them from being suitable candidates. Also, he will have a sense of how the potential leader would or would not fit in the total leadership scheme.
2. Recruit Year Round. The biggest mistake many leaders make that have the responsibility of recruiting the small group team is waiting until a few weeks before the classes start and trying to round-up teachers. This will lead to desperate recruiting and a willingness to take anyone. However if you make recruiting a habit and give attention to it year round you will discover the best potential leaders and it will give you adequate time to train them.
3. Getting Them Out of the Raw – Look for diamonds in the rough. There are three basic principles of discovering potential leaders that are in plain sight:
· Crude Oil - Find people not working. Ask key leaders for recommendations. Many times your current active leaders will know who has the potential to lead from their interactions with them from week to week.
· Prayer List - Pray for Them. Develop a list of potential leaders that you are praying for year round. It is amazing what the Lord will do in a person's life as we pray for them, even those that have told you no in the past.
· Refined Oil - Train Them. Every time you have a training event for small group leaders invite prospects you have that could be future leaders. Many times people will say "no" because they don't have confidence that they could do the job. Training can refine that crude oil.
4. Don't Recruit to One Year at a Time - Recruit Indefinitely. I am of the opinion that all positions in your small group ministry are a calling from God, especially the teacher. If this is a calling from God then we do them a disservice if we don't ask them to take the position indefinitely. This is a God given ministry that they should cherish and pour their life into. They should work toward developing their skills and continually improving their mastery of their calling.
Steps to Recruiting
1. Small Group Strategy Team – Start by recruiting a team to help you in the recruiting process. A recruiting team will give a broader input to the process and will provide more possibilities. The team could consist of paid staff or be made up of volunteers. The first meeting should only consist of prayer. Pray for the process and ask the Lord for wisdom as you begin to consider possible leaders.
2. Check Church Roll – Print a copy of the church membership roll for every member of the Small Group Strategy Team. As you begin to look through the membership list you should only ask 2 Questions:
· Could they do it? Not will they do it.
· Are they morally fit?
The purpose of this process is only to develop a list of possibilities. You really are not thinking at this point what area they would serve in, only could they serve somewhere. After you develop your list then you begin to pray about the specific areas that you think they could serve effectively. Once this is determined then you go to the next step.
3. Go to Them (don't recruit them over the phone or catch them in the hall)
· Make an appointment to see them. Don't tell them why you are coming. Just tell them that it is very important and you need to talk to them in person. It is best if you can do it in their home. Being on their turf will give them some comfort during a very important meeting. Don't take it lightly.
· Take the material they will use. (Curriculum & resources they will be using) Show them the material they will be using. This will give them a better understanding of what you are asking them to do and let them see the material that will help them.
· Tell them: "We believe you are the one for the job." (Because you prayed for them) Explain to them that you don't have a plan B. If they turn you down you have to start all over again from the beginning.
· Cover expectations. It is important that you have standards with expectations. This is a key element to recruiting leaders that will stand the test of time and fulfill the job you expect. Remember we must "inspect what we expect."
· They want to pray about it. Most times they will want to pray about the position. Encourage them to pray and lead them to pray while you are there. You want to try to get a commitment from them before you leave. If they won't commit while you're there then you go to the next step.
· Make a follow-up contact in person. It is imperative that you make the follow-up visit in person. It is too easy to say no over the phone. You must be proactive in the process.
· Have final prayer with them. Whenever they commit have a final prayer and thank the Lord for their commitment and pray for their success.
4. Affirm them through the Year – the final step in "Keeping Them."
· Send a Birthday Card.
· Visit their group & Affirm in front of the group.
· Recognize special accomplishments.
· Annual "Leaders Appreciation Banquet."
Recently I have been using a new resource to help discover potential leaders in our church. The program is a cloud based ministry profile assessment and inventory tool. Once a church sets up an account they are given a custom website where their members can log in and take 5 assessments: skills, passion, experience, DISC profiles and spiritual gifts and 5 inventories: musical talents, teaching experience, ministry experience, languages you speak, and professional licenses you hold. Then a report is generated with possible ministry opportunities they would be suited for. The church also gets the report and has access to a database with all the results.
When I follow this process as outlined here I have had the greatest success in the recruiting of committed and faithful leaders. There is no question that the greatest challenge to the local church is the discovery and deployment of leaders that are team players ready for the great adventure of building a church for God's glory in the 21st century.
"The Art of Leadership is catching a person at the height of commitment. When a person makes a commitment to Christ put them to work." Leon Kilbreth
Fred Boone, LIFE Groups Pastor, 1st Baptist Church Mount Dora, FL. Visit https://firstmtdora.org to discover more about their ministries.
A Heart Shared
Personal Reflection of 2020
As I look back at this past year, I asked God to reveal to me the areas in which I have fallen short, as well as those in which He helped me to grow the most. For those of you that do not know me, I am on staff full time as the minister of youth and outreach at First Baptist Church of Tavares. I have been serving the Lord in ministry for nine years now in many different ways, and have been a full time staff member for five years. I praise God daily for the men and women that God has placed in my life to help me along my journey, which includes many of you. Although this is a personal reflection, I pray that you will be blessed as well.
I would like to start with the area that I believe has shown the most growth in my life in 2020, which is prayer. PRAISE GOD for allowing us to have open communication with Him through the Holy Spirit! I guess with a year like 2020 we should expect our prayer life to grow, but it was alarming how much growth that I needed. I realized at the beginning of the year that most of my time was taken up with studying the word, ministering, and teaching. My prayers, though consistent, were much less of a part of my life than everything else. It occurred to me that this was backwards. This is not dismissing the importance of studying, but putting into perspective prayer above all. I began to bring everything before the Lord in prayer, and I quickly realized that my time in prayer became much greater than anything else in my life. Through this transition a great peace washed over my whole life, even through the hardest of times. I felt guilty that I was surprised at this peace, knowing that the scriptures say that this will happen (Phil. 4:6-8), but for the first time in my Christian life I was experiencing the TRUE peace of God that surpasses understanding. Praise God!! As the year went on God began to work on my heart, directing me towards seeing mountains move. We all know the scripture that faith the size of a mustard seed can move mountains, but the key to having this faith is prayer and fasting (Matt. 17:20-21). God wants to use us to do amazing things here on earth, and it all starts with prayer.
This next part breaks my heart to say. The area that I believe I have fallen short the most in is love. Through all of the craziness that went on throughout 2020, I found myself in a constant battle of loving others the way that Christ calls us to. As hatred and evil speaking filled the country, the urge to join in was constantly a battle. I found myself, more often than I would like to admit, thinking things about people that did not reflect the love of Christ. God constantly reminded me that I am an ambassador for Christ and Him only, and if the world does not see His love through me than I have failed. As I spent much time on my knees asking for forgiveness and strength, that word would just ring through my head like a gong, "LOVE". How will people know His love if I don't show them. We are called to love all people, even our enemies. My prayer became Paul's prayer, "For this reason I bow my knees to the Father of our Lord Jesus Christ, from whom the whole family in heaven and earth is named, that He would grant you, according to the riches of His glory, to be strengthened with might through His Spirit in the inner man, that Christ may dwell in your hearts through faith; that you, being rooted and grounded in love, may be able to comprehend with all the saints what is the width, and length, and depth, and height – to know the love of Christ which passes all knowledge; that you may be filled with all the fullness of God. Now to Him who is able to do exceedingly abundantly above all that we ask or think, according to the power that works in us, to Him be the glory in the church by Jesus Christ to all generations, forever and ever. Amen"
I write this not to boast or take credit for anything, but that maybe this testimony of my life will help someone else. Thank you all and to God be the glory!!
Justin Burger is the student pastor at FBC Tavares. FBC Tavares is situated downtown in our county seat. Visit https://www.fbctavares.com to learn more.
Senior Fest
Senior Fest 2021 will be a virtual training event for ministers, volunteers, and individuals interested in working with adults 55+. Dr. Amy Hanson will be our keynote speaker and will be speaking on Intergenerational Ministry. Additional speakers and topics are listed below. Pre-recorded sessions will be followed by live Q&A.
Registration will be open February 1 at nobts.brushfire.com/senior-fest/487072. For this event, three prices are offered
1. $15 for individuals
2. $5 for students
3. $50 for church groups. **The rate for a church group will allow multiple people to watch together for a discounted price**
Although we cannot meet in person, we are looking forward to this virtual event to equip individuals working with adults 55+. Please share with anyone who might be interested in this event.
If you have any questions or concerns, please contact us via email seniorfest@nobts.edu or phone (504) 816-8106.
Additional Speakers and Topics
Speaker
Title
Description
Dr. Randy Stone
Motivating and Mobilizing Senior Adults for Ministry
Presenting approaches to discover and develop the untapped potential of senior adults for Kingdom impact in your church and community through serving and leading
Dr. Jeff Riley
Dignity and Identity in the Twilight Years
This breakout will look honestly at some of the challenges, such as displacement or retirement from life's work, need for constant care, diminished presence of family and friends, dementia, euthanasia, and so forth, that aging can present to human dignity and personal identity. Focus, however, is on the truth that remaining in Christ Jesus defines an individual's dignity and identity and on the promise and hope that he gives to those who walk with him through the twilight years.
Dr. Allen Jackson &
Dr. Judi Jackson
A Stewardship of Seniority
As we reach our mature years, the temptation is to tighten our circle of relationships, protect our resources, strategize for retirement–and coast. The problem is that God didn't tell us to coast, particularly in our stewardship of our influence in evangelism and discipleship. We don't retire from telling the story of how Jesus changed our lives!
This seminar will feature:
• cultivating a telling mindset
• tips for telling the Jesus story to Baby Boomers
• optimizing our influence with family, friends, and community.
Please Subscribe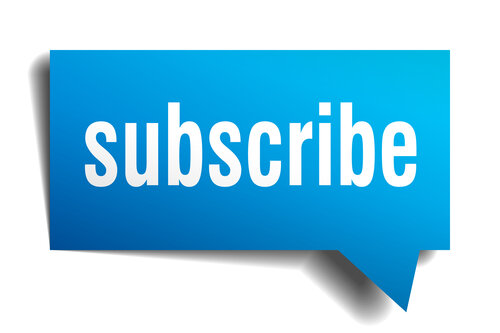 Hear from local pastors regular contributors. Find articles of interest, see and hear what's happening in our churches.
Visit the bottom of lakebaptist.org and enter your email to subscribe to our monthly publication.
Until Next Month
Please submit requests for content to tim@lakebaptist.org.
May God bless you all,
Tim
Our address is: 124 N Joanna Ave, Tavares, FL 32778, USA