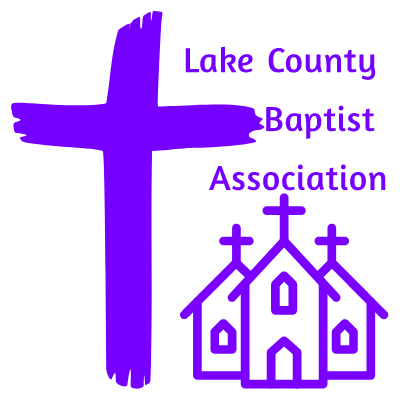 The Connection
"Together doing what we can't do alone." February 2021
We are Growing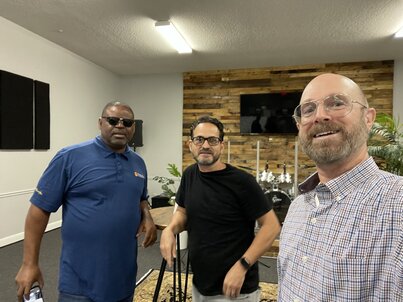 It is my pleasure to introduce you to our newest Watchcare candidate Aviva Iglesia Christiana.
In the picture from left to right: Jeff Singletary our Area Strategist to the Florida Baptist Convention, Pastor Joel of Aviva Iglesia Christiana, and Tim Burdick our AMS Interim and pastor FBC Minneola.
Traditionally a church joins the SBC by approaching their local baptist association and requesting to enter into an agreement we call "Watchcare." In the LCBA, we vote to consider new churches and then "watch" them for about one year before making an official recommendation to accept them into our group. We look for their cooperative investments, which are not limited to supporting the association and cooperative program financially, and their participation in intra-church functions and attendance at associational meetings. Also, we attend their services and learn about their doctrinal positions. Once fully satisfied, the association votes to receive them into full membership.
Pastors with Peers
In his blog this morning, Dr. Ray Gentry wrote, "I believe there are a number of Associational Mission Strategists (AMSs) who do not have such groups in their associations yet." Dr. Gentry is talking about pastors coming together to help one another.
We know "iron sharpens iron" (Pr 27:17), and worldly wisdom even declares, "it is lonely at the top." Sadly, even many pastors don't have a place they can 'unload.' In our association, that's changing.
Some years ago, our former DOM, Don Miller, started meeting pastors for breakfast. The roundtable discussions didn't have planned topics but did provide clear support. Following Don's retirement, Rick Fountain put together an excellent time for pastors and wives at the Howey country club. Our history teaches us the great value of coming together.
While COVID put a damper on many of our gatherings, Zoom meetings showed us the power of engagement and the ease at which we might meet from right where we are. A few breakfast gatherings here and there provided a foundation for meeting other pastors and developing lasting peer relationships. What is God communicating to us?
This past week I attended a pre-conference pastor's lunch at FBC Leesburg and met Dann from LifePointe in Eustis, who quickly became my newest buddy! All these peer interactions remind me of the great friends I've made in seminary and ministry and the power of connecting with peers.
While I write from a pastor's perspective, all of us need to find that group with whom we can connect. I meet each month with associational leaders from around the country in a six-member cohort group. Cohort because we are warriors with a purpose and need to build up one another.
Ladies, train up the young. Youth, meet and greet and help one another stay true to your faith. Seniors, be there for one another because only you know what it's like to be among our wisest. Church staff, find that group with whom you can invest and help along as this, too, is excellent stewardship and will bless your lives.
May all of us find ways for training in godliness (1 Tim 4:7) and make a point to be held accountable by our peers. I look forward to meeting all of our pastors, engaging with church staff, and making new church member friends with people from all over our county. If you are not part of an accountability, peer, or cohort group and want some help getting started, your association is here to help.
Dr. Tim Burdick
AMS Interim and Pastor FBC Minneola
"Can You See Jesus?"
Jesus is taking His discipleship and His Outreach to the 12 disciples to a higher level.
Jesus is preparing the disciples for what was coming.
Jesus' death and His suffering. Also, His glorious Resurrection.
Matthew 16:13-17
When Jesus came into the coasts of Caesarea Philippi, He asked His disciples, saying, "Whom do men say that I, the Son of man am?" 14) And they said, "Some say that Thou art John the Baptist; some Elias; and others, Jeremias, or one of the prophets." 15) He saith unto them, "But whom say ye the I am?"
16) And Simon Peter answered and saith unto Him, "Thou are the Christ, the Son of the living God." 17) And Jesus answered and said unto him: "Blessed art thou, Simon Barjona: for Flesh and blood hath not revealed it unto thee, but my Father which is in heaven."
Look at verse 21 of Matthew 16: "From that time forth, began Jesus to shew unto His disciples, how that He must go unto Jerusalem, and suffer many things of the elders and chief priests and scribes, and be killed, and be raised again the third day."
First, we see Peter saying the right thing, "Thou art the Christ, the Son of the living God."
Peter shares the truth that God reveals to him.
Isn't it great when God chooses to use us? YES! Victory in Jesus! WOW!
I'm being a light that shines in the darkness.
I am salt that has not lost its savor.
All is good! But then in V-22 of Matthew 16:
"Then Peter took (Jesus) and began to rebuke Him saying, 'Be it far from Thee, Lord: This shall not be unto Thee."
I want you to note here:
Same guy and two different out-comes….
First – Peter being used of God!
Second – Peter being used of Satan!
That can't be so! Yes, it is!
Look at V-23
Matthew 16:23 "But (Jesus) turned, and said unto Peter, 'Get thee behind me Satan: thou are an offense unto me, for thou savourest not the things that be of God, but those that be of men.'"
Peter, who only a little while ago was commended for speaking what God has revealed to him. Now, Peter has given ear to Satan's whispers.
For one thing, Peter could not take any more of what Jesus was sharing with His disciples. Jesus suffering. Jesus being killed.
Would not the Messiah be strong and Victorious? Would not the Messiah set us His earthly kingdom now?
This is hot happening! I will not allow it!
So Peter could not take any more talk like that, and he lets Jesus know just how he felt.
In the flesh. Being Carnally minded.
Let me just say that can happen to us:
One minute – Spiritual *In the Spirit
Next minute – Fleshly Carnal *out of the Spirit
Oh, Friends, we need to guard our hearts. We need to test the spirit to be sure it is of the Lord.
I want to be used by God.
I want to be a positive testimony for Christ.
I want to want the things God wants.
I have no desire to be used by Satan.
But I realize that I must be close to God. I need to hear God when He speaks. I need to be careful not to give place to Satan.
That, my friends, is my heart!
How's your heart doing?
It reminds me of a song from my childhood:
"Oh, be careful little mouth what you say, Oh, be careful little mouth what you say, for the Father up above, is looking down with love, Oh, be careful little mouth what you say."….What you hear – What you do - - - -
Matthew 16:24-25 "Then said Jesus unto His disciples, 'If any man will come after me, let him deny himself, and take up his cross, and follow me.'
25) For whosoever will save his life shall lose it; and whosoever will lose his life for my sake shall find it."
I find picking up my cross and following after Him is an everyday experience.
As I yield my life and my heart daily and I allow the Holy Spirit to give direction and guidance, then I find "Victory in Jesus, My Savior Forever."
Pastor Gary Robinson
First Baptist Church Altoona
COVID hits Clergy
Hello To All In The Associational Body Of Christ,
My name is Joey Willis and I am the pastor at Eagles Nest Baptist Church in Fruitland Park. I have been at the church for a year now, and what a year it has been!
It seems all that anyone can talk about is either the virus or whether or not you have received the vaccination for the virus. It has been a year that none of us will soon forget. And the truth is, we should never forget what this life can bring.
My family and I, along with many from our church, have gone through the virus. It is a daunting prospect to say the least. I would like to share with you the different symptoms, feelings, and emotions that I went through as a result.
There was a gentleman in our congregation, who I love and respect dearly, who came to see me early one morning and asked if I could take him to urgent care because he wasn't feeling well. I said of course I would and we proceeded to Leesburg urgent care. He tested positive for the virus, so naturally I was tested soon afterwards. I was negative for two tests in the following 3 days, but on the fourth I began to feel stuffy in my head.
I went again to be tested and was positive, not having any idea what to expect. I isolated myself right away and began to feel worse and worse as time creeped on.
My symptoms were muscle aches and pains, very similar to the flu. I lost my sense of smell and taste for nearly 2 months. I felt like I had worked a 40-hour work week all the time with severe weakness every second I was awake. The worst of my symptoms was the headache that would not go away no matter the medication I was taking.
After 7 days of these symptoms, I began to feel better. That must have been a smokescreen, because the symptoms came back with a vengeance the following day. They remained for 10 more days. They finally began to subside after 20 days from my original positive test.
The last of my symptoms to dissipate were the weakness throughout my body and my sense of taste. I can speak for no one else, but I have had similar experiences with the flu, although this virus seemed to attack in a different way.
Finally, by far the best medication I took during my illness was prayer (Zinc and Vit C helped as well). I thank God that He brought me and my family, as well as at the church, through this virus alive on the other side.
If there is anything I learned from going through this ordeal, it is that we have a limited amount of time here on this earth, and that we should be prepared to meet the Lord Jesus Christ at any time. I hope this article finds you well and we make the most of our time together as we seek to be God's hands and feet to those in our community.
Peace And Grace To All Through Our Lord And Savior Jesus Christ,
Rev. Joseph Willis
Eagles Nest Baptist, Fruitland Park
Be and Example to the Believers
The recent revelation about Ravi Zacharias and his inappropriate and immoral behavior is troubling and discouraging for many like myself who once viewed him as a role model for ministry. As a young Christian coming to terms with God's call on my life, Ravi's books and radio programs made a powerful impact on my faith.
As I consider the effect of the scandalous actions of Ravi on my own life, I realize that while I am not as naïve as I once was about the spirituality of Celebrity ministers, I am as energized and passionate as ever about ministry. The shocking revelations about Ravi's personal flaws and failures are a powerful warning for me to be sure that I am on the right path and focused on the right priorities in my life and ministry.
I have been reading about the life and writings of Samuel Davies, an 18th Century pastor in Hanover County Pennsylvania. Regarding the calling to pastoral ministry Davies wrote the following,
"It is an easy thing to make a noise in the world, to flourish and harangue, to dazzle the crowd, and set them all agape; but deeply to imbibe the spirit of Christianity, to maintain a secret walk with God, to be holy as he is holy, this is the labor, this the work."
What I learn positively from Davies and negatively from Ravi Zacharias is that our ministry skills and abilities should take a distant second place to the vitality of our Christian walk. To walk with God, seek holiness in our daily lives, and to be empowered by the Holy Spirit is the true and certain calling of the pastor. If those things are developed as our priority, then everything else will fall into place accordingly.
I am more convinced every day that my work in ministry must be focused first and foremost on knowing and experiencing the power and presence of God in my life. Ministry strategy, programs, and planning are not unimportant, but they will never make up for the lack of a sincere and growing walk with the Lord.
Francis Schaefer summed up this thought in his work, No Little People, "There is no source of power for God's people--for preaching or teaching--or anything else--except Christ Himself. Apart from Christ, anything that seems to be spiritual power is actually the power of the flesh."
Performing ministry in the power of the flesh instead of the power of Christ, may get us by for a while, but eventually, we will find that the power of the flesh fails, and our ministry will not be far behind.
For now, and probably for some time to come my daily meditation will be on 1 Tim. 4:12-16:
"Let no one despise your youth, but be an example to the believers in word, in conduct, in love, in spirit, in faith, in purity. Till I come, give attention to reading, to exhortation, to doctrine. Do not neglect the gift that is in you, which was given to you by prophecy with the laying on of the hands of the eldership. Meditate on these things; give yourself entirely to them, that your progress may be evident to all. Take heed to yourself and to the doctrine. Continue in them, for in doing this you will save both yourself and those who hear you."
May our Lord richly bless you, your family, and your ministry.
Dr. Tony Hoffman
South Campus Site Pastor
FBC Leesburg
RightNow Media at a Discount
Your association made a deal with RightNow Media to give all pastors free access and provide savings of 30-60% to our churches (depending on how many use this service).
Please let me know if your church is currently using, or interested in this service. To date only one church has responded. Don't be late. I need this information this month and no later. --Tim
RightNow Media has video-driven Bible studies, trainings, and devotionals for everyone—kids, youth, parents, married couples, college students, single adults, working professionals—all aimed at helping people grow in their faith.
DIRECTOR OF GUEST SERVICES NEEDED
Lake Yale Conference Center is hiring.
Description and more information HERE.
Coming up at Lake Yale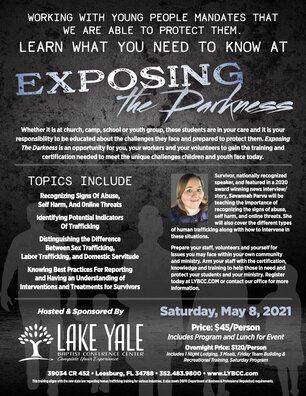 Our address is: 124 N Joanna Ave, Tavares, FL 32778, USA