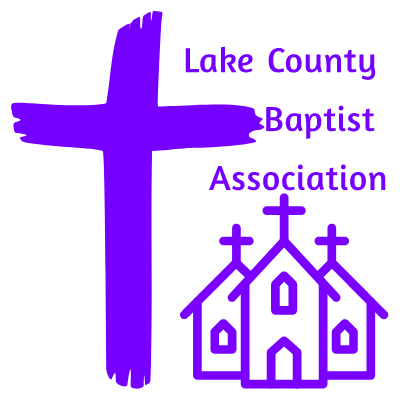 The Connection
"Together doing what we can't do alone." April 2021
Meet Dr. & Mrs. Burdick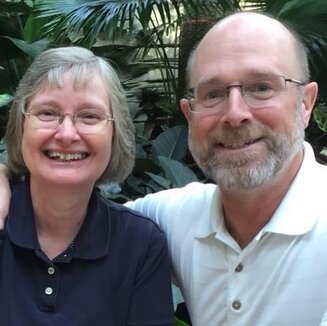 Please welcome Dr. Timothy and Mrs. Jennifer Burdick. In an unprecedented demonstration of support, representing seventeen of our churches by a unanimous vote, Dr. "Tim" Burdick accepted the call to serve us as our Lake County Baptist Association Mission Strategist.
Tim received his Doctorate in Ministry, emphasizing church growth, from New Orleans Baptist Seminary, his Masters in Divinity, emphasizing pastoral ministries, from Liberty University Theological Seminary, and his Bachelors in Science, with a focus on Biblical studies, from The Baptist College of Florida.
Tim's wife Jennifer received her Master of Arts in Education from Southern Baptist Theological Seminary and her Master of Education from Liberty University. Jennifer retired from teaching to come alongside Tim to help him serve in ministry.
Tim & Jennifer enjoy time with family, attending our churches to worship, and meeting new people. Their hobbies include Tim's amateur radio and Jennifer's discovering new recipes to try. Both Tim and Jennifer enjoy spending time outdoors and frequent the South East USA for periodic getaways.
Together, Tim & Jennifer frequently pray, support one another's spiritual journey, and encourage one another to give their very best to serve Jesus. Both Tim and Jennifer look forward to visiting with pastors and church staff and joining with all of our churches in worship in the months ahead.
Please be sure to pray for our churches' associational ministry as the Burdicks begin their new adventure. Your ongoing financial support, meaningful prayers, and dogged determination to cooperate with other SBC churches in our area will undoubtedly reap a mission-focused and God-honoring harvest.
Love My Neighbor
Just before writing this, I read a suggested prayer from an email I received this morning. The email originated from a free website service I joined several months ago. The prayer was this:
"Lord, soften the hearts of my neighbors to be receptive to the great gift of salvation you offer them. "For God so loved the world, that He gave His only begotten Son, that whoever believes in Him shall not perish, but have eternal life."
John 3:16
Do you ever wonder about how you might share your faith with people in your neighborhood? Some years ago, I asked what changes might I make to improve how I reach others living in homes near my house for Jesus. It was about that time I came across this website with I am so excited to share with you.
Before I provide the site link, let me tell you that the people with whom I've shared this site all continue to put it to use. With that, I hope you will discover what I and so many others find so helpful for lifting up those living in our communities with the hope of one day seeing them come to believe in Jesus and confess Him as their Savior.
Please do take a look at this website and make a point of sharing it with others:
Tim Burdick, DMin
Associational Missions Strategist
Lake County Baptist Association
What Outlaw Motorcycle Clubs Have Taught Me About Church Leadership
Everything I needed to know about church leadership, I learned from outlaw motorcycle clubs. My name is Don Spivey, and I Pastor First Baptist Church of Groveland; I am a member of Disciple Christian Motorcycle Club (MC); our mission is to disciple men to have a daily word and prayer time and support the 1% world in prayer. You may be asking, "what is the 1% world?" Basically, 1%ers are the MCs you have read about or have seen on the news whose members have committed various crimes. They are the clubs that Hollywood likes to glamorize in the movies and tv shows.
Even though I am in a Christian MC, my club is very much a Motorcycle Club and accepted by most 1% clubs. We cannot influence men towards the Gospel and pray intelligently for them if we don't know them, and that is why I spend a lot of time around them.
With that little background, let me share some of what I have learned about church leadership from outlaw motorcycle clubs (MC). Contrary to what many believe, men do not join MCs to commit criminal activities. They primarily join for Brotherhood. Brotherhood runs deeper than blood because when a man joins an MC, he picks his own family; in essence, he becomes part of the MC's body. True Brotherhood is like being part of the body. 1 Corinthians 12:12 (CSB) 12 For just as the body is one and has many parts, and all the parts of that body, though many, are one body ​— ​so also is Christ.
After nearly 27 years in full-time ministry, I am more convinced that I must cultivate a sense of Brotherhood within the congregation. The local church membership should have relationships that run deeper than only seeing one another on Sunday mornings or during the week at the small group meeting. The question that I am often asking myself is, "Can the members count on each other to be there in the thick and the thin?" Are you really my brother, or are you only an acquaintance? Our churches would be more attractive if our membership were a tight interdependent family. Images of Acts chapter two come to mind.
Another principle that I have learned is, what if we helped people know, love, and serve Jesus? I know it sounds obvious, but most churches are missing out on this critical mission. You may not know this, but you cannot pay money and join an MC. Joining an MC takes an enormous amount of time and dedication. Typically, this is called your prospecting or probating phase. Think of it as an initiation into all things MC. Men are assigned a sponsor (each club is a little different) responsible for helping them learn the MC's ways. During this time (among many other things), prospective members learn MC history. When asked by a member to recite crucial historical information, they better know the answer. Matthew 28:20 (CSB) 20 teaching them to observe everything I have commanded you… I have watched men sacrifice their families so they can join a Motorcycle Club. I have seen prospects dedicate every waking moment to their MC.
What if we focused on discipleship? We have men and women in our churches who have walked the proverbial aisle and prayed a prayer but have never been discipled. Are we guilty of making converts and neglecting the making of disciples? I know I was never discipled. Were you? Did you have a solid believer of the same gender walk along beside you in the faith? Discipleship doesn't happen by accident; we must make it an intentional part of our church's mission (because that is the mission Jesus gave us).
Finally, when we ride in a pack of motorcycles, we ride side by side. Clubs call it bar2bar. I've ridden in 1%er packs, and I've ridden in countless packs with my MC. When I am with the Brothers in my club, I usually lead the group because of my regional leadership position. The leadership principles one can learn from leading a pack of motorcycles is an article by itself. However, here are a few concepts.
One, have a plan. Although it is a lot of fun to just ride off into the sunset, you need to know where you are going because leading a large group of motorcycles into an endless route with no destination can be dangerous. Everyone in the pack doesn't have to know, but your officers should be aware of the destination. As a leader, do you know where you currently are and where you want to go? Have you taken a step back to look at your current reality, your potential destination, and planned an appropriate route?
Two, you need to know who is in the pack. Do they understand the hand signals that we use for directing the group? You need to know their riding abilities and how far you can push them to improve versus hurting themselves. In church leadership, what do you know about the people following you? Do they trust you to lead well, or are they afraid you will do something reckless? Do you know when you can pour on the gas and when you should coast and let them catch up?
Three, when leading a large pack of bikers down an endless stretch of interstate, it's easy for the men to get mesmerized by the road. Some people call it "Highway Hypnosis." If this begins to happen, you become less aware of your surroundings and more prone to accidents. When I sense highway hypnosis, I will give the signal and change lanes for no apparent reason. Imagine riding in a pack of 50+ motorcycles when suddenly you are told to change lanes; it will immediately get your attention. In leadership, it is easy to get complacent. The people who are following you get into a rut, and they begin to go along with the flow. What if you suddenly changed it up? What can you do in your church to snap people out of highway hypnosis?
My experience with outlaw motorcycle clubs has reinforced the importance of the body of Christ, the mandate to make disciples, and the value of leading well. Let's make sure we call our churches to something more profound than primarily gathering on Sundays, only making converts, and merely drifting along. May we lead them into an adventure of radical devotion to Jesus and His church.
Rev. Don Spivey
Pastor First Baptist Church Groveland
Brining the Bible Behind Bars
Rev. Jim Cornell started serving as Chaplain at the Lake County Detention Center in 2011. Chaplin "Jim" Cornell provides hope for those who others would consider hopeless.
Chaplin Cornell graduated from New Orleans Baptist Theological Seminary in 1979 when he started his ministry in Southern Baptist churches in Clermont, Sanford, Lady Lake, and Leesburg. In addition to his role as Chaplain, working through the Good News Jail & Prison Ministry, Jim serves as Associate Pastor and Music Minister at Emmanuel Baptist Church, Leesburg, Florida. (Read a recent article in Healthy Living Magazine at Healthy Living July 2019 (lakehealthyliving.com))
Good News Jail & Prison Ministry began serving the Lake County Detention Center and Lake County Sheriff's Department in 1992. Now in 2021, Chaplin Jim and his team of volunteers minister to 800-900 people who otherwise would not have the opportunity to hear the gospel. Though the group, Jim, ministers to people with spiritual needs who wear orange jumpsuits instead of street clothes.
Faith comes by hearing God's Word, and Chaplin Jim's ministry provides Bibles in Spanish and English to thousands of people, many experiencing the love of Christians through this gift for the first time in their lives. In-person group Bible studies are conducted throughout the week by Chaplain Cornell and volunteers. Also, in-depth 28-week correspondence Bible studies are available for those who want a deeper understanding of Scripture along with one-on-one mentoring to assist those with additional needs.
The ministry leads all of heaven to praise when as many as 500 inmates a year make first-time commitments of faith in Christ. Other equipping ministries include parenting classes, anger management courses, Celebrate Recovery 12-step groups, and Christian discipleship gatherings.
Before the pandemic, a dozen or more worship services met in the jail on Sundays, and near a dozen church meetings gathered on Wednesdays. COVID interrupted this well-functioning ministry, but God put Chaplain Jim and his team in jail, and they refused to let a pandemic interrupt their ministry! Despite the setback, the ministry continues to be a bright light in the jail and, also, for the Lake County Sheriff's Department. At their request, the team also ministers to the 300 staff who serve at the jail.
Chaplain Cornell says, "The reason I continue to serve is that some inmates will nurture their spiritual growth and discover a new, positive life path outside jail. Some inmates become productive members of their communities; they get it. And that is exciting to me."
The Good News Jail & Prison Ministry reaches people behind bars where many are easily overlooked. Good News chaplains currently serve in 22 US states and 27 countries. The chaplains provide various Bible-based programs that benefit inmates, staff, and families in their facilities. GNJPM is funded through your gifts that can be made at Giving Options | Good News Jail and Prison Ministry
For more information, visit: Good News Jail and Prison Ministry | Bringing hope to those often forgotten
Please contact your association to learn ways you can make a direct impact for Jesus in our communities through Jim's ministry in the Lake County Jail.
Dynamic Small Groups
The Secret Power of Enrollment
A Ministry List that leads to Growth and Discipleship
History has proven effective growing small groups have adopted the core values that their groups would
"reach, teach and minister" to the members of the group. Every group should see their purpose is to reach
people and grow their group to the point that it births another group. The principle is simple "addition =
multiplication". This brings us to the proven principle of "Enrollment" and how this can impact the success of
a group. Enrollment should be viewed as a "Ministry List", but it should be more than just a list of the group
members it should be understood that it is a strategy.
Why should a small group ministry focus on enrollment? It is a tool that will allow your group to reach more
people, minister to more people and a powerful way to assimilate new members. Consider this fact: when a
new church member is not involved in a small group only eighteen percent will still be active in the church five years later. However, for every member that becomes an active member in a small group, eighty percent will still be active in the church five years later. Enrollment should be the core of a comprehensive small group
strategy. It should be the foundation for other practices common in healthy, growing small groups. Consider
what Elmer Towns said about the church that fails to have an Enrollment Strategy. "An effective effort was
made to pair the roll down to those who actually attended rather than using the roll as a pool from which to
draw prospects or visitors. While this was intended to more accurately reflect church attendance, it indirectly
contributed to an attendance decline. Attendance suffered because marginal members (those not on roll) were neglected. Enrolling new members was not emphasized because all energy was placed on attendance. The enrollment "window of entry" was lost. The church was left with one less way of reaching people." Increasing enrollment alone will not grow attendance, but you can't sustain growth without increasing enrollment.
Let me share with you some interesting facts about Enrollment. Some years ago a major denomination did a
comprehensive study of several thousand churches and here are some amazing facts that were learned about
the churches that practiced the concept of open enrollment. By "open enrollment" we mean that the group is
not a closed group and new members are added on a regular bases. The group is especially looking for lost
members. For every two people enrolled in a group one will attend. In other words you will average 50% in
attendance of every person you have enrolled in your group. One out of every three lost people enrolled will be saved and only one out of every two hundred fifty lost people will be saved outside of the group. Involving the lost person in weekly Bible study proves the Law of Three Hearings which says when a person is exposed to multiple presentations of the gospel there is greater possibility of them making a decision for Christ. When the lost person attends Bible study for several weeks the Holy Spirit works in conviction and the Word works in their heart toward regeneration. This means that the group that has as it's mission to reach lost people for
Christ, is one of the most powerful evangelistic methods known. With this in mind every group should adopt
an "Open Enrollment Policy" that simple says we will enroll anyone, anywhere, and anytime. You are always
looking for that next member.
The small group provides a sound method for any church to connect members together and assimilate them
into the life of the church. Thom Rainer discovered in his research which formed the bases for his book "High
Expectations" that the three most effective assimilation tools for effective churches was 1) a Healthy Small
Group Ministry, 2) a New Members/New Christian's Class, 3) an Emphasis on Relationships. As you can see
small groups and relationships, which go hand in hand were key to effective growing churches. When a group
is challenged to build their group by enrolling new members they take ownership. The members take
responsibility for the spiritual health of each other. They feel obligated to follow-up with absentees and they
are more likely to minister to each other. When a person is enrolled in a group four things happen:
• Intercession: The person can be prayed for regularly whether they attend weekly or are struggling
spiritually.
• Invitation: The person can be regularly invited to participate in fellowship opportunities where
meaningful relationships can be developed.
• Involvement: The person is encouraged to engage in Bible Study that strengthens their relationship to
God, to family, and to Kingdom service.
• Inclination: The person is challenged and more likely to engage in evangelism and outreach than a
person not enrolled in a small group.
(See the Sunday School Mentoring Guidebook, Sunday School/Open Group Ministries Georgia Baptist Convention)
Enrollment makes all this possible.
A sound enrollment strategy is measurable and has monthly and annual goals. Every group should be
challenged to develop their own goals. But a rule of thumb would be to set a goal to increase enrollment by
twenty five percent annually. When members buy into the goals they take ownership for the success of the
group. Consider the example of Cornelius, a Roman army officer. He gathered his family and friends to
hear the Word of God (Acts 10:24). They came ready to listen and they were saved (Acts 10:33-48).
Members will become more committed and excited about the work of their small group as they take
ownership with a simple strategy of enrollment. Enrollment goals encompass all members and breaks down
responsibility. There are several barriers to enrollment that the wise leader needs to be aware of. The closed
membership barrier, which I call the "us four and no more group". This attitude develops clicks and makes
it impossible for new people to connect. The multiple attendance barrier says that you must attend
consecutive sessions without a break before you can be enrolled in the group. The purging the rolls barrier
implies that all non-attenders will be dropped from enrollment. The lack of motivation barrier reveals the
heart and vision of the group. Finally, the enrollment is not important barrier exposes the groups lack of
understanding of the power and principle of enrollment.
Many years ago two of my mentors instilled in me the importance of enrollment and a need for me to lead
my small group leaders to set enrollment goals. I saw every church I served grow through small groups and
one principle continued to be a key to growth, ENROLLMENT. But I asked the question: Why? Then one
morning during my Quiet-time I was reading Psalm 126:5-6 and the Lord revealed to me the "Secret
Power of Enrollment". I call it the principle of the "Burdened Heart". In this Psalm we see that the one
that sows in tears (we sow the Word of God) will reap with joy! (You will see people saved). As we
increase our enrollment (the field is enlarged) we have more places to sow the seed. ENROLLMENT: a
proven law that leads to growth and discipleship.
Rev. Fred Boone
Admin & Education Pastor
FBC Mount Dora
Our address is: 124 N Joanna Ave, Tavares, FL 32778, USA