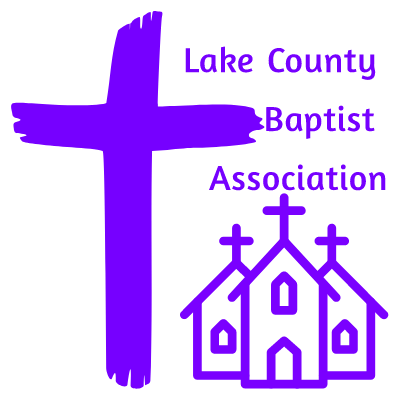 The Connection
Together doing what we can't do alone. May 2021
Helping Depressed People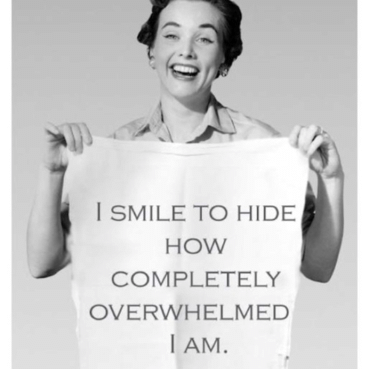 We all run into them. Maybe you are one? Knowing what to say, how to say it, and when to listen is not always easy.
Recently I noticed my "go-to" set of pastoral tools was lacking. All the books, the memorized Scripture, and experience never prepared me to counsel people "to close."
As a good Christian, I look for answers in the Bible. Sometimes I even do an internet search.
I discovered a tool, tried it myself, and found it helped me comfort a person with love.
I hope you'll find this helpful too. Visit the link and see for yourself.
If Only I had Augmented Reality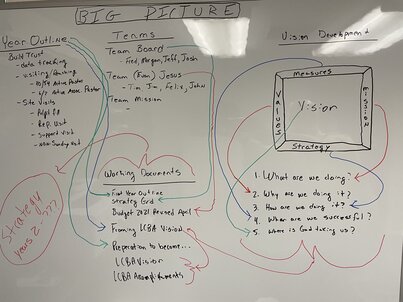 I'm excited at the prospect of Apple producing augmented reality glasses. I have in mind the ability to put my thinking into a functional 3-D "idea mapping" structure. For now, I'm stuck in the two-dimensional world where plotting, thinking, mapping, planning, and organizing thoughts is a little flat.
A month plus into full-time associational work, and God has me busy and loving it. I'm visiting churches, filling pulpits, talking with denominational leaders, and sensing the Holy Spirit working through His people.
Perhaps you have a whiteboard something like the one pictured above? Maybe you wonder, "How can I make sense of all this?" I've discovered the secret. Are you ready? Don't make it difficult. Easy and fast works better than complicated and time-consuming. Now, don't get me wrong, I do wait on God. It's just that if ministry takes too long to happen, it seems the human tendency is to get "okay" with slumps, status quo, and stagnation.
Colossians 3:23 teaches me to do what I do with all my heart, like I'm doing it for the Lord. Not everyone knows my story, but about 20 years ago, I was not Dr. Tim but a maintenance man cutting grass at FBC Leesburg. At that time, I was newly baptized and unaware of God's plans for my life. I knew God's call, but not when or how that might come about.
I pray I never forget the lesson of prayer and preparation God provided me decades ago. Do EVERYTHING as for the Lord, and He will make my PATH straight. God urged me to pray, plan, and offer that to Him. Today I reap the benefits of Biblical prayer.
As you read this, I'm on a much-needed vacation time spending a week with my wonderful wife Jennifer, my daughter Ashley, son-in-law Kamanu. We're very excited because God is answering another prayer. We talked with God about the blessing of children, and while Ashley and Kamanu can't have children of their own, they recently just spent their second day getting to know a prospective child and soon hope to adopt!
I've experienced God answering prayers in some pretty significant ways. Planning helps me think ahead and reminds me of the blessings from days past, allowing me to thank God today. That's why I'm asking you to pray daily.
Pray for your association. We've had two churches now who want to join us on the fantastic journey of serving God together. More pastors of every generation are helping me discover our mission and vision. Churches previously disconnected are once again participating in associational life.
I'm see you and your church joining with others doing things that we've never considered possible alone. I see new friendships, sharing resources, and young people discovering their call into vocational ministry. I see new opportunities for our most prominent churches and extraordinary advantages for even the tiniest of churches. I see a future where we strengthen one another, fight for one another, and beat back the adversary seeking to bring harm to people God is seeking and who we will reach for Jesus.
Pray for knowledge, for wisdom, strength, protection, and be sure to get that answered by praying God's will, that is, use Scripture and tell God you've read His Word and ask Him to reveal his will and, like Daniel prayed, "O Lord, hear; O Lord, forgive. O Lord, pay attention and act."
The Focus of the Bible
To Lake Baptist Association:
For those who don't know me, I am Phil Messinger. I Graduated from Southern Seminary in 1965 and came to Florida and served five churches. I retired and moved to The Villages in 2005 and served as interim pastor of 7 churches in Lake Association. Bro. Tim asked me to write an article for the newsletter.
The Focus of the Bible
Jesus, in answer to those who had studied and memorized most if not all of the OT, said to them in John 5:39-40: You search the scriptures because you think that in them you have eternal life and it is they who bear witness about Me, yet you refuse to come to Me that you might have life. Over the years I remember several speakers say to we preachers, whatever your text, make a bee line to Jesus. I am convinced that is true in all of our study of the scriptures and theology. I have heard so many sermons in person, on the radio and TV, and have shared them myself when we pastors speak eloquently on a subject and challenge our people not to worry, to be better witnesses, or to tithe. Or we try to help them understand the deep truths of the Bible but never get them to Jesus. He is the One who motivates us to love. For example in John 13:34 Jesus said, A new commandment I give you that you love one another: just as I have loved you, you also are to love one another. It changes the focus on me trying to love Him and others to His love for me. Paul said that the love of Christ controlled him.
Practically, what God has help me see in my later years is that whenever I read the Bible, my prayer is first of all reveal yourself to me, knowing that the better I know Him, the more He will reveal His will as I continue in His Word and prayer. And it is all because of His great love for me and all of us. So think about this as you live out His life in you and as you declare HIM who is grace and truth. PTL
Getting Connected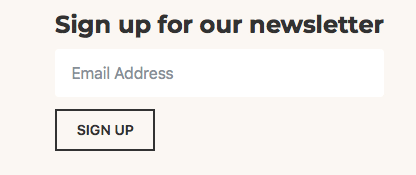 Let's share the news!
Tell your church, friends, and family about our newsletter.
Let's use "The Connection" to get connected!
Visit the Lake County Baptist Association home page and enter an email address. That's it. Super easy, super fast.
Summer Camp is More than Fun
Summer is here and no doubt that your church youth and children's ministries have already planned out their largest, most expensive trip of the year: Summer Camp. Whether it is an organized summer camp with other churches or an in-house camp experience, summer camp marks the pinnacle event of the year for many students and parents. But why? Are there benefits to sending students to camp for a week of fun? Will the time, effort, and resources spent toward sending kids to camp make a difference? The simple answer is: YES!
Research* has shown that students who attend camp grow personally, socially, and emotionally while students who attend Christian camps gain all of that with the added benefit of a deepened faith and walk with Christ. According to the Barna research group, nearly two-thirds of all Christians come to know Christ before the age of 18* making youth ministries and, particularly summer camp ministry, a vital step in leading a young person to Christ and deepening their walk. When a student leaves home to go to summer camp, a few things happen that help prepare for life-change.
1) They step out of their comfort zone – while you may think that hanging out with other students is right in their wheelhouse, summer camp isn't 'everyday life' for these kids. Summer campers are brought from a place where they know what to expect to a place where everything, from the moment they arrive on site until the moment they are picked back up a week later, has one singular focus: Deepening their walk and understanding in Christ. For many, this may be the only time they get this kind of intensive focus on the gospel and discipleship, for others, it is refreshing to hear and see it from others, not in your circle.
2) Other Christians help solidify their faith – students often ask the question, "can I live out my faith in the real world?" There seems to be a disconnect between what they know is true and what the world shows them they can do. They may even separate church and life into two categories. At camp, that all goes away. Students see others, counselors, other students, ministry leaders, outside of the church, living out their faith, talking about the gospel, being 'real' with them and it makes an impact. The "can I..?" turns quickly into "I can…!" because of what they experience at camp.
3) They make big decisions – There is some truth to the "Thursday-night" high that happens at camp where students face the reality of leaving camp and going back to life as they know it. Emotionalism happens and often can't be avoided. But for many students, life-change happens long before Thursday. God begins working on the hearts of students weeks, sometimes months, before summer camp begins, and when they finally get to camp, all of the hindrances to their response are left behind. They hear stories of missionaries, evangelists, people of faith who trusted God and changed the world. They meet staffers who are making a difference in others because of their love for Christ and students and they realize that they are not alone and not crazy. They hear that now is their time, not later, not when they 'grow up,' but now. It's inspiring, it's passionate, and it's true. Students leaving summer camp are often ready to make big commitments, set the course for their life, and approach life differently with a Christian worldview.
So what can we do to foster this increasingly important moment in student's lives? Three things come to mind:
A) Commit prayers and support for your student/children's pastors, children/youth workers, and children and youth.
B) Make camp planning an "all-year" event, not a seasonal one. Plan for pre and post-camp ways to build up your children and student ministries and keep the passion and excitement for Christ alive all year long.
C) Encourage and enable students in your church and your community to attend camp no matter what it costs.
Is summer camp worth it? Yes. If 2/3 of people come to Christ before the age of 18, how can we say that we support missions if we aren't spending a significant portion of our efforts and resources on the area that yields the highest percentage rate of success? Students ARE the mission field and camp is a wonderful way to reach them.
Jeff A. Yant
Executive Director
Lake Yale Baptist Conference Center
Join us at Lake Yale next year for our Exposing the Darkness event in February 2022, designed to equip churches and ministry leaders with the knowledge and tools necessary to keep children in our ministries safe at camp, at church, and at home.
Sources:
1. https://www.childtrends.org/blog/happy-camper-and-counselor-the-benefits-of-summer-camp#:~:text=Working%20at%20camp%20has%20been,positive%20impacts%20on%20their%20lives.
2. https://www.acacamps.org/resource-library/camping-magazine/impact-camp-experiences-social-skills-happiness
3. https://www.barna.com/research/evangelism-is-most-effective-among-kids/
4. https://vibrantfaith.org/wp-content/uploads/2017/05/ECRP-Phase-2-Report.pdf
Our address is: 124 N Joanna Ave, Tavares, FL 32778, USA