The LCC Loop
November 14th 2021
This Sunday at LCC
Beloved,
Every Lord's Day is special, but this Sunday begins our Stewardship Lifestyle Seminar.
Here are a few last-minute announcements and reminders.
What to expect tomorrow:
The 1st Session is a combined class at 9:30 AM and will be held in the Chapel.
During the Morning Service, our children's choir will be ministering to us and sharing a wonderful song called, "Jesus Strong and Kind."
There's a fellowship lunch after the service. All are welcome, and although not required, we'd request those attending to sign-up. There's still time to do that online here.
Grace & Peace!
Jayson
Stewardship LifeStyle Seminar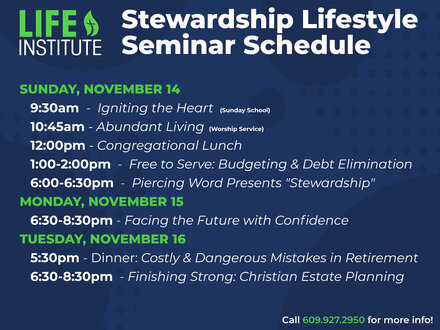 Declaring and Displaying the Gospel.
Our address is: 1838 Shore Rd, Linwood, NJ, 8221