Living Hope Community Church October 30, 2022
A Place of New Beginnings
Welcome to Living Hope
If you are visiting us today we are so happy that you are here.
Please scroll down to the end of this bulletin to fill out our visitor card or signup for our newsletter.
If you would like more information about our church please talk to Pastor Jonathan or send him an email at jonathan@livinghopeconcord.com.
If you are interesting in exploring the Christian message of Hope watch this movie
Today at Living Hope.
Call to Worship - Matt Stonis
Song: Whom Shall I Fear
Welcome: Pr Jonathan Hutchins
Scripture Reading and Prayer: Matthew 4:12-17 - Pr Jonathan
Song: Hymn of Heaven
Song: How Deep the Father's Love
Message: "The King's Message is Censored" Matthew 4:12-17
Song: O Praise the Name
Closing Prayer and Benediction: Matt Stonis
Today's Message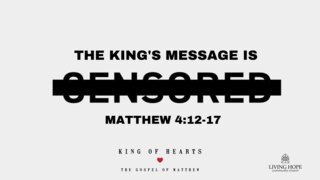 This Sunday we are in Matthew 4:12-17.
The name of the message is "The King's Message is Censored"
Last time we studied Matthew 4:1-11 where the King of Hearts was tested by Satan in the desert for 40 days and nights.
As he returns from the desert to his home town he finds out that John the Baptist has been arrested because he speaks the truth about King Herod's personal sinful lifestyle.
In Kingdom of God politics there is no room for our personal lives and public lives to be separate issues.
Thousands of people in Jerusalem have been getting right with God. John the Baptist is calling for all men and women, right up to the top levels of public government, to think about their ways and return to their Creator, pointing them to the coming Messiah.
But even though the authorities attempt to censor the heart cutting message of the good news (that also contains some bad news) by arresting John the Baptist, Jesus pushes the mission forward with great power and boldness in the Holy Spirit.
There are multitudes of people setting in utter darkness that need to see the light of Christ and find peace and rest for their darkened souls.
In perfect obedience and love for the Father and the nations, Jesus begins his ministry of preaching in Matthew 4:17 all the way up until we arrive at Matthew 16:21 where his message becomes his martyrdom.
While John the Baptist sets in a dark cell, Jesus is the light in the darkness calling the nations to, "Repent for the Kingdom of God is at Hand"
The King of Hearts has come to call the wild at hearts to find rest.
"Come to me, all who labor and are heavy laden, and I will give you rest. Take my yoke upon you, and learn from me, for I am gentle and lowly in heart, and you will find rest for your souls. For my yoke is easy, and my burden is light."
Mt 11:28–30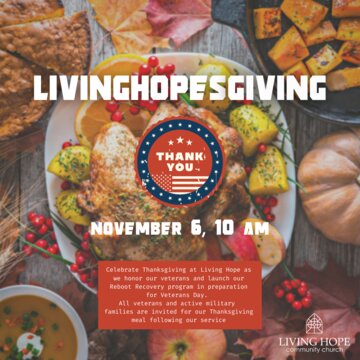 Don't forget to sign-up this Sunday for our Thanksgiving meal on November 6. We will have a special service for Veterans and active service members and their families in our community.
We will be launching our new REBOOT Recovery ministry in the month of November. Nick Robison, a combat veteran and our Reboot leader, will be preaching the word this Sunday.
If you would like to give online you can visit our website and there is a link where you can give using your checking account or bank debit card. It is very easy and a secure platform to give at Living Hope.
You will also see the "deacon fund" listed if you would like to give to that on going initiate to help those in need. We recently helped someone going through deep financial difficulties with food and heating oil. Please give to the deacon fund.
Here is a link to the giving: GIVE LIVING HOPE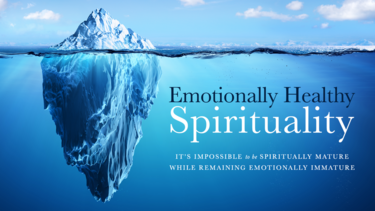 New Discipleship Course Opportunity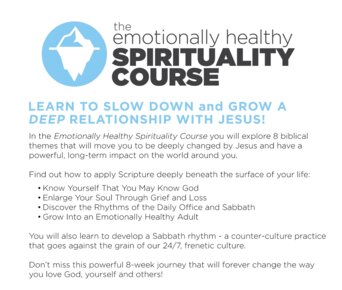 Check out our signup to order your own copy of some wonderful tools we will be using over the next years at our church.
This two part series (8 lessons each) will be transformational in your life. Part 1 teaches us to be loved by God. Part 2 calls us to a deeper love for others.
It can be done alone as a self study with access to pastoral care if needed or with a group. We will have many different groups forming in the months ahead.
You can watch in intro video here:
https://www.youtube.com/watch?v=JmOeEaDTK-E
Here is a testimony video:
https://www.youtube.com/watch?v=Qrk4wbEEbpA&feature=youtu.be
Upcoming Events at Living Hope
Let us get to know you!
Please take a moment to send us your information so that we may stay connected with you. Your information is carefully managed and protected.
How did you hear about us?
Living Hope Community Church of Penacook, NH
+1(603)333-0084
9 members • 7 followers