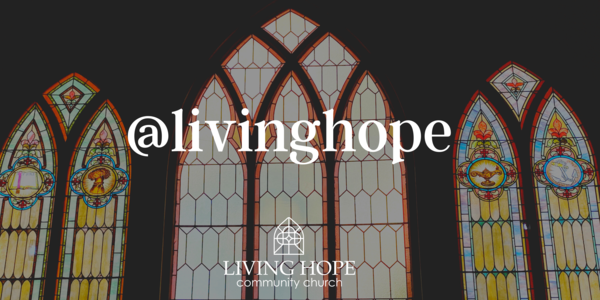 @living hope
Weekly news from the Living Hope Community Church, March 19, 2022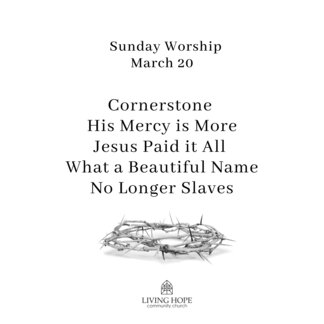 This Sunday's Message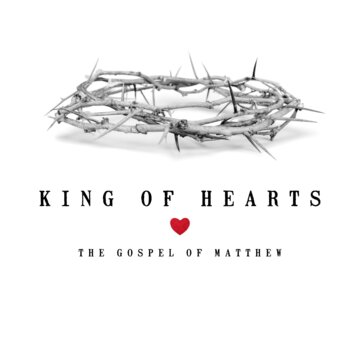 This Sunday we continue our Sermon series in the Gospel of Matthew entitled "King of Hearts"
We begin with Matthew 1:1-17, the Genealogy of the King of Heart's family.
The Gospel of Matthew 1:1 begins like this, "The book of the genealogy of Jesus Christ, the son of David, the son of Abraham"
The story of the King of Hearts begins with the story of his family. If we get into the detail of all 42 generations, just like our own families we discover both "puritans" and "pirates". The Bible doesn't cover up any of the sordid details.
Going back and making sense of Jesus' broken family genealogy in Matthew 1:1-17 helps us make sense of our own family story and find our place and peace in Jesus' new adopted family.
The world defines family as: "A bunch of weird creatures you are surrounded by from birth".
This sounds humorous at first glance but this definition hides and suppresses a mountain of confusion, pain and grief. Especially in the hearts of small children.
While we inherit some good things and weird things from our parents, whether we like it or not or want to admit it, some of things we hate the most about ourselves and see in others we also learned from our parents. Jesus teaches us that these things come from our hearts, and we are responsible. We can't blame our family, but family magnifies what's in our hearts. Like father and mother goes sons and daughters. And this cycle can and must be broken in the gospel.
Just like God had to teach the children of Israel coming out of Egypt a new way of thinking through the 10 commandments, Jesus teaches us a new way of thinking that is often quite foreign from what we learned in our own family.
And in the last chapter of Matthew 28:19-20, Jesus commissions his disciples to go into all the world and make disciples (new family members) through his teachings. The church's primary mission is to help people find a new heart through the Holy Spirit's work of regeneration and their place and new way of life in Jesus' new redeemed family.
In the end, we come back to Jesus' invitation in Matthew 11, people with new hearts and a true desire to be a part of God's family come to him and keep on coming to him throughout their entire lives on this earth. We need Jesus to teach us how to think and live in our new family. Those who come to him his way, by faith and repentance in the Gospel, he never sends away.
Because He is "gentle and lowly in heart" he stoops down and is worthy to be the King of Hearts.
"Come to me, all who labor and are heavy laden, and I will give you rest. Take my yoke upon you, and learn from me, for I am gentle and lowly in heart, and you will find rest for your souls. For my yoke is easy, and my burden is light."
How do we find the King of Heart's amazing rest?
1. Repent all the way back from your beginnings - "all who labor and are heavy laden"
2. Slow down to be with Jesus - "come to me"
3. Learn the way of Love - "learn from me, my yoke is easy, and my burden is light"
4. Enjoy God's Sabbath rest - "I will give you rest"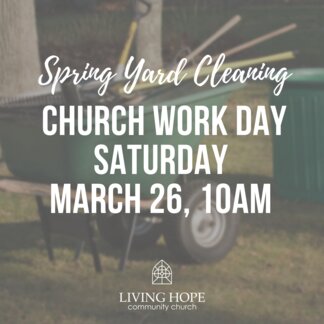 Our church yard needs a little cleaning this Saturday at 10am.
Bring your own rake if you have one.
Please contact Deacon Doug Smith for more details.
Annual Church Business Meeting April 3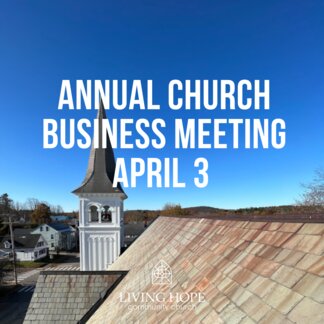 On April 3 after our morning service we will have a business meeting for members of Living Hope Community Church. If you are not a member you are welcome to stay and listen.
Members will vote on our new budget as well as several other important items for our continued church renovation projects for 2022.
If you would like to read a copy of the budget please see Deacon Gary Darby.
New Online Giving
If you would like to give online you can visit our website and there is a link where you can give using your checking account or bank debit card. It is very easy and a secure platform to give at Living Hope.
You will also see the "deacon fund" listed if you would like to give to that on going initiate to help those in need. We recently helped someone going through deep financial difficulties with food and heating oil. Please give to the deacon fund.
Here is a link to the giving: GIVE LIVING HOPE
Upcoming Events
Download
Every Friday at 11am Pr David Doyle conducts a verse by verse Bible Study through Zoom.
Friday, March 25th  •  11 am – 12 pm (EDT)
Download
Sunday, March 27th  •  10:00–11:30 am (EDT)
Following Christ our Shepherd King and Living Hope.
Our address is: 31 Summer St, Penacook, NH 03303, USA